My 5 Favorite Lingerie Lookbooks of 2014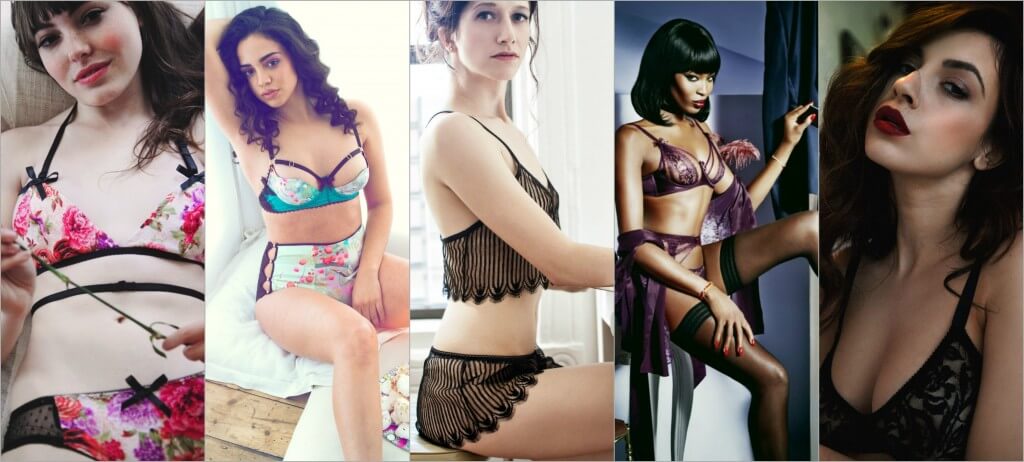 2014 was a banner year for gorgeous lingerie photography. Here at TLA, we rededicated ourselves to featuring beautiful imagery from a wide range of brands, and while we had lots of faves (Nubian Skin, Forever Yours, Hips & Curves), these five lookbooks rose above the rest.
Karolina Laskowska A/W 2014-2015

Karolina Laskowska's 2014 campaign is responsible for this entire blog post. Even though we published this brand's lookbook way back in February, the images have stuck with me all year. I must confess, I found myself looking for almost any excuse to share them again. Lackluster, ineffective imagery is a problem with many lingerie brands, at most every price point. It's wonderful to see that a newcomer like Karolina Laskowska (an honest-to-goodness tour de force talent who is well on her way to dominating the lingerie industry) has such a clear vision of her brand so early on. As a quick aside, this campaign also got me to thinking about the "female gaze" in lingerie imagery, and I hope to explore that concept further in 2015.

Is there anything more wonderful than lounging around the house in beautiful lingerie? Angela Friedman reminded everyone why she's a designer to watch in this elegantly simple (but oh-so-perfectly executed) campaign featuring her "Muse" collection. There's something very polite, almost demure, about these images, but they're also incredibly sophisticated. The quiet stillness of the photography allows the eye to linger on, and appreciate, those uniquely luxurious elements, like the drape of the silk or the symmetry of a lace appliqué.
Hopeless Lingerie 'Tenebrae' Collection

If we're going to talk about lingerie brands that had an amazing year, then we have to talk about Hopeless Lingerie. While TLA has been a fan of this brand since the very beginning, Hopeless Lingerie rose from being a niche label with an almost secret fanbase to a cult favorite that's very nearly mainstream... and all without sacrificing its principles. Hopeless Lingerie is the kind of brand you can't help but be excited for. Because if 2014 was this good, then you know 2015 will be even better.
Agent Provocateur Spring/Summer 2015

2014 is the year Agent Provocateur reminded everyone why they're the name when it comes to luxury lingerie. Their 'Wanted Badly' campaign, featuring supermodel Naomi Campbell and photographed by the iconic Ellen Von Unwerth, is fierce, slick, stylish, and completely unapologetic. No matter what you might think about the lingerie or the company, this kind of editorial fashion/high production value campaign is exactly how you make headlines and move product. Thousands (if not millions) of people likely decided to give Agent Provocateur a second look after viewing this imagery.
Alexandrea Anissa 'Sheena' Collection

My last favorite lookbook of 2014 wasn't even featured on the blog this year, and I have no idea why because I adore it. Alexandrea Anissa's 'Sheena' collection is everything I love in a new lingerie brand. They're fresh, vibrant, irreverent, and informal. There's very much of a devil-may-care attitude about these pieces, and though I've never been cool a single day in my life, this is lingerie for cool people. More relevantly, this lookbook manages the impressive feat of making you believe that yes, you too can look this awesome without really trying if you buy Alexandrea Anissa lingerie.
What was your favorite lingerie campaign of 2014? And are there any lookbooks you're especially looking forward to for 2015?
P.S. Got a little more time to browse? Then take a look at these other noteworthy collections: