Kiss Me Deadly Spring/Summer 2014
Disclosure: This blog post contains affiliate links. For a full list of our affiliate partners, please view the righthand sidebar of the blog.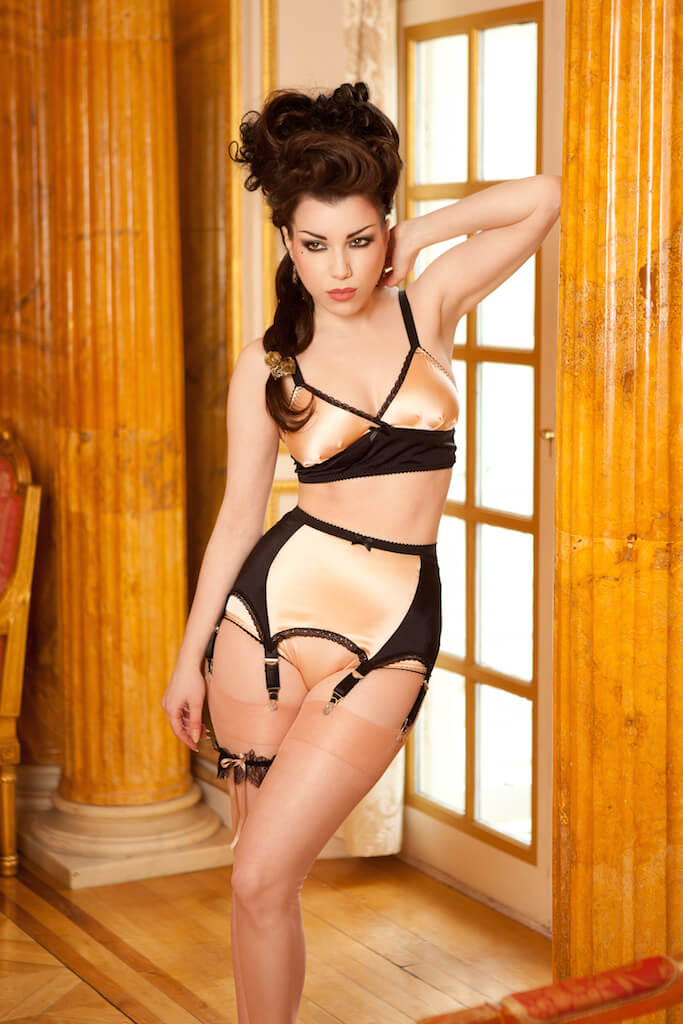 One of the highlights of my year is publishing new photos from Kiss Me Deadly. My love for this brand is no secret. I not only adore their designs (girdles and garter belts, ftw), I also love their no body snark policy and the founder's razor-sharp, irreverent wit. In fact, Catherine Clavering, the businesswoman behind Kiss Me Deadly wrote one of our most popular blog posts of 2013: What It's Like to Be a Woman with a Disability in the Lingerie Industry.
As far as lookbooks go, Kiss Me Deadly is known for advertising campaigns that push the limits of what's normal for the lingerie world. Their models are attractive, it's true (models almost always are; it's why they're hired), but they're also aggressive, staring into the camera while holding lethal weapons with definitive, "Don't f*ck with me," expressions on their faces (though sadly, there are a fewer weapons overall this season due to retailer complaints). In a world where femininity is defined by a distinct lack of aggression, I *adore* this. And to be perfectly honest, I also love that KMD is the only brand to use a model with my body type in the entire lingerie world --- the dark skinned, athletic, strikingly gorgeous Jessica-Louise Abidde. As I said in this post on diversity, I believe it's important to support brands who make an effort to diversify their models, particularly on axes that are traditionally underrepresented (such as muscular women and women with dark skin).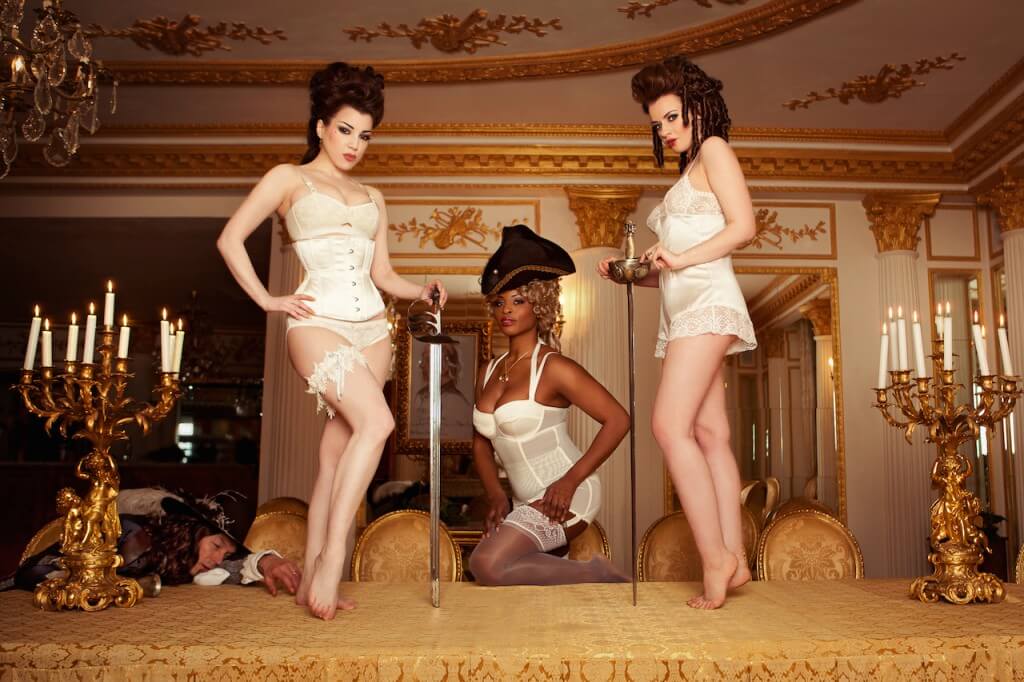 But to bring things a bit closer to the actual lookbook photos, I quite like how Kiss Me Deadly is pushing their editorial aesthetic. For years, all of their photos have been placed in front of a digitally constructed backdrop, but now the brand is experimenting with ultra-luxe, high-end shoots on location and this new, golden venue is the perfect backdrop for their Spring/Summer 2014 collection. While the photos may at first bring to mind Marie Antoinette, the shoot is actually based on the story of Julie d'Aubigny (a.k.a. Mademoiselle Maupin or La Maupin) who was a 17th century opera singer and swordswoman. She was also bisexual and known to wear men's clothes. What a perfect inspiration for a brand that calls its fans "Deadlies."
Regarding fit and size options, KMD has tweaked their swimwear fit a bit; larger sizes now have more space in the bust area. The silk styles and printed longline girdles are all upcycled fabrics (i.e. remnants leftover from larger brands) which means they have coordinating items floating around out there somewhere (Rock the Curves did an excellent blog post matching some of KMD's pieces from last year with the lingerie lines that originally produced the fabric). In addition, Kiss Me Deadly has sampled two styles with Miss Mandalay, a full bust bra specialist, to coordinate with some of their pieces. And for the leopard set... the lingerie is not only made in the UK, the fabric is also made there as well --- which is really rare for lingerie fabric sourcing!
As far as availability, that's a bit up in the air. Kiss Me Deadly is a super small brand so their ability to produce future ranges is directly linked to the sales of their current ranges. Some of the pieces shown here are in stock, but some are yet to be released... with as-yet-unknown release dates. But hopefully the things they have in stock now will sell soon so they can make the new pretties!
What do you think of the new collection? Any standout favorites for you?
Credits:
Concept, photography, modelling: Iberian Black Arts
Venue: The White House (not that one! We have our own).
Period wigs, hats, and dead courtier: Prior Attire
Garters: Florrie Mitton
Historical Jewellery: Gemmeus
Hair and Make-up: Sammm Agnew