The 15 Best Lingerie Addict Articles of 2017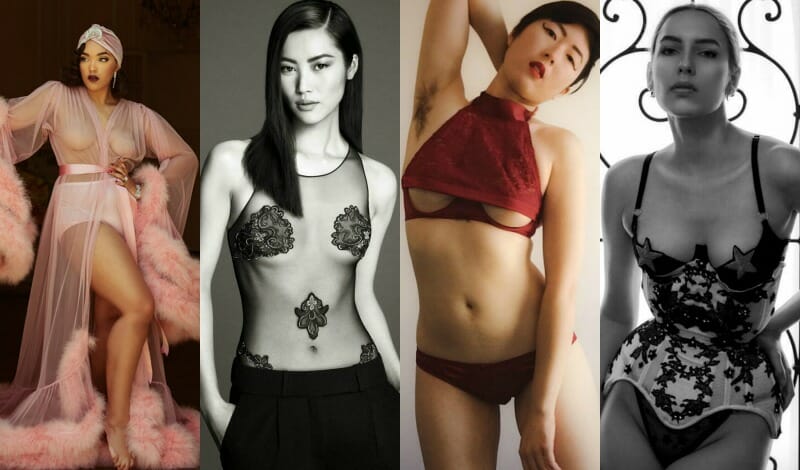 To be honest, I was almost afraid of putting together this year's "Best of TLA" post. We didn't publish as many articles in 2017 as previous years (largely due to the book , but also because of the move), and I was worried there wouldn't be enough good posts for this feature. But I'm rather elated to say I was wrong.
Our Best of the Year roundup is meant to focus on evergreen content, the kind of pieces that won't feel old when you visit them a year from now or the year after that. While that criteria excludes most lookbook and review features simply because they tend to be more time-sensitive by nature, I did feel as though TLA's lingerie reviews and lookbook posts were especially strong...in fact, our strongest ever.
It's such a joy and privilege to have a knowledgeable team of columnists and editors who are not only incredibly insightful lingerie experts in their own right, but who also put TLA readers first...even when it's unpopular.
I suppose I felt like we really came into our own this year. The Lingerie Addict feels solid and stable and purposeful and relevant in a way I'm not sure we always did before. And that's a relief. After all, I've been blogging for nearly 10 years. Wouldn't it be sad if things were exactly the same?
What was your favorite Lingerie Addict article of the year? And what would you like to see more of next year?
Putting together a fashion editorial on The Lingerie Addict was a long-time dream of mine, and I'm so excited everything came together this year for it to happen while I was in California. We had an amazing team, a stunning location, and absolutely gorgeous designers. There was something so special about taking an idea that lived in my head for months and watching other people bring it into reality. But more than anything, I appreciated our readers' response to this editorial. Trying new things is always hard and scary; you're never quite sure how people will respond. And the fact that this editorial received so many positive comments - and encouragement do more! - has me more excited than ever about our next photoshoot ideas.
Our first article on black-owned lingerie brands (which went viral when we published it in 2015) was started to feel a little dated so I thought it was time for a refresh. This year's updated piece has both old and new favorites covering everything from full busts to plus sizes, to luxury lingerie for your most special occasions.
This post took so long to write that it was a true labor of love, but I also think it illustrates exactly the kind of direction I want to take TLA in moving forward. I want us publishing thought-provoking content that seeks to examine and discuss lingerie in the same manner of the rest of fashion industry. Where our writing isn't simply a tool meant to appease advertisers, but hopefully illuminates that bigger picture - for lingerie addicts and lingerie newbies alike - about intimate apparel.
Once an industry darling - the ultimate lingerie success story, if you will - Agent Provocateur has been on extended downhill slide for years. A slide which culminated in the brand declaring bankruptcy and selling to the owner of Sports Direct (a UK-based sporting goods retailer). Guest columnist Catherine Clavering of Kiss Me Deadly writes about Agent Provocateur's mammoth rise and fall...and what all that means for you, the customer.
It's a common refrain from customers, especially lingerie-addicted ones, that no one's making any interesting lingerie. yet there's a reason for that. Creativity is expensive, and even though boundary-pushing design often receives praise, that rarely translates into financial success. TLA's luxury specialist Karolina Laskowska explores the inherent tension in creating garments that sell vs. garments that are creatively and personally fulfilling.
Ethical consumerism is a complicated topic. We all know we should buy ethically. However, being able to do so...well, that's another topic entirely, and often seems like the exclusive domain of the financially well-off. Guest columnist Jeanna Kadlec of the famous LGBTQ-focused Bluestockings Boutique, pulls apart some of the common assumptions about buying ethically, as well as what the concept of ethical lingerie even means.
This year, I made the major editorial decision that TLA would no longer accept review samples from brands and would only review products which had either been purchased by TLA or by the columnist themselves. We live in a digital media era where it's often hard to tell if "reviews" are actually ads, and I hope this policy change helps make our lingerie reviews both more useful and more credible to you.
Calling all lingerie selfie-takers! One of my fave lingerie bloggers, Estelle X shows us how to take the best lingerie selfies of our whole entire lives with this easy in-home studio setup. I know I'm wanting to do more lingerie selfies next year, and I'll be coming back to this super useful guide again and again.
I'd forgotten we published so many stellar guest posts this year, and this piece from Holly Harlott is no exception. A vintage lingerie aficionado, Holly walks us through some vintage lingerie shopping basics like removing stains, buying online, and even her favorite shops to purchase from!
I'm often dismayed by how credulous most reporting about the lingerie industry is. Every press announcement is treated like the truth...even if the claims made within are starkly unbelievable. This article was an analysis of Frederick's of Hollywood I kept hoping someone else would write, because I thought a serious look at the company and some of the missteps they made along the way was worth examination. But since that article never appeared, I realized I had to write it myself.
Between Brexit in 2016 and the threat of NAFTA repeal in 2017, we've an unusual amount of time lately talking about how politics affects lingerie. Often, these kinds of broad economic decisions can seem far-removed from our daily lives, but as Quinne discusses here, trade agreements affect us all...even if we don't usually spend a lot of time thinking about them.
"Bodyposi" has become a popular industry buzzword. However, the net result after years of body positive campaigns has been more-or-less the same imagery we had before...only with slightly better PR. In this comprehensive and insightful piece, Ariel unpacks the concept of body positivity, what it should mean for a brand to claim they're body positive, and what she wants to see more of personally, as a plus-sized lingerie consumer.
The last few years have seen an explosion of lingerie start-ups, all promising to change the world forever, starting first with our underwear. Yet, more often than not, these companies simply offer more of the same: the same styles in the same colors in the same sizes. Even worse, these glitzy startups pull press coverage (and funding) away from their less glamorous and less well-connected, but far more creative counterparts. The net result of all this? Disruptions that simply reinforce the status quo (and often offer no real benefit to lingerie consumers).
One of only two shopping guides on this list, our plus size lingerie specialist Alysse shares her favorite tips and places to shop for plus size bras. If you wear a 38 band or higher, this is the article you want to bookmark!
Our second evergreen shopping guide of the year, Alysse makes sure TLA readers won't have to settle for bland, boring, uncomfortable, mis-sized underwear. Because, as you know, we believe everyone deserves pretty underpinnings!