How to Build the Perfect Vintage Lingerie Collection
Today's guest post is by Holly, a pinup and alternative model based in Toronto, Canada. She is also a lingerie lover and vintage collector. When not modelling, Holly is working on her undergraduate degree in cinema and media studies with a special interest in Hollywood costuming from the 1930s-1960s. She also enjoys snuggling her cats, drinking large amounts of coffee and watching movies. You can keep up with Holly at her website and on Facebook, Twitter, and Instagram.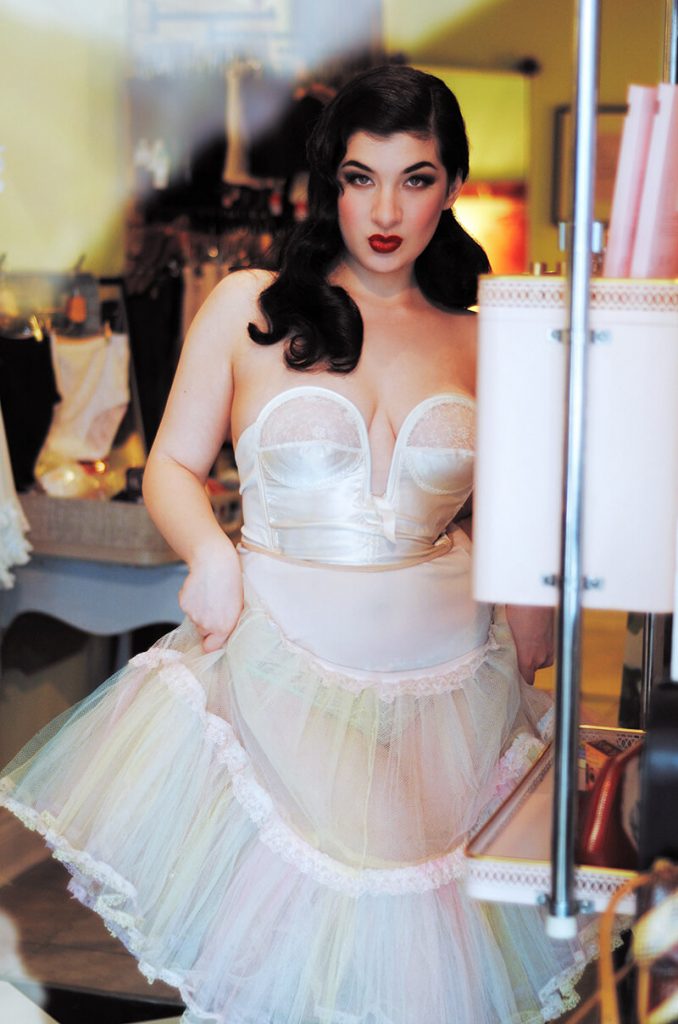 I've been modelling for two and a half years, and I can't tell you how many times I've gotten down to my skivvies in front of a group of people. I love wearing beautiful underwear. I like to examine the new pieces I buy while watching Netflix, admiring the craftsmanship put into each garment.
As a pinup model by specialty, I spend a lot of time working with vintage garments, many of them my own. My vintage pieces are some of my favourite ones to wear and model because they're so well made and the styles make my heart flutter.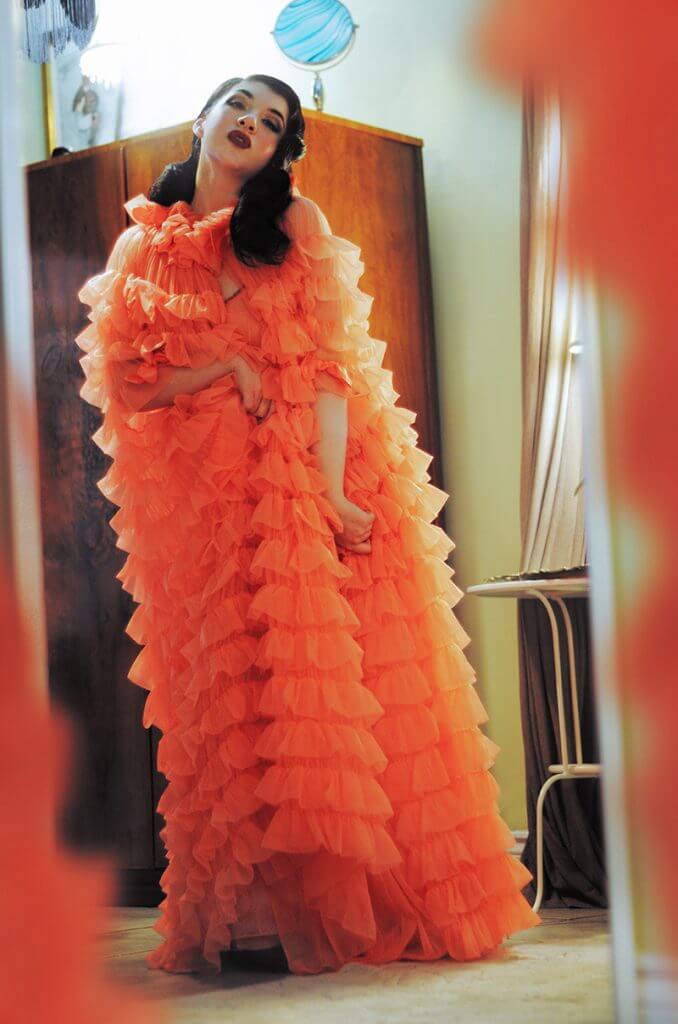 My First Photoshoot
Things were very different on one of my first lingerie shoots, back when I was a less experienced model. My lingerie obsession had just begun and I chose a beautiful red lingerie set I loved.
It's one thing to wear lingerie for a partner, but it's another to be in front of a group of people. I remember trying to cover my stomach (something I'm very self conscious about). I also tried to pose behind walls and chairs and to hide my body beneath the robe I wore on top of the lingerie. I knew it was silly at the time, especially because I understood that the photographer and makeup artist weren't judging my body and self-perceived flaws, but I found it so difficult to get the idea out of my head.
However, when I got the photos my back, I was blown away. I was surprised at how much I liked the way I looked in pictures. It made me like my body more and fall even deeper in love with lingerie.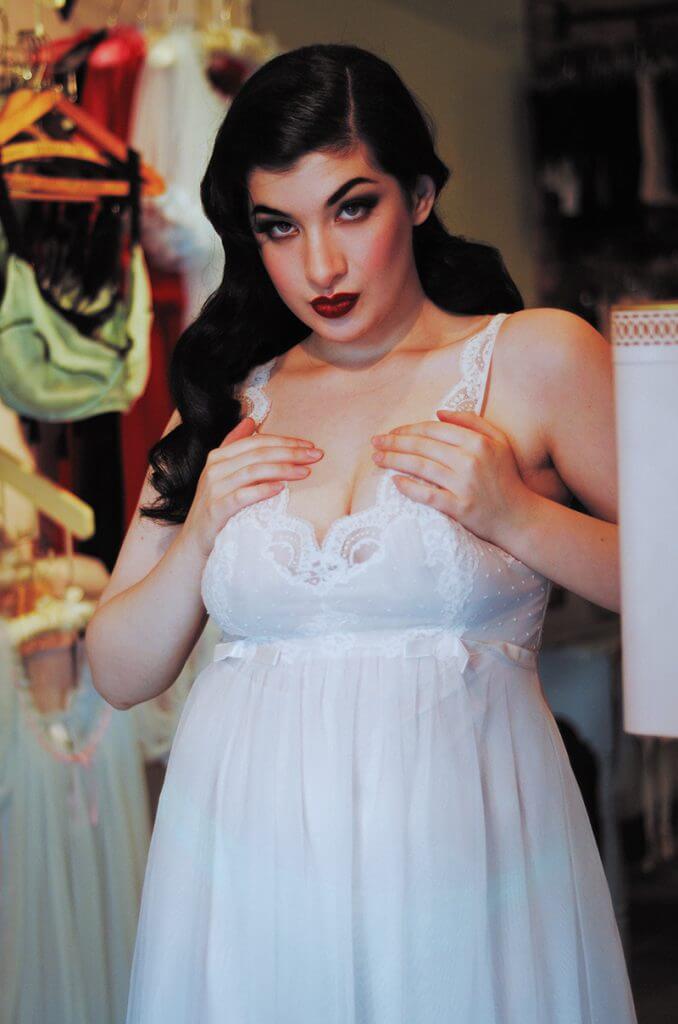 Despite the fact that many lingerie campaigns are shot through the male gaze, modelling is an expression of my love of lingerie. I genuinely enjoy getting dolled up and taking pictures that make me feel good. I actively encourage everyone reading this to take some pictures in their most beautiful set of underwear, even if no one sees it but yourself. You might be surprised at how uplifting it is!
I thought I'd accompany this piece with an editorial of some of my favourite vintage lingerie and loungewear pieces. The pictures are by Courtney Reader, who is one of my favourite vintage photographers due to her cinematic style. We had the pleasure of shooting at Gigi's House of Frills, a Toronto vintage lingerie shop.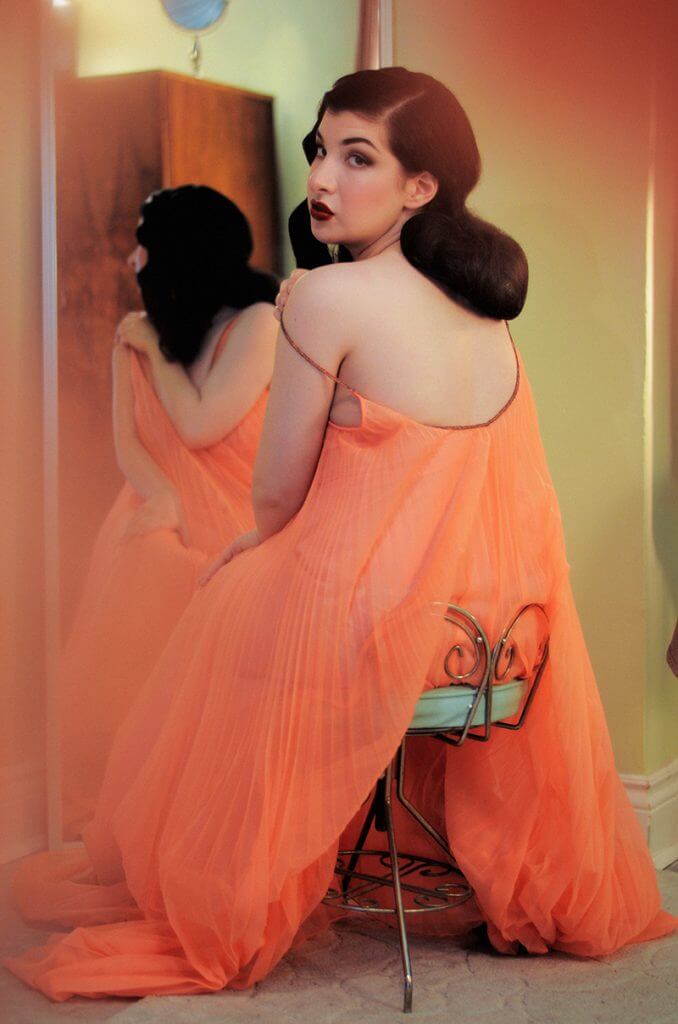 Everything seen here is from my personal vintage collection. I thought that would give an interesting sample of lingerie over a few decades. I also thought it would be fun for people unfamiliar with different styles of vintage underpinnings to see what they look like!
If anyone is interested in growing their own vintage lingerie collection, I suggest joining vintage buy and sell groups on Facebook, searching the various vintage tags on Instagram, scouring Etsy, and going to local vintage shops. You may just find something you love!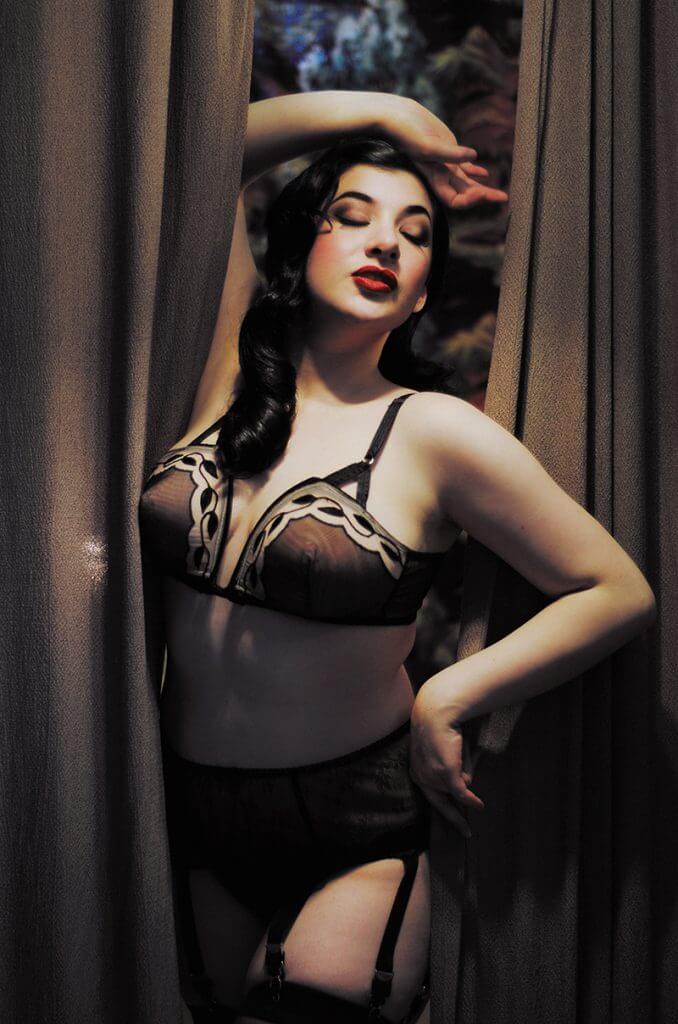 How to Create Your Own Vintage Lingerie Collection
While vintage lingerie happens to be my passion and what makes me feel good in my skin, I know it's not for everyone. However, I thought I'd share a little bit of what makes me feel most confident.
If you're lucky enough to be able to see a vintage item in person before you buy it, there are a few things to look for to determine its age and overall condition. First of all, the tags are very important when it comes to dating items, and tags have changed many times over the years.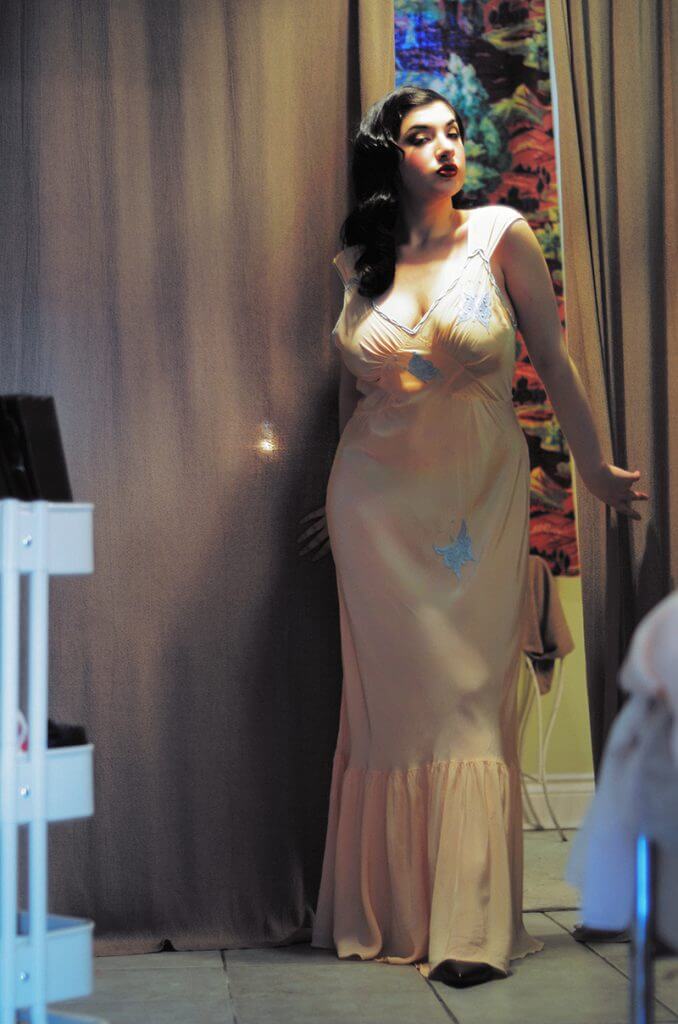 Ebay has a great list that will show you different tags from different years on different products. If you can zero in on what kind of tag a piece has, you'll know its age.
You'll also want to take a look at what kind of materials are used. Synthetic fibers didn't come into popular use in lingerie and loungewear until the 1950s, but they were used as far back as the 1920s under names like rayon or "synthetic silk,"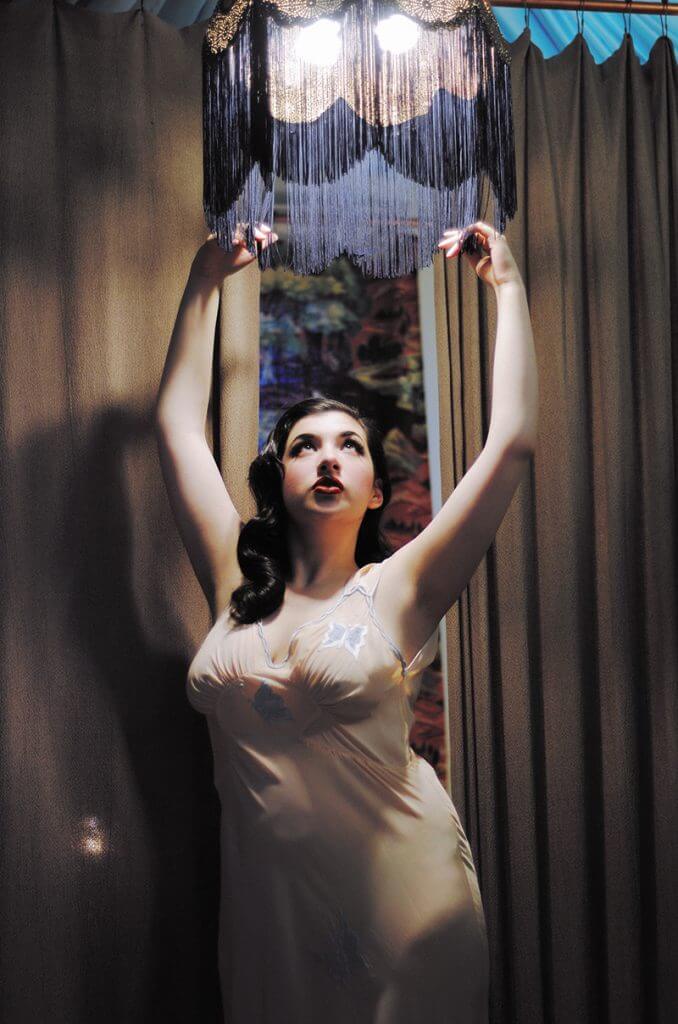 Most 1920s lingerie is made with real silk or some sort of silk blend. Rayon became popular from the 1930s onward and other synthetic fibers, like nylon, were widely used in the 1940s and 50s.
Of course, look for noticeable stains or damage like silk shattering or tears. Sometimes holes can be repaired if you're good with a needle and the rip is on the seam. Unfortunately, there's nothing that can be done if the rip is in the fabric (unless you want to make it into a project).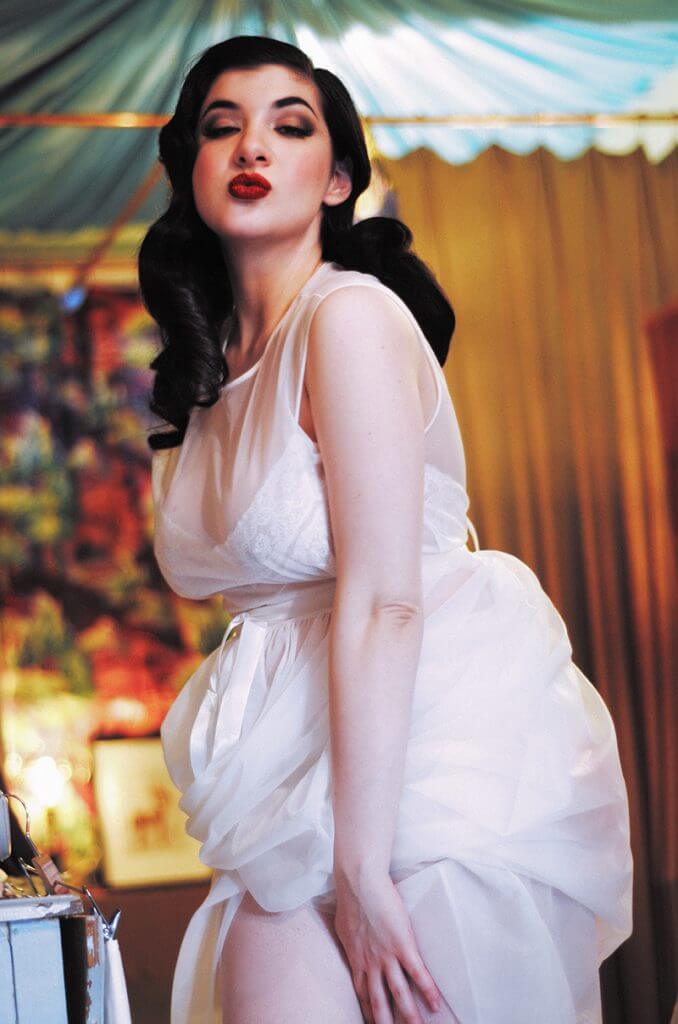 Stains can sometimes be removed from vintage fabrics, but they're often too deeply embedded in the fibers to be lifted. The same applies to any kind of scent, like smoke damage, which is unfortunately common in vintage garments. Smoke damage is very difficult to remove. At best, it takes a full week to get the smell out...if it goes away at all.
When buying online, remember these tips as you're looking at the photos the seller posts. Reputable sellers on Ebay and Etsy (and even Instagram and Facebook) will post multiple pictures of the front, back, tag, closures, and any damage to the garment. Reputable sellers will also store garments in a "scent free home."
If you love a piece and want to see more photos and ask questions, reputable sellers will be happy to provide more information. It's always better to ask questions because you can't see the garment in person. It's also a good idea to know your bust and ribcage measurements. Sizing has changed greatly over the years, and a 1950s cup won't fit the same as your current bras.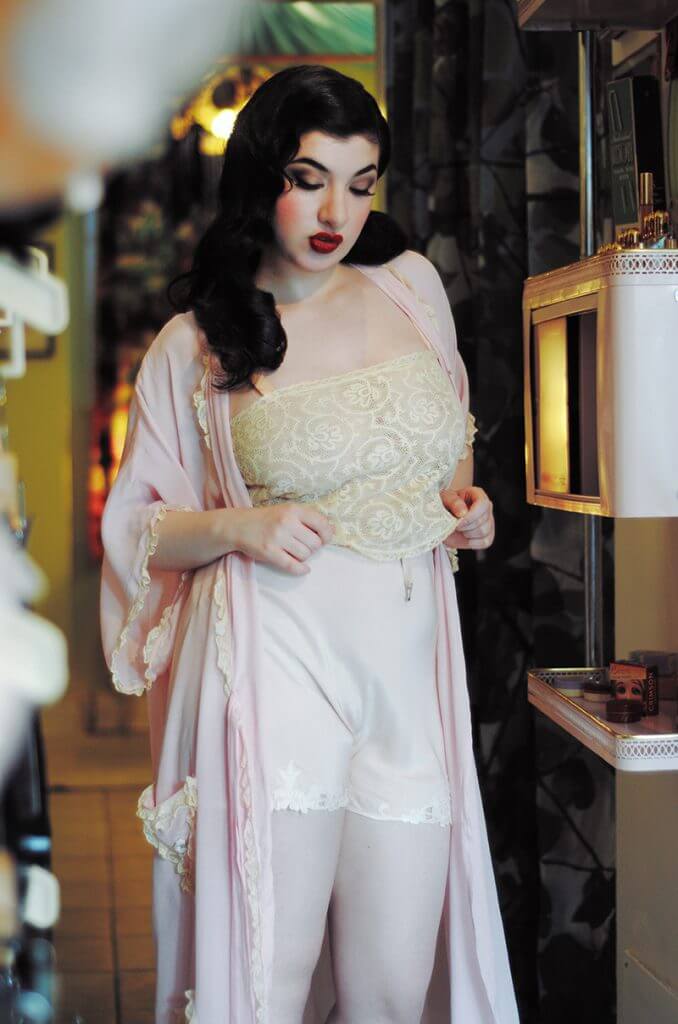 Having some experience working in a bra fitting boutique and having read many lingerie blogs, I know how important fit is to many people. This may seem a little sacrilegious, but if I truly love a vintage bra and it doesn't fit properly, I'll buy it anyway.
I personally don't wear my vintage lingerie on an everyday basis so I'm happy wearing something that doesn't fit perfectly to shoot in. Some people collect vintage lingerie and don't wear it while others wear it on an everyday basis. Both are totally okay! You just need to find what works for you.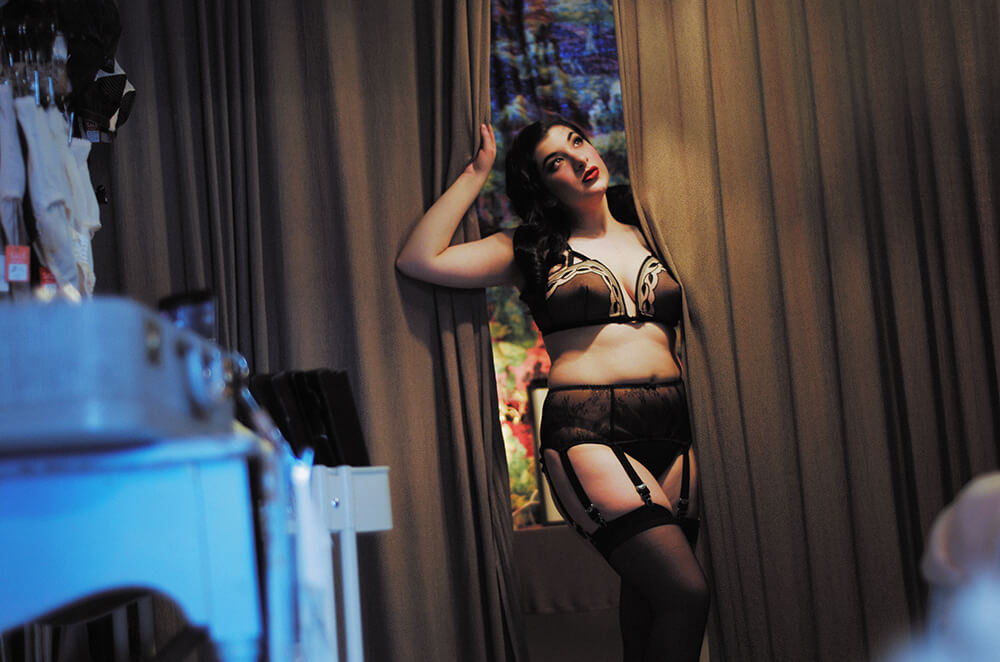 Ultimately, what modelling beautiful lingerie has taught me and what I'd like to tell other people is that underwear doesn't have to just be functional, or something for a partner to enjoy. While both can be true, ultimately lingerie should be enjoyed by the wearer most. Even if you don't wear it and just like looking at it, its main purpose is still to be enjoyed! So go ahead, buy that gorgeous lingerie and be proud to wear it, take pictures in it, and ultimately, love yourself in it.
Etsy Shops I Recommend:
Editorial Credits ~
Works cited:
Ewing, Elizabeth. Dress and undress: a history of women's underwear. London: B.T. Batsford, 1978. Print.
Saint-Laurent, Cécil. A history of ladies underwear. London: Joseph, 1968. Print.
Save
Save
Save