Lingerie Review: Dita Von Teese Severine Set in 34F
Note: This set was partially purchased by the author and by The Lingerie Addict.
Dita Von Teese Lingerie is the rare celebrity lingerie label that can stand on its own. When launched in partnership with an Australian lingerie company, Target, in 2012, the brand had a lower price point as well as a different name: "Von Follies by Dita Von Teese."  A year later, the name shortened, quality improved, and the target customer changed.
Dita Von Teese Lingerie is a mid-priced boutique brand with bras around $75. Available band sizes are 30-44 and Australian cup sizes are B-H (that's B-G in UK sizing, or B-I in US sizing). Bottoms available in sizes XS through 3X.
Just like Dita's personal aesthetic, the line takes some of the best parts of vintage style and perfectly reimagines them for today. You're as likely to find their bras on a vintage fashion aficionado as you are any lingerie addict.
But unlike vintage lingerie, Dita Von Teese uses interesting colors like emerald green and deep teal, carries a relatively wide size range, and, best of all, offers a fantastic value for the price point.
Why I Love Dita Von Teese Lingerie
Dita Von Teese Lingerie is one of my personal favorite lingerie lines, thanks to their deeply thoughtful design choices. From old-fashioned tiny embellishments like tassels and ribbon roses, to modern strappy details manage to look effortless, every single aspect carefully selected.
One of my favorite DVT styles, the Coquette, has a lace-trimmed scalloped sling inside the cup that's only visible when you take the bra off. Even their garter belts, usually designed as an afterthought to create an easy-to-sell third item in a set, are hyper-dynamic statement pieces on their own.
You can see proof of this thoughtfulness in our article on how brands choose bra names, where Dita herself goes into considerable detail about how she chooses to name her line. For a brand at this price point, this combination of care and quality is as unusual as it is delightful.
One obvious way to keep costs down is by remaking previous bra and garter styles with new fabrics and embellishments. By mixing and matching styles and fabrics, a brand creates completely new lingerie ensembles that are reliably well-fitting and save on development costs. DvT does this so well, I rarely notice right away. Plus, I love being able to buy a new style knowing the bra will fit because I've worn that shape before.
Dita Von Teese Severine Set
I have a handful of Dita Von Teese Lingerie sets, and I'm so excited to review what I believe is one of their most stand-out: Severine.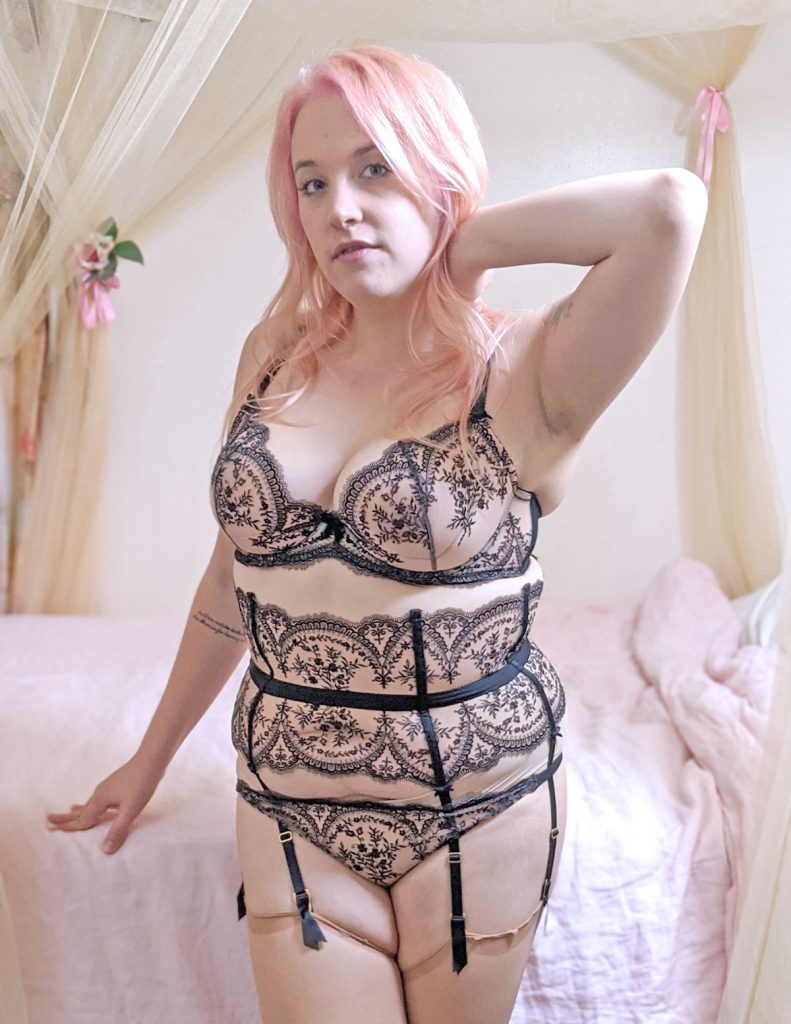 Severine was part of the Spring/Summer 2019 collection, and despite its slightly higher price point, quickly sold out in many sizes. I fell in love with the waspie-style suspender belt as soon as I tried it on, and purchased it full price, which I almost never do. (TLA purchased the rest of the set for me to review.)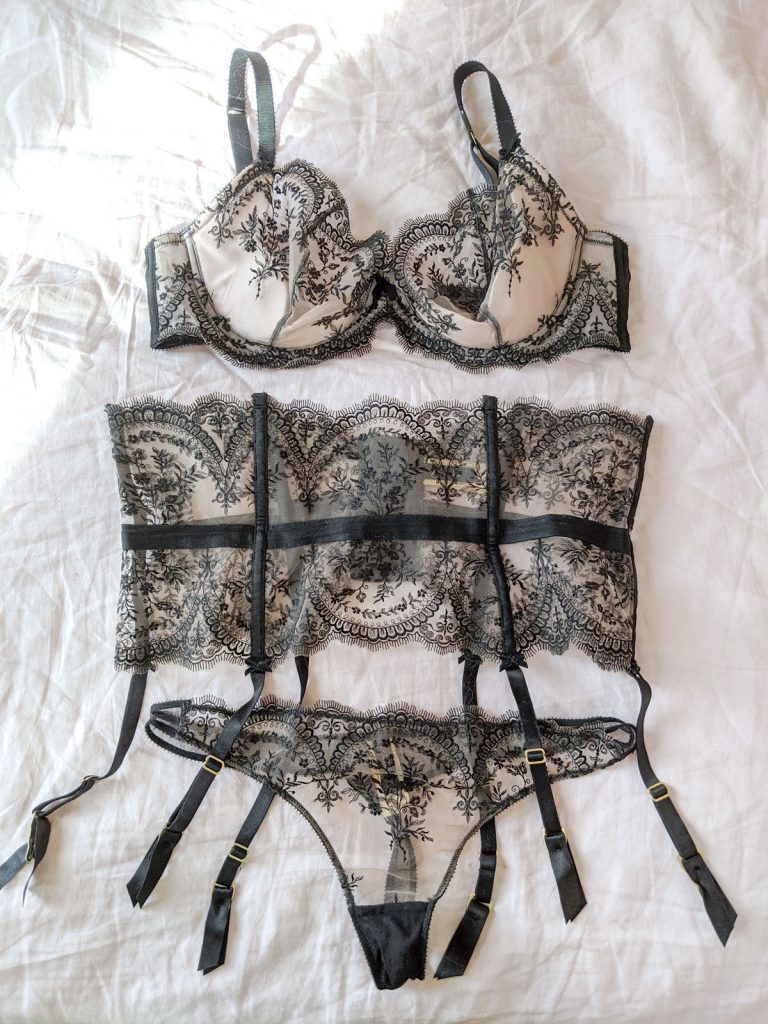 Like many Dita Von Teese sets, Severine looks so much more expensive than it is. At first glance, the fabric appears to be a gorgeous, ethereal lace, but it's actually embroidered beige mesh, which explains the lower price. If this was made from real lace, it could easily cost twice as much!
Luckily, this trompe l'oeil effect translates so well, I didn't notice it at first. Even the "eyelash lace" details are embroidered lines on a raw mesh edge. A technique like this can look like a cheap cop-out, but this is perfect.
Also contributing to the lower price is the recycled bra pattern, a style utilized by sets like the aforementioned Tryst and Coquette. I love those gently padded, scalloped satin side slings, and often find myself admiring this sweet detail when I toss this bra on my sofa at the end of the day.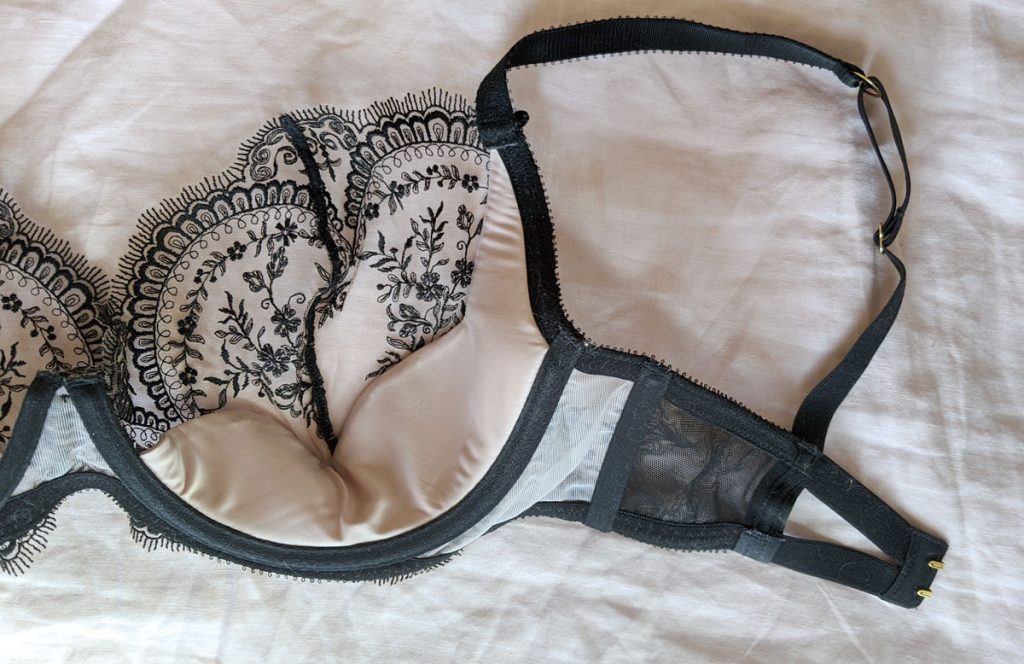 Fit and Sizing
Every Dita Von Teese bra I've tried has been very snug in the band. Instead of my usual 32G (Dita Von Teese Lingerie uses Australian bra sizing and skips FF in the alphabet), I typically size up two band sizes to a 36E, as I prefer how the strappy back bands look with a less snug silhouette.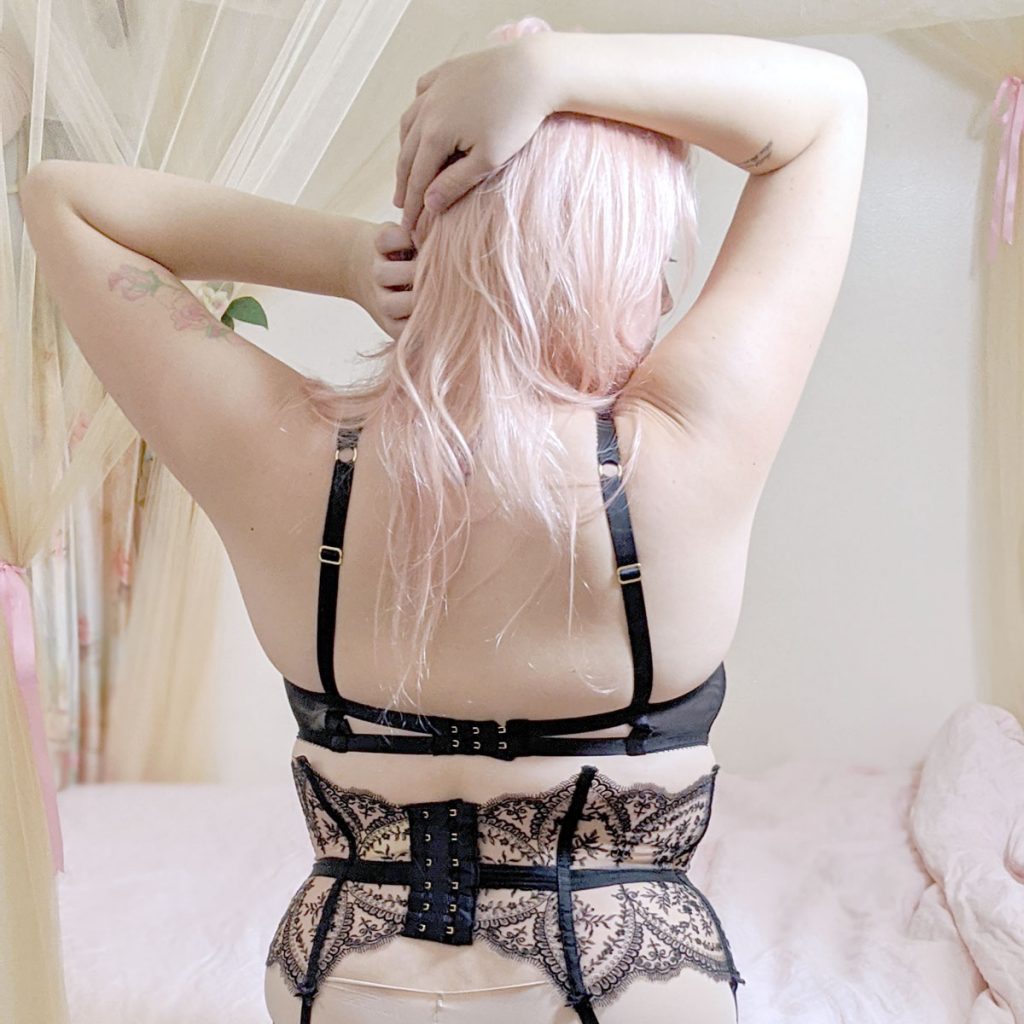 For this bra, I went up only one band size, picking the 34F, and it's snug. I would not be able to hook a 32 band. This bra fits how other Dita Von Teese bras fit: a full size small in the band, and fairly true to size for the cups.
On the Severine, the cups are extra full towards the gore. That detail, combined with the relatively short gore, makes me think this bra would be great for someone with close-set breasts.
I've found that some Dita Von Teese bottoms, like the Dahlia bikini and g-string, run small, but this one runs a bit big. I bought a size 12 (US 8 or Medium) in the thong, and it fits about the same as my Dahlia bottoms in size 14 (US 10 or Large). The suspender belt is a size 16 (US 12 or Extra Large). I probably could go down to my usual L if I wanted more "control," but I tried it on in-store and loved the fit.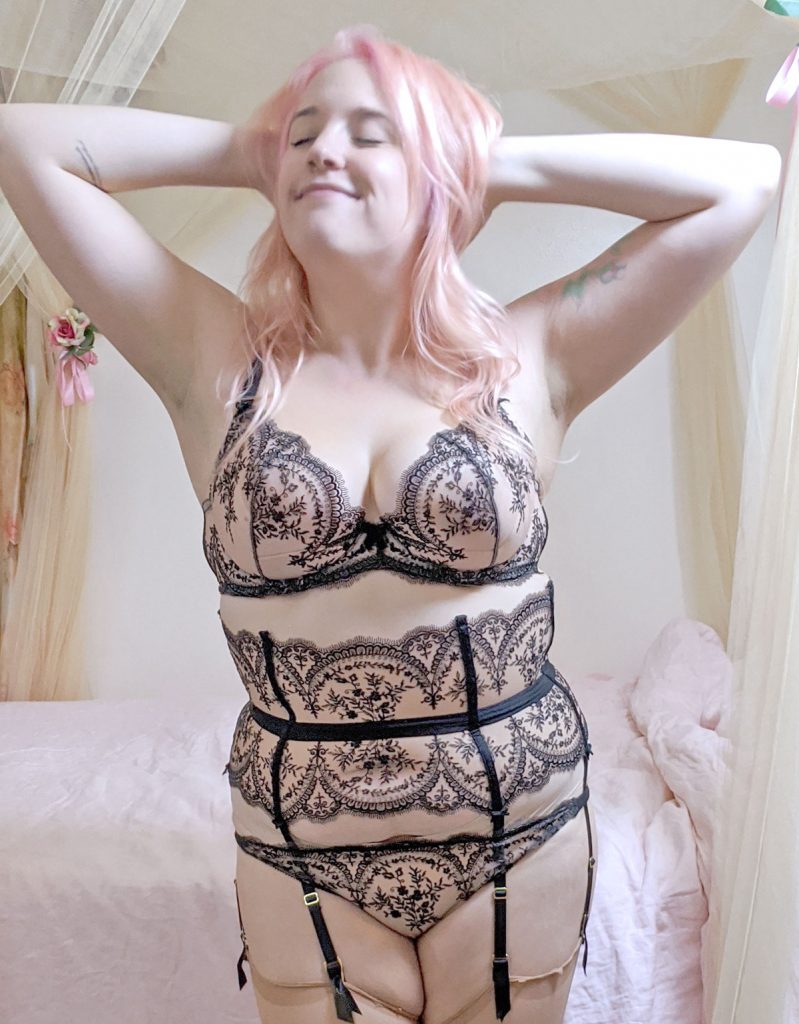 The suspender belt is the piece de resistance of this set. It's a beautiful piece of elegant, casual shapewear.
Of course, this is more of a "garter belt with boning" that a "waspie with garters." The plastic boning tends to bend after a long day, and the embroidered fabric only gives as much shaping as the mesh itself can offer.
However, the sturdy ribbon around the waist does a great job of nipping in your torso. It reminds me of the ribbons sewn to the inside of vintage dresses to give extra cinch around the waist, and I love the pinched-in silhouette it gives. Even with its lack of extra support, this suspender belt does a better job of cinching in and staying put than any other "fashion waspie" I've tried. It's not a shapewear powerhouse, but it's delightfully sturdy.
A Few Last Thoughts...
Dita Von Teese Lingerie is the rare lingerie line offering outstanding style, lovely quality, nice fit, and a relatively wide size range - all for a reasonable price. This is one of the few lingerie brands I would recommend to anyone with no caveats, and I'm excited to see what the future holds.