Androgynous Underwear Review: Play Out Boxer Briefs in Plus Sizes
Disclosure: These underwear were purchased by The Lingerie Addict for the purpose of review. All opinions are my own.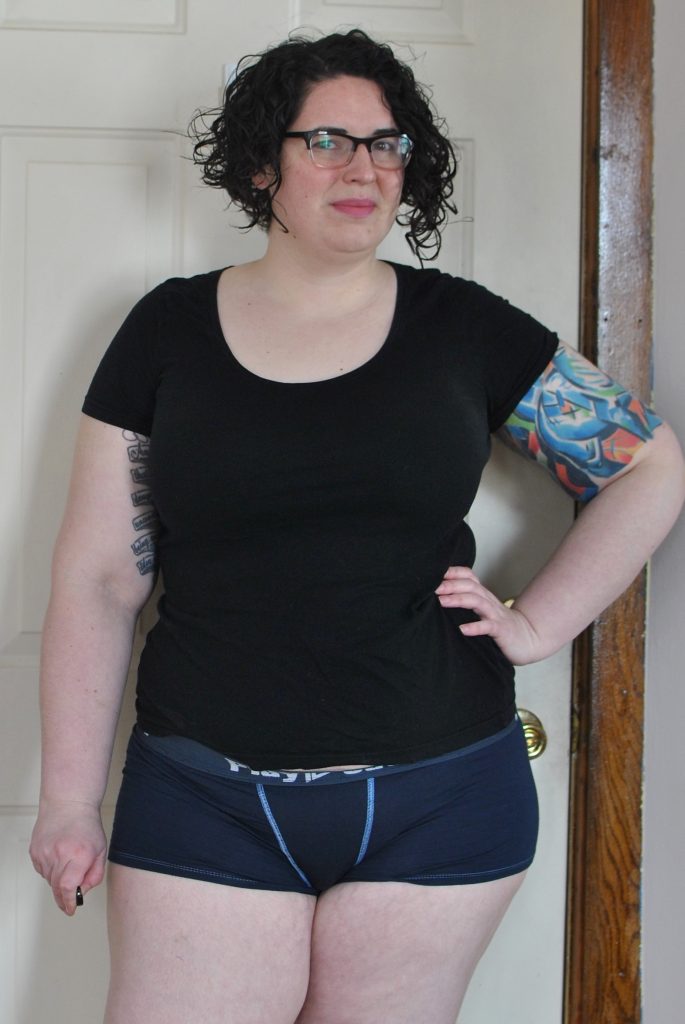 Navy & Blue Low Rise Boxer Briefs from Play Out, $24
I know I'm not alone in my search to find the perfect boxer brief to fit both my androgynous style and my full hips and thighs. I look for soft, stretchy elastic and hems that don't bind or ride up. I also look for the designation boxer brief, rather than boyshort. In my experience, this indicates not only the characteristic wide waistband, but also fuller coverage, especially in the rear, and more masculine styling.
In searching for this mythical, perfect boxer brief, I was excited to see Play Out, a queer-owned company with proven attention to broad gender representation, expanded their size range. They now offer a 2x-3x (US size 16-20) low rise boxer brief in five colors.
This is a relatively small offering compared to their standard size range, which currently includes sixty-three options in four different cuts. I know expanding a size range can be costly and time-consuming for small companies. I hope this trial will prove fruitful and allow Play Out to offer more options in their expanded sizes, and perhaps, one day, offer sizes larger than US20. For this review, I'm wearing the Navy & Blue Low Rise Boxer Brief in size 3X.
Construction
Made of a navy blue, soft modal fabric with a branded elastic waistband, the briefs are constructed with lighter blue accent stitching. The modal and elastic both are stretchy with good recovery, and are soft and comfortable against the skin. There are no tags or rough areas.
The accent stitching on the body of the briefs is neat. A flatlock stitch is used in the front to mimic the opening of a boxer and in the back to construct the rear vertical seam. A coverlock stitch is used to hem the leg openings. Seam allowances in these areas are either neatly enclosed in stitching or trimmed close to the stitch line, so there isn't much extra fabric on the inside.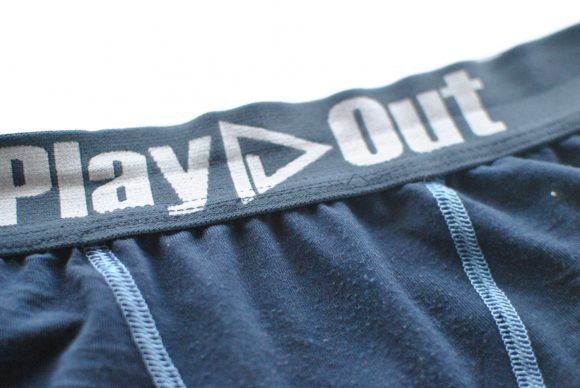 Waistband stitching with wavy, overlapping stitches and popped threads
I'm pleased to see Play Out constructs the visible stitching so neatly. However, the stitching at the waistband is disappointing. The coverstitching on the elastic waistband uses a thread matching the dark background, so the stitching is not very visible. Nonetheless, the lines are wavy and occasionally overlapping, rather than neatly parallel, which mars the clean appearance of the rest of the brief.
Additionally, some stitches popped when I took the briefs off for the first time. I don't treat my everyday underwear with delicacy, so I expect a longer-lasting stitch. More personally, as a plus-size person, I'm well used to hesitantly easing garments up over my hips, fearing to hear that popped-stitch sound. So it was particularly frustrating to have those threads break, even though the briefs have plenty of ease on me.
Size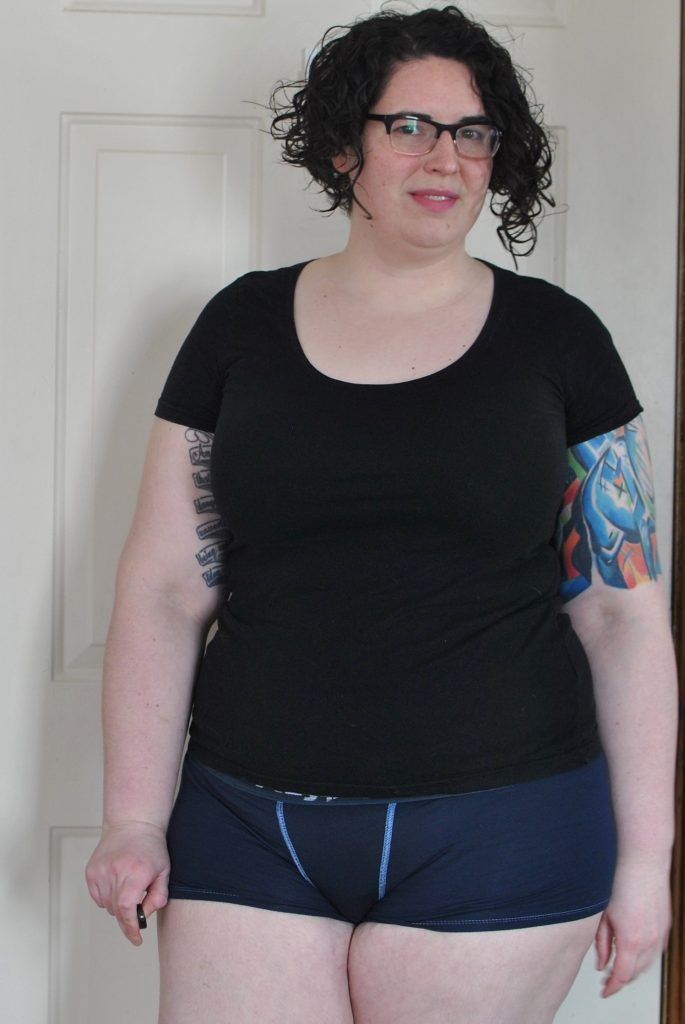 When I bought the boxer briefs, Play Out did not yet have their size chart updated to include sizes 2X-3X, but it's up now. I emailed them, and founder and co-owner, Abby, replied with a warm and informative response. Size 2X corresponds to sizes 16-18 and 3X to 18-20 and run true to size. Given the stretchiness of the waistband and fabric, Abby suggested the 3X could fit up to a size 22.
I generally wear around a size 18, but I waffled between sizes at first. Ultimately, I chose the size 3X, as I prefer full butt coverage, particularly in a boxer brief. I think that was the right choice as this pair just barely gives me full vertical coverage in the rear. In this respect, I do think their size chart might be more useful if it used hip measurements rather than waist measurements to indicate size.
The waistband fits comfortably at my low hip without cutting in. The leg openings accommodate my thighs without binding too tightly at the hem. There's enough give in the fabric so I think the briefs would, indeed, fit, even if you're a little outside the size range.
Wear & Price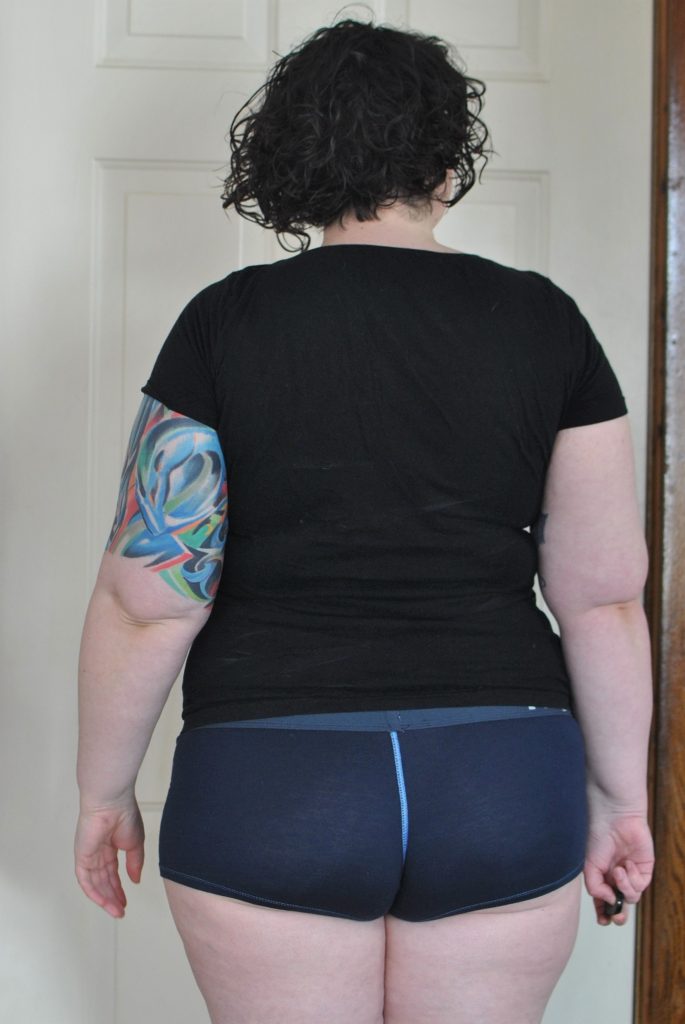 When I first put them on, I was concerned about the rear seam, which gives a slight wedgie appearance. But it doesn't bind between the legs or ride up further with wear, so I really didn't notice it.
Unlike my mythical, ideal boxer brief, the legs do ride up, bunching a bit in the crease of my thighs and revealing some cheek in the back. However, this didn't cause any discomfort as the fabric is thin and soft. I was comfortable wearing them all day and will be happy to reach for them in my clean underwear drawer regularly!
Final Thoughts
At $24 a pair, Play Out's boxer briefs are in line with offerings from other independent companies. I would like to see the waistband stitching issue rectified, as it lets down the overall high quality.
I hope that this experiment in extended sizing proves profitable and allows Play Out to offer more sizes in other cuts, colors, and prints. I'd love to own boxer briefs in some of Play Out's characteristic bright patterns!