An Interview with Maly Siri, Pin-up Artist
Maly Siri's illustrations are... well, iconic. It's hard to ignore the power of these vintage-styled images. Maly Siri's work is both traditionally glamorous and playful. In one series she substitutes the Robbie the Robot for the conventional 1950s husband; in another she depicts circus performers, including conjoined twin banjo players, in the pinup style. Maly Siri's work has range: it can be hyper-real, cartoony, and several places in between. The connecting element? Powerful women in elaborate hairstyles, clothes, and lingerie. I recently got a chance to speak with Maly. We talked about her artwork, the elements of a vintage-inspired lingerie look, and feminism as a femme.
You work primarily in the pinup style. What do you love about this style? What's kept you interested in it?
First of all, as far as I'm concerned, this style is inevitably inspired by retro. To me, it's what makes the pin-up style. Sexy, but not explicit, not vulgar. I've always been interested in antiques. I collect old items from the past because of the romantic (in the literal sense) essence they carry. I just love to imagine what this object has seen through its existence: what would it tell, if it could speak?
Pin-up illustrations and images are a part of that history. They tell us something about love, happiness, desire. They're fantasy. I love to think that pin-up images were a connection to home for the boys during WWII. Can you imagine that? It was true hell outside the bunker, and a single pin-up image reminded them of home and what they're fighting for. The image of a young, smiling, beautiful woman can be that strong. Awesome, isn't it?
I've always been inspired by elegance, glamour, humour from these eras, from the 1930s to 50s (and even before that). Through pin-up genre, I can express any atmosphere, any theme… it's an infinite exploration!
The pinup style has been traditionally dominated by male artists and photographers. What do you feel you bring to the pinup genre? Does being a woman affect your artistic sensibility?
I often hear people say my work is somewhat more sensible and sweet. But actually my influences are mostly male illustrators from the past. Saying that I draw more sensibly because I'm a woman could be kind of sexist, maybe? Men can be sensible too! I'm not that much concentrated about the erotic physical features of the pin-up girl, maybe that's what explains it all. I concentrate more on the looks and attitude. A stare can be the most erotic thing ever. And sometimes, just a charming wink or rosy cheek is magical….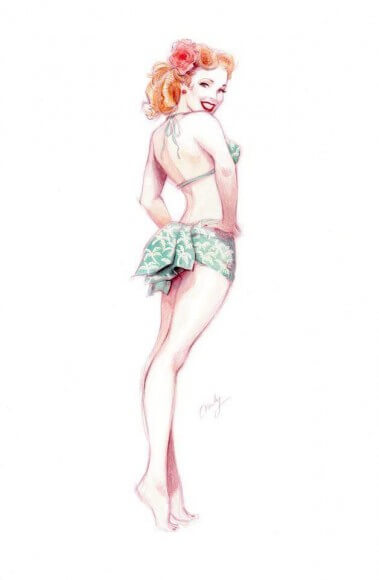 Is your work influenced by the gay community, or by being gay yourself?
My work isn't influenced by the gay community. I don't feel like I'm part of a community just by the fact I'm actually in love and live with a woman. My love for women and femininity is of course a part of me, and then influences my work obviously. An interesting challenge would be for me to see what I can do about male pin-up….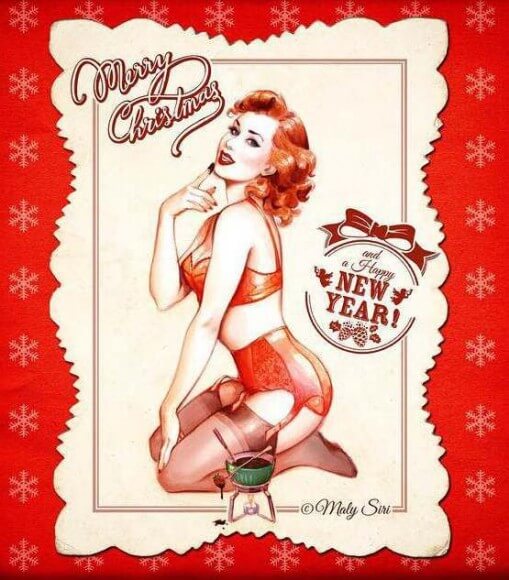 You've said before in an interview that "you can be a feminist and still be feminine." What is your relationship to femininity? Did you always feel comfortable with it?
Actually during my childhood and teenage years, I wasn't comfortable with my femininity at all! I was quite dressed like a little guy! I don't really know what was going on with me. The strange thing is that I developed my taste for feminine features and stuff when I began to assume my strong interest for women. Ask a psychiatrist, I have no explanation for that!
Actually, this is the way I feel empowered and ready for life. Many women still think being feminine and seductive or sexy is playing the game of what men want us to look like, like an object. Actually, these are weapons. Feeling beautiful for yourself is empowering. Curiously, men show me more respect when I'm elegantly and femininely dressed than when I'm in jeans.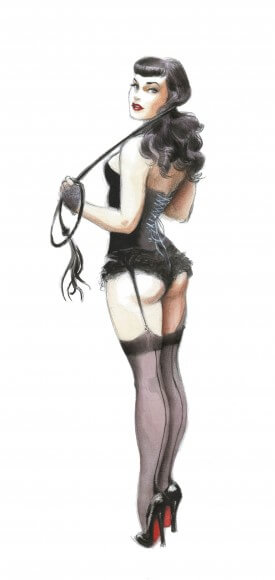 What is the relationship between pinup and lingerie? What kinds of lingerie would you suggest for someone looking to replicate the styles in your drawings?
The forward for my book, Maly Siri's Pinup Art, was written by famous French lingerie designer Chantal Thomass, who was the first designer to put lingerie on a catwalk in the 70s. Pin-up is intimately linked to lingerie, as it is the classical attribute to it. All those charming details --- lace, structure, softness of silk or satin, the fabrics and textures --- are so erotic.
Lingerie is the pin-up's shiny armor --- are you thinking of when I said weapons? If you like the 50s style, perhaps try the famous bullet bra, back-seamed stockings with a garter belt (with six straps at least), and high waist panties. It looks like grandma's panties, but actually it's very flattering for the silhouette. Wearing lingerie is a game you play with yourself. It makes your attitude change, you feel more confident, chic, it makes your gait better… just because it's your little secret! Just have fun!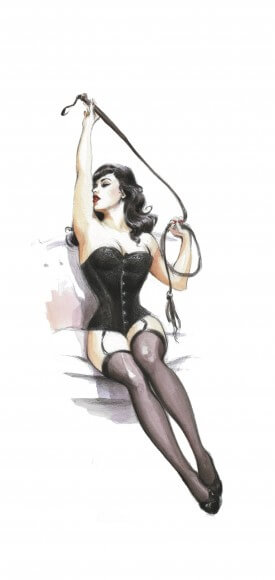 What's next in your career? Any big projects or tours?
Well I have two projects in mind for books, and I'm looking forward to find some partnership for merchandising… I hope to find it very soon!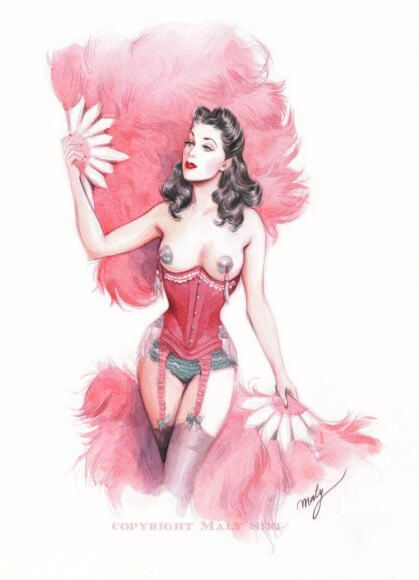 Maly Siri lives in Montreal. You can find her work online here, or follow her on tumblr. Her book, Maly Siri's Pinup Art, is available on Amazon.