Viva la Sexy Granny Panty!
By: Marianne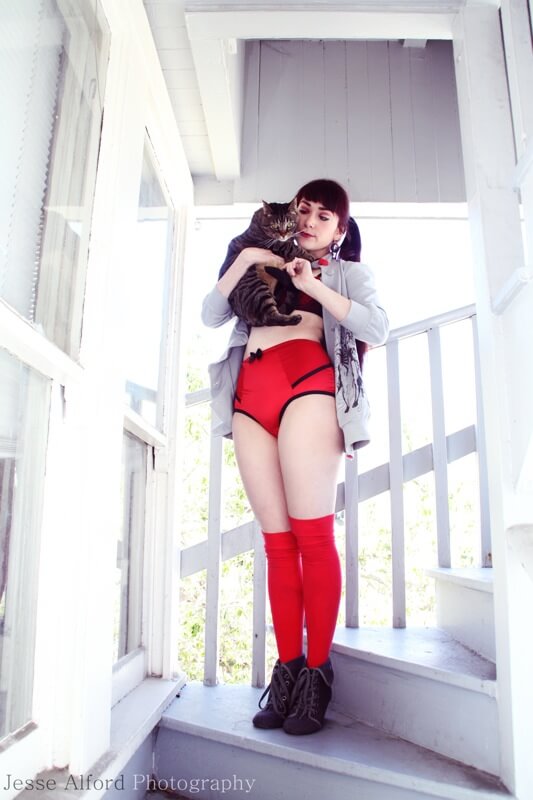 Today, I would like to talk about an item of apparel very near (no pun intended) and dear to me: sexy granny panties. Emphasis on the "sexy." If the term "granny panties" doesn't appeal to you, I suppose we can stick with "retro high-waist panties," if we must. This enduring style smooths and accentuates curves; even in this age of ultra-low-rise jeans, thongs, and whale tails, it has a dedicated following. But what separates the "sexy" from the "granny"? What makes for the most flattering high-waisted styles? What should you wear them with? Where can you buy panties in this cut, or at least stare at luscious bombshells decked out in this modest yet figure-hugging style?
So if you're new to the game, let's define the overarching style. "Granny panties" is usually said in a self-deprecatory or possibly even offensive tone in reference to underwear that's just not sexy. "Not sexy" is the basic definition, and can encompass the following factors.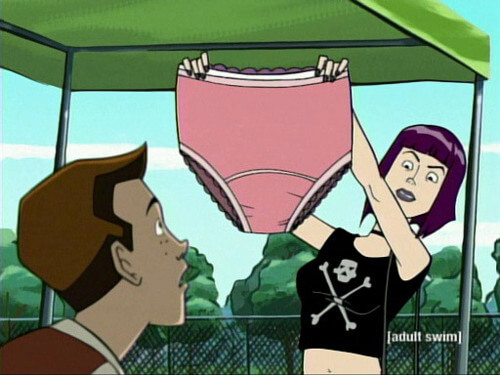 The Am I Wearing Granny Panties? Checklist
-Coverage: Where is the waist and legline on your panties?
-Fabric: Are you rocking the plain cotton? What color is it? Is it ultra plain or featuring a generic floral? Has it, perhaps, seen better days?
-Elastic: Is the elastic chunky and white, purely utilitarian?
-Volume: Beyond the amount of coverage, how does it fit on you? Is it gathered into the aforementioned chunky elastic, causing it to bag around your bottom?
Now, I'm not trying to suggest that you have to wear sexy underwear every day. There are certain days (of the month, perhaps) where that may be too risky for your favorite silky treasures, or they may not be up to the physical rigors of your day's activities. But you should be aware of the detail differences between giant grandma thunderpants and the sexy granny panty.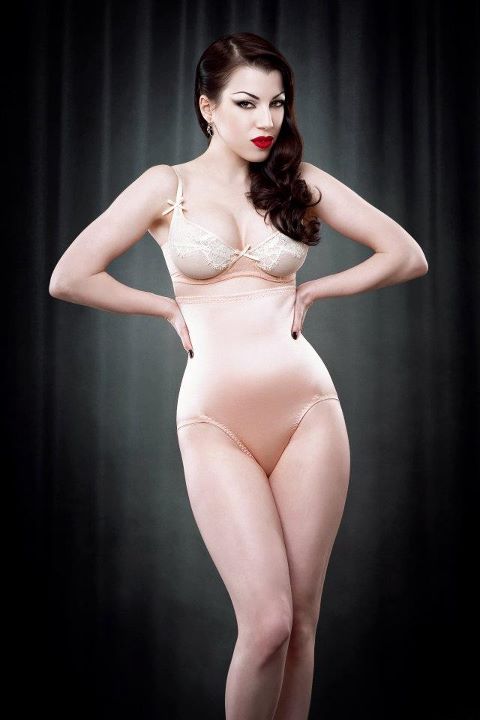 The Sexy Variant
The classic disclaimer, of course, is that this is my opinion of what makes for a flattering and sexy style. I'm certainly not going to pretend that your hypothetical lover will automatically go wild for the sudden increase in coverage, but I find that a good high-cut panty draws attention to and defines the waist and lays much smoother under dresses and skirts. Here's I would describe my preferred retro high waist panty.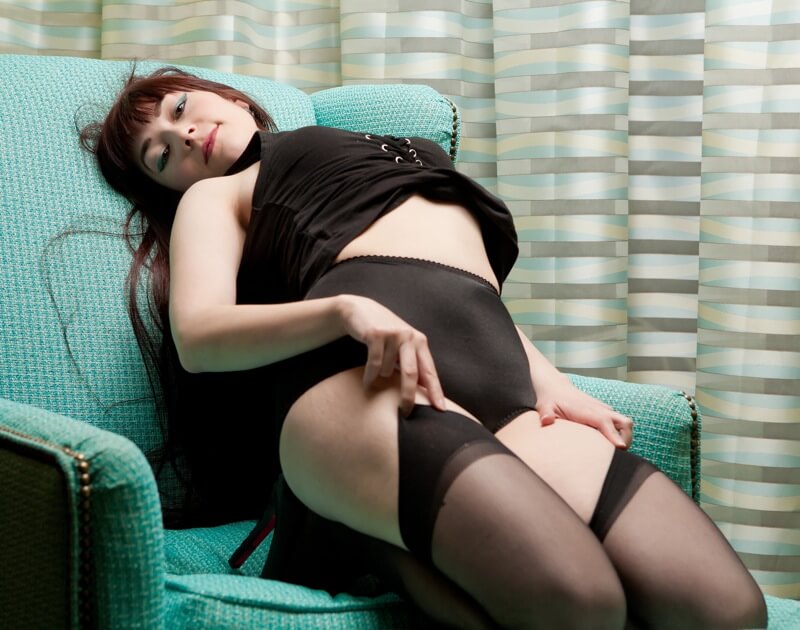 Ideally, the waistline should go all the way to your natural waist, which is an inch or so above your belly button. When it stops short of that point, I find that it visually widens my waist because it's not drawing attention to the narrowest part, as well as disrupting the curve to my hipline. Having an unbroken line from the narrowest point of your waist down to the hip emphasizes the curve of an hourglass silhouette. If you find pressure across your stomach to be uncomfortable (such as that caused by the elastic waistband), look for a panty with an even higher waistline. Kiss Me Deadly seems to have several awesome "longline" (ultra high rise) options right now.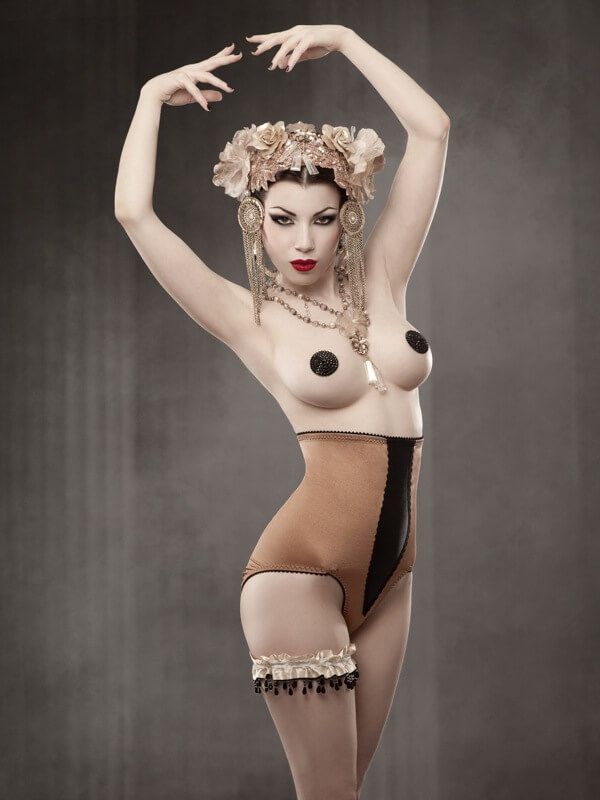 This unbroken line looks a lot smoother under your clothing. For comparison, the working theory of a thong is that the absence of fabric and elastic across your butt eliminates VPL. Or something. In practice, I find that the tension is transferred to the elastic waistband and just creates a little muffin roll – not cute. Interestingly, I picked up a high waisted thong from Fairy GothMother, which may offer the best of both worlds. Unfortunately, all of this is only effective if you are wearing a dress or a garment with an equally high, or higher, waistline. Occasionally I'll try to wear high panties with low-rise jeans if my shirt is long enough and my regular boy shorts are in the wash, but I always feel awkward even if no one is in the position to notice the disparity. As evidenced by some of these photos, I often wear high waisted panties with a corset (to help prevent corset muffin or awkward peeks of skin), but it makes going to the bathroom a challenge – you should aim for about an inch of overlap between the bottom of your corset and the top of your panties.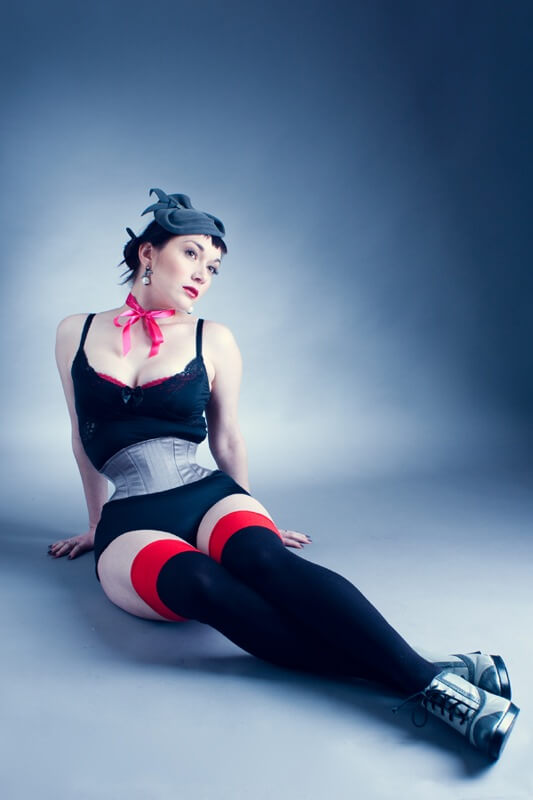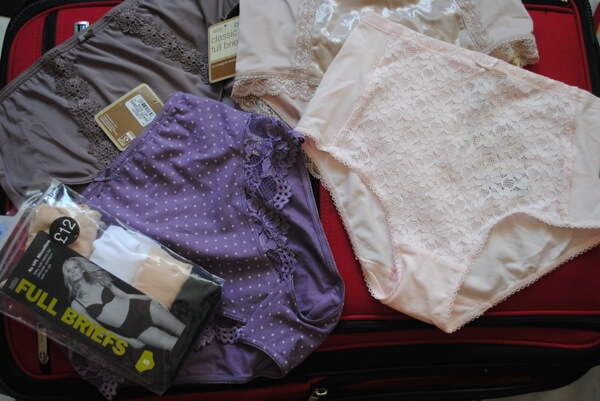 For fiber content, my favorite panties are a nylon-spandex blend (say, 85% nylon) that often has an attractive satiny sheen and offers nice control and smooth shaping. I also picked up a pair at M&S in England in a lilac cotton novelty print that I found quite charming, but a cotton or cotton-lycra blend jersey won't have the same control shaping or satin-look. (Personally, I intend to experiment with organic cotton interlock for the Pop Antique line.)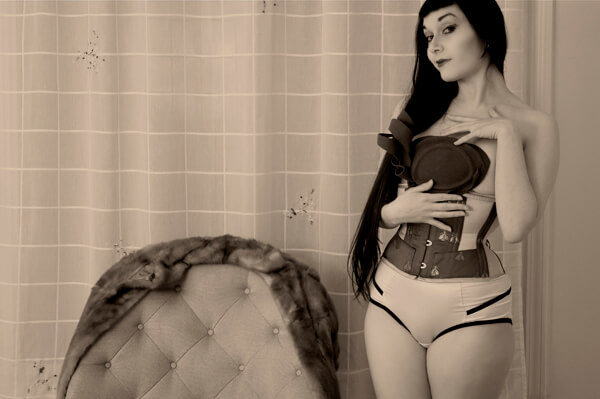 In closing, I have three recommendations: two styles, retailing for less than $20, that I've purchased and love, and a tumblr dedicated to this beloved subject. Rago Shapewear has a perfect classic cut panty (style 910) with a nice tall rise and super smooth shaping; the size small is listed as a 26 but is snug enough for even a 24" waist. (A variation with lace at the legline and a stomach inset was my pick of the month in December; the fit is virtually the same.) If I could buy these in bulk and wear them every other day, I probably would. My other go-to is Parfait by Affinitas' Charlotte Brief, which I have in both peach/black and red/black. I think the lines and details are flattering and feminine; it's a very cute pinup style. My only nitpick is that the rise is a smidge low, though it looks as though the similar Alexis Brief is taller. Finally, for your viewing pleasure and style inspiration/research, might I recommend one of my favorite, slightly silly tumblrs: fuckyeahgrannypanties.tumblr.com/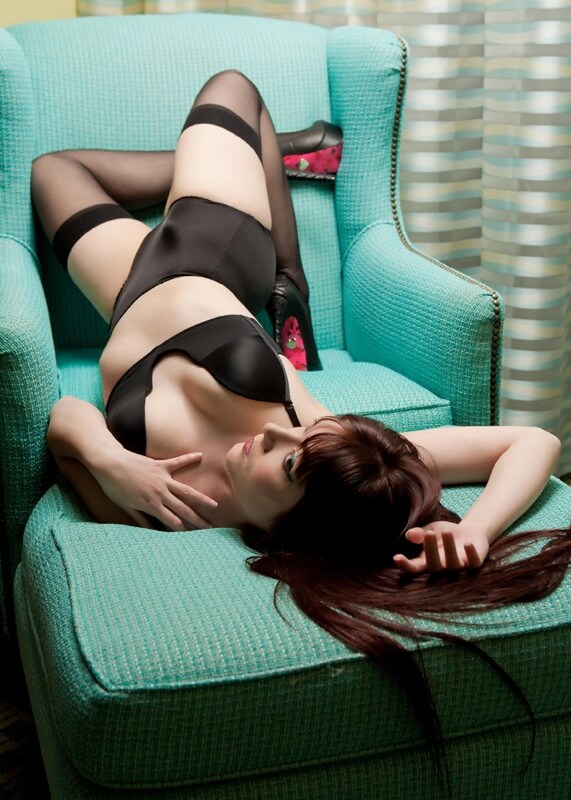 What's your favorite cut of underwear and why? If you're a devotee of high-waistlines, which brand(s) do you prefer?
Image credits:
Parfait by Affinitas Charlotte Brief on Victoria Dagger by Jesse Alford
"Giant grandma thunderpants" screenshot from Venture Bros.
Kiss Me Deadly Amelie longline girdle panty on Morgana by Iberian Black Arts
Rago 910 on Victoria Dagger by Mask Photo
Kiss Me Deadly Vargas Panty Girdle on Morgana by Iberian Black Arts
Rago 910 on Victoria Dagger by Antonio Abadia
Various high waisted panties from Marks & Spencer
Parfait by Affinitas Charlotte Brief on Victoria Dagger by Samantha Guss
Rago 910 on Victoria Dagger by Mask Photo