Introducing Coco de Mer AW 2015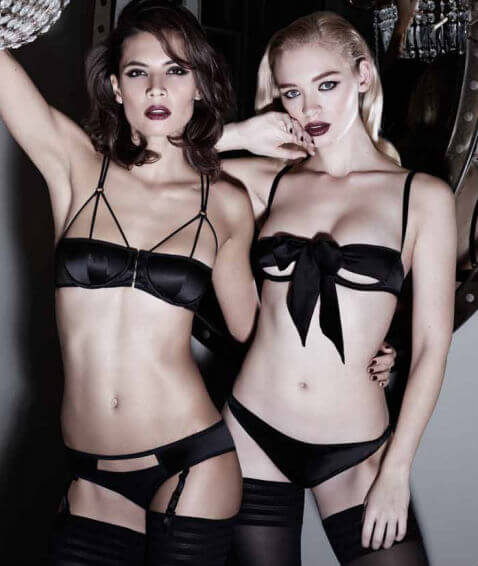 The Coco de Mer name is synonymous with luxurious and erotic lingerie, from delicate silks to fetishistic latex. Catering to the global appetite for erotica, the brand's flagship boutique in London's Covent Garden is world renowned for bringing together some of the most exciting and directional luxury lingerie brands in the world. Under the helm of new Managing Director, Lucy Litwack, previously of La Perla, Coco de Mer has reinvented classic styles that usher in a new era of decadence.
Coco de Mer's AW 2015 collection is a feast for the senses, with an emphasis on rich fabrics and seductive silhouettes. Made in the UK, the collection utilizes French laces and British silks in unexpected colorways and experimental textures. You'll see faux leather textures, intricately corded laces, plush velvet straps, and laces shot with shimmering metallics. While there are bondage-inspired references throughout, there's a certain playfulness and overtly feminine sensibility that keeps the line looking both fresh and approachable.
In characteristic Coco de Mer fashion, there are plenty of cheeky ouvert knickers and daring cupless bras. The ivory Aveta range features an open backed panty with generous sashes that cup the bottom and feed through oversized rings to tie in a glamorous bow. A matching cupless bra features a playful sash across the nipples, giving a peek of breasts beneath. There's an interesting textural play in this range, both visually and tactically, with faux leather set against glossy silk.
The Sylph range in black or gunmetal silk takes its inspiration from the photography of Helmut Newton, who was famous for blurring the line between fashion and porn. It is sleek, brazen, and unabashedly sexy. Tiny straps, reminiscent of the spaghetti straps used in 1970s fashions, frame or intersect breasts, wrap around hips, and dive into curves. The Aphrodite range experiments with peepholes and cutaways, with delicate straps and tiny bows that give the sense the pieces are barely restrained on the body. And the Persephone range features velvet strapping, from half cup bras to an outrageously daring playsuit.
The Godiva range is the standout of the collection, with pieces crafted in rich fuschia and chocolate tones embellished with gold threads that positively shimmer against the skin. While there is an exquisite slip, robe, and balcony bra set in this range, it is the unusual silhouette of the halter bra and coordinating knickers that excite. The halter bra utilizes a cupless frame, overlaid with a panel of exceptionally pretty lace that is placed to provide a teasing glimpse of the swell of breasts beneath the eyelash fringed scalloped edge. The bra ties at the neck with a wide silk sash. The matching "spanking knickers" are high waisted, with a lace panel in front and an ouvert back. A delightfully naughty lace panel at the rear frames the open bottom and can be unbuttoned and lowered for "bracing spanks and soothing caresses."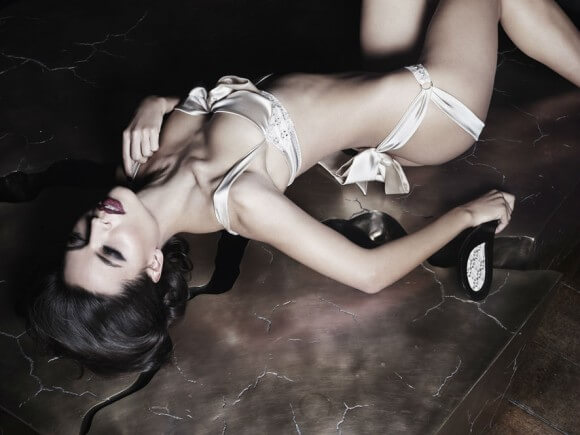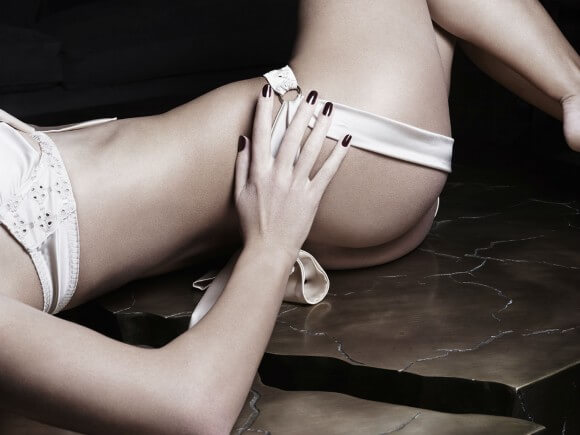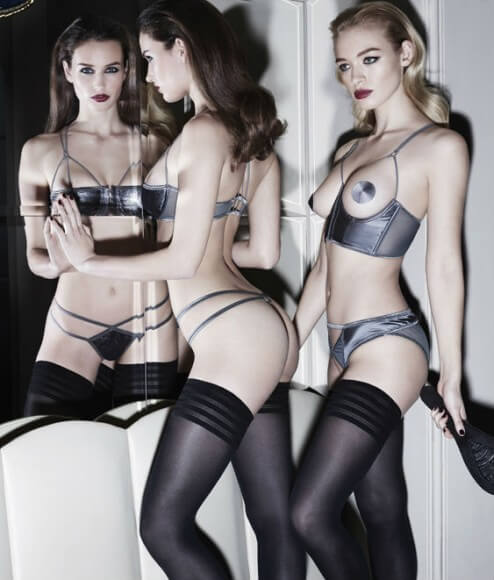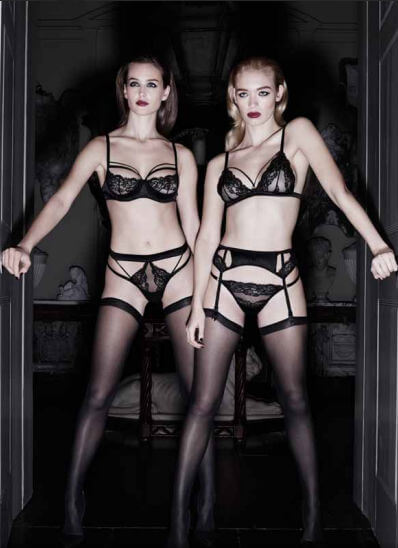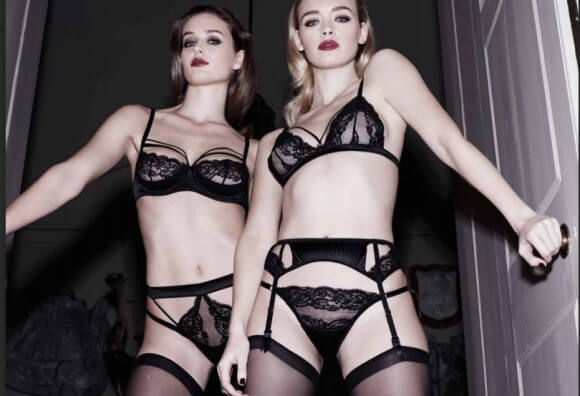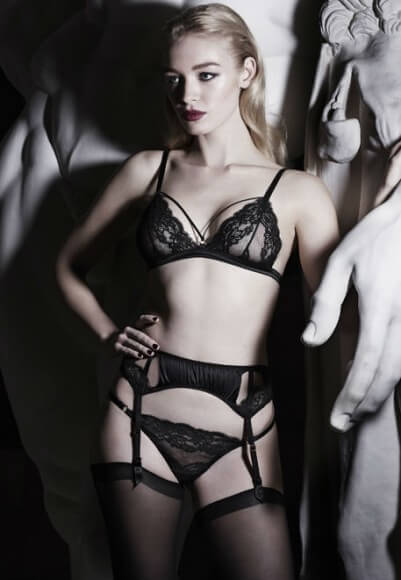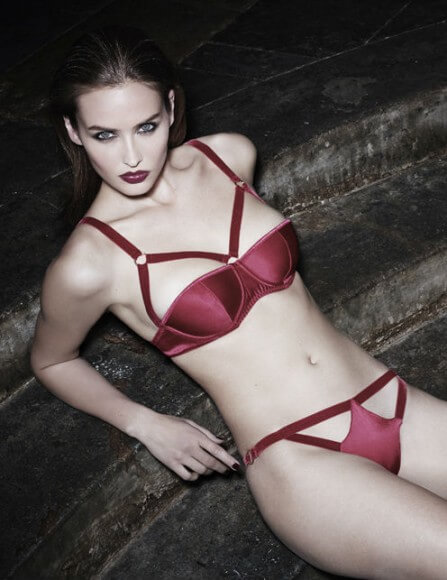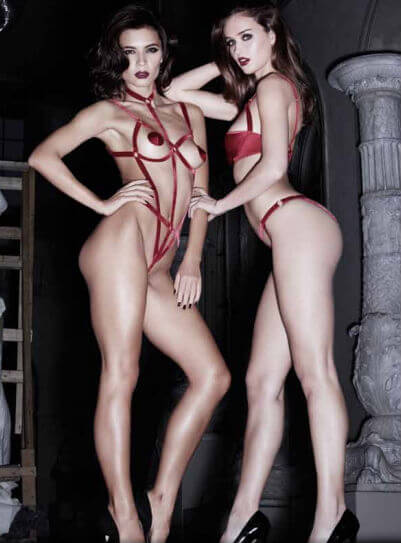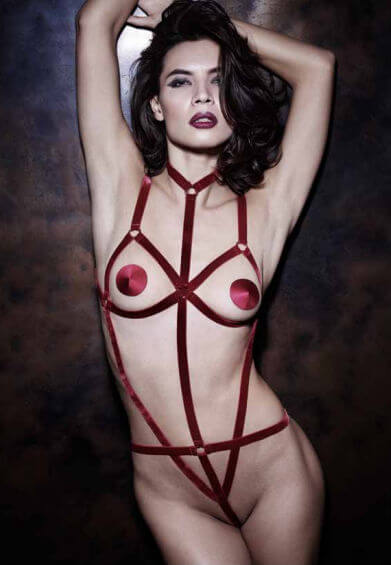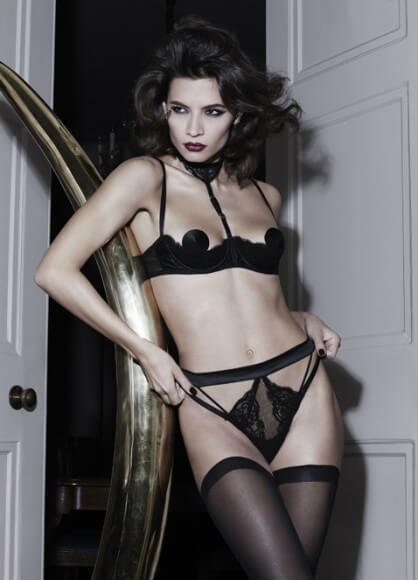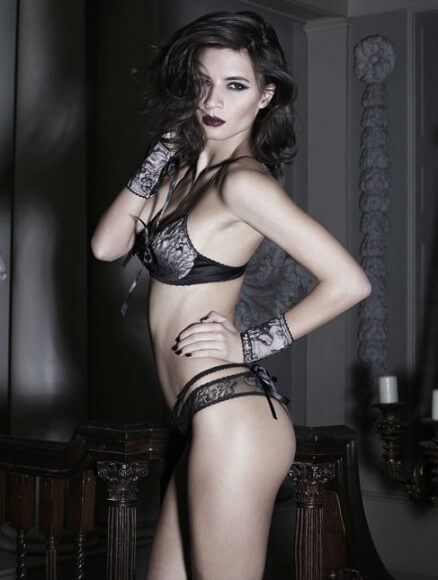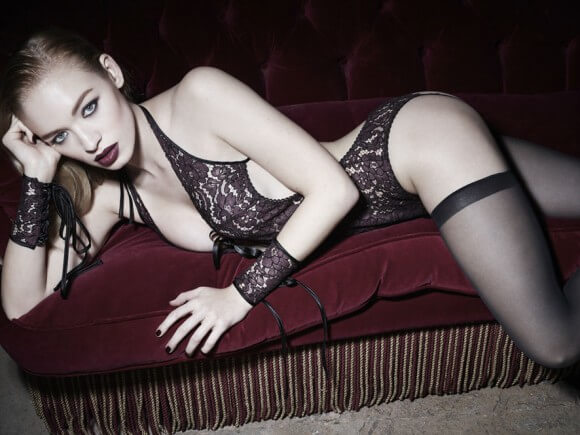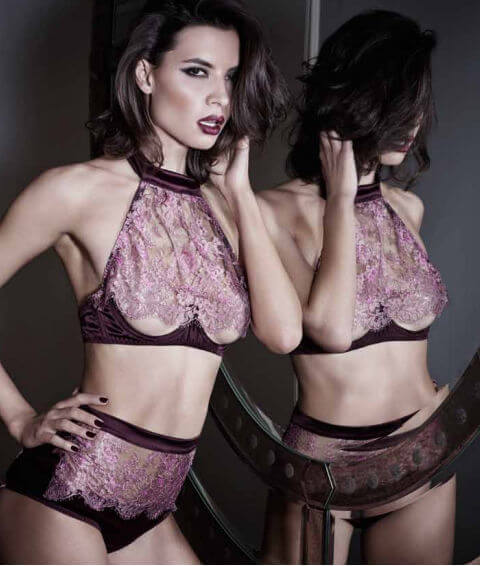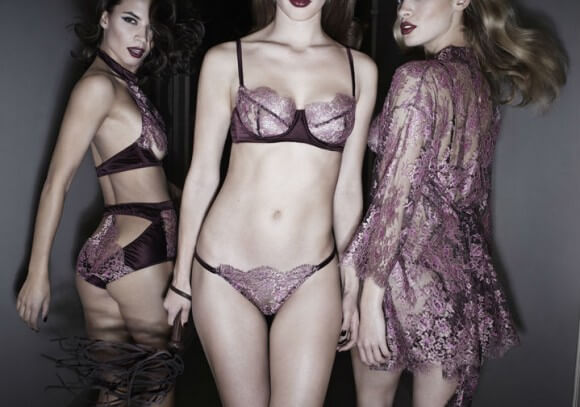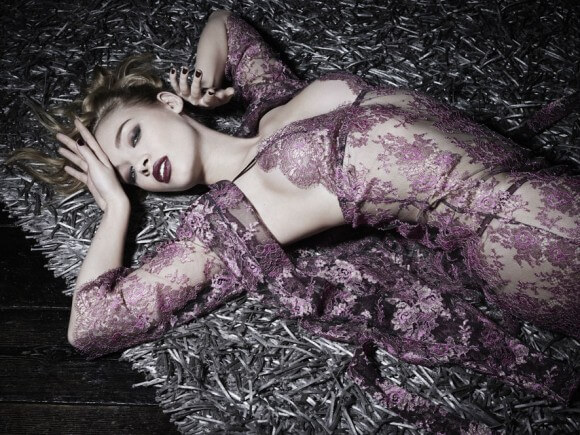 The slick lookbook was photographed by British fashion photographer Rankin and perfectly captures the glamorous and seductive look that is Coco de Mer. To celebrate the brand's design reinvention, a film campaign featuring a collaboration between the London agency TBWA and Rankin, showcases looks from the collection and encourages people to engage in a conversation about desire. It's dynamic, compelling, and racy. Perfectly on point for a brand that is both provocative and a provocateur.

Items from Coco de Mer's AW 2015 collection are sized S-L (fitting UK 8-14). Prices range from around $115 to upwards of $700.
What do you think of Coco de Mer's AW 2015 collection? Do you have a favorite look?