Chantal Thomass Spring/Summer 2015
Disclosure: This blog post contains affiliate links.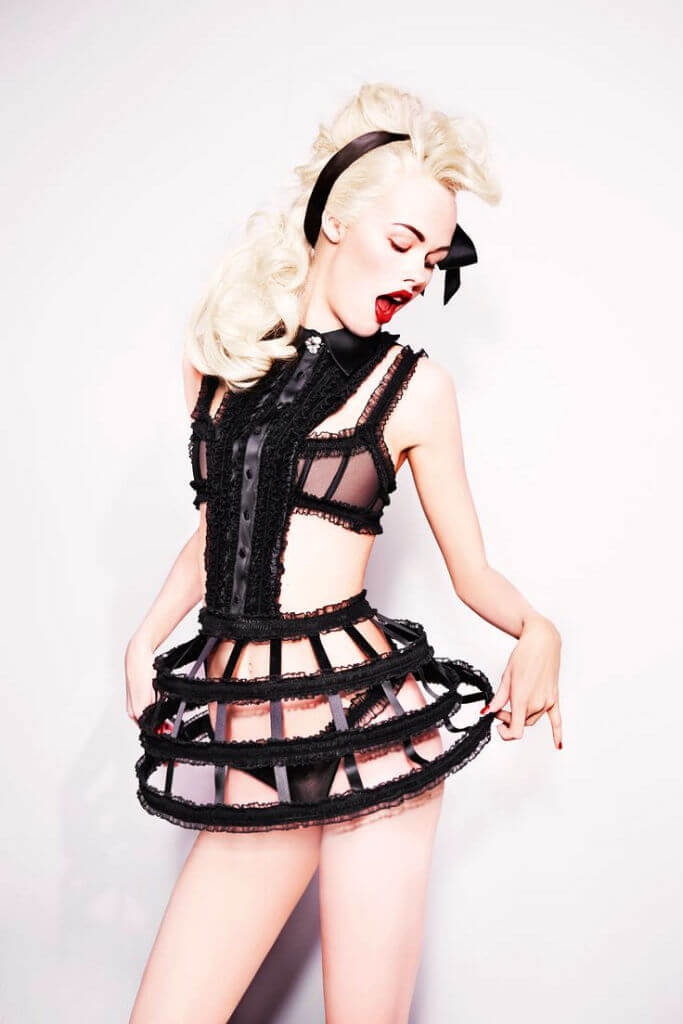 If French lingerie is historically known for speaking the art of seduction, there is no one more quintessentially French than luxury lingerie designer, Chantal Thomass. The designer's creations are instantly recognizable for their irresistible combination of chic glamour and flirtatious feminity. And who better to capture the brand's irreverent spirit than famed photographer Ellen Von Unwerth?
Ms. Von Unwerth's signature style is an intriguing mix of pampered princess, alluring ingenue, and unapologetic temptress, and Chantal Thomass was smart to use her for campaigns in the past. No one else can capture that delightful mix of the playful and provocative the way that she does. It's not surprising that other luxe brands are tapping into her talents.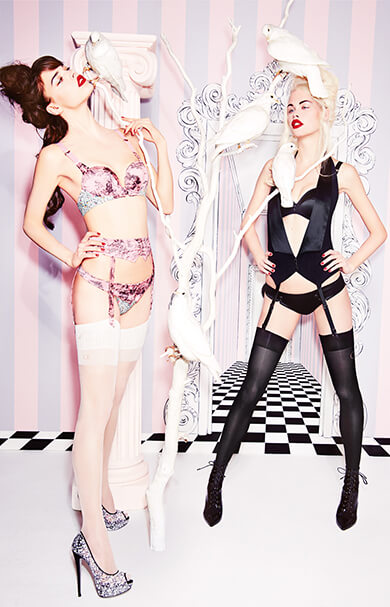 The Chantal Thomass Spring/Summer 2015 collection is equal parts graphic and girly. From sleek satins that give new meaning to 'black tie' to outrageous crinolines that would make Marie Antoinette swoon, the entire collection is pure fantasy. While seriously gorgeous indeed, it is definitely lingerie that doesn't take itself too seriously. How can it with cheeky names such as 'Capricious', 'Banter', and 'Vertigo?'
There are plenty of ruffles, flounces, and frills. Chantal Thomass is a master of showing just enough restraint for perfectly over-the-top creations that don't tip into excess. Who else could pull off a frilly crinoline with a false shirt front or lingerie lavishly embellished with garlands of posies? Even the more minimalist styles feature richly layered pleats, tiny pockets, and thin bands of sparkle.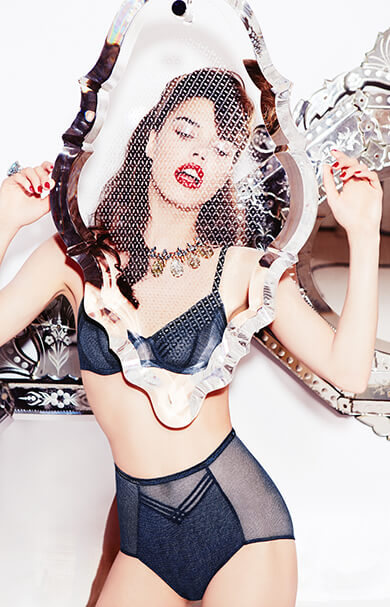 The strongest pieces in the collection may be those in the 'Vertige' range. These pieces utilize vertical bands of floral lace and delicate lacing to wonderful, dizzying effect. Also notable is the return of the beloved 'Badinage' range, a classic Chantal Thomass style with rows of frilled lace in classic pin-up style. There is also a new floral version of her trademark bow set, Noeuds et Mervilles, done in a sweet floral or graphic stripe print.
It is still difficult to get your hands on these lovelies, as only select pieces are available stateside and online at Journelle and Nancy Meyer. Here's hoping that Chantal Thomass will open an online store one day. Until then, a girl can dream (and plan her trip to Paris!).
Want more of Ellen Von Unwerth's magic? Make sure to check out the super fun short film she made behind the scenes at the Chantal Thomas Spring/Summer 2015 photoshoot featuring models Emma Stern Nielsen and Eva Doll.
What do you think of the newest Chantal Thomass collection? Is there a certain look you're coveting? Do you think that the success of this collection is influenced by the photography of Ellen Von Unwerth?
Save