What Katie Did S/S 2015
Disclosure: This blog post contains affiliate links.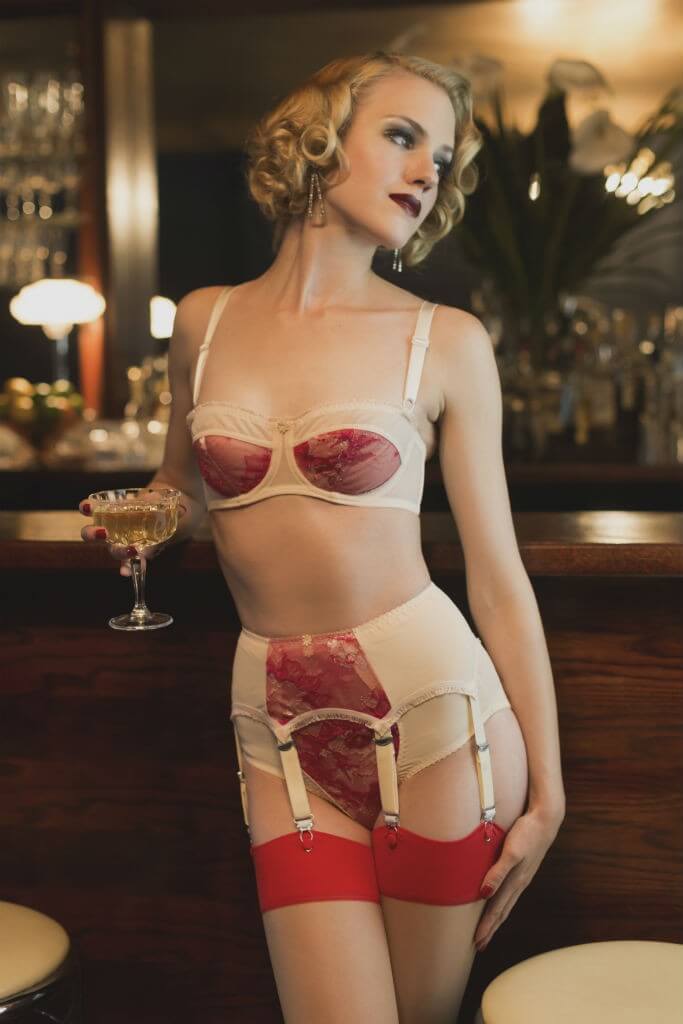 No one does silver screen glamour better than What Katie Did. Even if you're not one for vintage-inspired fashions, it's hard to deny the charm and appeal of retro lingerie. There's a polish and sophistication that encourages the wearer to hold their head higher and put a little sashay in their step (a six-strap garter belt and silky stockings will do that to you!).
We've waxed poetic about designer Katie Thomas' collections in the past (remember that merry widow reconfigured from Cora's vintage Warner's piece?). What Katie Did is one of those rare labels that isn't "vintage-inspired" (a rather tired label, don't you think?) but rather "faux vintage." Katie has recreated vintage pieces from the 1940s and 50s in lush, modern day fabrics. Her newest collection has all of the nostalgic appeal that What Katie Did is known for, and TLA readers are the first to see it!
Many of the continuity pieces from What Katie Did are crafted in a soft peach (a glamorous alternative to basic beige) including the 'Glamour' corselette (one of the brand's best sellers). This peach has been extended to two new Spring colorways, allowing for some mixing and matching with your old favorites. The 'Grace' set (above) uses a fetching red lace overlay atop the peach. I love how only the lower bra cups are red, accentuating the horizontal line of this balconette style. It is paired with a six-strap suspender belt and high waist brief that feature lace front panels. The red really draws the eye up and down the body (which is a good thing!).
Peach is also used as an accent in the seductively sheer 'Vivien' set. Crafted in a soft grey crepe de chine, this wireless bra has a slightly conical shape that is certainly retro, yet more accessible to wearers just stepping a toe into vintage lingerie styles. It is paired with darling (and daring!) tap panties that have a peach satin waistband that comes to a sassy point in the front. Since authentically vintage tap pants with side button closures can be challenging to wear, these have been modified with a zipper closure at the back for a smooth look under clothing (again, making the vintage lingerie look more accessible for those that aren't die-hard enthusiasts). I was pleased to see them worn over the coordinating garter belt in this photoshoot, as they would have been back in the day.
The 'Gwendoline' set is an authentic cone bra style with an upper cup in sheer peach with black lace overlay and a lower cup with peach vintage style stitching that emphasizes the point of the apex. It is paired with a gartered panty girdle for a true retro look, though it can also be paired with teeny bikini panties and a delicate garter belt if you're not into girdles. It also coordinates with that fabulous merry widow we love!
Other pieces in the collection include two new corsets designed to fit specific body types. The 'Lily' corset features black lace over sheer peach, with black satin overboning and waistband. This is loosely based on the existing 'Vamp' corset and is meant to give dramatic waist reduction for shorter torsos. The 'Elsa' corset is sleek in semi-sheer black and works best with longer torsos where it sits lower on the hip and high under the bust to shape the midsection (and smooth the back). Both of these styles will be available this May in semi-sheer black, semi-sheer peach, and sheer peach with black lace. They can also be made in any fabric that What Katie Did carries.
Lastly, there are two new swimwear styles that just ooze retro glamour. These 1950s-inspired swimsuits incorporate fully lined molded bra cups and saucy sarong skirts. There appears to be good support at the bust with center dart shaping and pleated bands on the upper cups to ensure a close fit to the body. The one-piece utilizes seaming details that sit just beneath these bust darts for a smooth silhouette that accentuates your curves. These are available in sizes 6-12 (fitting 35-41" busts and 35-41" hips).
Grace, Vivien, and Gwendoline are available for sale now, in band sizes 32-38, with cup sizes up to DD-F. Bras start at $77, garter belts at $65, and panties at $52. The corselette is available in band sizes 32-38, fits up to a DD cup, and starts at $120.
Model: Slinky Sparkles, Photographer: Tigz Rice, Hair/Make-up: Amanda Moorhouse
Are you a fan of the retro aesthetic in lingerie? What do you think of this new collection by What Katie Did? Could you see yourself in any of these looks?