Empreinte Melody Seamless Lace Bra Review: French Luxury to an H Cup
Disclosure: The Lingerie Addict purchased this bra for review purposes. All thoughts are my own.
If you wear full bust bras and love luxury lingerie, you should know about Empreinte. This French brand makes bras up to a European H cup. All of their styles are made in France, and the quality is known for being impeccable.
I'll admit, I hadn't tried Empreinte myself before this review. With gorgeous laces and chic shapes, their styles are classically beautiful. Very "everyday French." Elegant but understated. "Oh, this old thing? It's nothing. Just a little lace, is all."
Since the label still produces in France, they're a bit out of my price range for everyday lingerie. Empreinte bras average $175, with matching panties around $100. But I've heard so many good things, and was excited to try a cult fave: the seamless Melody bra.
Empreinte Melody
The Melody Seamless Bra has a cult following, and for good reason. At first glance, it might just look like a full lace cup bra with satin straps. Yet unlike other lace cups, which are often made from multiple pieces of lace sewn together, each Melody cup is made from one single piece of lace.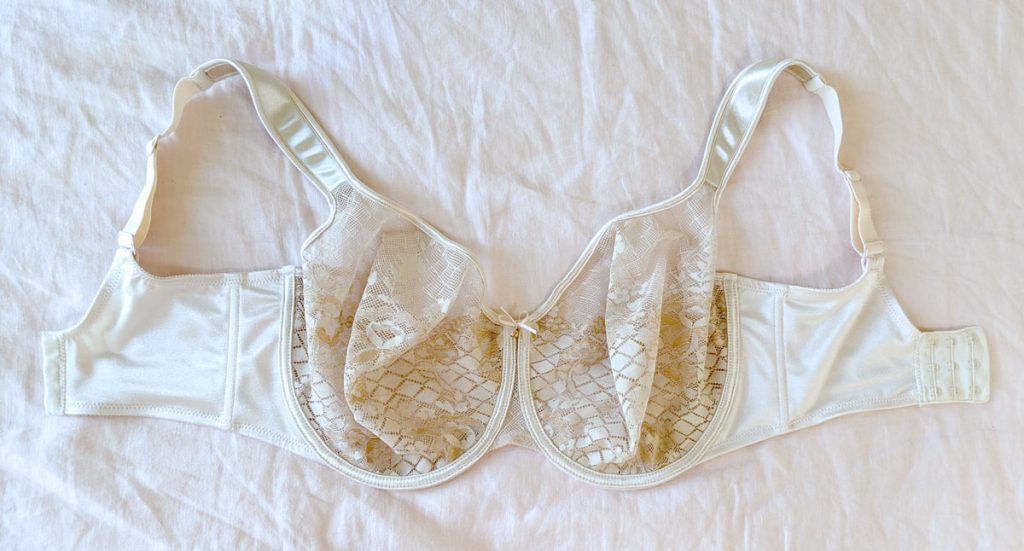 Yes, one piece of lace, molded over a form for each individual cup size. It's like a foam cup without the foam. The technology is so cool, and as far as I know, no other brand does this - especially for full cups.
This technology, combined with the fine materials and the high cost of French labor, explains the price. The Empreinte Melody retails for $178 on sites like Herroom.
I picked the Gold color for this review, which combines a warm and creamy ivory with metallic gold details on the lace flower pattern. I expected the gold to be super shiny like metallic thread, but its shine is softer in person. Regardless, it's gorgeous.
And this molded lace technology is just so cool in person. A flat piece of lace has been transformed into a 3D cup that doesn't look stretched out in any way. Slightly stiffened, it holds its shape easily. Satin edges the cups and continues over the thick padded satin straps. At my cup size, I don't need extra thick straps when my band fits well. However, while they are sturdy as hell, these straps don't feel like overkill.
When Herroom called the Melody bra "extremely well-made," they weren't exaggerating. It's as sturdy as it is elegant. Like pair of 6" designer heels that are somehow comfortable.
The Empreinte Melody doesn't have that many cup sizes for a legendary full bust bra. It's available in European cup sizes C to H, and band sizes 30 to 42. (A European H is equivalent to a UK FF.) Since I typically wear a 32FF, I'm basically at the top end of their smaller cup sizes.
But looking at this bra, my first thought was, "Can one piece of lace, without any seams or side slings, really hold up that much tissue?"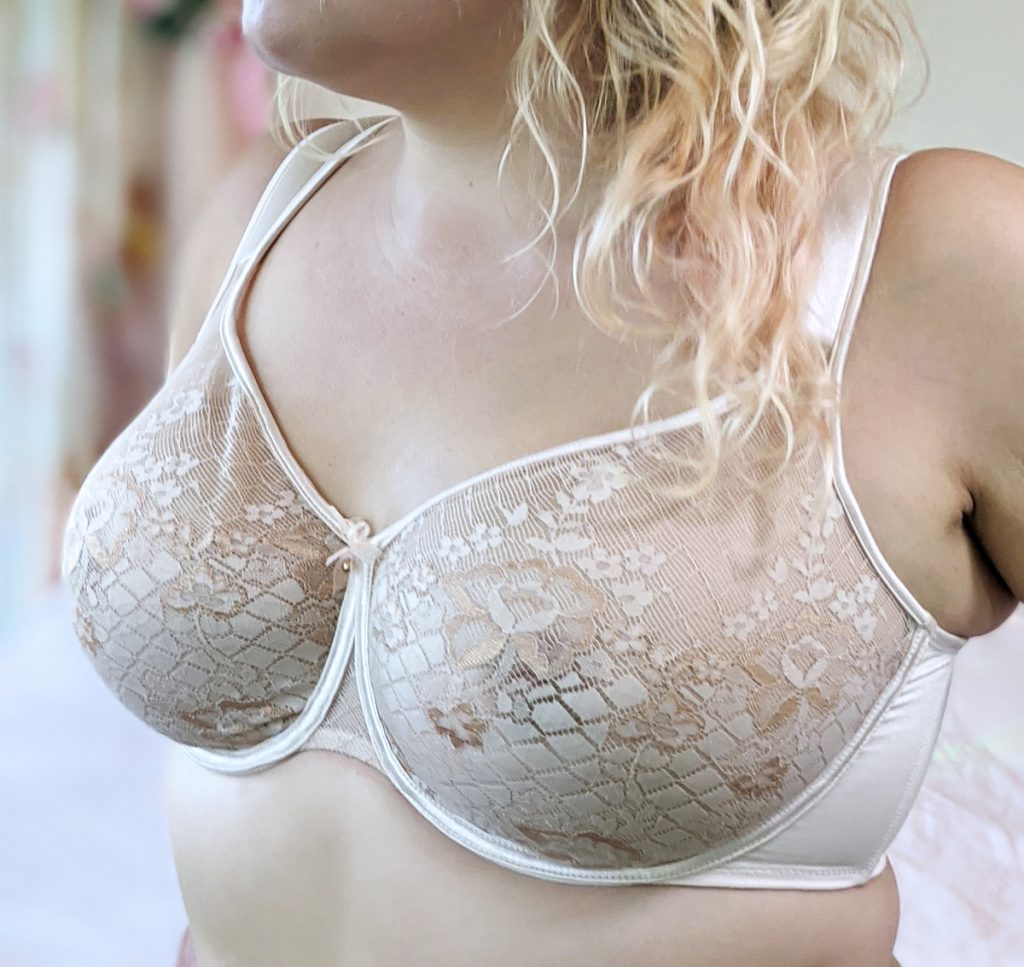 The Fit
I typically wear the equivalent of a 32H in French sizing. But I heard Empreinte runs big in the cups, so I bought a 32G. The fit of the cups is great, but a touch full on the top. That's good news for fuller-on-top people looking for a full coverage bra! (For people who are particularly shallow on top, I might try two sizes smaller, or another style altogether.)
And if you're worried about the underwires being too narrow at a smaller size, don't be. Unlike my Katherine Hamilton bra and other UK full bust bras, the underwire on the Melody is quite wide, hitting almost under my armpit. Along with the molded lace cups, this helps give a super round look.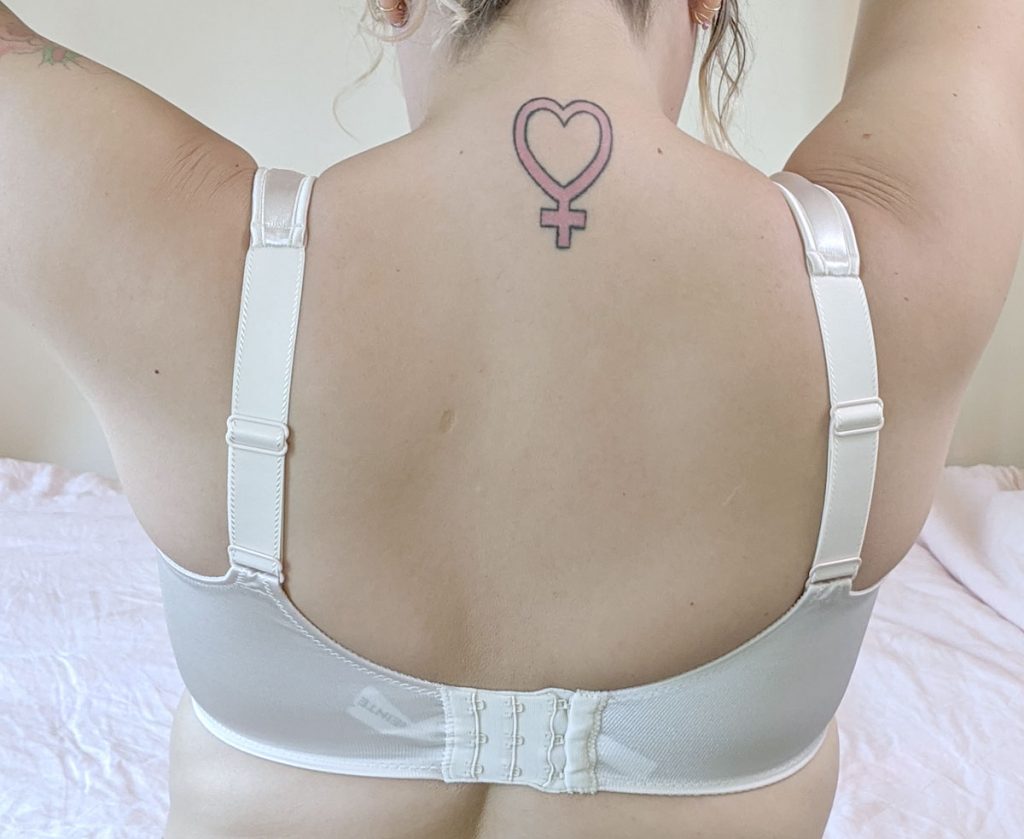 The band is nice and snug, fitting true-to-size for a 32. The U back and padded straps make this the kind of bra you can put on, get situated into, and go about your busy day without thinking about it. The materials are firm, so everything stays in place. But the lace cups? They're so elegant, and pretty enough for date night.
Overall, this bra has an effect I really haven't seen from any other brands: superior sturdiness and unique technology, combined with high-end materials.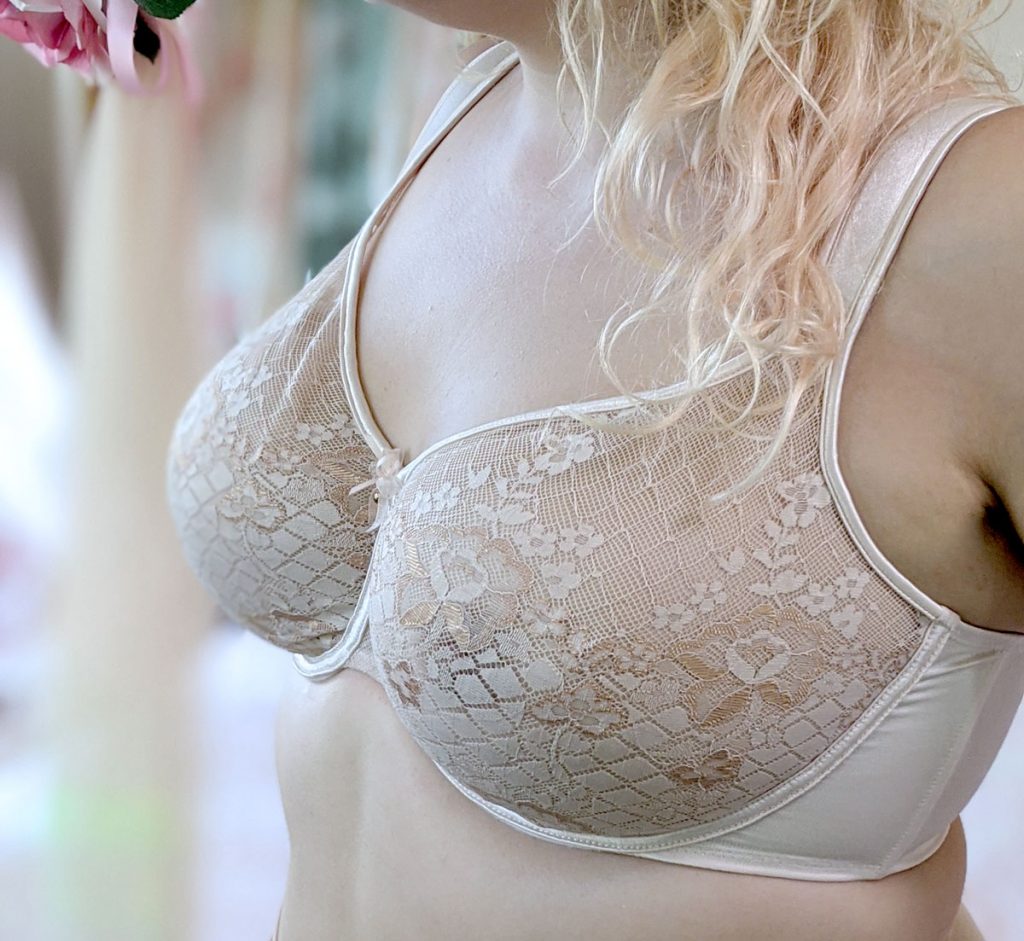 And to answer my earlier question: yes, this single piece of lace gives incredible support. The bra cup isn't rigid by any means, but it is a bit stiff. This gives a perfectly round look, just like a molded foam bra without the extra layers and padding. And although the lace is stiff, the lack of seams keeps it from scratching sensitive skin.
Personally, I prefer more forward projection with narrow wires. I also prefer a less round look. However, this style is ideal for the fuller bust person who wants a rounder look than their usual bras. Do you miss the smooth roundness of your old Victoria's Secret style molded cup bras, but want the support of a cut-and sew bra? This bra was made for you!
Final Thoughts
Empreinte's "Melody" style combines a lot of people's favorite aspects into one: fine lace, a rounded silhouette, and the lightness of a cut-and-sew bra. It's a unique piece of lingerie, from a heritage brand that truly cares about its products.
For an everyday bra, I'll still be sticking with my favorite UK bra brands like Panache and Katherine Hamilton. I personally prefer more forward projection, a less round silhouette, and, well, a lower price point.
But if you like the smoothness of contour bras with the light feeling of fabric cups (and you want to feel French as hell), this is the ideal style for you.