The International Bra Size Chart, Explained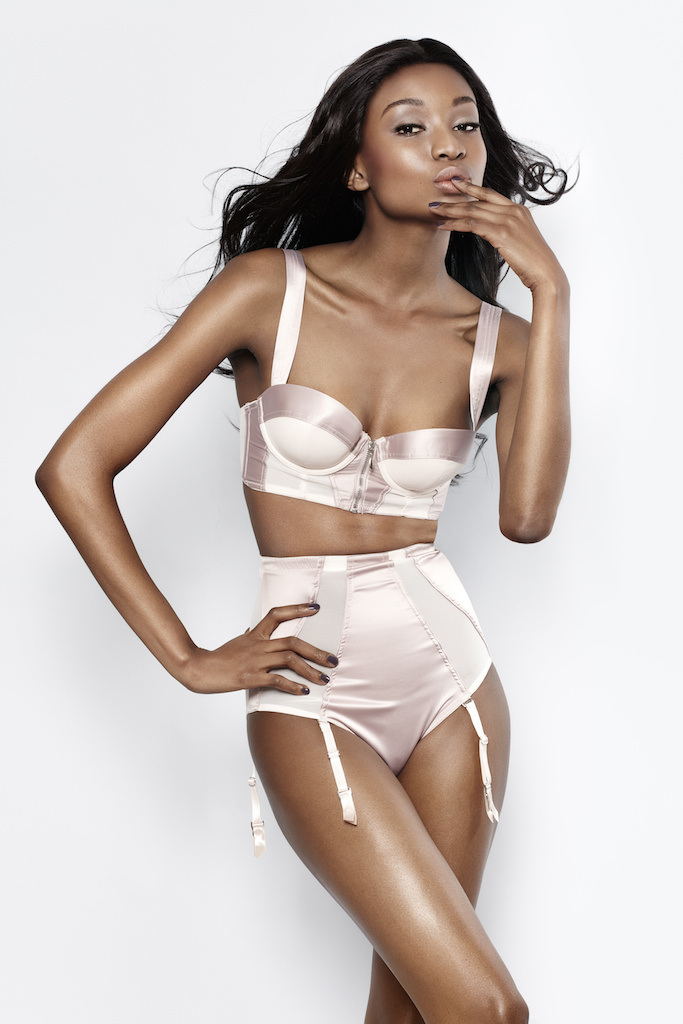 With so many measurements required for a well-fitting bra, it's no wonder that bras have general size standards that other types of clothing lack. For instance, there is almost always a one inch difference between cup sizes, and almost always a two inch difference between band sizes. Compared to other types of women's clothing, international bra size charts should be pretty easy to follow, right? Like shoe sizes, bra sizes tend to follow a relatively predictable pattern.
So why are so many international bra size charts and conversion calculators wrong? In my early days of online lingerie shopping, I regularly purchased UK bras that were too big in the cup, because the most popular international bra size conversion calculators on the internet told me a UK 34F cup was the same as a European 34F. (It's not!)
Even between entire countries, bra sizing is inconsistent. Most countries use lettered cup sizes, but the letters mean different sizes. Combine that with the fact that many people don't understand how bra sizes work, and the fact that there are no strict, officially-documented industry standards for sizing, and you're bound to get a few size calculators that simply make no sense at all.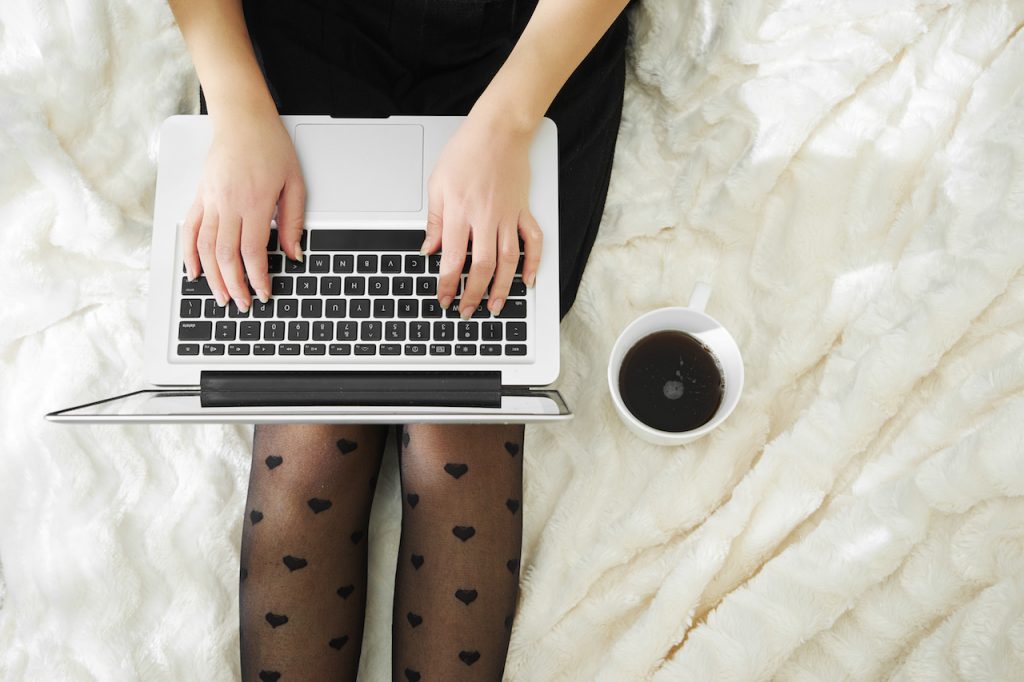 These discrepancies likely won't change any time soon. Different countries developed their own bra sizes long before the internet, and even if an organization somehow developed an international bra size chart, it's unlikely brands would adapt it. Like all retail companies, lingerie brands care more about their long-term customers than the state of the industry in general. If a legacy brand's customers know that their 34E bras fit them, the brand is not going to change that letter, much less their entire size chart, to benefit the rest of the industry.
Multi-brand retailers do their best to simplify bra size conversion issues, but it's never fool-proof. Sometimes, it's even more confusing. For instance, Journelle has a button on each product page that allows you to switch seamlessly between European sizing and US sizing, but it doesn't include UK sizes, which are used by nearly every full bust brand on their site. If you purchase a Panache Quinn in size "36K" on Journelle, you'll actually be buying a Panache bra in size 34GG.
Meanwhile, Herroom developed a trademarked sizing system called the "Universal Cup System," meant to allow for less confusing shopping on their website. But at the end of the day, it's just another bra size "language" to learn, based off US cup sizes.
Even with more standardization than the rest of the fashion industry, bra sizing is relative. So when you're trying to figure out your bra size in another country, it's not quite as easy as learning another country's shoe size chart.
However, after years of finding inaccurate bra size conversion charts, I've set out to make the simplest, most accurate international bra size chart possible.
Some things to keep in mind while using these charts:
These sizes won't apply to every brand in every country. Just like any other type of clothing, one company's sizing can be completely different from the next. For instance, most internationally-sold brands use UK/US band sizes, while some European companies skip an "I" cup because it confusingly looks like a "1". Use these charts as a starting point when shopping.
Just because your size converts to another country's size, doesn't mean that country's size will work for you. For instance, the Japanese bras I've tried run significantly smaller than any other bras, and I sister size up two band sizes for all Japanese bras.
Most full bust bra brands will use UK sizes. The double-letter system lends itself well to larger cup sizes, and most full bust brands today are based in the UK. If you wear a cup size over a DD or E, your UK bra size is the one you'll likely refer to the most.
When in doubt, trust a brand over a calculator. The manufacturer of a bra is going to understand their sizes better than anyone else! Check their size chart measurements, ask them for advice, and assume they will know best.
With all that said, here are two handy international bra size charts you can keep in your back pocket, for the next time you're shopping overseas or trying a new brand.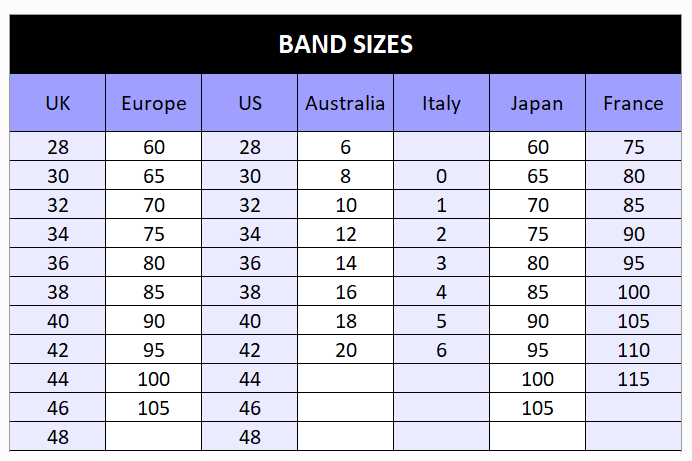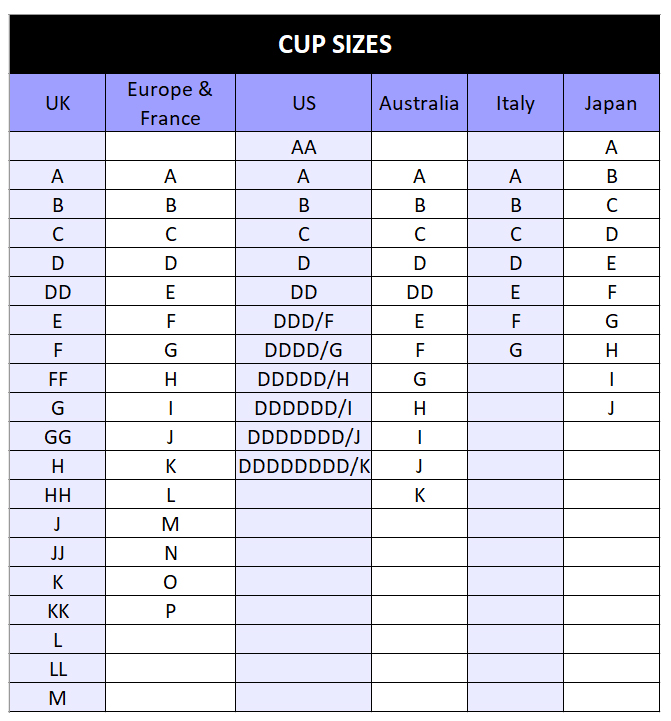 Without strict sizing standards around the world, it's impossible to make a perfect bra size conversion table, but I've done my best! I hope these charts help stop size conversion horror stories, and give you a better sense of the sizes available to you around the world.