26 Bands and HH Cups? Reviewing Katherine Hamilton's Sophia Bra
(Disclosure: This lingerie set was purchased for me by The Lingerie Addict. All opinions are my own.)
Katherine Hamilton is a UK-based luxury lingerie brand specializing in bras with smaller bands and fuller cup sizes. The label is also one of the only bra brands offering band sizes 26 and 28 in all of their styles. Bands range from 26 to 38, and cups from D to HH.
I first learned about Katherine Hamilton through my friend Sweet Nothings' blog, who has been a follower of the brand since their days as a brand called Bosom Galore. In 2016, they reworked their styles and elevated their branding to become Katherine Hamilton. Today, their bras are sold around the world in stores like Selfridges, Harrods, and Journelle.
I love how Katherine Hamilton combines classic shapes with really beautiful materials, like gold metallic embroidery on the Abrielle bra or unique layered lace on the Mariella knickers. But of course, I fell in love with the blush pink Sophia balconette bra as soon as I saw it. What's better than dainty floral lace and pale pink silk, offered in a huge range of sizes? And at just under 100£ (about $125), it's well-priced for a luxury brand silk bra.
Ordering
Ordering on the Katherine Hamilton website is straightforward, but I ran into some trouble because my size was backordered. This wasn't initially a problem. I ordered it at the beginning of December and was told it would be sent out in a couple of weeks. However, that backorder ended up taking 2.5 months, and I'd still be waiting if I hadn't kept following up. (I needed the set for this review, after all!)
Katherine Hamilton's founder, Katy Payne, was so helpful and kind throughout the whole process. When mid-February came, and I hadn't received a shipping notification, she had her factory make a one-off 32FF bra so I'd receive it in time.
I know that estimating a time for stock replenishment can be tricky, but it was frustrating to have to keep following up with the company on the status of my order. I have no idea when my set would have shipped if I hadn't been so diligent about following up.
Luckily, the backordering option has been disabled due to these delays, so this won't be an issue for anyone going forward.
The Set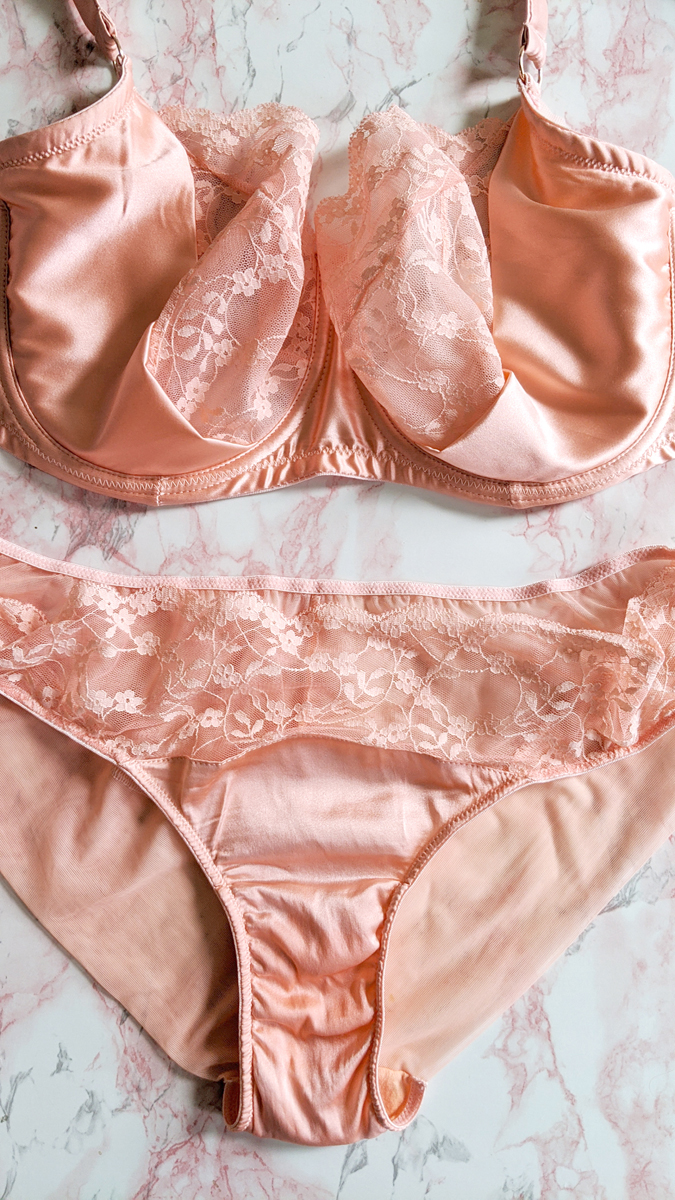 The Sophia bra and knickers were shipped overnight from the UK and arrived in a simple, chic black box. The color is significantly warmer and richer than I expected - a true apricot, rather than a blush. The back mesh panels are especially warm-toned, and border on orange.
I adore the lace used on this set, so twee and simple with its sweet blossoming vines. Even though the back of the knickers is made of mesh for a smooth silhouette (and, undoubtedly, to keep costs down), the seams are thoughtfully-placed and look great on your booty. I think the cost makes complete sense for the materials and construction.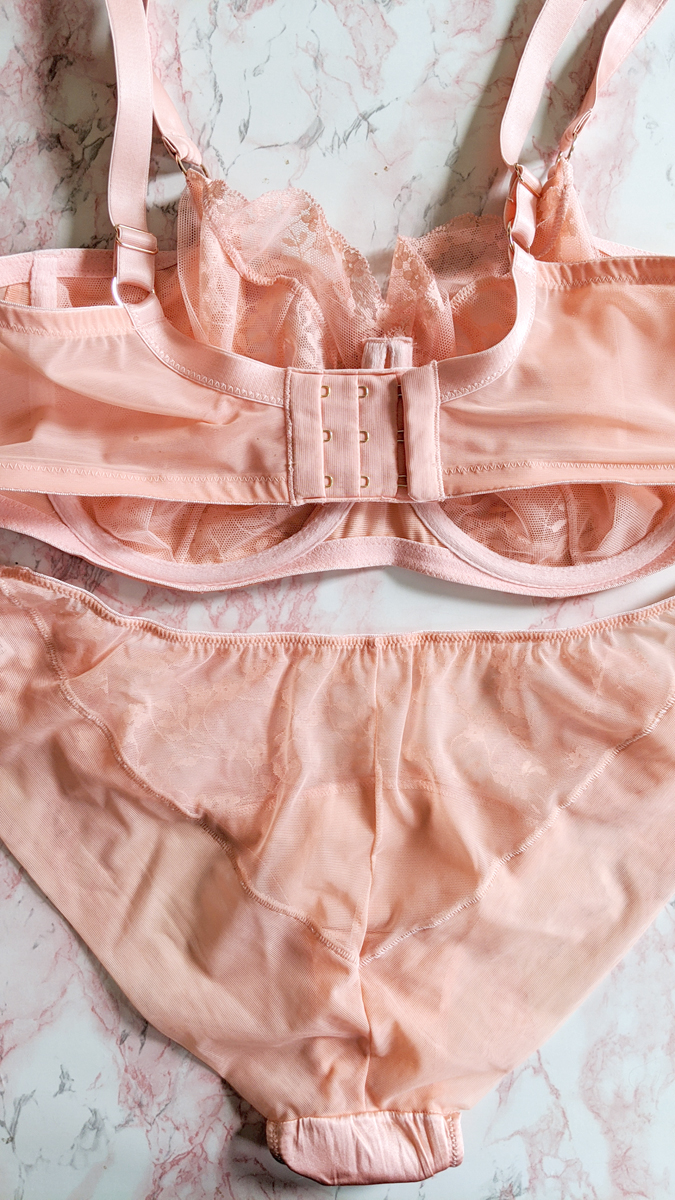 The bra features a three-part seamed lace cup lined in mesh, plus an outer silk sling, as well as an inner mesh sling. The website states that the bra is lined with "invisible tan tulle," but mine is lined with a self-colored tulle. This is probably a better option, given that tan mesh only looks invisible on tan skin tones.
When I first put on this set, the horizontal seam across the cup really bugged me. It's not covered or stitched down, and was a little uncomfortable against my skin when scooping everything into place. I'm not sure if this exposed seam is necessary based on the construction of the piece. Maybe it should have been sewn in such a way that it would be covered by the lining. Fortunately, it's not noticeable during regular wear.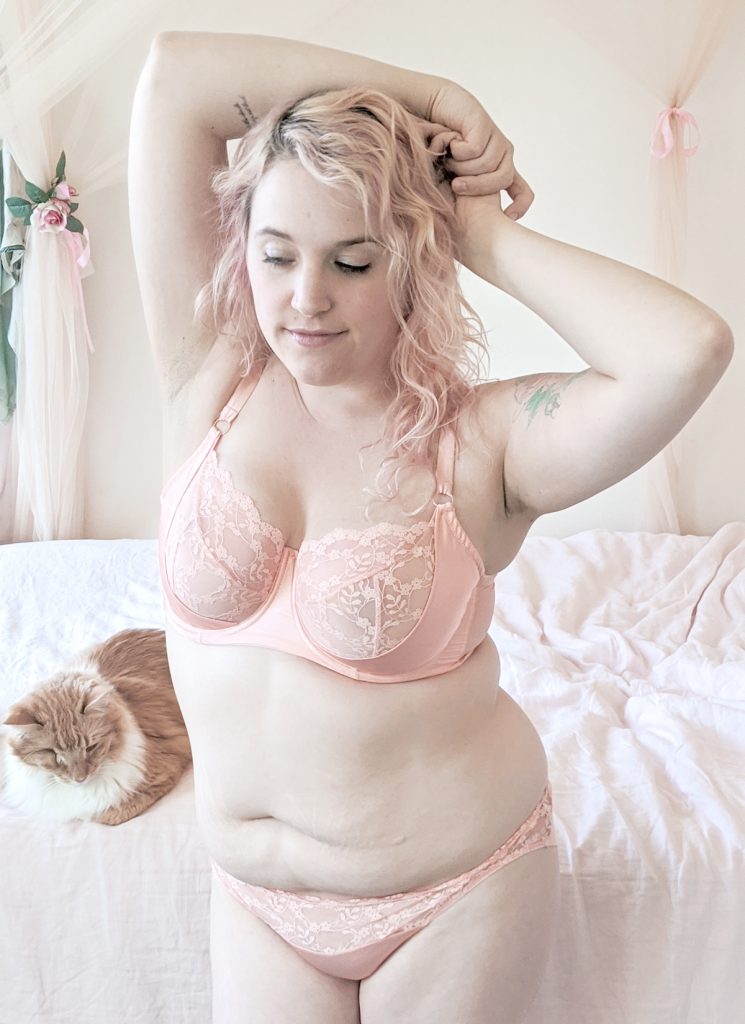 Fit
Katherine Hamilton's Sophia bra is available in UK sizes 26D-26G, 28E-28HH, 30DD-30H, 32D-32H, 34D-34G, and 36D-36FF. I ordered this bra in my regular size of 32FF, and I'm gonna come right out and say it: This is the best-fitting bra I own.
I am not a tricky person to fit. My breasts are pretty evenly-proportioned. I'm comfortable in a wide range of styles and often sister size up with nice results. Half the time, I don't even wear bras designed for full-bust people.
But the older I get, the less I want to wear bras that don't fit the way I want them to fit. I just want to be comfortable! So I find myself wearing the same full bust bras every day, which doesn't leave me with a ton of luxurious options.
That's why I love this bra so much. It's more comfortable than my favorite everyday bra, and way more luxurious. The wires are slightly more narrow than most mainstream full bust bras. However, the projection feels average, giving you a very forward-facing silhouette without a "torpedo" effect. The back is wider than most of my full bust bras as well, giving a smooth silhouette while feeling extra stable around my torso. And the dainty straps feel surprisingly sturdy.
Everything sits exactly where I want it to, and gives me my favorite shape under my clothes. I know that no bra is perfect for every body, so I'd never go so far as to call a bra "the perfect bra." But this is a perfect bra for me. Based on my experience as a lingerie expert and as a bra fitter, I imagine this would be a perfect bra for many, many full bust people.
I was extra curious about the knickers, because the largest size they make (UK 16 or US size 12) only goes up to a 39" hip. I thought this was an odd sizing choice, given that a size Large panty usually goes up to at least 40" at the hip, and a UK 16 is more like an X-Large. Plus, I imagine a company catering towards people with a high bust-to-waist ratio likely has a lot of customers with a high waist-to-hip ratio.
I mean, to be clear, I don't have that ratio below my waist. But my hips measure about 41", so I ordered the size 16 and said a little prayer.
Turns out, I should have sized down to my usual size of a UK 14/US 10, as these are just slightly too big on me for everyday wear, as you can see. So for this style, I do recommend ignoring the size chart measurements and purchasing your regular size.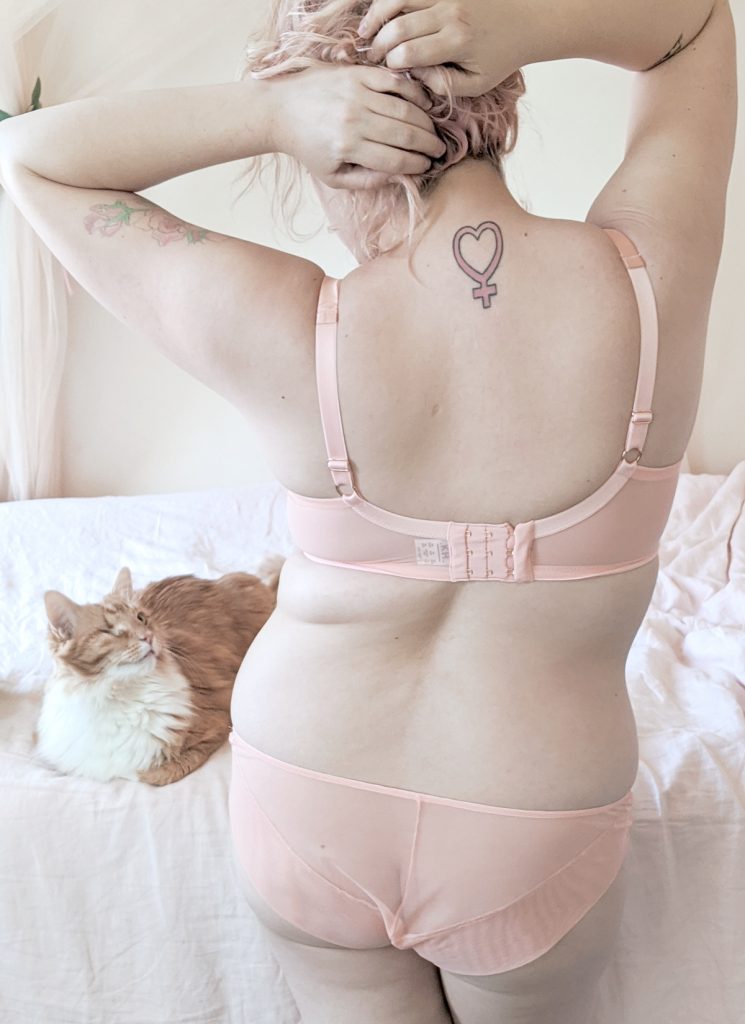 Final Thoughts
Katherine Hamilton's lingerie is the ideal intersection of luxury and wearability. The bras are constructed with durable hardware and heavy-duty mesh for everyday wear. Yet, they are elevated with perfectly-dyed lace and silk. These bras could be saved for a special occasion, but they're strong and comfortable enough to be worn every day.
I honestly didn't expect to love this set so much. The materials and construction are what I'd expect for the price. But the fit brings it to an entirely new level for full-bust luxury lingerie. Next time I'm in the market for something classic, comfortable, and fit-focused, I'm buying myself a Katherine Hamilton bra.