Full Bust Bralettes: What They Are, How They Work, and Where to Find Them (Up to a J cup!)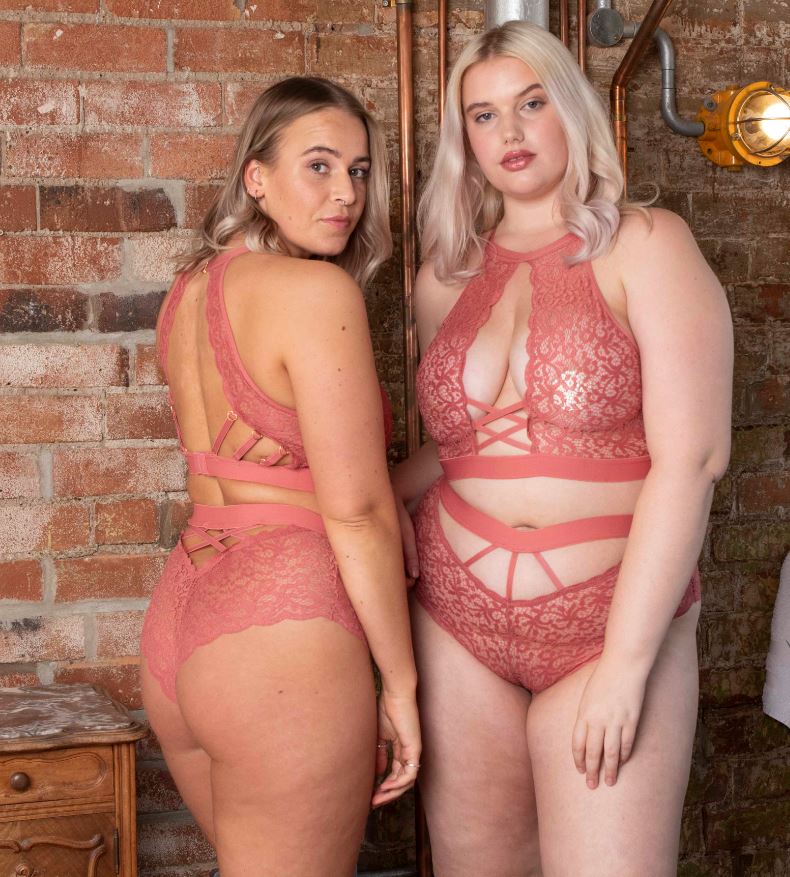 Are bras over? With so many of us working from home in fancy loungewear or just going pantsless during isolation for COVID-19, typical clothing norms are changing. Like, sure, I love bras. But sitting here in my favorite silk robe, just the thought of putting on some of my most structured, lift-y, push-up-y bras is enough to make my skin crawl.
I'm not the only one. There are dozens of articles discussing both real facts and questionable ideas about going bra-free in quarantine. Some women proclaim  "bras are cancelled" while one doctor believes going without a bra could clear up your skin. (Thankfully, most people note that neither wearing a bra nor going braless has any impact whatsoever on breast ptosis. I hope we're out of that phase of misinformation for now.)
While it will be interesting to see the impact of isolation on lingerie styles and the fashion industry as a whole, I don't really think bras are "over."
Many people want underwire bras for comfort, professional reasons, or simply personal preference. I'm sure I'll start loving all my cute bras again, once I can go out for date nights and to fun parties. However, I do think that we'll see an even bigger turn towards wireless bras in the next couple of years. Hopefully, this means more bralettes for more sizes—especially those of us with fuller busts!
You might be asking yourself, "Full bust bralette? Is that an oxymoron?" I understand that feeling. So many of the bralettes on the market are flimsy, delicate things, looking like they might snap under the weight of a larger bust.
But that's why I'm writing this article! Over the last few years, full bust bralettes have busted onto the market. Many of them are cute as hell—and surprisingly supportive. If you're a full-busted person, I'm here to help you navigate the world of bralettes made specifically for you.
Can I Wear Bralettes If I Have Larger Breasts?
Yes.
That's really all I have to say about that, but if you need more convincing, I'm happy to explain.
If you have bigger breasts, you might have heard that you "have to" wear a structured bra at all times, from lingerie stores, family members, or society in general. Of course, you might also have heard that your cup size "couldn't possibly be that big," that there are few bras (or no bras!) in your size, and that those bras are all basic and ugly instead of cute and fun.
None of these are true (check our Full Bust tag for proof!). Neither is the idea that full-bust people can't wear bralettes.
At The Lingerie Addict, we believe you can wear whatever you want. If that means you don't want to wear bralettes, don't wear them! If you want to sleep in an underwire bra for comfort, go for it! And if you want to wear a bralette even though you wear a 34G or 36F, you are absolutely allowed to.
Just like your regular full cup underwire bras, you might not be able to find a bralette that fits you in your closest lingerie boutique. But they are out there, and they're relatively easily accessible.
What is a Full Bust Bralette?
The simplest definition of a bralette is a wireless bra. They're typically less structured than wired bras, feature fewer bits of shaping hardware, and are often made from softer materials.
Some companies do call their underwire bras "bralettes," especially if they have longline bands or fashionable high-neck pieces that make them look like a bralette. There is no official "fashion industry dictionary," so this practice isn't necessarily misleading. However, for the purposes of this article, we're following the typical concept that bralettes have no underwires. If you're looking for a wire-free bra online, make sure description doesn't include mention of an underwire!
Just like underwired DD+ bras, fuller bust bralettes are specially engineered for bigger breasts. They typically utilize firmer materials, and often have a higher degree of engineering to give more support and shaping.
However, this isn't always the case, and extra support shouldn't be an assumption when purchasing a full bust bralette.
Full bust bralettes are sometimes sized in letter or number sizes (like XS and M, or 2 and 4), sometimes in cup sizes (like 32DD or 38F), and sometimes in a combination of the two (like Small/DD, or a size 4/F cup). Because of the flexible nature of bralettes, some are made to fit a range of cup sizes, like 32DD-F or 32F-G.
What to Expect from a Bralette (When You Have Big Boobs)
In my past experience as a bra fitter, a majority of full-busted people are disappointed when they try a bralette or wireless bra for the first time. Even if it fits nicely with no spillage and feels perfectly comfortable, they don't get the same shaping, lift, or separation as a wired bra.
Quite simply, no matter what bralette you choose, a bralette won't give you the same experience as a well-fitted underwire bra. Unless your breasts sit very full and high on their own, you likely won't have the same look under a shirt as you would with a wired bra.
This is a matter of physics! Gravity still exists, and textile scientists haven't developed a fabric that will give the same support as a structured bra with an underwire, while having the comfort and ease of a bralette.
But the beauty of a wireless bra is that it's not an underwire bra! It feels more effortless. It's softer on the body. And it gives a different look. Even if you won't get the same shaping and separation as your favorite underwire bra, you don't have to spill out of your bralette!
How are Bralettes Supposed to Fit?
At The Lingerie Addict, we don't believe you have to wear a certain bra size. If you like your bra, you should wear it! The same goes for bralettes. Plus, because of the garment's nature, bralette fit is even more flexible than typical bra fit. It's unlikely that the gore of your bralette will tack against your sternum, or that your cups will provide you with stunning forward projection. However, there are a few questions you can ask yourself to see how you like the fit:
"Is all of my breast tissue inside the cups or front panel?" If your breasts are spilling out the top or sides of the part of the bra they're supposed to be inside, you might want to try a size bigger.
"Am I happy with the amount of support I'm getting?" Not all bralettes are meant to provide support. As I previously mentioned, no bralette will be as supportive as your typical wired bra. Depending on your cup size and breast tissue, you might not find a bralette that will keep your breasts entirely away from your ribcage in the same way a good underwire bra might.
However, if you feel like your bra is doing little more than clinging to your boobs like a wet bikini top, it may not be engineered for your breasts. Keep that in mind as you try on bralettes to decide if you're happy with the amount of support.
"Could I wear this for a long time?" Everyone has different reasons for wearing undergarments, but one of the big draws of wearing a wirefree bra is comfort. If a bralette pulls on your skin, if you keep having to readjust the straps, if the fabric is itchy, or if something about it is just bugging you, it might not be a good fit for you.
Where Can I Find Full Bust Bralettes?
Full bust bralettes are still a specialty product. It's unlikely you'll find them at your local department store or budget retailer. Your local bra boutique may have some, but that's not accessible for everyone. Plus many local boutiques, especially those focused on bra fit, don't carry bralettes at all.
The easiest place to find them is the internet! To give you a jump start on your search, I've included a handful of great bralettes for fuller busts in this post, from sporty separates to basic sets. All of these styles are available starting at a DD cup, with most going up to US J/UK G and some going as high as a US N/UK J cup.
If you're reading this in the future, keep in mind that some of these bralettes might be sold out. Not to worry: Use the brand names as a starting point to discover new full bust bralette styles! You might find some new pieces that are even cuter on their websites.