Lingerie Review: Rihanna's Savage X Fenty Bras & Bralettes
Disclosure: These items were purchased by The Lingerie Addict for the purposes of this review. SavageXFenty is unaffiliated with The Lingerie Addict and/or this review.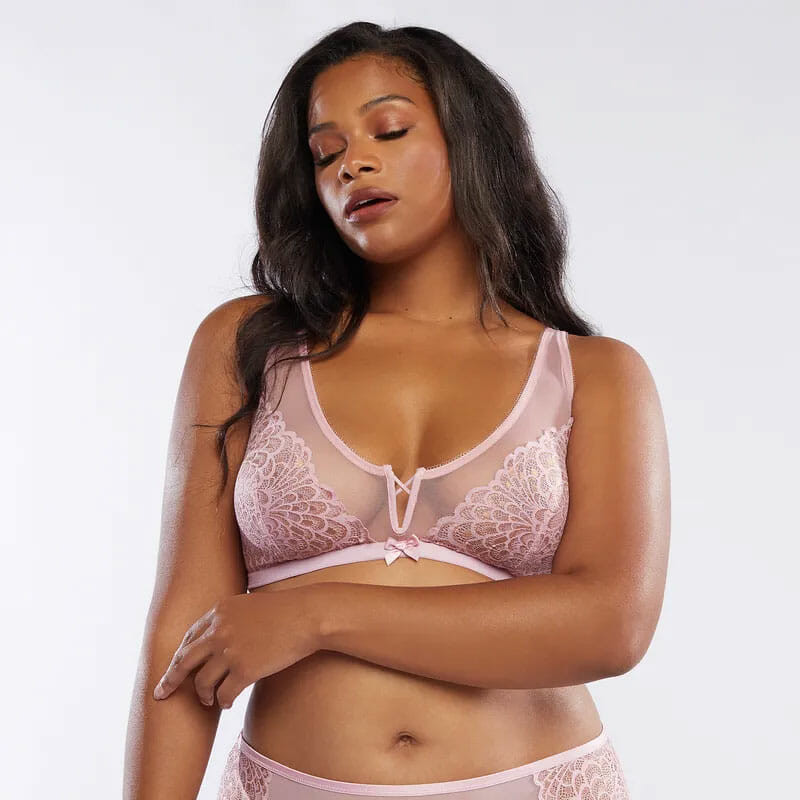 Last year's Savage X Fenty launch was a fantastic feat of lingerie marketing. Many said that Rihanna's new line would "do for bras what Fenty Beauty did for makeup." Nothing would cost over $100. Bras would come in a variety of nudes. And band sizes would go up to size 44. With thousands of people queueing up digitally for the midnight website release, #SavageXFenty even became a top trend on Twitter.
Rihanna doesn't actually own 100% Savage X Fenty (nor does she actually design any of the pieces), but she certainly knows how to deliver an entrance. And her fans are here for it.
However, lingerie is far more difficult to manufacture than makeup. It would be nearly impossible for one new intimates brand to reach everyone's sky-high expectations. Cup sizes initially stopped at DD, though some bras were released in DDD when fans were left aghast. Plus size offerings can be wildly different than core size garments, inciting outrage after Savage X Fenty's proclaimed inclusivity. And a lot of people though the line was, well, boring.
Regardless, I had high expectations for Savage X Fenty as a low-to-mid-priced mass-market brand. I loved how their launch made so many non-lingerie-addicted people excited about lingerie. I loved the diversity of their debut runway show. I love that they launched with core and plus sizes. And I love that they're helping normalize a wide range of nudes for the lingerie industry. But were my hopes too high?
The Website
First, let's get real: I hate the Savage X Fenty website.
The brand gives customers two ways to shop: regular full-price shopping and joining their "XTRA VIP" monthly subscription service for a discount. They're really banking on that subscription service. In fact, they hide their actual, regular prices until you click onto a product page.
Clicking on a product page reveals that prices listed on search and category pages are "VIP" prices, only available if you purchase the monthly "XTRA VIP" subscription. Upon subscribing, your card is automatically charged $49.95 a month for a store credit that never expires. Since their VIP subscribers get significantly lower prices (think $19 instead of $69 for a lingerie set!), this is a great deal. But if you don't want to sign up for a VIP membership, this is really annoying.
The site is frustrating to navigate in other ways. For instance, almost all size drop-down boxes include the selectable option "additional sizes available." If you click it, the site automatically forwards you to the (heavily modified) plus size version of whatever item you're looking at. So, no, additional sizes aren't available in the item you were looking at, and now you're on a totally different web page by accident. Why, y'all?
Worst of all, there is no search function. Let me reiterate: THIS SHOPPING WEBSITE HAS NO SEARCH FUNCTION. So, for instance, if you want to see every piece that matches this cute denim-inspired chambray bra, you either have to sift through their category pages, or you have to Google "savage fenty chambray" and go through the results.
Anyway, website woes aside, I like a lot of the fashion-forward styles Savage X Fenty offers. My "ideal" cup size is 32G, which Fenty doesn't manufacture. However, I have no problem wearing the sister sizes they do make (34DDD and 36DD). So I tried three styles: a bralette, a lace cup bra, and a t-shirt bra.
Plus Size Bralette
Over the past year, Fenty has received both accolades and criticism for their handling of extended sizes. Their photoshoots and runway show include models of many sizes, and their size chart goes up to 3X and a 44 bra band, which is great for a new brand.
Yet their plus sizes are often considerably less "novel" than their core size offerings. While different bodies require different types of lingerie (from a lingerie engineering POV, I understood why the controversial Valentine's Day bralette was so different in plus sizes), I'm left baffled at some of their choices.
Sometimes, I think the designers must assume fashion-forward plus size people want to cover up as much of their bodies as possible. I assume they know their market better than I do, but as far as optics go, it's a weird choice to make for a "body positive" brand.
While I don't typically wear plus sizes, my cup size (32G, the equivalent of a 34DDD or 36DD) means I would wear their size 1X bralette, according to their size chart. Luckily, I like this plus size bralette more than the core size bralette from the same group!
The "V" boning in the front of this bralette is super cute, and the design feels more thoughtful than the similar triangle bra available in core sizes. I appreciate that the extra fabric will help keep everything in place. I also feel like the designers did a good job of balancing pretty aesthetics with the fact that this style physically needed more than the core size version.
It's a comfortable bralette, and the sizing is spot on. My breasts get cut in at the top, but that's guaranteed to happen to me in bralettes. (Even though this bra says I'm within its size range, it's fit for plus sizes, not full cups; the proportions used for an "average" cup size bralette will never give me a perfect fit, and I expected that.)
However, the shoulders are super wide-set, and there's a lot of coverage next to the armpit. The neckline and straps scream "sports bra!" to me. And I was bummed to see that the cuter matching bottoms are only available in plus size, when I'd only need a size L. (Here is one of those instances where I truly don't think they needed to modify the style between plus and core sizes.)
I also think this bra, at $49 full price, is a little expensive for the quality and style. Although the hardware is super cute, the lace is pretty cheap, and the construction isn't anything special. I believe the quality is more in line with a $30-ish bralette.
Unlined Lace Bra
The Unlined Lace Bra is one of their styles available in a range of nudes. I ordered my sister size, 36DD, in the shade Bare, which is more of a cream than a skin tone.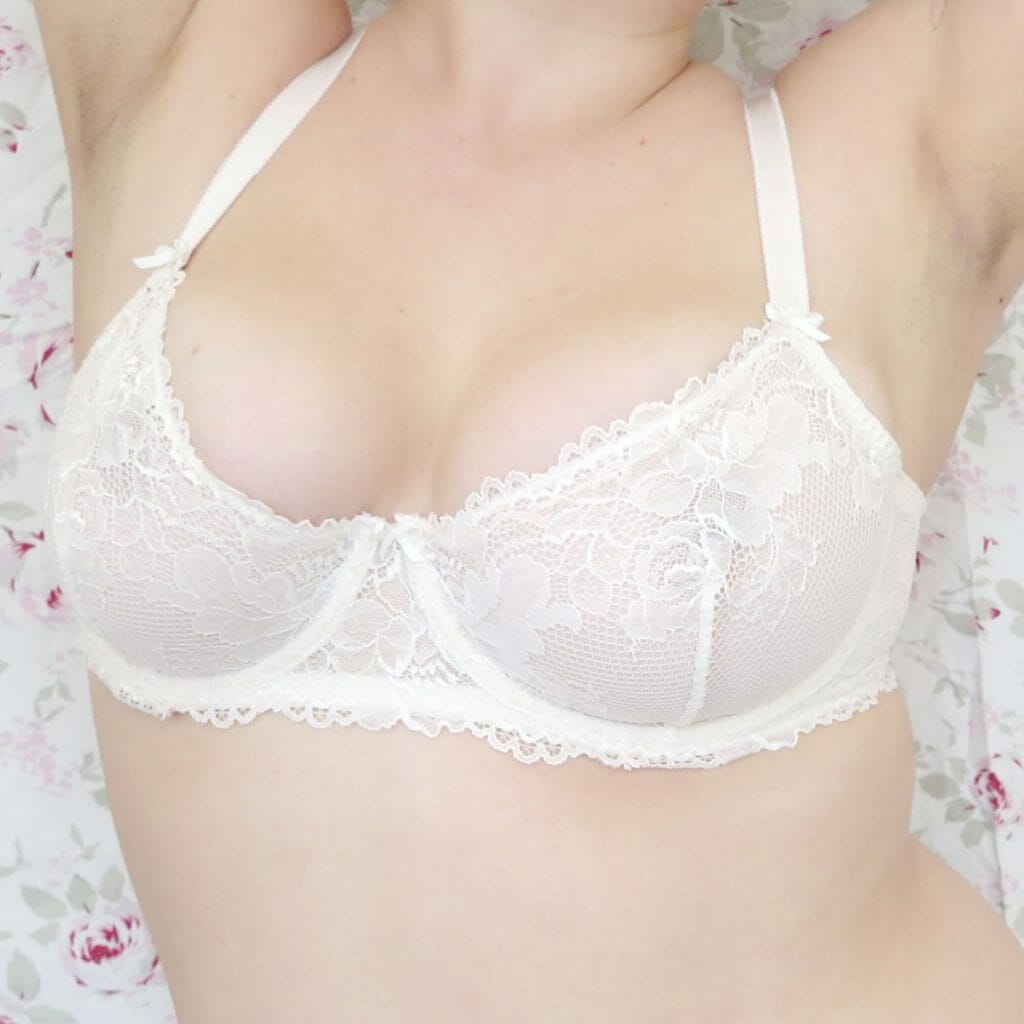 As far as fit goes, the band is true to size, but the cups on this bra are super stretchy, and very shallow. I can't wear it under t-shirts because it gives me four very distinct boobs.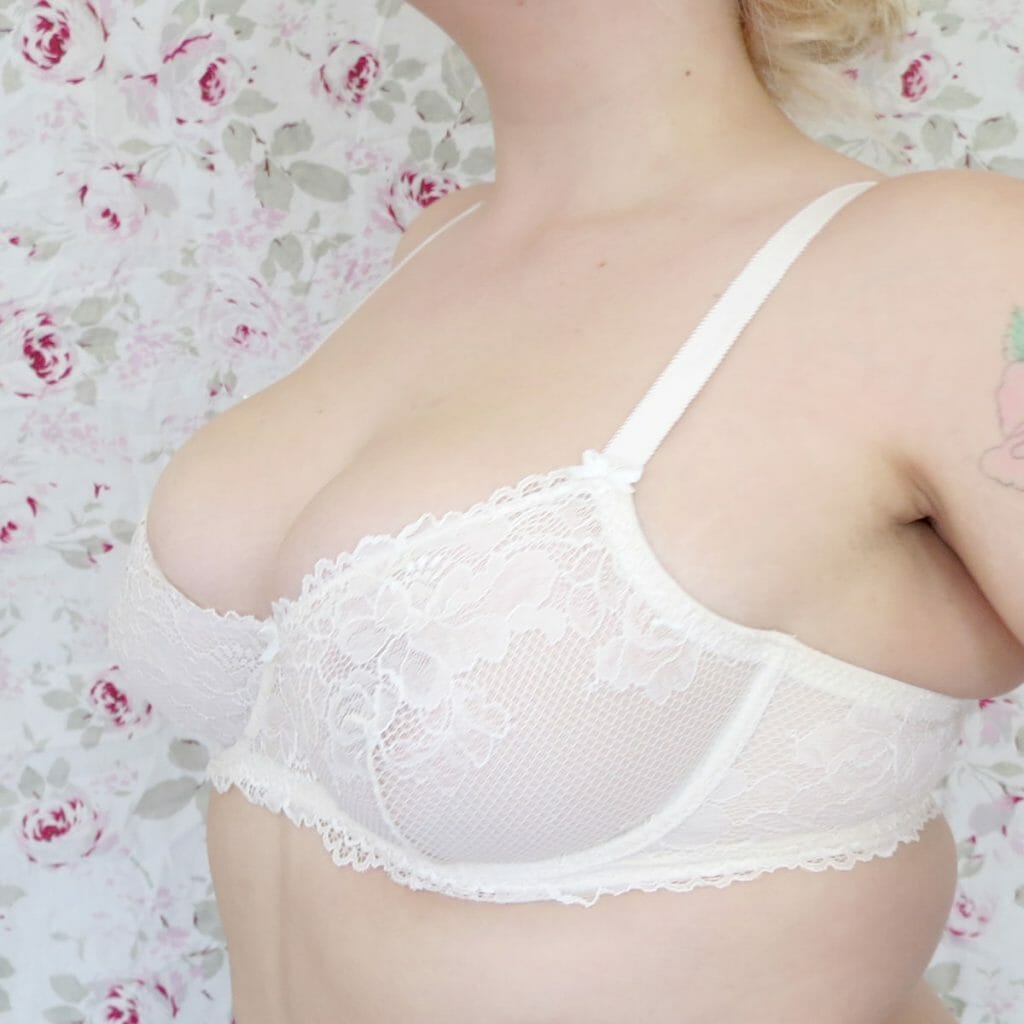 Having said that: it's wildly comfortable. I forget I'm wearing it. I've napped in this bra! I've done yoga in this bra! The super stretchy materials (combined with sister sizing up to a 36 band) make it the most comfortable underwire bra I own.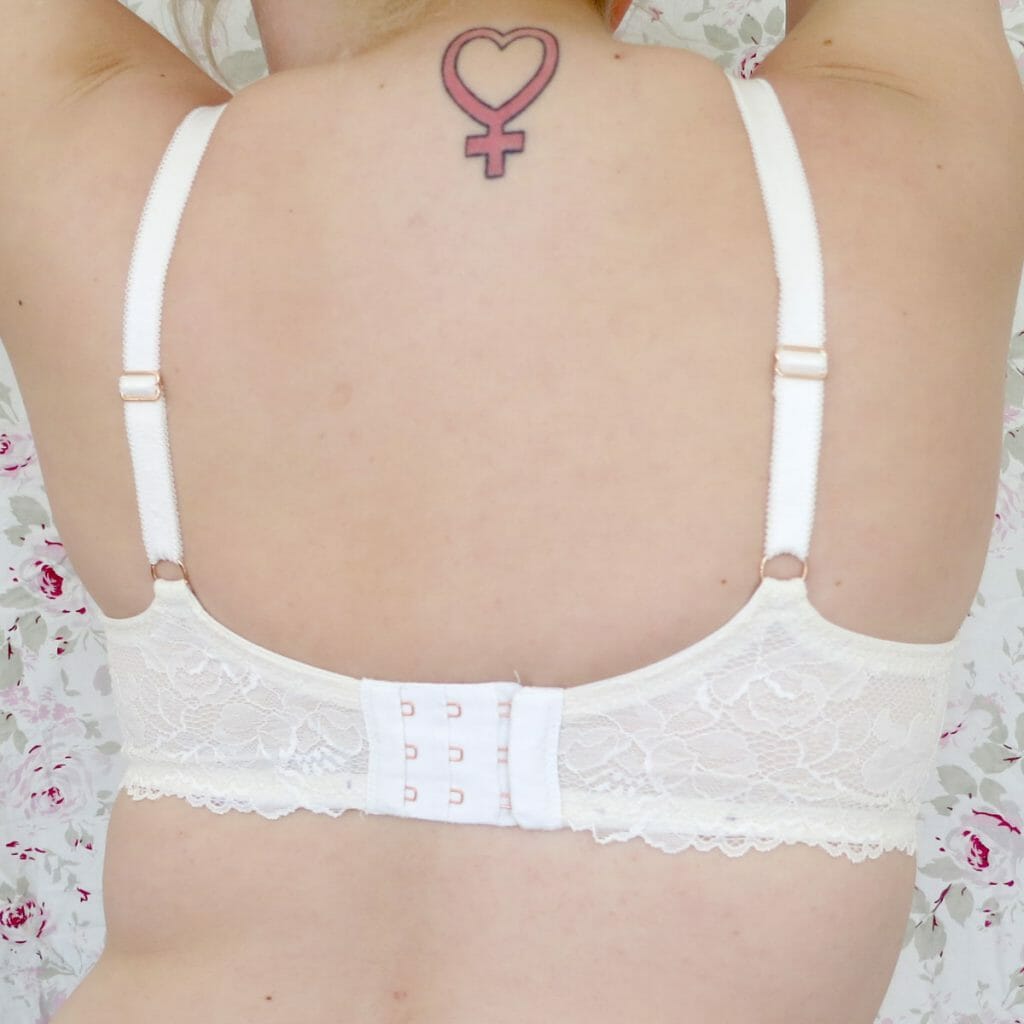 This bra is not made for fuller cups, so it's a good thing it stops at a DD. If you have shallow breasts and are looking for an affordable nude bra, I totally recommend this one.
T-Shirt Bra
Only three of their current styles (in a limited number of colors) come in DDD. The T-Shirt Bra is one of them. This style fits about how I'd expect a 34DDD to fit. Nothing weird or special happening here. It's not specifically engineered for fuller breasts, but the materials are quite stable so it's supportive enough for a DDD cup.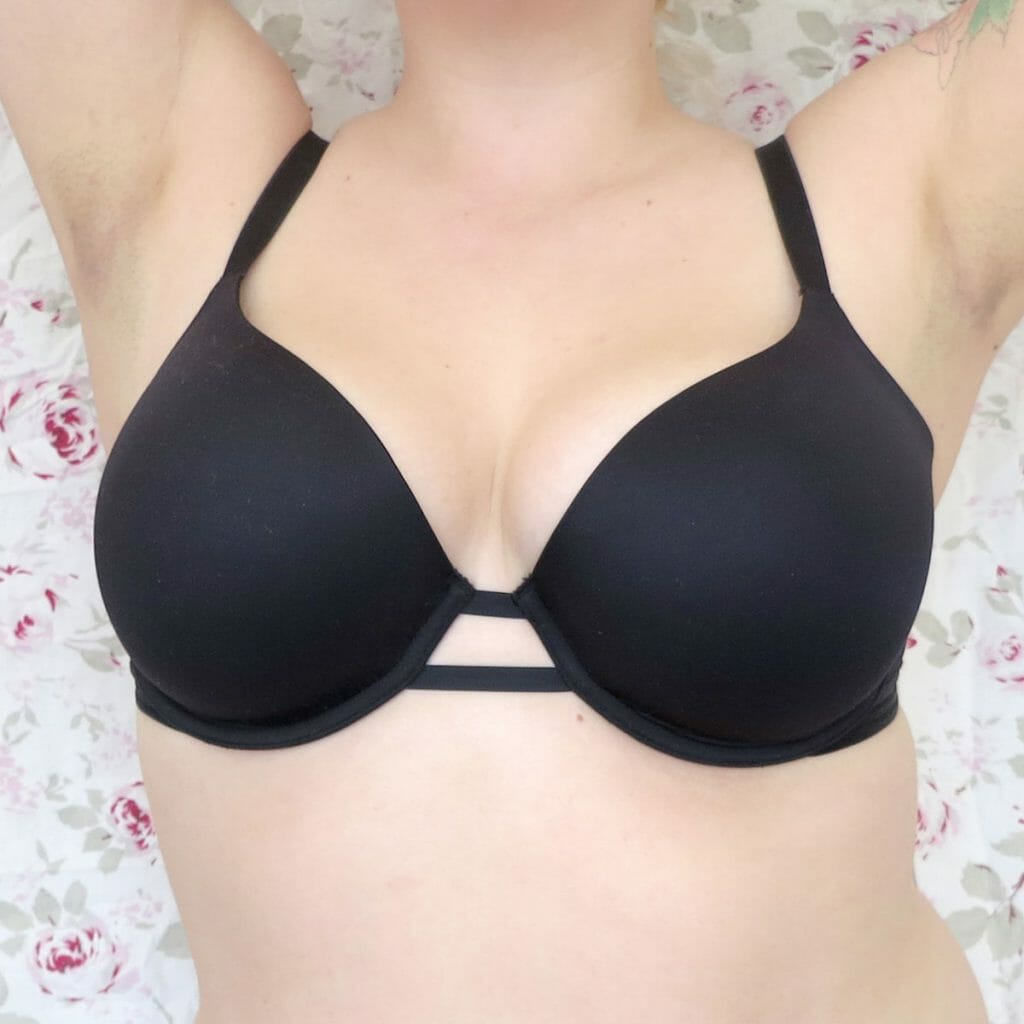 I don't normally like molded cup bras, and find unlined bras way more comfortable and supportive, so I was surprised to really like this bra. Like the unlined lace bra, I forget I'm wearing it. And for a basic black t-shirt bra, it's…sort of sexy? I particularly love the open gore detail between the cups, which somehow helps support everything without digging in uncomfortably on my squishy torso.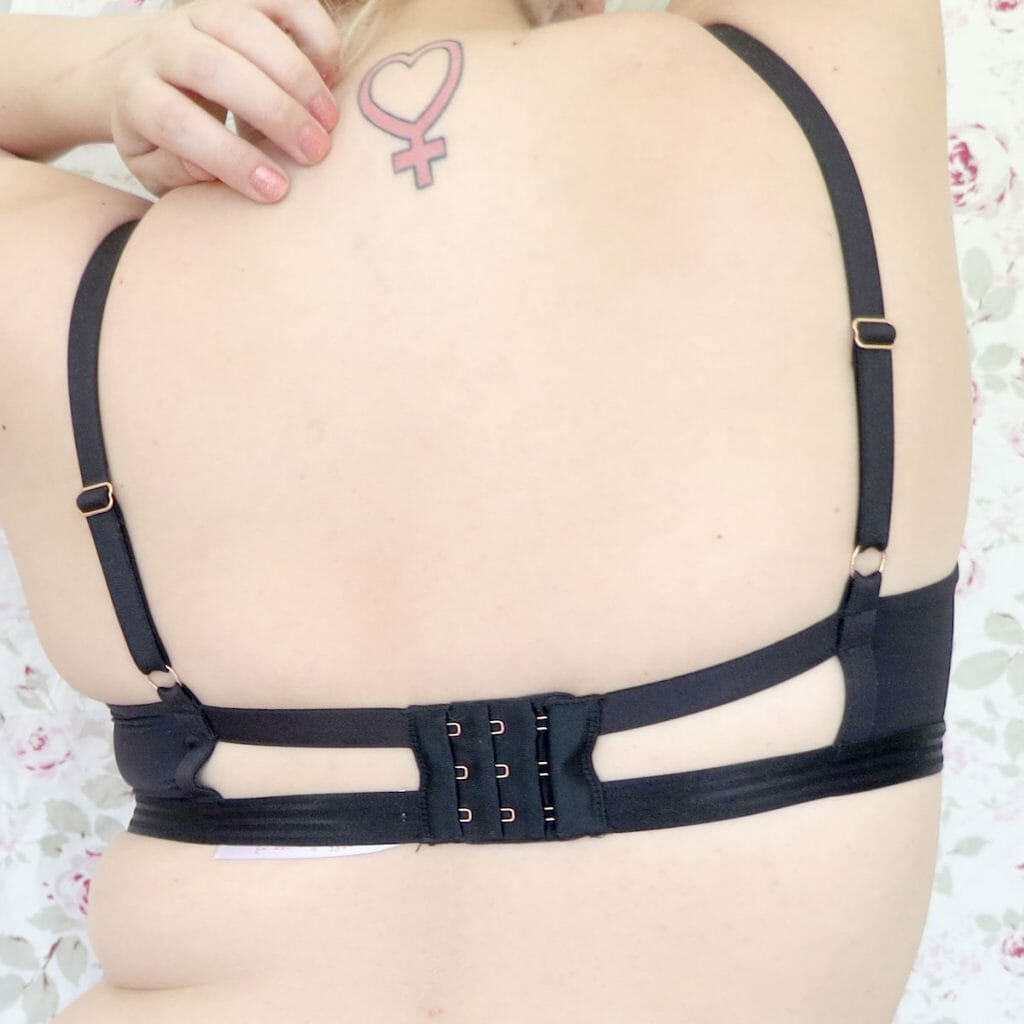 With its chic streamlined styling, this t-shirt bra is a fantastic option for bow-haters and people looking for more androgynous styles.
Final Thoughts
In my opinion, there are some items at Savage X Fenty that are worth the full price (like their underwire bras) and some that perhaps are not (like their bralettes).
I think their materials are a little cheesy for full price, and while I do think their basic underwire bras are an average value, their other pieces are a little expensive for what you get.
That said, if you want to purchase the monthly $50 VIP membership, you'll get some really good deals. And if you fall in love with the novelty of a certain style, I think you'd be happy with the price point regardless.
I'd probably buy something from Savage X Fenty again, especially if I'm ever in the market for a very comfortable nude bra. I just really hope they add a freaking search function to their website.