Is this Viral Bodysuit Worth It? Reviewing Thistle and Spire's Medusa Bodysuit
Brooklyn-based lingerie line Thistle and Spire was founded in 2015. I remember adoring their thistle-embroidered bralette the first time I saw them at Curve. The embellishment was obviously branded, but beautiful enough to stand alone. Impressive for a new line.
The indie label quickly became an easily-recognized name among younger lingerie wearers, thanks to their well-priced dynamic designs, carefully-engineered embroideries, and lots of social media marketing.
If you're a Millennial on social media who's interested in fashion, it's pretty likely you've seen an ad for the Thistle and Spire Medusa Bodysuit. In fact, every time I told someone about this review, the conversation went like this:
"I'm reviewing a bodysuit you've probably received targeted ads for."
"What's it look like?"
"It has snakes on it."
"Oh yeah, that one!"
The Medusa Bodysuit combines two of today's big lingerie trends: custom embroidery, and snakes. Modern embroidery technology can create beautiful, flowing designs at a lower cost than custom lace, so it's huge in the industry right now, especially on sheer mesh. And as far as motifs go, snakes are everywhere. It makes sense. They're a gender neutral motif that can create gorgeous abstract lines across the body.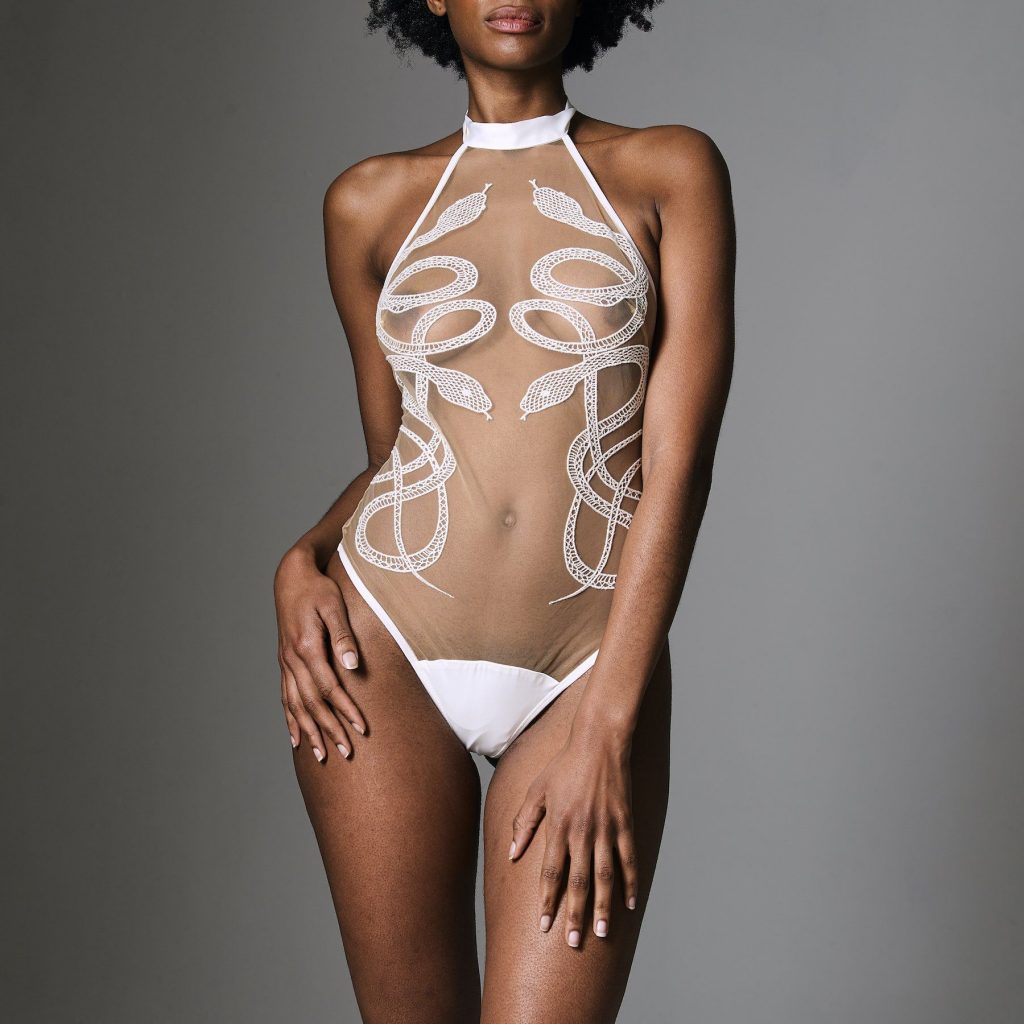 These two elements, combined with the overarching bodysuit trend, helped make this item super popular. So, of course, I wanted to review it. I typically prefer more romantic, vintage-inspired styles, and bodysuits aren't even my thing. But the Medusa Bodysuit keeps coming back, season after season, and people love it. I wanted to see what the big deal was.
The Bodysuit
The Medusa Bodysuit retails for $92, and comes in sizes XS through XL. It's made of a beige stretch mesh, detailed with contrast embroidery, satin, and fold-over elastic. I ordered it in Chambray, a now-sold-out dusty blue that reminds me of bridal bouquets and vintage denim.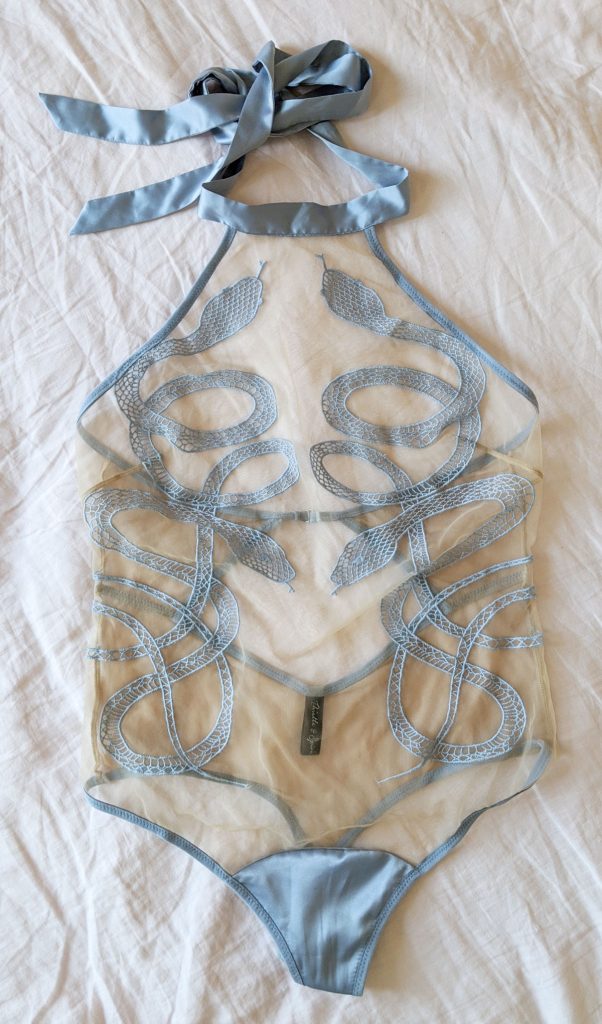 The bodysuit is entirely sheer, aside from a triangle of blue satin at the bottom. This detail makes this piece feel a bit more wearable. The back is entirely open, aside from the high waist thong bottom and a skinny clasp just above the waist.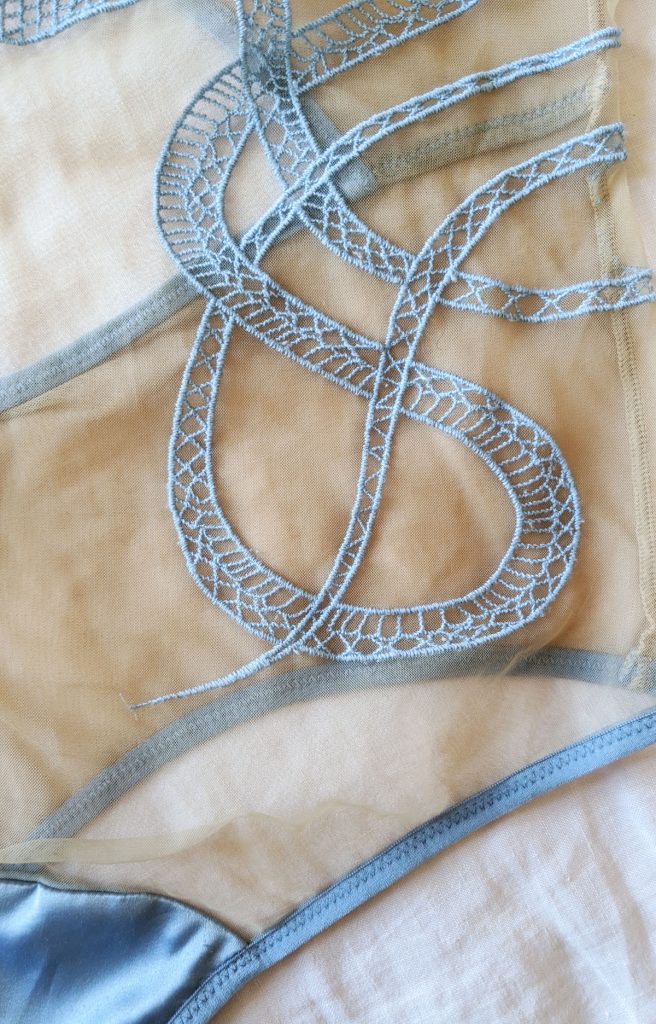 There is no crotch closure, but the thong is super easy to pull aside so there's no need to strip when you're in a public bathroom. The satin collar attaches to long matching ribbons that tie around your neck.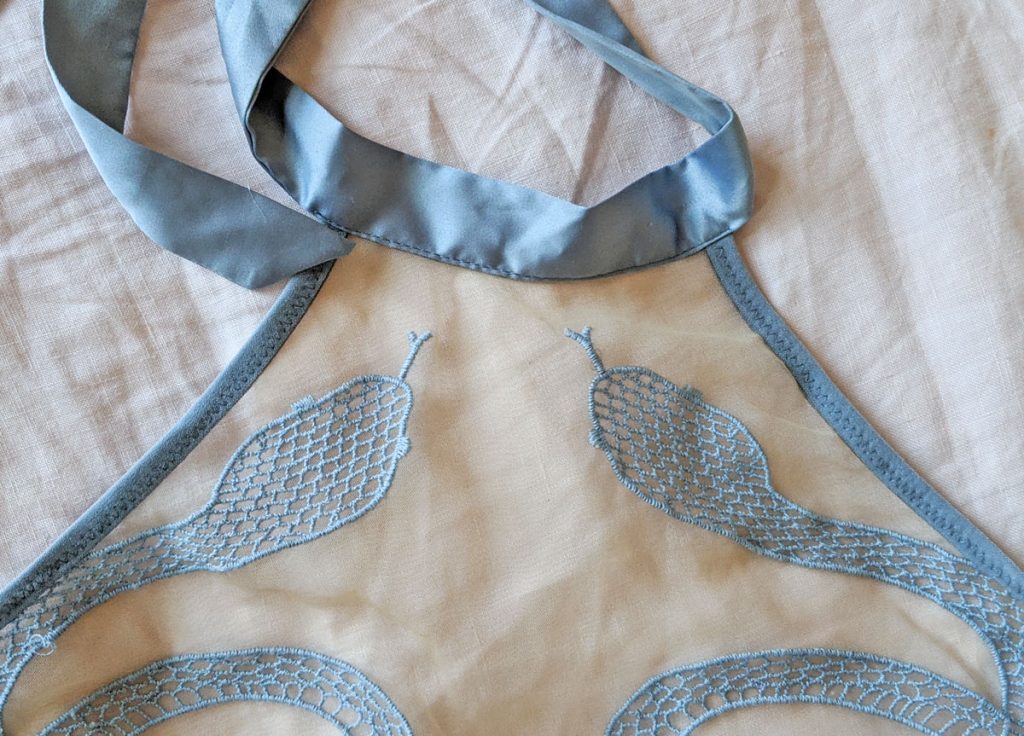 For the price, I think the quality is on point. The construction is what I would expect for this price point, the polyester satin is really nice, and the embroidery looks great.
Thistle and Spire is perfectly designed for the younger department store shopper. Someone who wants something nice, on trend, and a bit elevated -  but not "aspirationally-priced." If the "contemporary" price category existed for lingerie, Thistle and Spire would be that.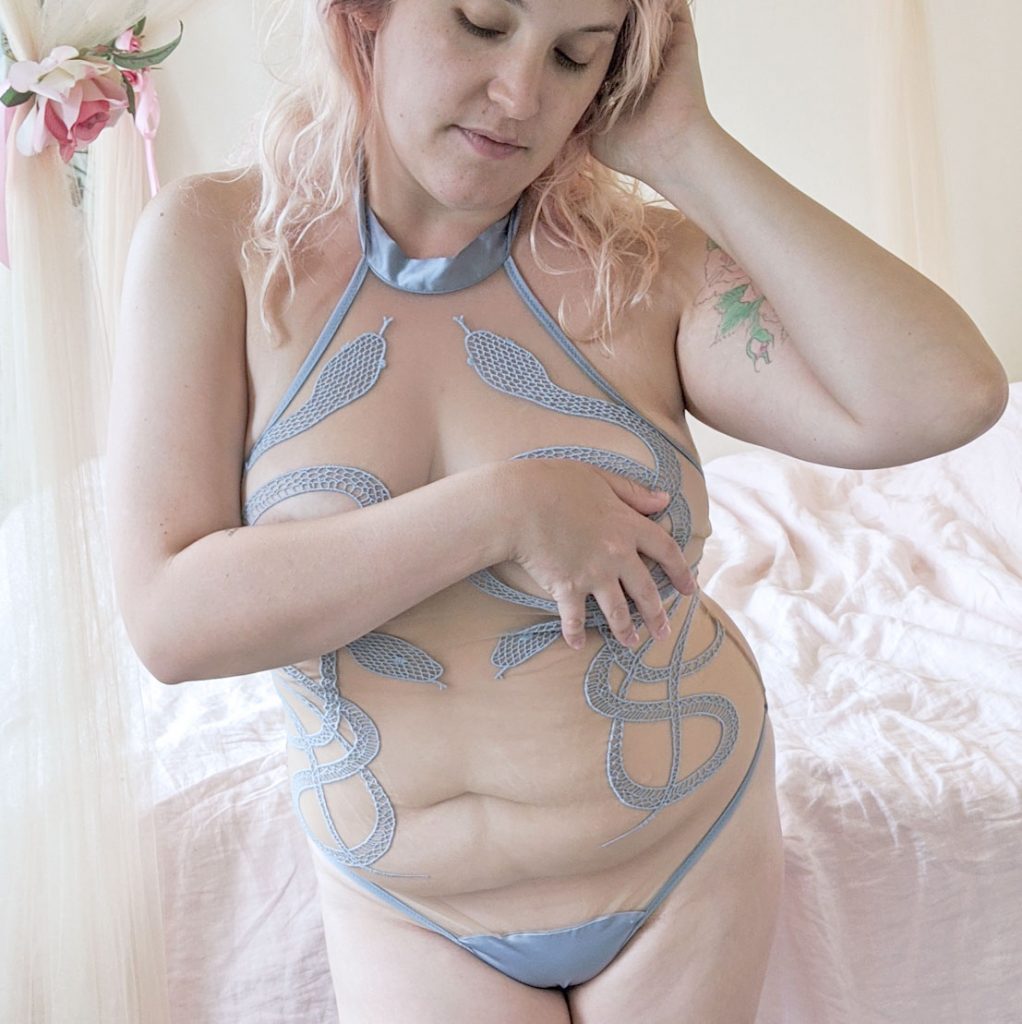 The Fit
The first thing I thought after pulling on this bodysuit was, "Oh, so that's why it's so popular." I'm not kidding: this piece looks great on the body.
The fabric is just stretchy enough for a flexible fit, but just firm enough to feel secure. The high cut legs are on trend, and the open back is pretty and modern. Combined with the ornate snake embroidery, this bodysuit's shaping is really genius in its simplicity. I imagine it would be "traditionally flattering" on basically anyone.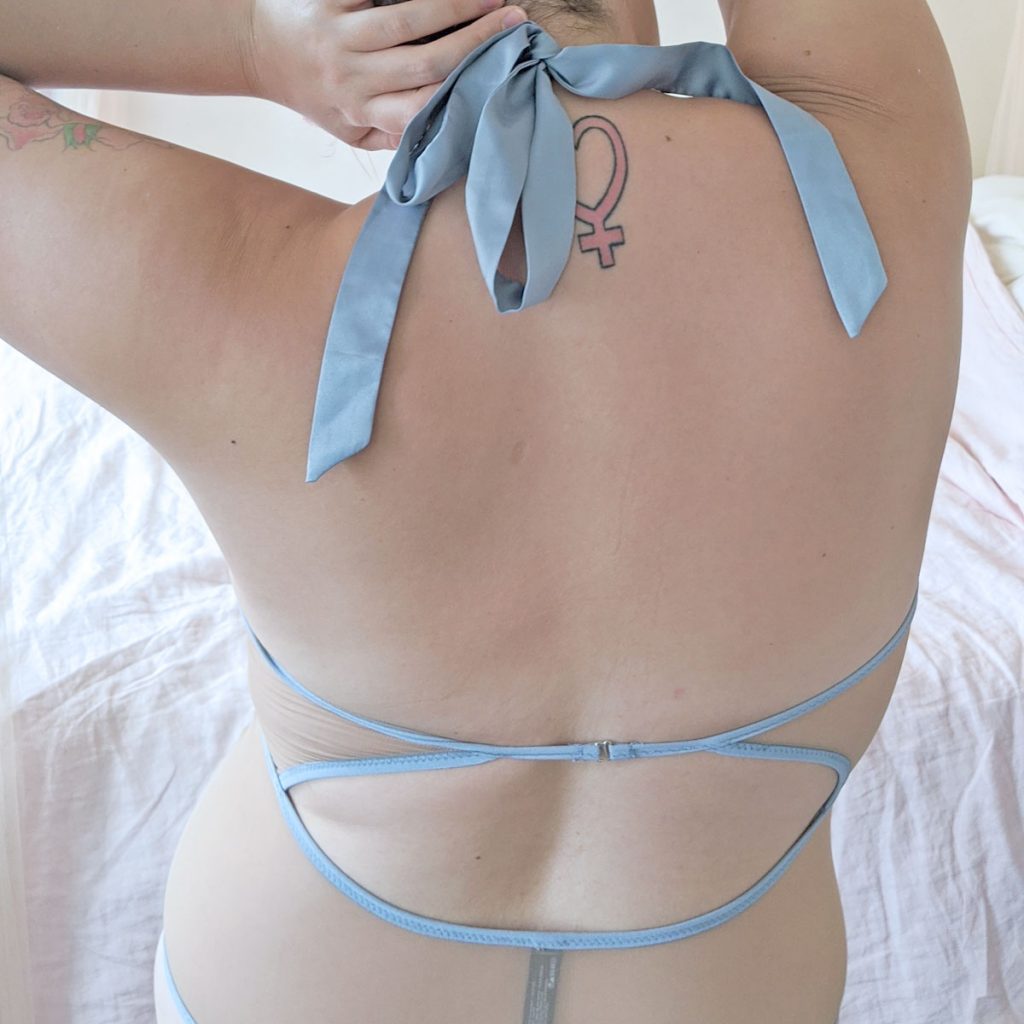 My bust is a couple of inches bigger than the size L in their size chart, but the XL would have been too big elsewhere. I went with the L, and I'm happy I did, as the rest fits perfectly. The open back makes this piece extra flexible for busty people like me, and the adjustable tie neck means I could give myself more room if I needed it.
The thong back assists with this bodysuit's flexible fit too, along with its stretchy materials. If you're within Thistle and Spire's size range, this bodysuit will probably work for you.
Of course, there's also the question of length. My short torso and I never have a problem with bodysuits, but if you're taller or have a long torso, you know the struggle.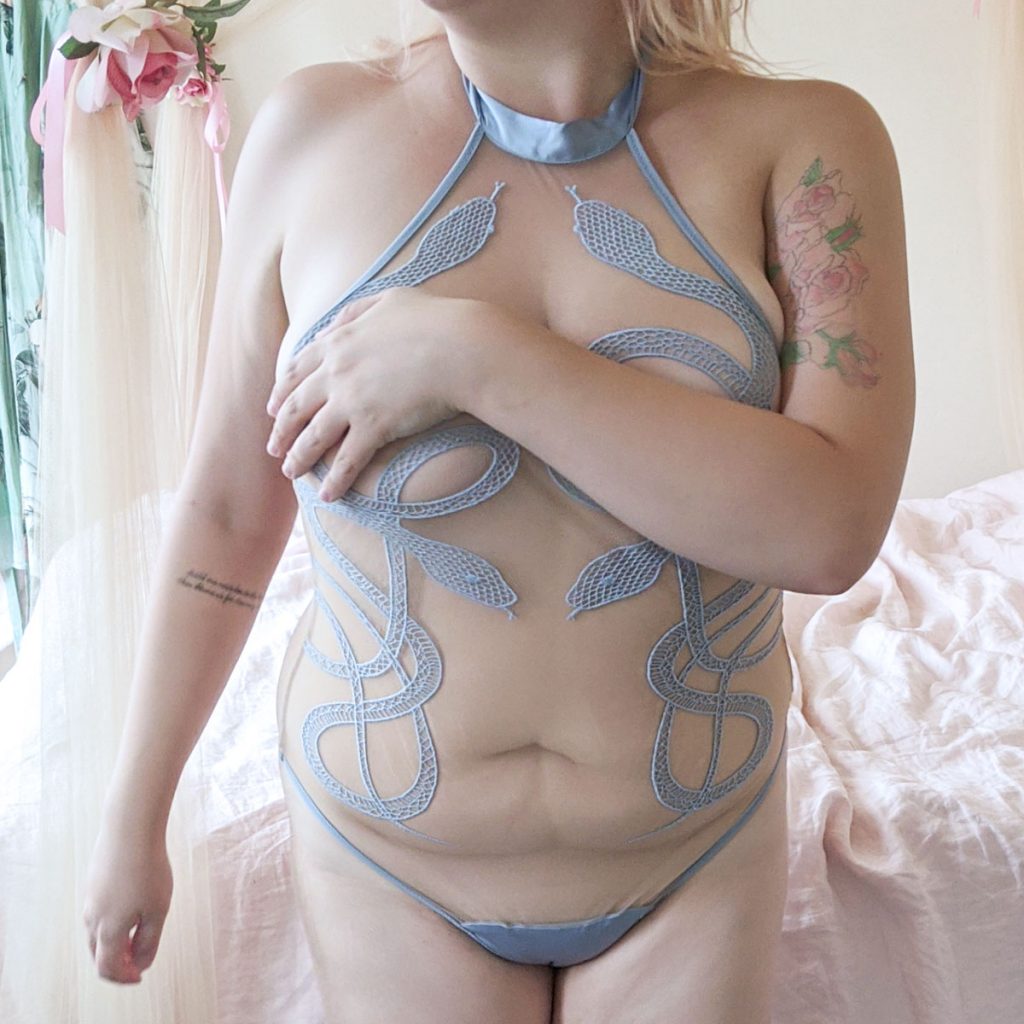 I think this bodysuit has a very average length, with the thong bottom giving it extra flexibility. However, if your torso is longer, I would recommend sizing up as the brand's size chart suggests.
If you are busty and have an average torso length, I'd also recommend sizing up. The extra projection needed for a bigger chest will naturally make the bodysuit shorter. (It's stretchy, but it's not magic.)
Final Thoughts
As someone who prefers more vintage-inspired, sweeter designs, I didn't expect to love this bodysuit so much! I find myself putting it on when I'm having a bad day and want to feel cute but comfortable. I even find myself eyeing the Thistle and Spire website, wondering if I should buy that cheeky leaf-printed Brooklyn Haze Bodysuit or maybe one of their bralettes (the size large allegedly fits up to a 36DD!).
If you're into the aesthetics of this piece and find yourself wondering if it would be worth the purchase, I'm happy to give you a clear answer: Yep! If you love the look of this bodysuit online, I can almost guarantee you'll love it in person.