Full Bust Lingerie Review: Eprise by Lise Charmel Guipure Charming Demi Bra
Disclosure: This bra was gifted to me by a friend. All opinions are my own.
Eprise is the full bust label by French luxury brand Lise Charmel. Defined as "a high-end French creation for women with [a] generous chest," Eprise styles are available in band sizes 30 through 42, with cups up to a European H (UK FF) in some sizes.
Eprise bras encompass a specific type of old-fashioned French glamour. One that pairs beautifully with diamond solitaire earrings, a signature perfume, and your very own powder room.
Like all Lise Charmel styles, the Eprise collection offers lace appliques, Swarovski crystals, and full-coverage panties in abundance. To me, this is the kind of lingerie your favorite soap opera star would wear - glamorous, sensual, and a bit ostentatious in its details.
The Guipure Charming Demi Bra retails for $178, making it more expensive than most other full bust luxury bras I've reviewed for TLA. My bra is a few years old, but it looks like you can still buy the "rose" color on their website in a few sizes.
While Lise Charmel's seasonal styles can be difficult to find state-side, you can always find this bra in white, black, and "amber nacre" (a sandy beige) via various department stores online. If you're a smaller cup size, the same fabrics and colors used in the "Guipure Charming" group are available in core sizes under the name "Dressing Floral."
Quality
This bra is made in Bulgaria from gorgeous materials. The Guipure lace that makes up the top of the two-part cup is thick and weighty yet visually delicate, with white details sweetly setting off the pale pink flourishes.
The embroidered side panels and lower cup match the lace perfectly. Even the elastic used to stabilize the top of the lace cup is edged in a sweet pique. And of course, it's all set off with a Swarovski crystal pendant on the gore.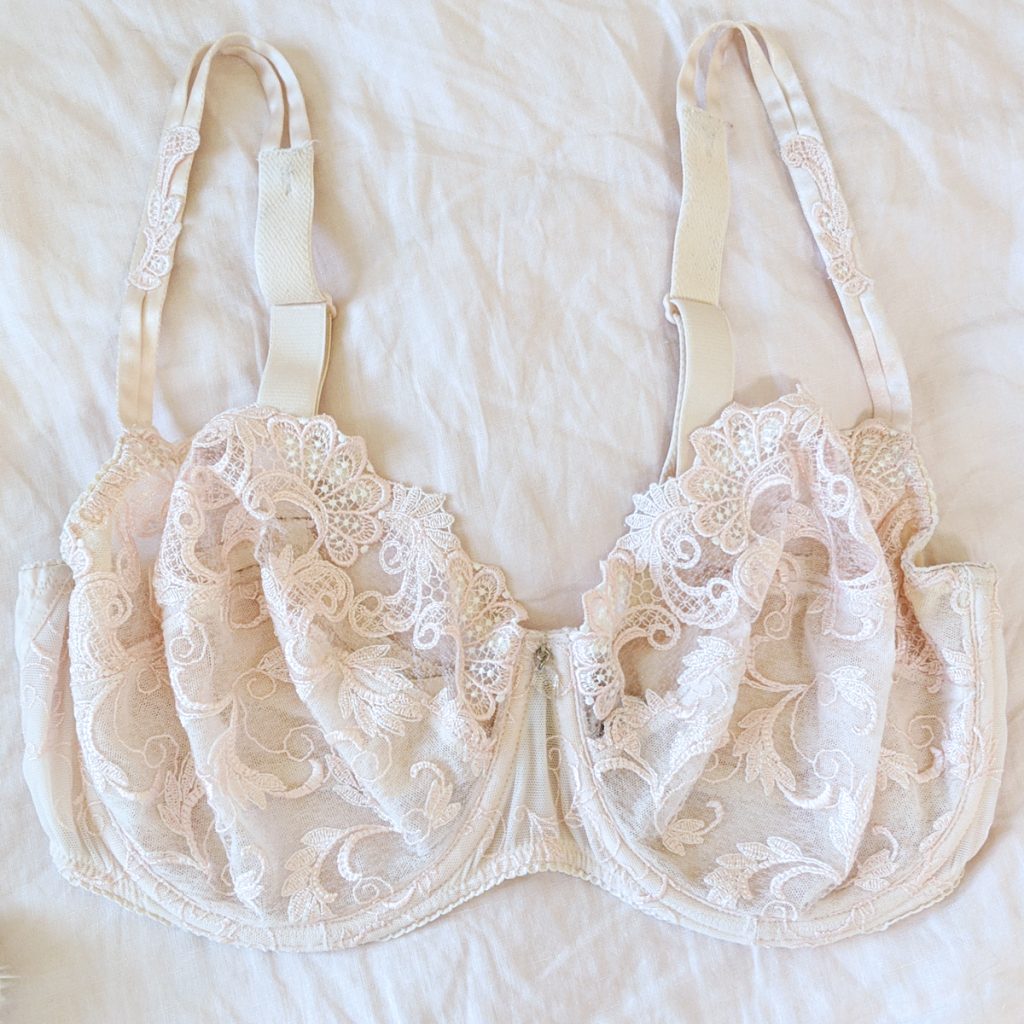 One of my favorite details is the strap design. I've had this bra for a few years, but it wasn't until writing this review that I realized the straps are made up of two parts! They combine a small lace applique with a unique double-strap front design, attached to a thick elastic strap in the back. The result appears quite dainty, yet is one of the sturdiest decorative straps I've ever felt on a full bust bra.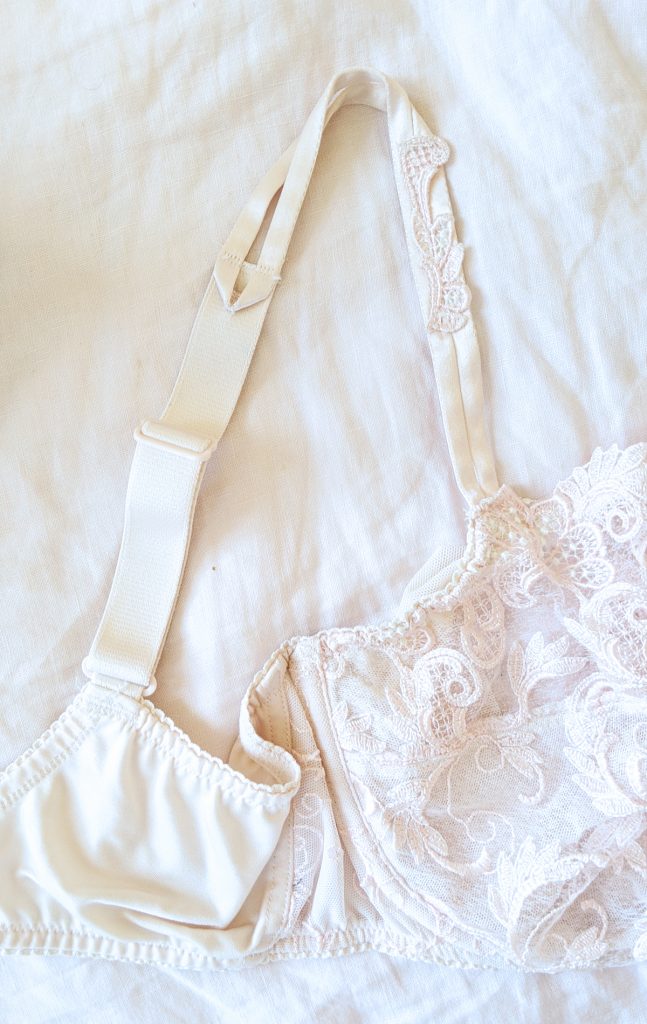 In fact, I think this is the most strongly-constructed bra I own. The construction is downright heavy duty.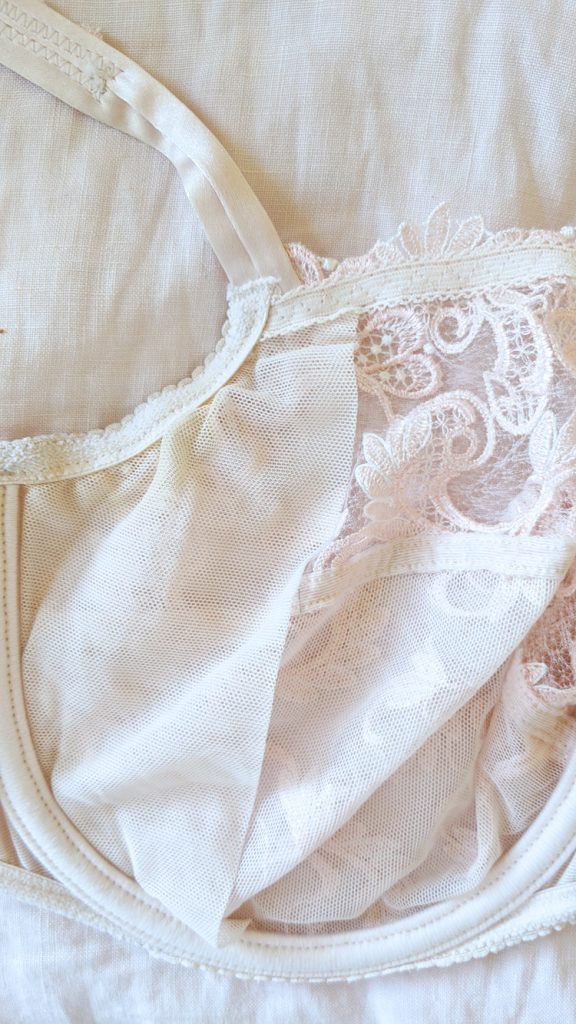 It's worth noting that the stretchy satin back panels are not silk, which one would expect at this price point. Personally, I'm thankful for the elasticity of the panels - more on that later - but the lack of silk on this nearly-$200 luxury bra is surprising.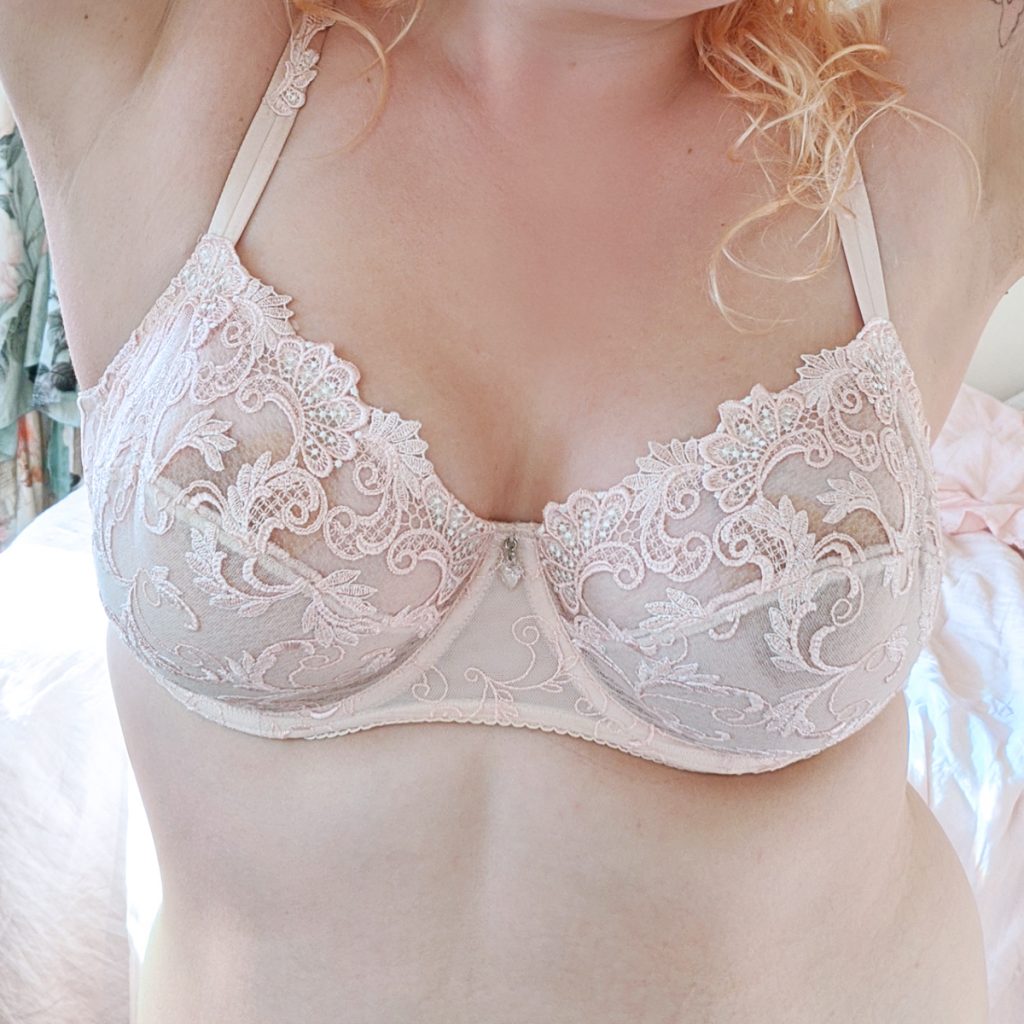 Fit
The Guipure Charming Demi Bra is available in sizes 30G, 32-34 D-G, 36 C-F, 38 C-E, and 40D. My friend gifted me her 34G (the sister size to my typical 32H), so it's a bit big in the back. However, the cups fit as expected. If you're fuller on top, you might find these cups a bit shallow for a demi cup. Although it doesn't have as much coverage as a full-cup bra, I feel it's shaped like one!
The cup itself gives a lot of shape for a sheer, two-part soft cup bra, thanks to the stable materials and inner support. However, the sturdy materials combined with the two-part cup in a larger size makes this bra, well, very pointy. But that's the biggest reason I wear it so often. The silhouette is perfect under vintage clothes! Not only does it look great with 50s and 60s styles, it helps me actually fit into the vintage cuts of the time, without the need for a full bullet bra or updated tailoring.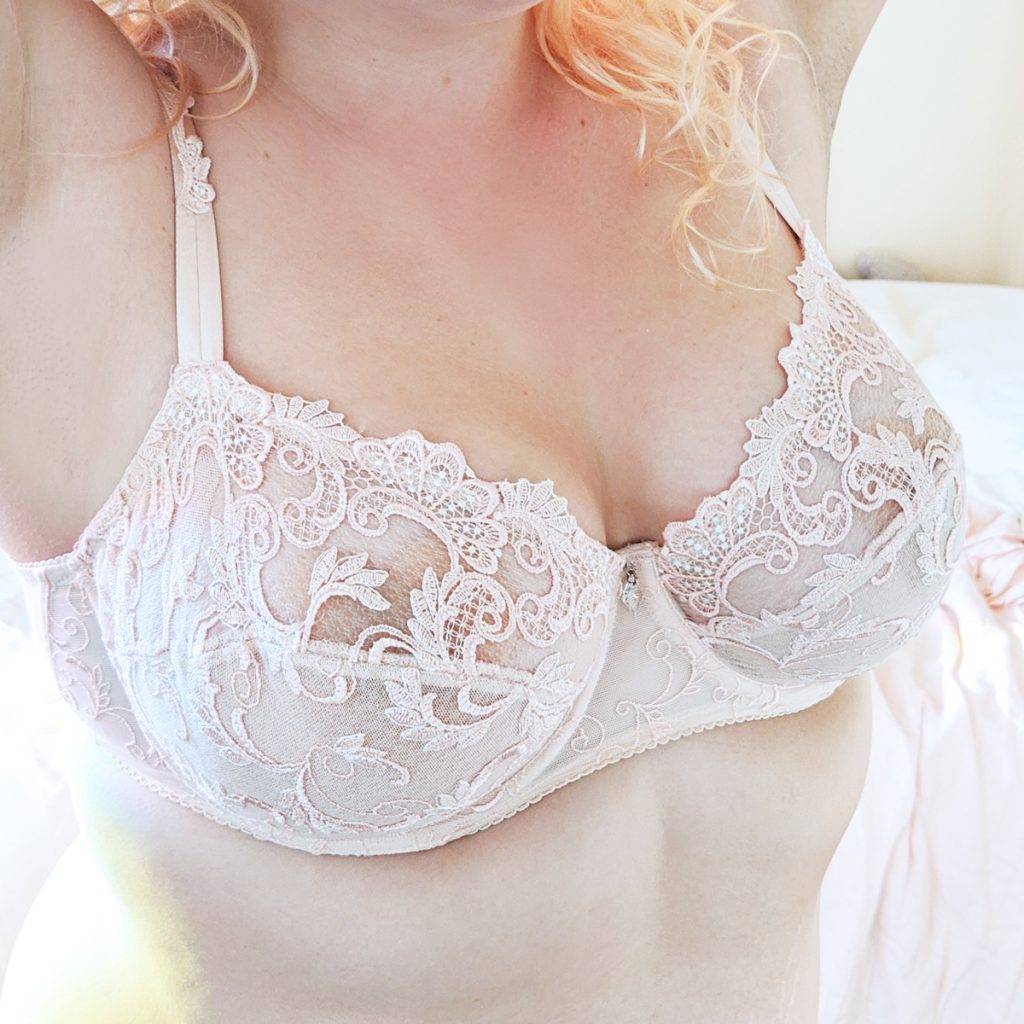 Of course, the downside to a very sturdy bra is that it's…not that comfortable. This isn't a bra I wear to the grocery store or for a walk with friends. It's the bra I wear to a business meeting or on a formal occasion. Even with its stretchy back panels, I always notice this bra when I wear it.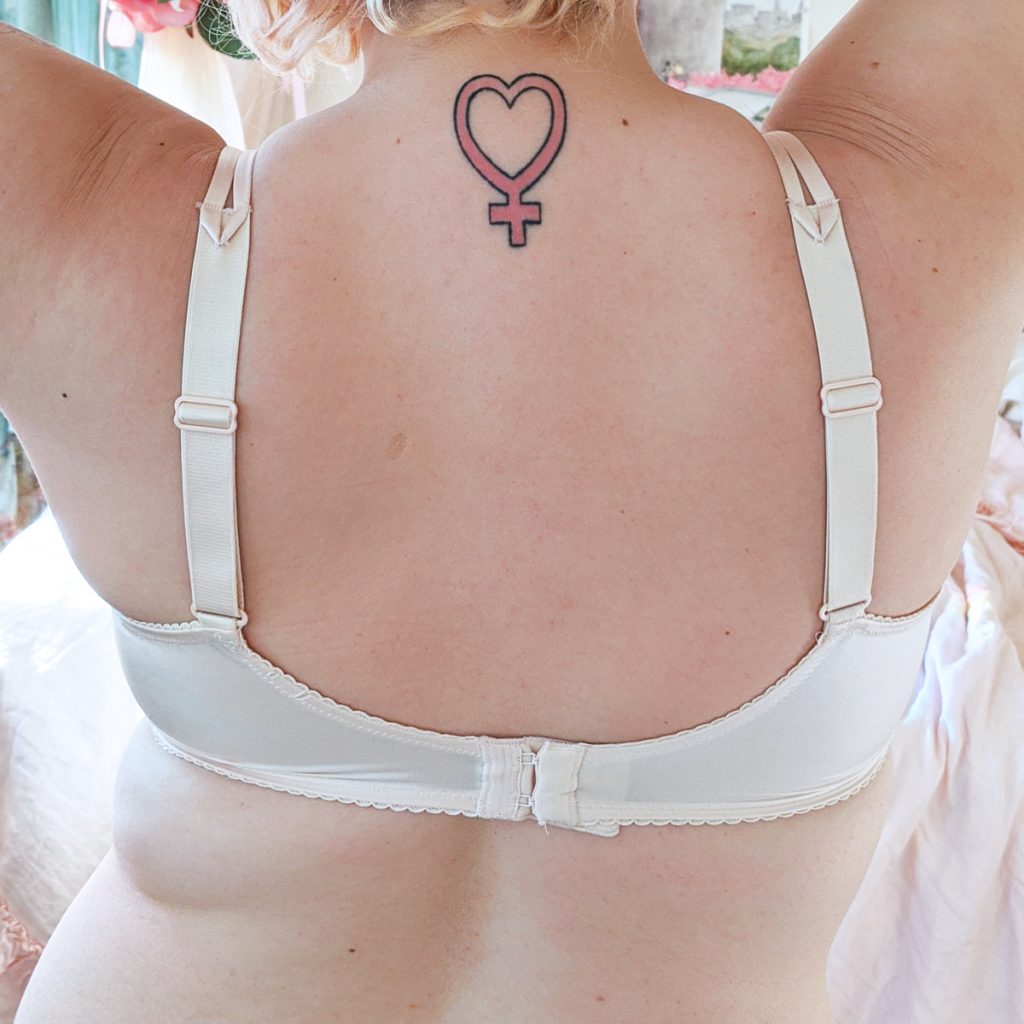 Overall, this bra feels like a core-sized bra that's been sized up and reinforced for a larger chest, but not significantly re-patterned. If you prefer a narrow wire and a lot of projection, extra hooks in the back, super-wide straps, and more than a two-part cup, this isn't the bra for you. But if you want a glamorous core-style bra that's simply been reinforced for a larger chest, you'd probably love this.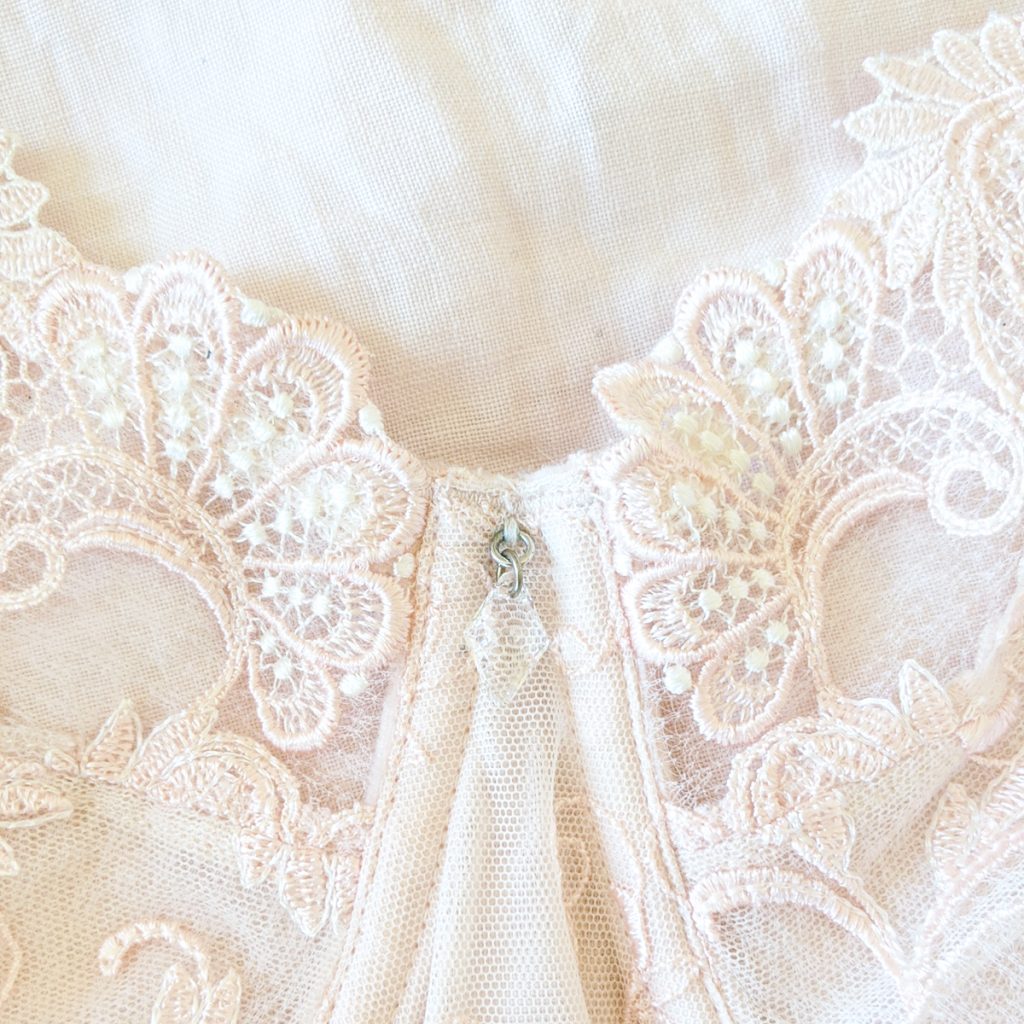 Overall Thoughts on Lise Charmel
The Guipure Charming Demi Bra is beautifully made from gorgeous lace. The details are stunning, and it's the most sturdily-constructed bra I own. I particularly love its pointed silhouette under a good vintage dress.
However, sturdy construction isn't the most important thing I look for when I go bra shopping. I get the same amount of lift (if not more) in well-constructed bras that are less firm around the body.
If I was in the market for a full bust bra that is specifically in the luxury price point, I would probably purchase a bra from a full bust brand like Katherine Hamilton. Katherine Hamilton uses luxurious materials in a way that's hyper-comfortable and has a larger full-bust size range.
While it's unlikely I would pay full price for a Lise Charmel bra in the future, the stunning aesthetics and high-quality construction of this bra are absolutely worth keeping my eye out for more styles at a discount.