Why Empathy is The Most Important Trait in a Lingerie Boutique Employee
Along with running a loungewear line, writing for The Lingerie Addict, and doing freelance textile design work, I normally have a steady part-time job so I don't lose my mind over finances when work is slow. When I was looking for a new side job this Autumn, working in lingerie sales sounded like a no-brainer. The longer I'm a part of the lingerie industry, the more I love the people and products in it, so I started working as a part time sales associate at a lingerie boutique here in NYC about a month ago.
Since I'm kind of working backwards in the world of lingerie--launching a line first, writing for a blog second, working in a boutique third--there was a lot that I already knew going in. I sat on my hands during training, trying not to be "that girl" who has already learned how bras should fit, what a gore is, the difference between a contour cup and a bralette... these lessons become inherent after you've been steeping in the lingerie teapot for a few years.
Plus, I've worked in retail my whole life. I understand the pace of each day, what's generally expected of a sales associate, and the type of experience that customers want from a boutique apparel store. But after helping women find lingerie at a high-end boutique for only a month, I discovered it requires a lot of something I didn't expect.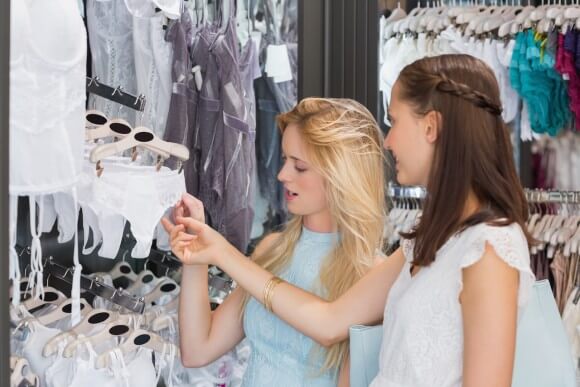 Empathy. Buckets of it. I'm pretty empathetic and I love people, so that's a part of any work I do, but selling lingerie in a boutique setting involves way more emotional work than I expected.
Most customers I work with aren't reading lingerie fit reviews online or posting photos on Instagram of their cute new panties. They don't go to indie lingerie popup shops, or show off their new bra to their friends at dinner. Even though Victoria's Secret brought lingerie into mainstream American culture, and even though Oprah spoke on TV about how many women are wearing "the wrong bra size," lingerie is still a sensitive topic. Most customers who come into the shop want cute bras that fit well, with help from a sensitive person who knows what they're doing.
But as a sales associate, it's more than simply knowing what you're doing. Going into autopilot is next to impossible in a lingerie boutique. When someone is half-naked in front of a stranger, the mental & social barriers that are typically in place when shopping often disappear. Many people, even very open people, instinctively feel vulnerable. If a sales associate can't sense that, understand that, and react appropriately to that, they're not doing their job.
Related to that feeling of vulnerability, almost every single woman I fit says something bad about her body. It's not typically spoken for a rebuttal or dismissal, but just in general, like a universal apology that someone else has to see the body she exists in. I expected it, as it happens in apparel stores as well, but it's such a constant occurrence in lingerie retail. It's difficult to handle because it's a little heartbreaking every time, but it's not something that should be completely ignored, simply scoffed at, or replied to apathetically.
When I wrote about my cup size changing, I learned that many TLA readers also put their identity on their cup size, but I didn't know how many people it truly affects until I started this job. Measuring a woman and letting her know I'm going to grab her a 30E instead of a 34B isn't something that can be done flippantly. It's not just "a different size" or "a longer skirt," as it might be at an apparel boutique; for a lot of women, it's a new identity. And struggling to make sense of that new identity while standing half-naked with the stranger who just told you to try on an E cup for the first time? That's a lot to deal with.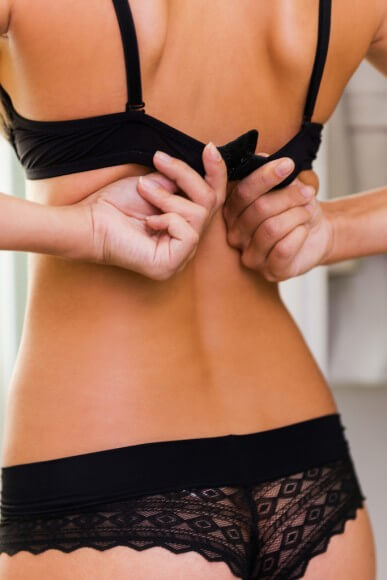 I feel incredibly lucky that I've been through that, too, so I can explain to them that they are as much their cup size as they are the size of their shoes. That it's just a letter. Or that the letter means nothing without the band size, or that many women change cup sizes frequently based on hormones and weight, or that a 30E is a very common size to wear.
Sometimes they just don't want that number. They'd rather wear a smaller cup because it feels better to "be" a B cup than an E cup. Even after explaining how bra sizes work, they're uncomfortable with wearing an E cup, because American society says an E cup is "big," and they feel like their breasts aren't "big." And that's a feeling that should be respected.
Or, I explain to them that they will likely be different sizes in different brands. Some women don't accept that, and get frustrated when not every 30E in every style fits. They want a number and letter. They want that identity.
And it's all so understandable. So many women put their self worth on that number, and so many women were initially fit by stores who were simply trying to sell bras in the limited sizes they had. As a sales associate, I often act as an ambassador for a customer's new size and the new brands they are able to wear, so I have to constantly put myself in their shoes and make sure they're comfortable with the transition.
I'm learning that every single customer reacts differently to lingerie shopping, and it's up to the sales associates to navigate that. It's up to me to make sure they don't hate themselves for this number-and-letter combination they happen to fit into on that day. Because, sure, it's my job to sell lingerie and make them happy, but more importantly, because no person should ever feel bad about the size of their lingerie or the shape of their body.