Luxury Lingerie Review: Harlow & Fox Eleanor Lilac Silk Bra
Disclosure: This bra was purchased for me by The Lingerie Addict. All opinions are my own.
It feels like every lingerie line has called their products "luxury" at some point. The term is so watered down and used as a marketing technique so frequently it almost means nothing anymore.
Some brands, however, are true luxury. UK-based, full-bust brand, Harlow & Fox, is one of them. Not only are these items priced at actual luxury prices (think bras over $150, briefs for $100, gowns over $400, and $500+ robes), but the craftsmanship and materials - like custom-dyed silks and actual couture lace - are the epitome of luxury.
Even better, all Harlow & Fox garments are designed for full-bust bra wearers. The line includes bras through a G cup and gowns in sizes S through L with two different bust size options for a better fit. The full bust lingerie market is growing, but popular "luxury" bra makers (think Agent Provocateur and La Perla) often stop at a DD cup. Needless to say, I was stoked to try this line for myself.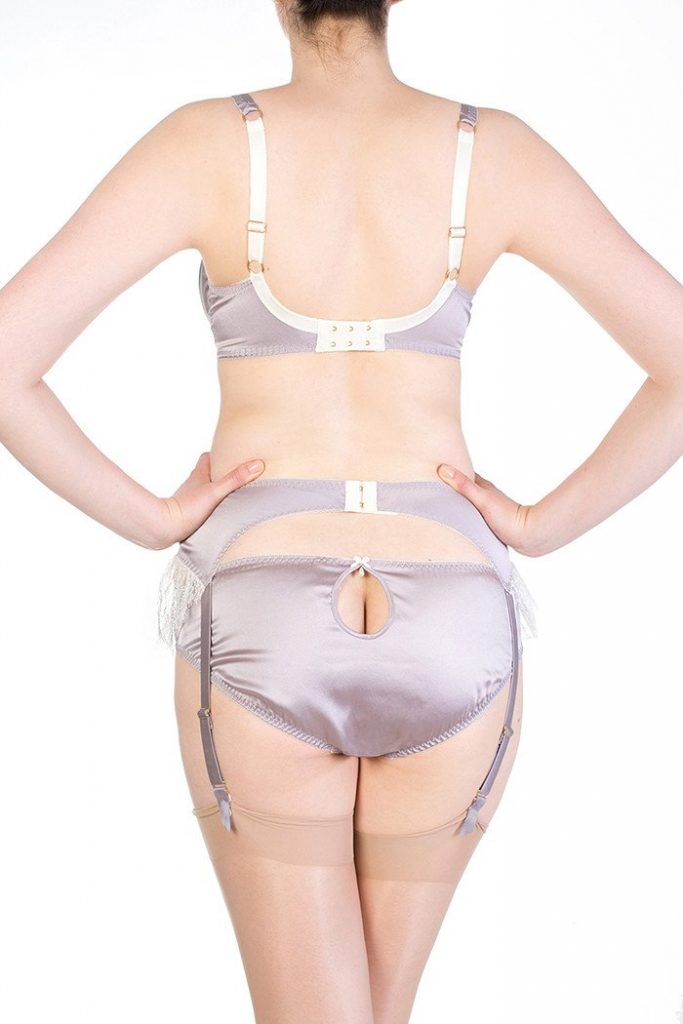 Harlow & Fox's original group, Eleanor, was recently released in a perfect pale lilac color. The range now includes band size 28 and cup size GG, making Eleanor the brand's most size-inclusive group. I've always loved this silhouette with its classic lines and ultra-fine lace, and the color is right up my alley, so the choice was easy.
First Impressions
Harlow & Fox items arrive carefully-wrapped and packaged in a gift box, which is elevated by a gold wax seal stamped with the Harlow & Fox logo. Mine came with a bottle of their silk washing liquid, which seems to be unscented (or very lightly scented), which I appreciate.
I've seen Harlow & Fox lingerie in person before (and my favorite silk robe is from the label, but there's something magical about opening this box, to a bra this fine, that actually belongs to me. It's seriously beautiful.
The silk satin is the finest silk satin in my entire bra drawer. It's weightier and more lustrous than the silk used in bras I own from other luxury brands like Fifi Chachnil and Fraulein Annie. The stitching is impeccable. Holding this piece feels more like holding a fine silk evening gown instead of just a bra.
Every other detail of this bra is gorgeous, too. The lace is delicate and light. The glass pearl is heavy and looks like a jewelry component. In fact, this whole garment is reminiscent of a piece of jewelry.
The bra is clearly engineered for larger breasts, but in ways that don't feel bulky or overwhelming. Mesh lines both the center gore and the small panels on the outsides of the cups for more support. The straps are sturdy and thick, but not unnecessarily wide.
Add in the fact this bra is ethically made, and the $180 price tag is totally justified.
Size and Fit
I ordered a 32F UK in this bra, my typical size. In general, most bras in my size fit me in a way with which I'm happy.
I have pretty balanced breasts and am not particularly shallow or full on top. I don't need loads of support to be happy with a bra. I like having a lot of different bra shapes in my wardrobe from super-pointy retro styles to rounder, more modern silhouettes. I don't mind if my band is a little loose or a little snug, and a tiny bit of spillage or room in the cup doesn't bother me too much.
That said, as much as I love the branding, quality, fabric, and general aesthetic of this bra, I was a little disappointed with the fit. First, the band is very snug. I am pretty squishy and consider myself a fan of a snug band. But this is so tight, it's difficult for me to fasten.
My weight fluctuates frequently,and I am at the higher end of my typical weight range right now. However, this bra is still snugger than any other 32 band bras I have, save for one Japanese bra I own in the same size. Loose straps when you first buy a bra are great, but my straps have to be loosened all the way for this bra to even go on my body.
The band is made entirely of luxurious silk, with no power mesh in sight, so I'd assume that's the reason why. If you're a fan of a super snug band, or have trouble finding bras in your band size (26 bands, anyone?), you'll be happy. Otherwise, I would absolutely size up in the back.
What bums me out the most about this bra is the cup. The wire feels perfect, and I am used to the pointy-ness of many UK brands, but the cup creates a downward-angled point I'm not a fan of.
It almost seems like the bottom half of the cup is too short, pushing my apex lower than usual. Plus, the folded mesh beneath the beautiful lace digs in, making it look like I'm bursting out of the top of the lace.
The mesh acts as additional stabilizer and helps keep my tissue in place beneath the fine lace, but it's too snug.
Without the mesh, this cup might be an excellent fit, since the fabric parts of the cup and the wire both feel pretty good. I'd be interested in seeing what a cup size bigger would look like, or maybe even a 34E sister size. However, I worry the wire might be too wide. If you have very shallow breasts, this might be a good fit for you. But for me, it's a bummer.
This bra is so stunning. It's beautifully made and makes me feel like a literal princess when I wear it. As an item, it's incredible. I just wish I liked how I look in it!
Final thoughts
I'm disappointed in the fit of this bra, but I still consider it to be, literally, the most beautiful bra I own. Despite the major fit issues with the cups, I think one band size bigger would make this bra totally wearable for me, which, given how the cups look, says a lot about how impressed I am with the overall quality and feel. After all, given the price and the fine materials, this is definitely a special occasion item, not something you'd wear under your t-shirt to go to the grocery store.
Harlow & Fox is one of the only brands today making truly luxurious DD+ bras. Do these fit issues make that a moot point? I don't think so, but if you're looking for a bra that's absolute perfection in both construction and fit, this might not be it.
Save
Save
Save