Etsy Lingerie Review: Vintage Style Days of the Week Underwear by Sassygrannysknickers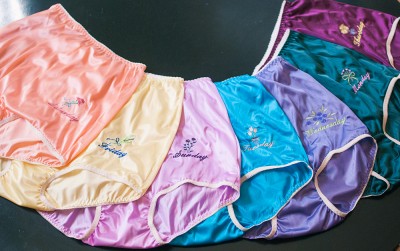 This set was purchased with my own money. All thoughts and opinions are my own. 
Now that summer is practically here, I finally got around to doing the thing I tell my friends to do: I cleaned out my underwear drawer. I even took the plunge and threw out all of my old stuff that had holes or loose elastic, which meant I got to treat myself to some new replacements. I've had my eye on this vintage style days of the week set from Sassygrannysknickers on Etsy for ages, so this seemed like a good time to try it out. I love high waist retro style panties and this set looked like a great way to restock my underwear collection.
| | |
| --- | --- |
| | |
This set comes in sizes 4 through 9 or as custom sizes, with each standard size conforming to a hip measurement range. I'm shortwaisted, so there's a fine line between high waisted retro sassy and panties that resemble a boat sail when I put them on. Luckily, Hilary (the designer and Etsy store owner) offers single pairs with or without embroidery that let you try for size before you commit more money for a whole set. I ended up in a standard size 7 with the waist hitting perfectly. The leg openings are a bit narrow for me, but I've been toning up a bit by walking my dog several miles a day so I don't foresee it being an issue.
| | |
| --- | --- |
| | |
This set is offered as vintage briefs, hip huggers, string bikinis or a regular bikini style. Naturally, I couldn't pass up the true vintage style version. You can pick seven colors from 26 different options or just give Hilary a guideline like jewel tones or pastels. I went with the totally scientific method of picking the colors I thought were the prettiest.  You can also pick the color of the trim for your set --- I went with cream.
You can pick between floral themed embroidery and butterfly themed embroidery as well, so this set is incredibly customizable. I really love how many options are offered. As you can see, I went with the floral theme.
I was shocked by how rich and beautiful these colors are. The fabric is radiant and silky. This underwear feels great on your skin and pairs perfectly with lots of different bras. It's also extremely well made, so I suspect it will hold up nicely over time.
The level of detail of the embroidery is way above and beyond what I expected. As you can see, each panty has a unique floral embroidery in colors that contrast perfectly with the base color. The color combinations are fun and inventive --- some of my favorites are ones I never would have come up with on my own.
This set is clearly a day-of-the-week-themed set, but it also feels like girly grownup underwear. This can be a hard line to walk when applying childhood concepts to adult underwear sets, so it's nice to see how well everything meshes together. Maybe it will help me keep my handwash pile from building up as well!
This set costs $100, which seems like a very fair price for the level of customization that is possible, as well as the high quality of the underwear itself. The lingerie designer community on Etsy is getting better and better, so I'm thrilled to discover another vintage minded designer there.
I was sent one extra pair in white with my set, so these pictures are mostly to show the close up details as well as a back view. Not a stitch or a string out of place! These have such great construction. Obviously you have to be into the full coverage retro style to love this particular set, but I suspect any of the other style options would be equally great. I'd absolutely buy from this Etsy seller again and I wish she'd offer this set as tap pants as well. I'd be seriously tempted to buy a second set if I needed to do another big underwear restock if other vintage styles were offered as a single listing.
What do you think of days of the week panties? What do you think of this set?