Lingerie of the Week: Egretta Garzetta 'Peach Puff' Classic Briefs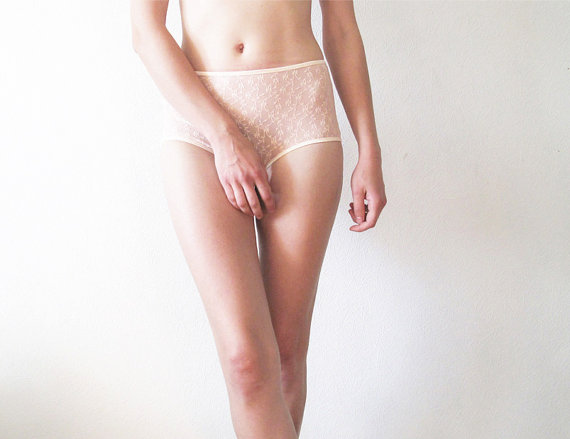 Back when I first started blogging, I bought almost all my knickers from Etsy. It wasn't because I had a special affinity for indie designers (I love handmade lingerie now more than I probably ever have before) or because I had tons of excess cash. Rather, it was because I had so much trouble finding knickers that fit me in stores (my body used to be considerably "bulkier" than it is now), that custom seemed the only way to actually get a decent pair of underpants that wouldn't drive me crazy within an hour. Fast forward five years, and I still buy a pretty significant portion of my underpants from Etsy. But now, it's because I love buying something special and unique that I know I won't be able to find anywhere else.
I was first introduced to Egretta Garzetta's Etsy shop last week on the blog Miss Underpinnings, and I know this word is overused, but I really did swoon. These panties are just so pretty, and they're priced really well at around $25 per pair (which is really great for a special treat that won't put you into debt). My favorite pair is the 'Peach Puff' brief. I'm becoming intrigued by the idea of breaking up the sea of black in my lingerie drawer with another easily wearable color, like peach. To put it simply, the print on these makes me smile, and I'm a big believer in lingerie that makes you smile.
The Peach Puff briefs retail for $23 and are available in sizes XS thru XL. You can also send the designer your exact waist and hip measurements when making your order.
What do you think of Egretta Garzetta?