Lingerie Review: Miss Mandalay 'Paris' Bra Set
Disclosure: The lingerie discussed here was sent to me free of charge for review purposes. All opinions are my own.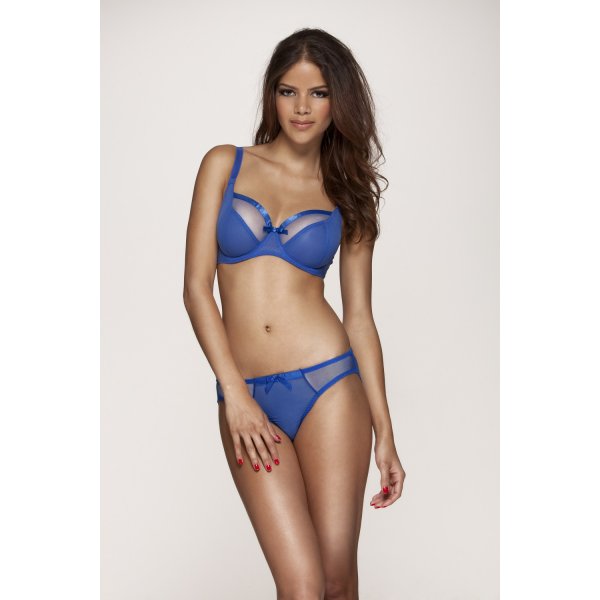 Miss Mandalay is a brand I've known of since the very beginnings of my blog. When the founder, Lorraine Morton, started the company back in 2005, they were one of the few full-bust bra specialists around; no one else had really caught on to the value of appealing to the D cup and up market with fashionable lingerie that also fit really well.
I remember being enamored of Miss Mandalay's sheer cut-and-sewn designs even back in 2008 (the height of my push-up t-shirt bra phase), and wishing that their bras came in B cups. Miss Mandalay has been featured in Vogue, Glamour, Cosmopolitan and a number of other publications. In addition to lingerie, the label also makes beautiful swimwear in fuller bust sizes.
As of right now, their size range goes from 28–38 C–HH cups with knickers in sizes XS -XL. Bras are priced between £36.00 and £46.00 (approximately $57.00 and $73.00), while knickers are priced between £20.00 and £30.00 ($32.00 and $47.00). I received the 'Paris' Cobalt Blue balcony bra and ruched brief in sizes 34C and L, respectively.
The first thing I noticed is that this bra is really well constructed. I know when you're spending upwards of $50 on an undergarment, you want to feel like you're getting your money's worth, and you definitely do with this piece. The mesh, specifically on the lower two-thirds of the cups, is very firm and supportive, while softer mesh and satin ribbon comprise the upper third. There are no 'boob slings' or any other devices inside the bra cup, and a considerably stretchier powermesh (a bit like vintage girdle fabric) constitutes the band. The back is a three-column/two-row hook and eye closure.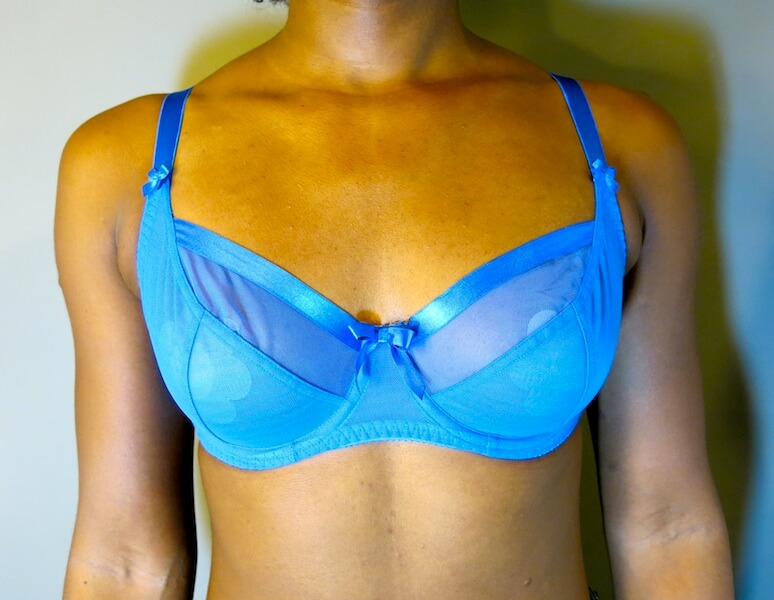 Now to talk about fit. My first impression was that this bra is tight. As in really, really tight... uncomfortably so. And I don't just mean the band was tight; the gore was tight (it dug into my sternum), and the cups were tight (the underwires felt like they were pulling my boobs inward). In short, this bra felt... aggressive. It's a gorgeous piece, but it's also very definitely meant to do some serious boob shaping.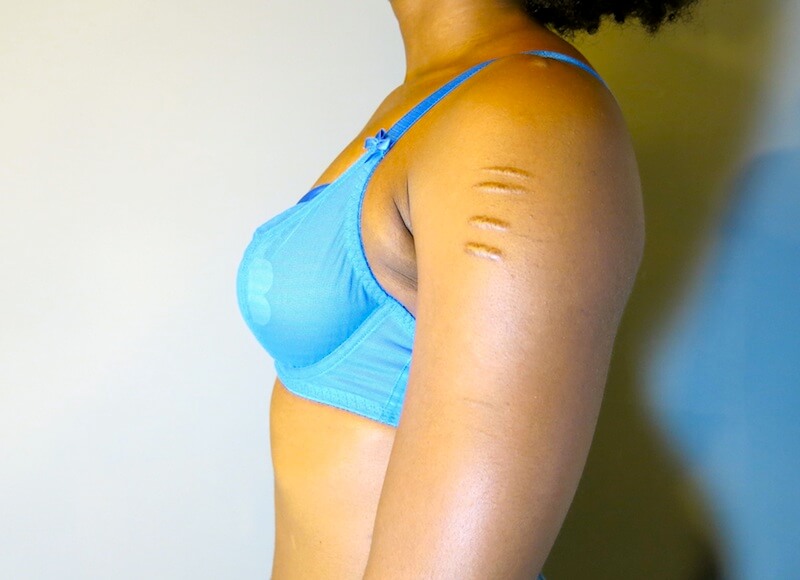 I wonder if the uncomfortable tightness of Miss Mandalay's bras has to do with their origins as a full bust brand. As we've talked about a few times on the blog before, heavier breasts need a tighter band to offer support and keep the breast tissue aloft. Fuller busts may also respond more favorably to the kind of inward pulling this bra does. I also imagine that softer breasts would respond better to this kind of shaping. But it's a little too much for me.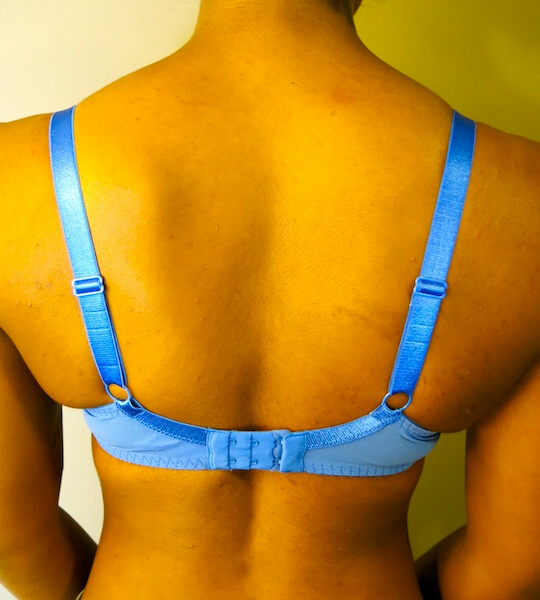 As the day went on, the band did start to feel a bit looser, but the digging in sensation from the gore never went away. While testing out this bra, I wound up having to take it off sooner than I really wanted to because the discomfort became too great. However, I did find the depth of the cups to be just right; though shallower breasts may have some issues filling out the ribbon-edged upper portion of the cups (you can see a little bit of puckering in my photos). I also thought the knickers were excellent. I was worried the elastic would dig into my bottom or waist, but the panty is just as high quality and well-constructed (sans tightness) as the bra.
Overall, I do think this is a great bra and a great buy; it just doesn't work very well with my body type and my personal preferences. Nor do I think that going up a band size would fix things as that would likely create even more gapping and puckering in the cups (and sister sizing's not an option here since there are no B cups for this brand). That said, if you like a tight band and if you feel like your breasts need to move towards the center of your chest, this would be a good purchase for you. 'Paris' is one of Miss Mandalay's continuity styles, and it comes in a ton of great colors every season.
Have you tried Miss Mandalay? What did you think of it? For reviews from other lingerie bloggers on this same style, check out The Lingerie Lesbian, Sweet Nothings, Undiegamer, and Becky's Boudoir.