Lady Miss Matched: 7 Ways To Keep Your Daily Lingerie Coordinated
Disclosure: This post contains affiliate links.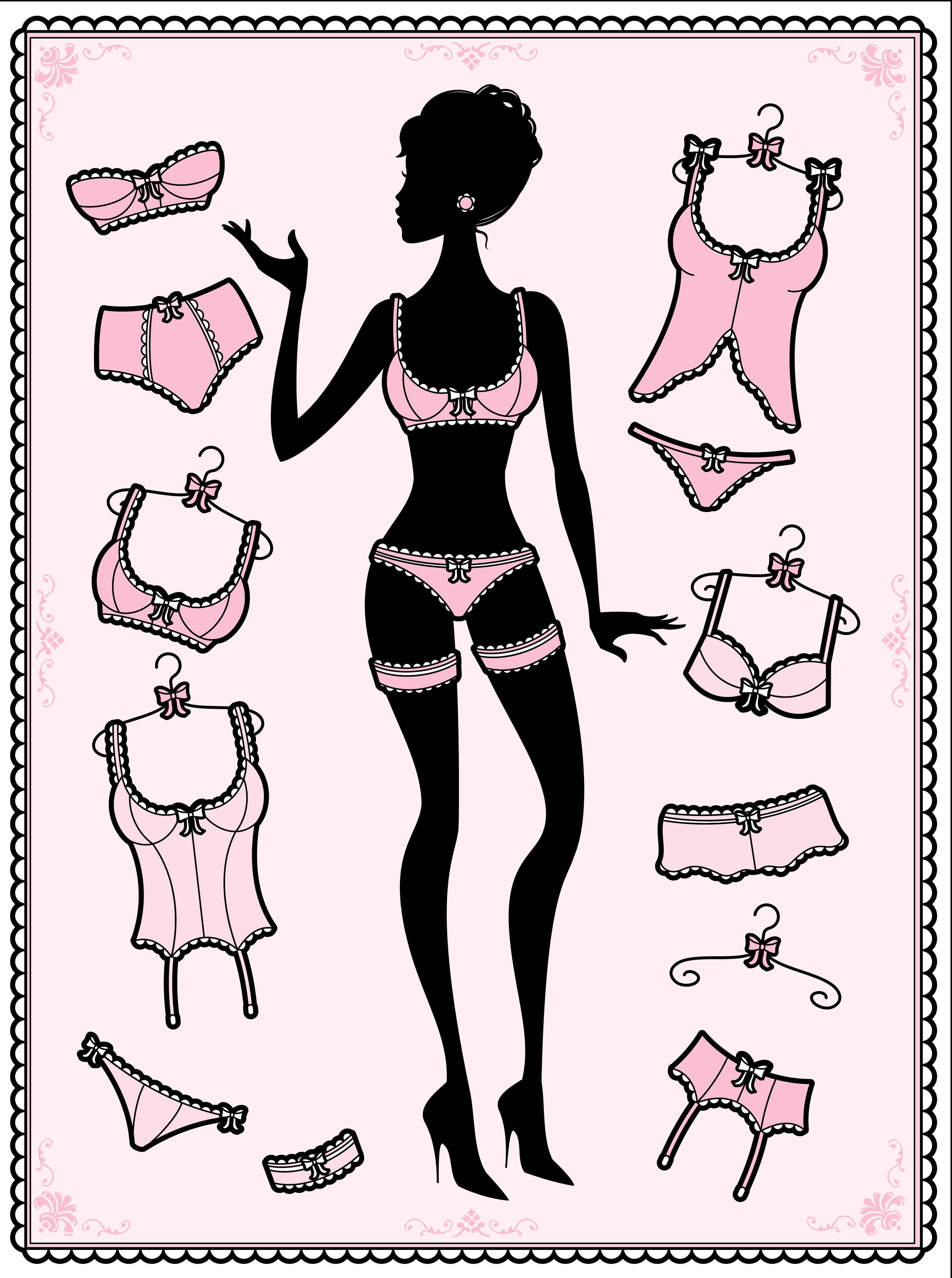 It's an annoyance many a friend has lamented: It's nearly impossible to wear matching underwear on a daily basis. The average woman owns about three to four times as many panties as she does bras and takes special care to wash them after each use, while alternately, bras can usually go two to four wears before requiring laundering. With these statistics, it's easy to see how tricky it can be for a lady to coordinate her undies each day. Yet the satisfaction that we often feel from donning a well-coordinated set under our clothes can help make the difference in our mood for the day and inspire us to feel more confident, often encouraging us to show off our impeccable taste to a good friend or significant other.
Ever since I joined the dating world, I've felt the pressure too. As a lingerie designer, I also feel it's my duty to wear the very best undergarments each day with matching sets that let my personal style shine through. So the pressure I've put on myself to coordinate my underthings before a big date has been weighing on me more and more as I realize how mismatched my lingerie wardrobe is. Which bottoms do I have to match this bra? Which undies haven't I worn yet this week? Will my date notice if my bra and panties don't match?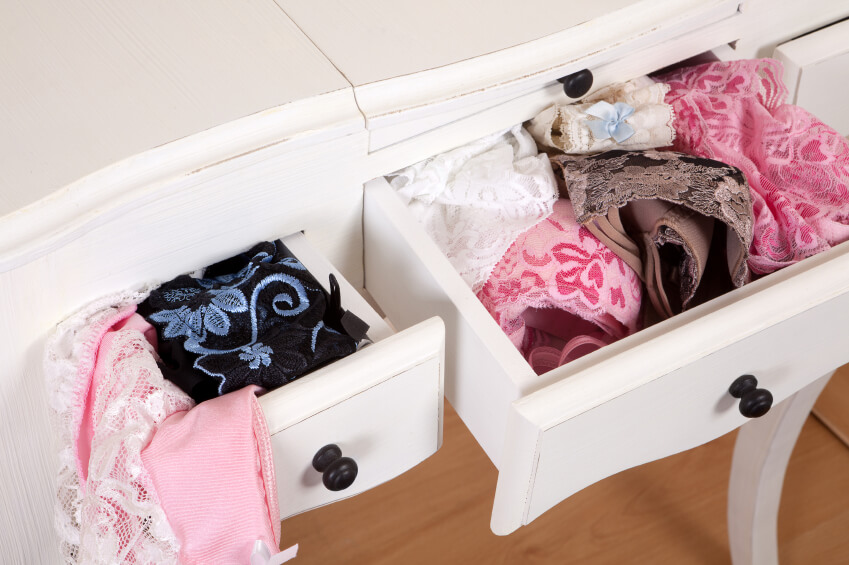 The truth is that once you get to the point of undress with another person, chances are that the last thing on their mind is whether your bra and panties match or not. But while we tend to be our own harshest critic, it still remains that we just feel better about ourselves when we know we're sufficiently put together and well-kept underneath it all.
The problem many of us encounter is that it can be expensive to develop a lingerie wardrobe full of all coordinating pieces. When we shop for underwear we often stock up on panty deals, purchasing multiple pairs based on comfort, price, and color. Bra shopping tends to be more calculated, expensive, and time consuming, resulting in relatively few purchases in comparison. The modern woman doesn't have the time or the budget to purchase exclusively matching sets all the time, so why not work with what you already have in your wardrobe or invest in a few inexpensive pieces that can easily be mixed and matched in a multitude of fashion combinations?
Furthermore, I believe we can all benefit from a little bit of anti-fashion. Who says your clothes have to match in order to look good? Look at the success of tween retailer Little Miss Matched, encouraging kids to have fun with their collection of bold clashing prints and daring colors, guaranteed to lighten the mood and eschew the traditional fashion etiquette. Consider your underwear as your own private medium where you can have fun, express yourself in any way you see fit, and decide when and with whom you want to share it.
While this declaration may not be for everybody, there are still ways you can minimize the mismatched-ness in your wardrobe and stretch your lingerie further. Here are seven tactics you can use to help alleviate some of the stress of coordinating your undies. After all, we wear this stuff closest to our bodies, and deserve to have them make us feel as comfortable and confident as possible each and every day.
1) Buy tops and bottoms together
This is by far the easiest way to solve the mismatching dilemma, but also the most costly and time consuming. For each bra you purchase you can also buy multiple panties from the same group to ensure that you will always have a bottom to match. However, I strongly suggest trying everything on first and making sure that you feel comfortable in the panties as well as the bra before committing to multiple pairs of the same collection. And keep in mind that just because the bottoms are not in the exact color or print as the bra, doesn't mean that it's not part of the same group. Many designers purposely offer multiple colorways with the intention for them to be mixed and matched to the bras for more versatility.
2) Match similar colors
1. Aerie bra $29.95 at www.ae.com & Debenhams panty £5.00 at www.debenhams.com
2. Princesse Tam Tam bra $83.00 at www.journelle.com & Gap panty $14.95 at www.gap.com
3. Topshop bra $36.00 at www.us.topshop.com & Cosabella panty $24.00 at www.journelle.com
4. Von Follies by Dita Von Teese bra $65.00 at www.fairefroufrou.com & Asos panty $15.05 at www.asos.com
The top-selling colors in lingerie tend to be black, white, and nude. And if you happen to be a little adventurous you may also include other, bolder colors such as red, pink, and blue. These are great pieces to start with because they can easily be matched to each other simply by sharing the same hue. If you own mostly black bras, chances are you'll have an easy time finding an array of black panties to your liking. Even if the fabrics are not consistent you'll still look put together and coordinated.
3) Look for similar trim colors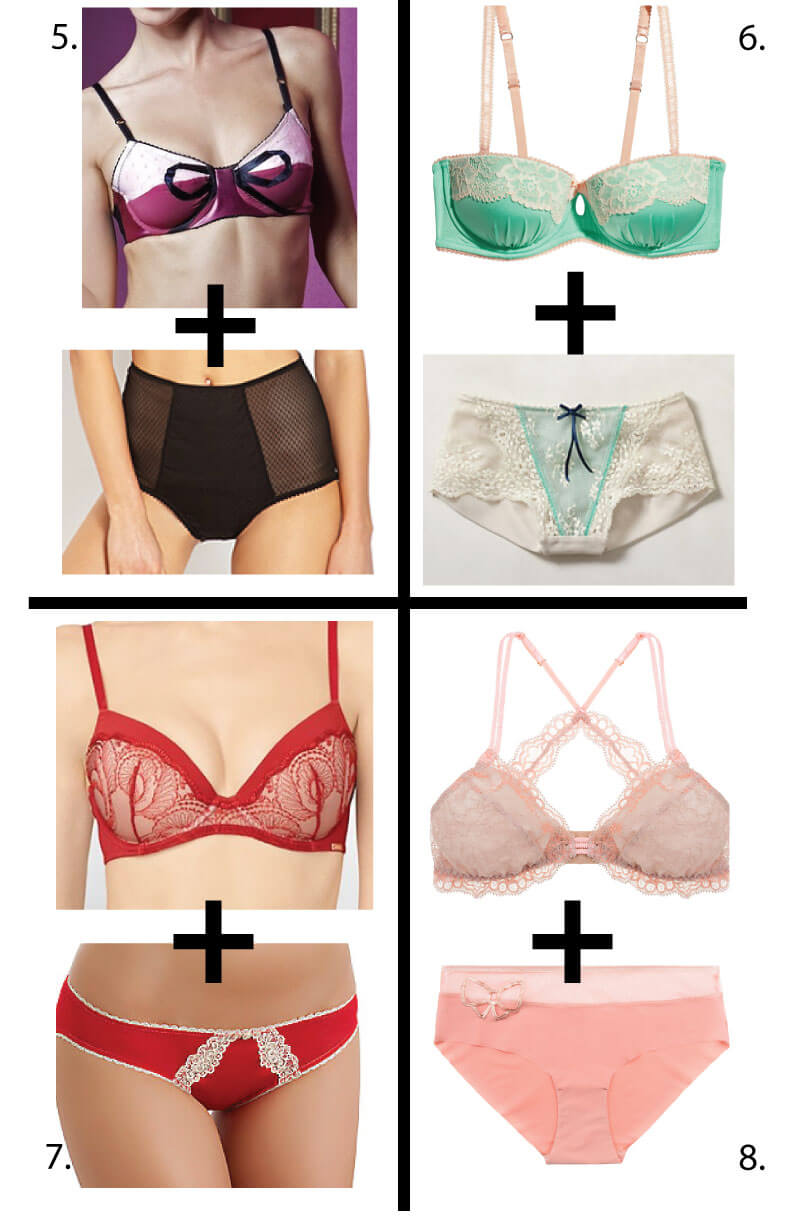 5. Dottie's Delights bra $185.00 at www.dottiesdelights.bigcartel.com & Forever 21 panty $4.80 at www.forever21.com
6. H&M bra $17.95 at www.hm.com & Elle Macpherson Intimates panty $30.00 at www.anthropologie.com
7. Calvin Klien bra $42.00 at www.figleaves.com & B.tempt'd panty $13.30 at www.wacoal-america.com
8. Eberjey bra $70.00 at www.journelle.com & Passionata panty $26.00 at www.journelle.com
Another simple but fun way to utilize color in your favor is to seek out pieces with matching trim colors. If your beige bra has a contrasting pink lace trim, finding a panty in a similar shade of pink offers a fitting alternative to the obvious beige panty, which is also a viable option. Or look for popular color combinations like black and white that can easily allow you to mix and match, some pieces black with white trim, others white with black trim. The ability to swap either color out for the other allows for more variety and creativity in your wardrobe.
4) Mix a solid with a pattern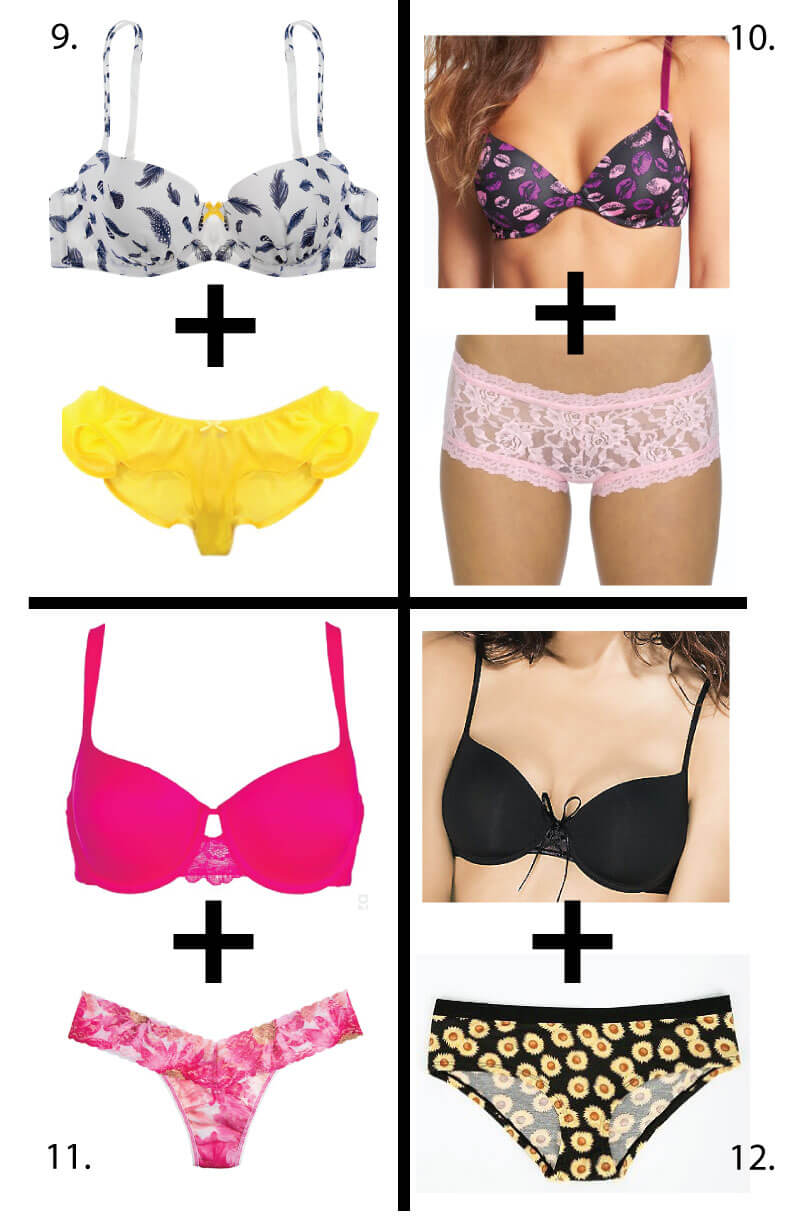 9. Elle Macpherson Intimates $52.00 at www.herroom.com & Made By Niki panty $133.50 at www.fairefroufrou.com
10. Betsey Johnson bra $26.80 at www.nordstrom.com & Hanky Panky panty $29.00 at www.hankypanky.com
11. La Senza bra $42.50 at www.lasenza.com & Hanky Panky panty $23.00 at www.hankypanky.com
12. Wacoal bra $48.00 at www.wacoal-america.com & Urban Outfitters panty $8.00 at www.urbanoutfitters.com

Print offerings are much more common on bottoms than they are on tops, mainly because busy patterned panties are easier to hide under women's clothing. However, the wrong bra under a light-colored shirt or thin fabric can often cause much unwanted attention for its wearer throughout the day. This is why most women tend to stick to solid colors and smooth cups but are more daring on the bottom.
If you own or purchase printed bottoms, then these can also be great compliments to a solid bra on top. Finding just one matching color in a pattern can set you up for a conscious pairing as long as the tones are close enough. Keep in mind that the torso space between the bra and panty breaks up the look, so colors do not have to match each other 100%. For example, a natural-colored leopard print panty can easily compliment a brown-colored bra, while a pop of red on a bra strap or bow can be enhanced by a patterned panty with a similar shade of red. There are many options to play with and the same strategy can work with a printed bra and solid panties as well.
5) Match similar prints together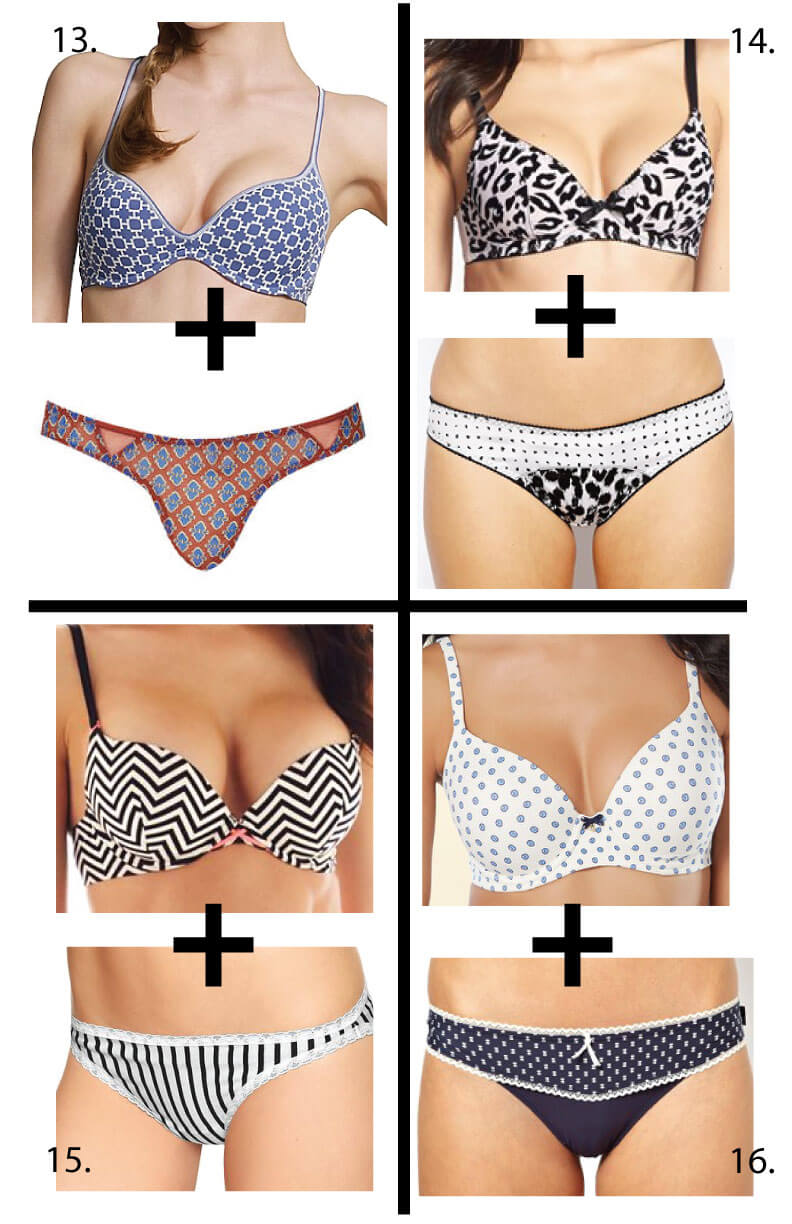 13. Tommy Hilfiger bra $36.00 at www.tommy.com & Topshop panty $16.00 at www.us.topshop.com
14. L'Agent by Agent Provocateur bra $82.00 at www.nordstrom.com & Stella McCartney panty $55.00 at www.shopbop.com
15. Cosmopolitan bra $27.00 at www.jcpenney.com & Gap panty $10.50 at www.gap.com
16. Soma bra $46.00 at www.soma.com & Esprit panty $16.93 at www.asos.com

One of my personal favorite ways to mismatch my lingerie is by tossing different prints together that have a similar underlying theme. Simple prints like dots and stripes can look great with another print of similar proportions. Variations in the size, scale, layout, or color only make the look more interesting as long as colors are kept to a minimum and patterns are not too dense.
6) Experiment with different patterns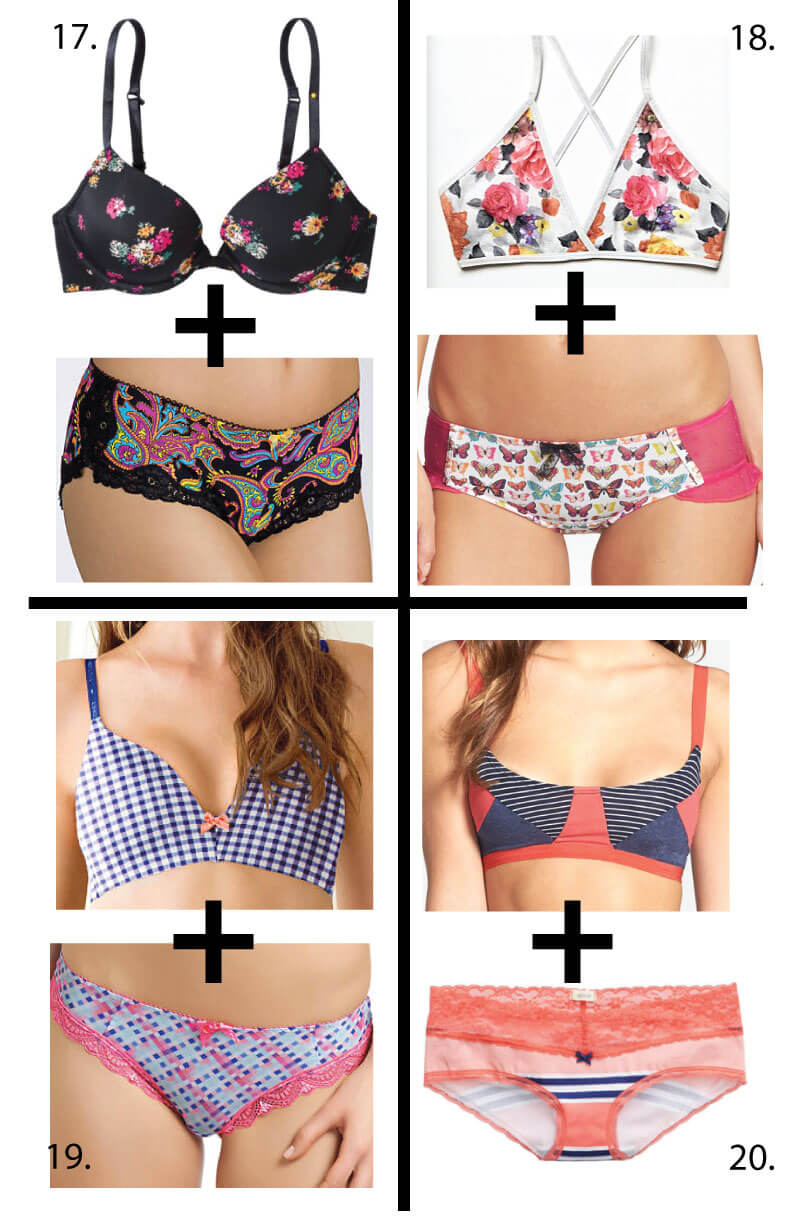 17. Xhilaration bra $6.98 at www.target.com & Whimsy by Lunaire panty $14.00 at www.barenecessities.com
18. Free People bra $20.00 at www.freepeople.com & Kensie panty $12.00 at www.herroom.com
19. Victoria's Secret bra $32.50 at www.victoriassecret.com & Freya panty $32.00 at www.barenecessities.com
20. Only Hearts bra $44.00 at www.nordstrom.com & Aerie panty $9.50 at www.ae.com
One of the biggest trends in fashion now is print mixing, and mastering it is no easy feat. It takes precision and thought, but when done right, it can have a jubilant effect on its wearer. The trick to mixing your prints together without looking too crazy is to follow a similar color scheme that can flow between pieces. It also helps to pair a busier print with a simpler pattern. Complex prints like florals or conversationals will often look great with a small polka-dot, simple stripe, check, or even a basic leopard print. If the ground colors match, you'll have a better chance of pulling the look off. If you have a tropical-looking floral on bottom, why not mix it with a zebra print on top? Got a sporty striped bra? How about a pair of fun polkadot panties? This is a place to get creative and have fun with your look.
7) Go your own way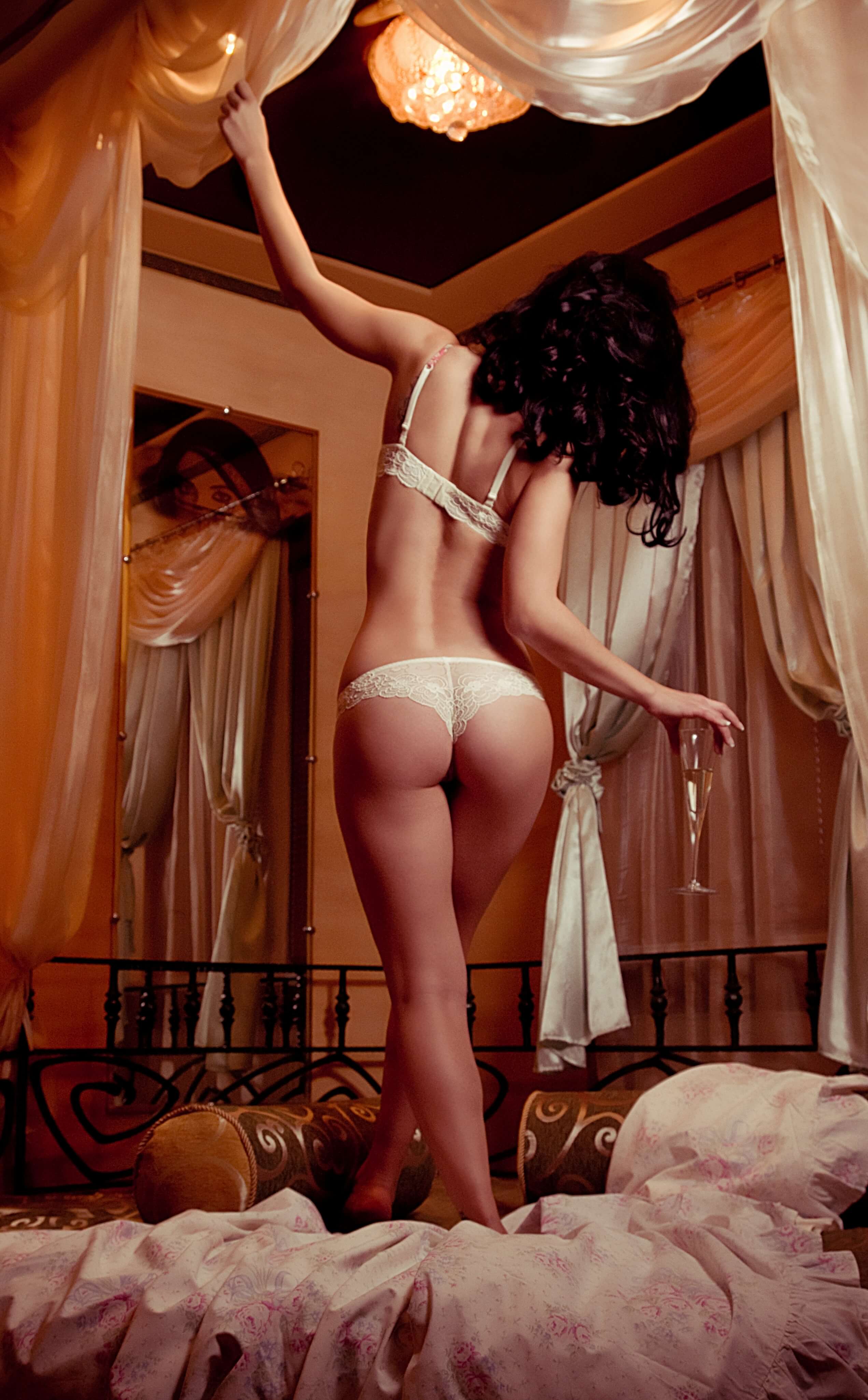 While all of these suggestions are intended to help stretch your lingerie further, they will by no means appeal to everyone. Fashion is interpretive and underwear can just as easily be considered a functional necessity. The pressure to coordinate your underwear doesn't apply to everyone, and some may be just as happy wearing mismatched pieces --- whether for comfort, convenience, or fun --- as those who enjoy putting thought into their ensembles. Rules are made to be broken, and with lingerie being so personal and private, it is an appropriate and safe place to break those rules in any way you feel comfortable.
Do you find matching your underwear to be a challenge? Which brands do you feel encourage a mix-and-match sensibility?