Knights, Fairies and Dragons: Kiss Me Deadly Autumn/Winter 2014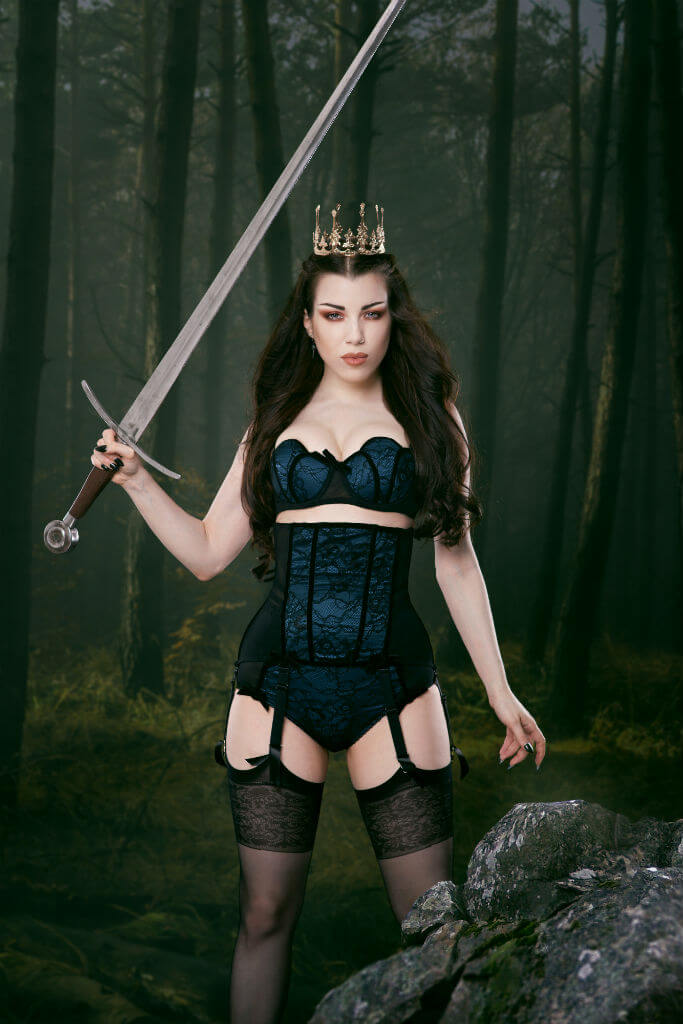 TLA's long love affair with Kiss Me Deadly goes way back. Their retro inspired pieces show up again and again in lust lists and lingerie picks of the week, for good reason. Kiss Me Deadly has such a unique point of view, translating vintage silhouettes in a way that is not only modern but unapologetically strong and empowered. Each season their lookbooks (featuring the iconic Morgana) are hotly anticipated, transporting the viewer to a fantasy world where the heroine kicks some serious butt (all while wearing sexy knickers, of course!).
Kiss Me Deadly's A/W 2014 campaign images do not disappoint, and are everything we dream of when we dream of bad-ass girdles and waist cinchers. Inspired by traditional British myths, the collection transports us to a land of dark fairy tales. The mists seem to part to reveal woodland queens and dark fairies. While a few of these silhouettes are derivative of past styles, the editorial styling elevates these so they feel entirely new and fresh (and dark and forbidden like we love).
I hope you saw the sneak peek of the cupless Vargas dress earlier this month! This is such a smart move for Kiss Me Deadly, allowing customers who were sized out of the traditional Vargas dress to wear whatever bra they like. You can get multiple looks from this depending on the bra you choose (barely there lace would make a lovely contrast). Though to be honest, like Cora I too am excited about the potential of wearing this braless as shown. Talk about sexy! As boudoir wear, you're sure to bring your partner to their knees.
While I am not a fan of shapewear, I do own the traditional Vargas dress, and it does an amazing job of cinching everything in. Stretchy control mesh is double layered to pull in the stomach, whittle the waist, and smooth the hips. The upper back fastens with a row of hooks and eyes. There are six metal garter tabs for stockings, taking it out of the realm of shapewear and firmly into the realm of sexpot.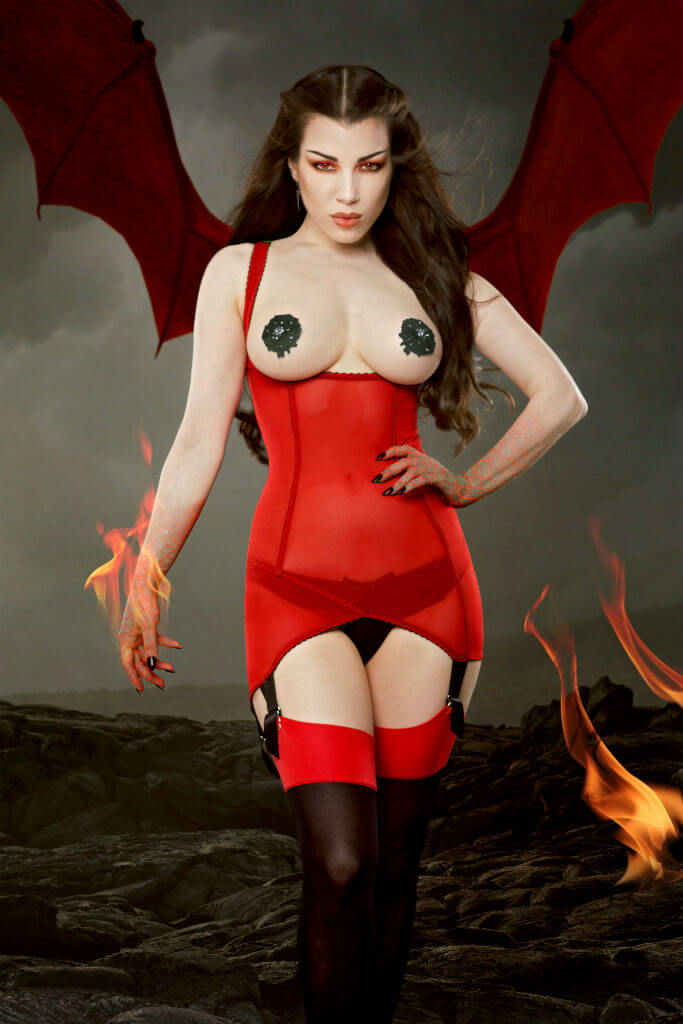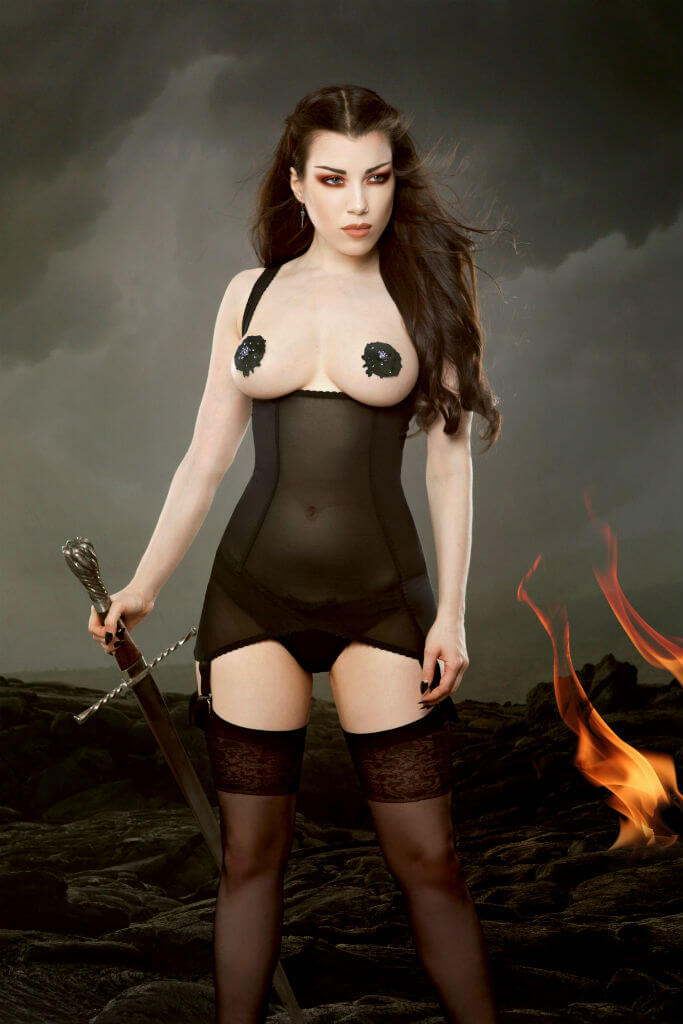 The limited edition Blue Tempest collection (top image and below) features dark blue satin with a floral lace overlay. The padded underwire bra is a nod to 1950s shell bras, with scalloped cups trimmed in velvet. I love how this frames the décolletage. Coordinating high waist knickers have the satin and lace panel in the front with a mesh back. The boned waist cincher features concentric elastic bands around the middle, and six wide detachable straps with metal garter clips. A blue satin and lace center panel is trimmed in velvet and bows making it look absolutely regal (hence the crown!).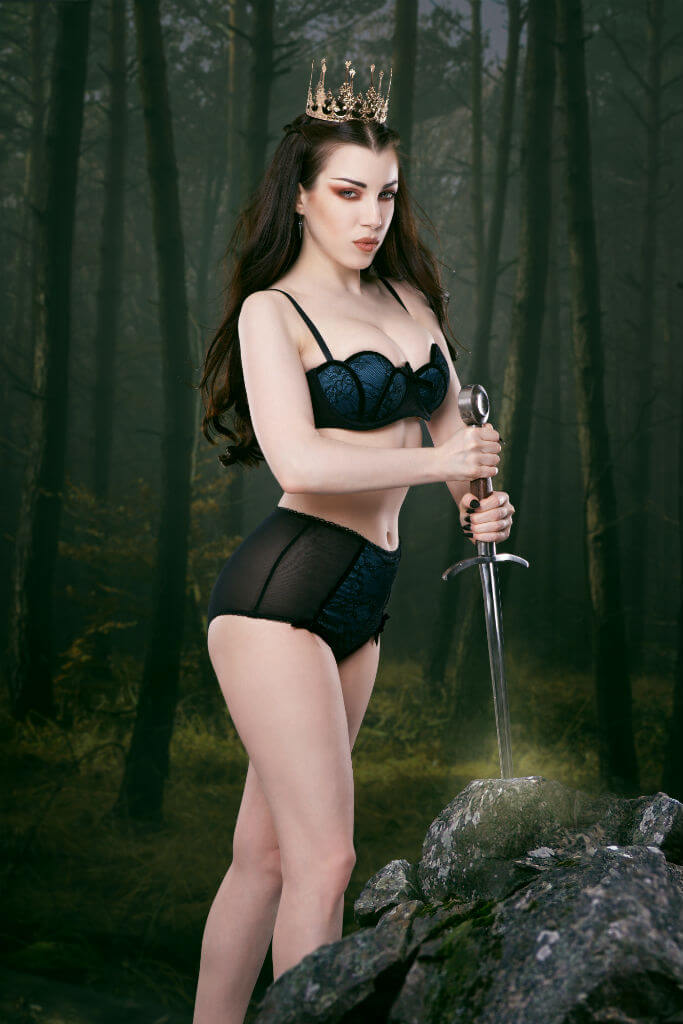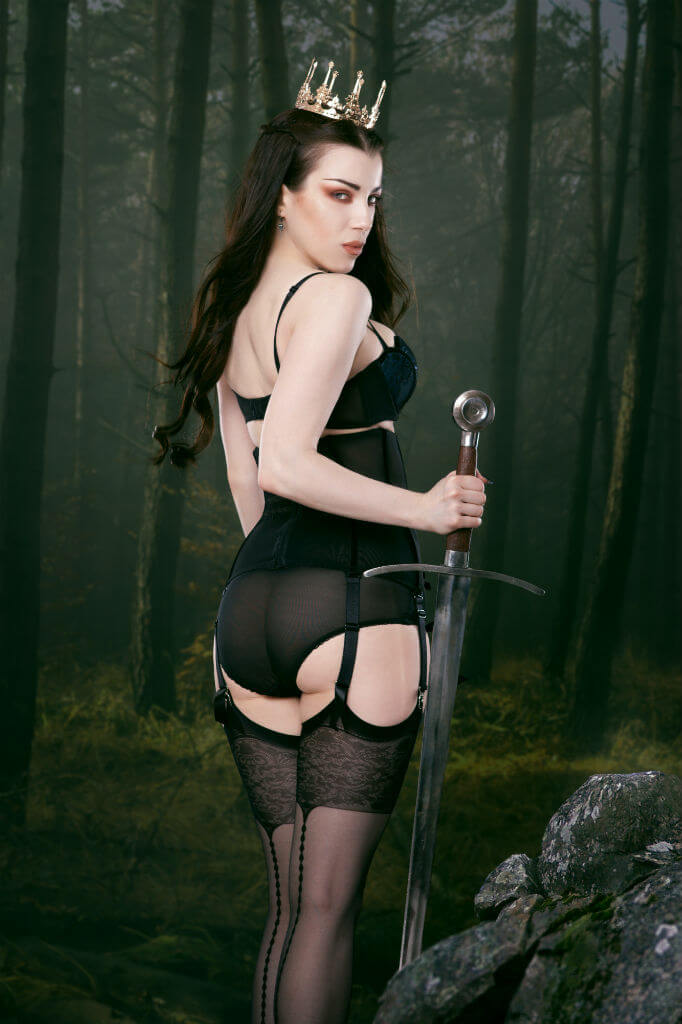 The Herne the Hunter series is based on the earlier Alouette set (if you're familiar with that style). While the padded push-up bra gives incredible cleavage, this set is all about that girdle! Black vertical insets on either side of the front panel give the illusion of unstoppable curves. How fabulous is that antler headdress by the way?!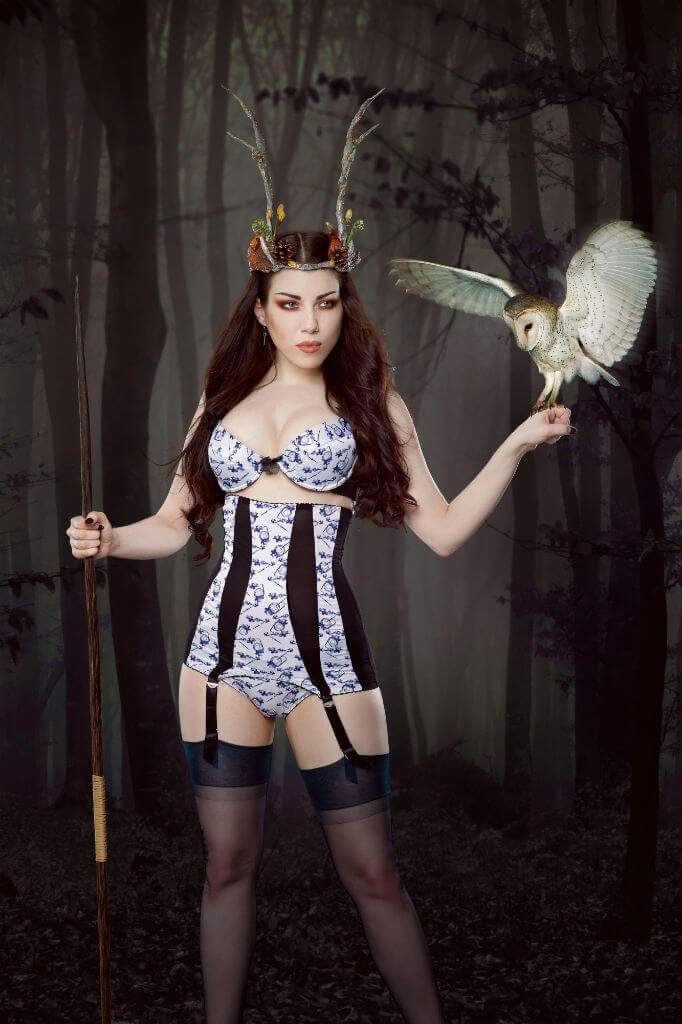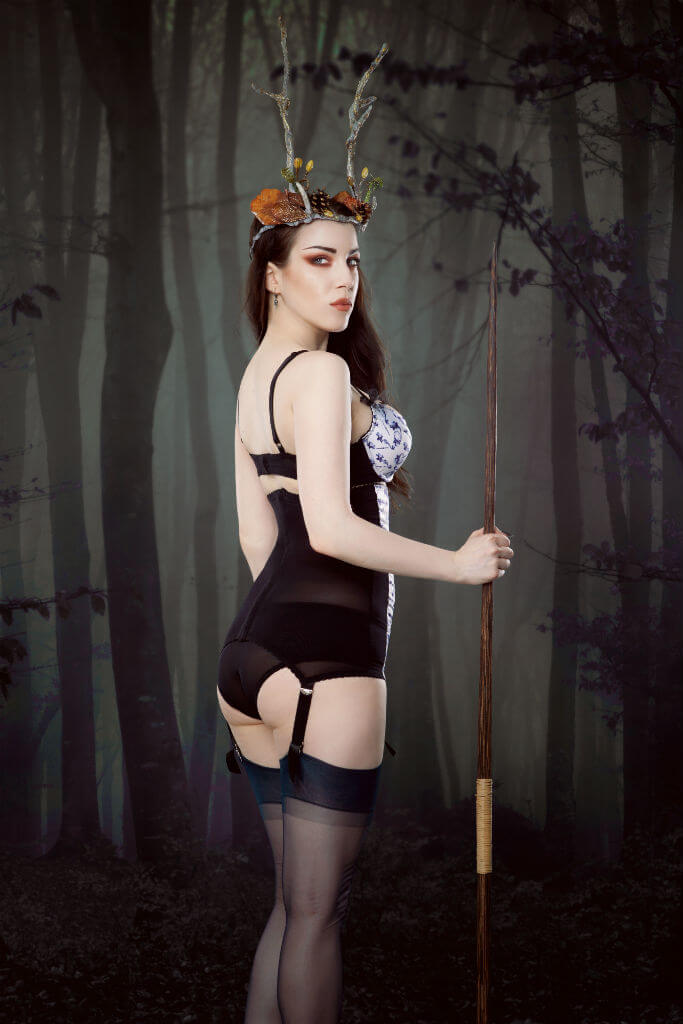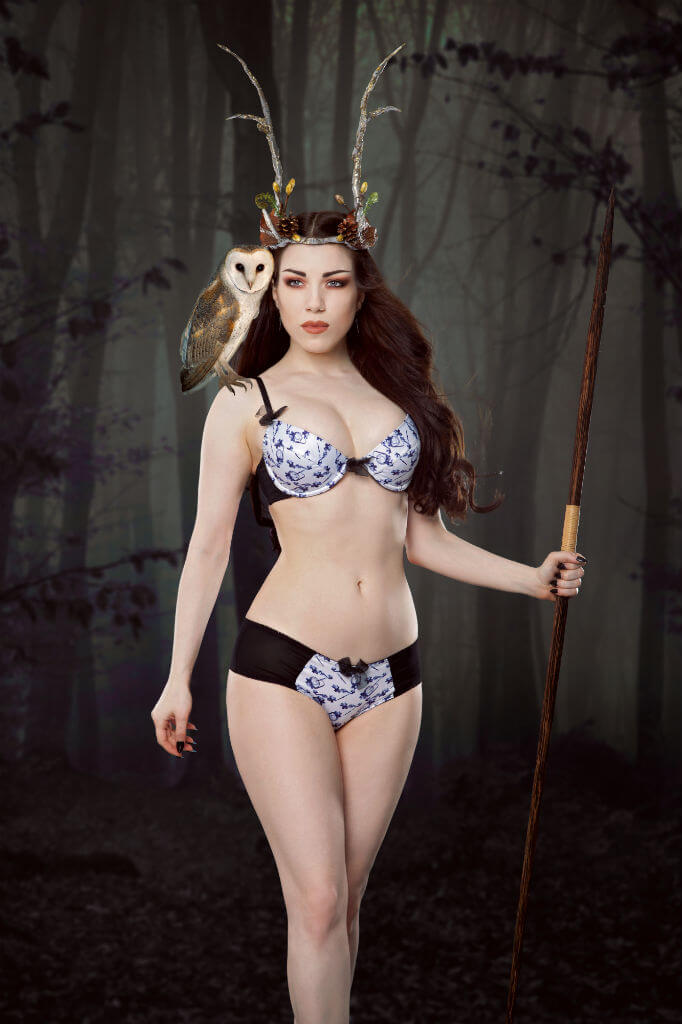 I am so excited to see the popular Sirena set upgraded in emerald this season! This is such an amazing color, perfect for adding life to our lingerie wardrobes during the drab winter months. This padded, underwire balconette style features quarter cups that have a delicate lace overlay. What really makes this bra special is the swooping band of color that cups the underside of the breast and forms the strap. A matching waspie features a green center panel framed in the lace. But it is the coordinating knicker that sets my heart aflutter. I am living for these bikini-style panties that have a lace back and matching frill along the leg!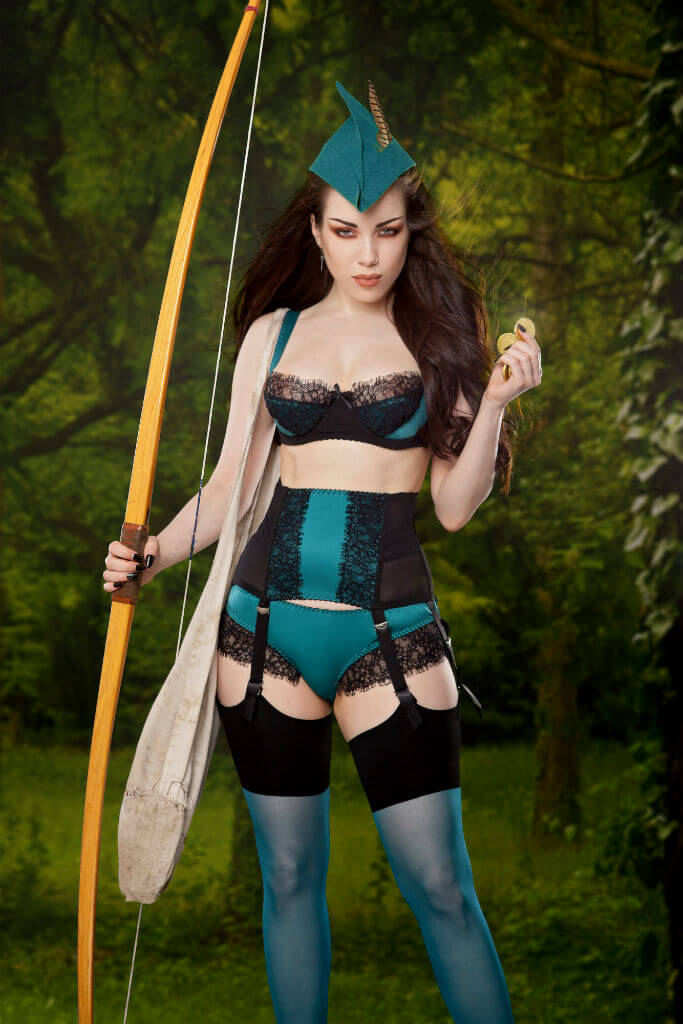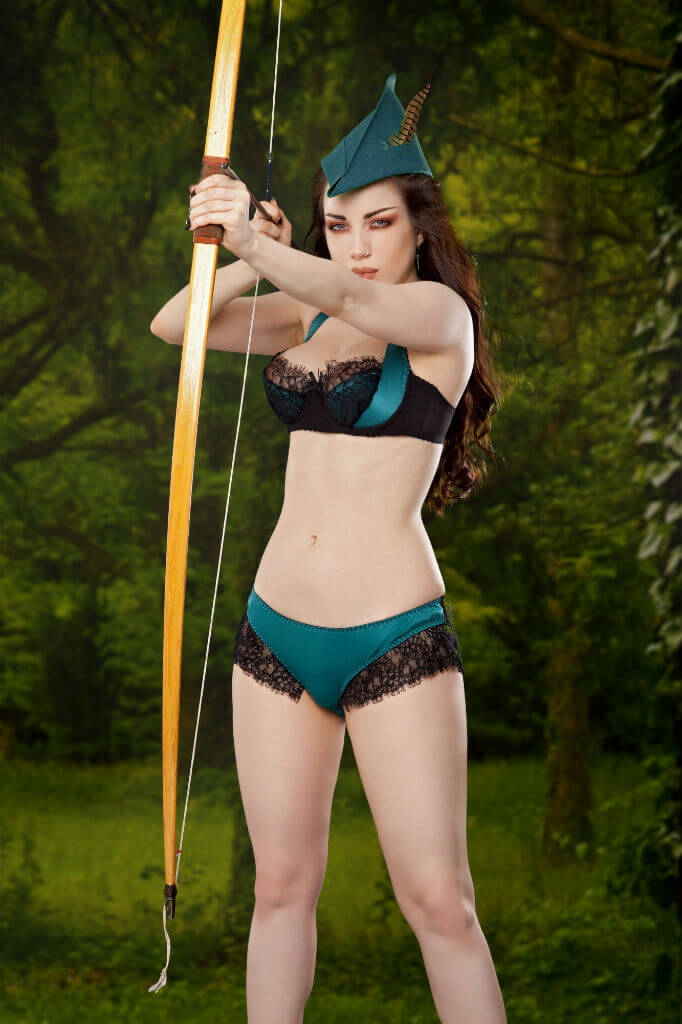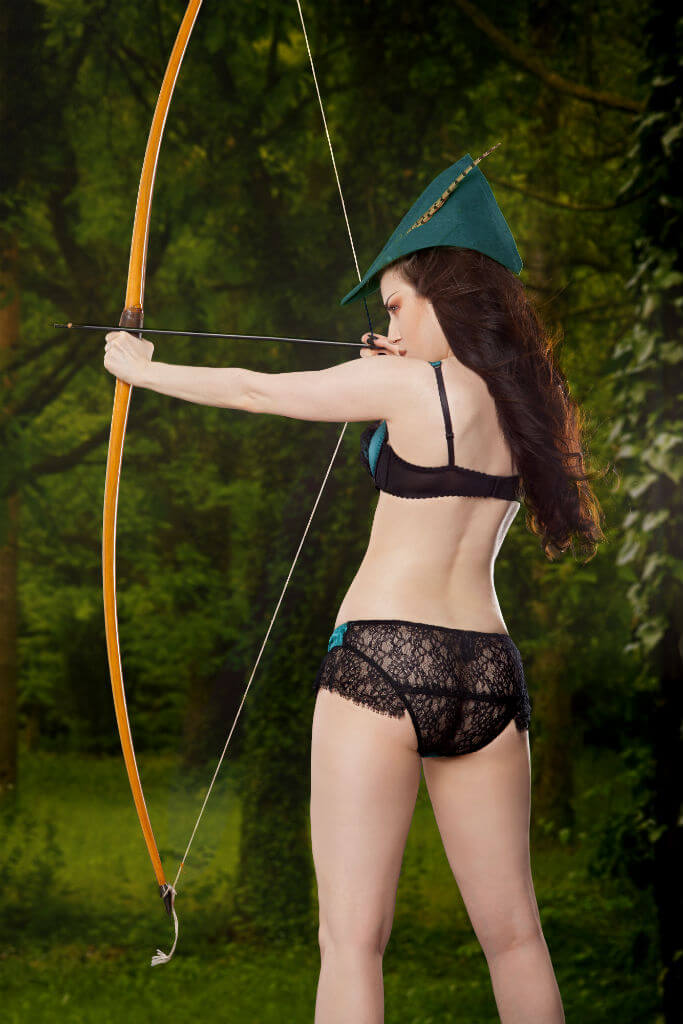 What do you think of Kiss Me Deadly's A/W 2014 collection? Do you have a favorite piece? Are you a fan of their photoshoots, too?
Save
Save
Save
Save