Plus Size Vintage-Inspired Lingerie Review: The Elle Robe by Kiss Me Deadly
Disclosure: This post contains affiliate links.
This robe was purchased by me. All opinions are my own. 
I'd always been a fan of the gorgeous Elle Robe by Kiss Me Deadly, but I'd never been tempted to purchase one until they released the limited edition red version. Red is my favorite color, and all of a sudden I felt the siren song of a piece of lingerie I absolutely had to own. I waited a tiny amount of time after release to pick one up --- and boom, my size was gone. I mourned my loss deeply.
I was lucky enough to mention this to Catherine on Twitter a month or so ago, and it turned out they had one still left in the boutique in my size! I bought it instantly and I'm so glad I did. This was my first ever purchase from Kiss Me Deadly, so I was really excited to see how it would work in person.
As a plus size girl, I'm always envious of the gorgeous vintage-inspired lingerie others get to enjoy. I'm glad that vintage-style lingerie is back in fashion, but it still can be tough to hunt it down in a size that fits and flatters your body type. I'm pleased to say this robe fits beautifully and looks great on, so I think it's a great choice for those in the UK 14-18 size range.
This is an XL, which is a few inches above my  measurements in the waist and hips. My boobs fit into it well, which makes it worth going up a size. Since it's a floaty garment, I think this size is pretty much ideal for me. The robe itself is made of feather-light red silk, which is perfect for all of this horrible hot weather we've been having. It drapes wonderfully and breathes perfectly.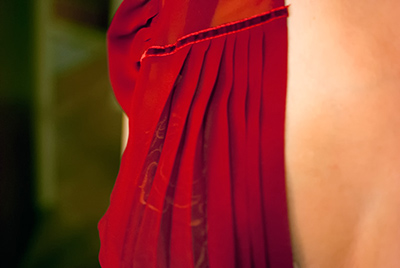 The construction on this robe is perfect and has some unexpected details that take it from basic to showstopper. This velvet piping along the shoulder is one of them. I also love the permanent pleats around the bustline. I'm wearing a bra with a pattern under it so you can get a sense of the sheerness of the fabric in real life.
This robe is definitely in the luxury category, but I think it's a great option for those who are looking for something that is great for a special occasion as well as basic enough for regular wear around the house. If you're into boudoir shoots, this would be perfect. I'm definitely adding Kiss Me Deadly to my list of plus size friendly designers and plan on purchasing more from them in the future.
Have you tried Kiss Me Deadly yet? What do you think of the Elle Robe?