Lingerie Review: The Deco Camisole by Honey Cooler Handmade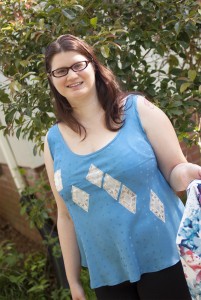 I purchased this lingerie myself. All thoughts and opinions are my own. 
I've made a rule to buy only quality lingerie pieces this year, so I've spent lots of time looking at custom items over the past few months. I've been a social media fan of Honey Cooler Handmade for awhile, but when I realized that I somehow didn't own any decent camisoles I decided to take the custom order plunge! Part of what appealed to me about Stephanie's Deco Camisoles was the level of customization that seemed to be possible --- after all, if you're going to pay for a custom piece you want it to be something that speaks to you.
When I emailed Stephanie, we initially talked about a musical note-based lace design. I don't talk about my non-lingerie life much, but in my spare time I'm a fairly serious amateur musician. I own almost as much sheet music as I do lingerie, as well as a 1939 Baldwin piano that is the best thing I've ever bought. I've also always loved artwork that incorporates music notation, especially early manuscripts from the early days of musical notation. Music wasn't written down until around 900AD, and when it was it only showed pitch. All of the surviving examples are religious in nature, because churches were the only ones who could afford the paper!
I sent Stephanie some examples of this type of music as well as a list of colors I liked. I also sent my measurements. At this point, she sent me several sketches and I picked the one that really spoke to me. She also went out and grabbed several different fabric swatches for me in a variety of colors and patterns. Several days later I got a cute envelope in the mail that contained the swatches, with the price for the completed camisole next to each swatch. I love the way she does this, as it makes it really easy to see the price ranges and make a real judgement about which fabric is right for you instead of having to guess. Once I picked one, I put down a $50 deposit to start the process. She also sent me an email asking if I had any final requests in terms of fit, which was lovely since it reminded me to ask her if she could make sure the armholes wouldn't show my bra!
Stephanie put up photos of each step of the process on her social media, which was fun to see. Before my camisole was complete, she even emailed to double check the armhole measurement (her guess was spot on, by the way)! By this time I was extra excited to see my camisole show up in the mail to see how it worked.
Stephanie put up a really amazing photo once the camisole was done, which I was grateful for, because as you can see my photos tend to be a little less, uh... professional.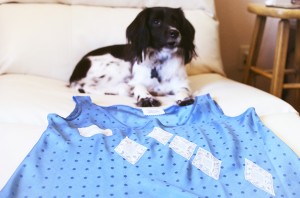 All of the Deco Camisoles are bias cut, which basically means they look good on everyone. They drape beautifully! I've been layering a white camisole under mine for the contrast with the sheer lace, but you wouldn't have to do that. I also love how the silk appears to be different colors under different light levels.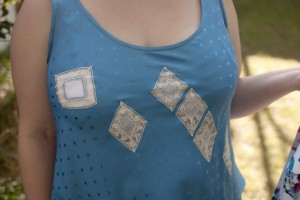 I tried to make sure that the camisole was long enough to wear with leggings or skinny jeans, but not so long that it would look weird under a jacket. And behold, my new semi-coordinating jacket from Target: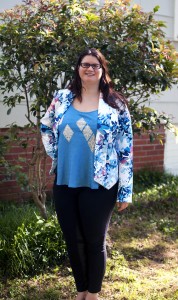 I haven't tried it with a skirt yet, but I suspect that would work well too. It has finally gotten hot here, so it will be great to have a silk sleeveless camisole for the summer. I'm eager to find lots of different ways to wear this, as it's really flattering and I've absolutely fallen in love with it.
I'll definitely be back for another camisole at some point from Honey Cooler Handmade! Stephanie's work is top notch and she made the custom process extremely easy and fun. If you're looking to pick up something truly unique and special, these camisoles should be at the top of your list.