Getting Out Of My Comfort Zone: A Review of the Mosh Playsuit by Dottie's Delights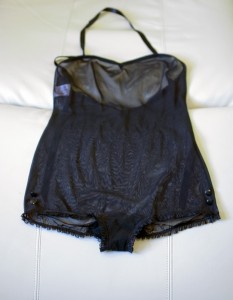 Over the past few months, I've been doing research for a piece on burlesque lingerie for full busted women. I first encountered the Mosh Playsuit as part of that research, but set it aside as it didn't seem to meet my usual lingerie requirements. It is completely sheer, has no underwire, and I assumed it wouldn't work for me at all. However, I found myself coming back to it again and again, at which point I decided to contact Dottie's Delights to explore whether it would work for my figure or not. I'd met Stephanie, the owner of Dottie's Delights, at a lingerie tradeshow awhile back and really like her. She was sweet, thoughtful and incredibly approachable --- just the kind of person I like dealing with when I'm asking difficult lingerie questions. To my surprise, she emailed back and said that not only would it work for my figure, but that I would fit into the standard XL.
The Mosh Playsuit is a collaboration between Dottie's Delights and the burlesque performer Mosh, who can be seen in the promotional photos. Apparently this photo set was so popular that Mosh and Stephanie got together and decided to produce the bodysuit in it for sale. It's been a great seller for them, and they're planning on releasing a chevron version in August.
All of this is to say that up until I actually put it on, I wasn't sure that this playsuit would work for me. I'm short, busty, and carry more of my weight in my stomach than I'd like --- not exactly the typical burlesque model type! Once I put the playsuit on I couldn't believe that I'd gone this long without one --- I felt the most confident that I've ever felt in a piece of lingerie!
As you can see from the photo, this bodysuit is completely sheer. It's made of an incredibly high quality mesh that hugs your body while still being soft and comfortable. I've picked up several black mesh lingerie pieces from various designers, and this is the highest quality mesh that I've found. It hugs you enough to make you feel secure, which is nice given how sheer the whole piece is!
What truly amazed me was that this piece not only had enough room for my boobs, but that it actually gave them some support. This isn't going to replace your everyday underwire bra, but it definitely makes you feel secure enough for the bedroom or for lazing around and feeling glamourous. I also suspect this would make it great for a boudoir shoot. The playsuit has a nice sweetheart neckline and a low back, which is a cut I enjoy. The promotional photos show it as a strapless piece, but it also comes with a halter tie that adds extra support and helps everything sit properly. The sides of the playsuit have cute little black buttons and the legholes have adorable ruffles.
This playsuit is one of those pieces I suspect will look good on everyone. Instead of feeling exposed in it, I feel confident and like I've put an extra beautiful layer over my regular self. If you're interested in burlesque-style lingerie but aren't sure if it's the right style for you, this is a great piece to start with. I'd also recommend it to those of you looking for something out of your comfort zone --- you might be surprised how well it works for you!