Lingerie Brand Review: d.bleu.dazzled Toxic Catsuit
Disclosure: I purchased this item for myself. All opinions are my own.
Whether you're a lingerie addict or not, you've probably already seen d.bleu.dazzled lingerie. Designer Destiney Bleu's designs are frequently worn by artists like Beyonce, Lizzo, Rihanna, J.Lo, and Megan Thee Stallion.
This Black-owned lingerie brand's skin tone catsuits, stockings, and bodysuits are practically iconic by now. Available in multiple skin tones and covered in shimmering crystals, they give the illusion of sparkling nude flesh.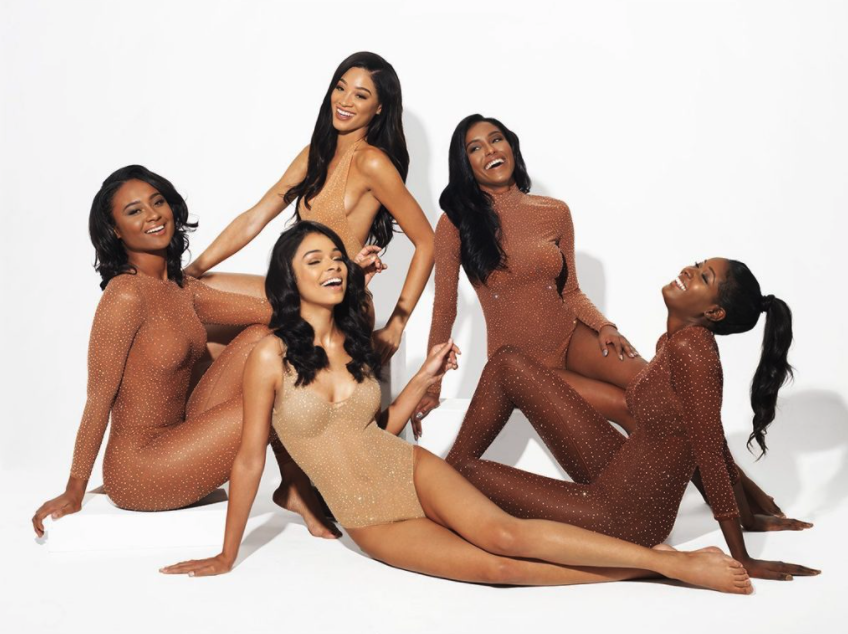 You probably caught a glimpse or two of a d.bleu.dazzled catsuit in Beyonce's visual album, "Black is King," or on Megan Thee Stallion on ABC's virtual "New Years Rockin' Eve" at the end of 2020. Although d.bleu.dazzled offers a range of crystal-covered items, from hoodies to facemasks, her skin-matching crystallized catsuit is certainly her signature.
Like few other indie lingerie brands, d.bleu.dazzled is the definition of an independent designer success story, and I was so excited to get a "Toxic" Skin-tone Catsuit of my own last year.
The d.bleu.dazzled Ordering Process
The Toxic catsuit is named after the Britney Spears song of the same name, as she wore a similar look in the 2003 "Toxic" music video. It's available in six different skin colors, with your choice of six different crystal colors. I decided on Vanilla with Rose Gold crystals in XL, which was sold out on the website. So I emailed the company directly.
They quickly let me know they could custom make one for me. I sent over my measurements and a photo of myself as they requested, to make sure the skin tone and size I picked were correct. Instead of proceeding right away with the order, they sent me a package with a couple of black, un-crystallized catsuits to try on in sizes L and XL, along with crystal samples.
This didn't just make me feel like a super special, fancy client, it also entirely changed my order! I ended up loving the look of the classic clear crystals more than the rose gold crystals. I'm so thankful for the level of service in this case, because it meant I was extra happy with my purchase in the end.
On top of that, the size L catsuit fit me perfectly. This was surprising, because the website size guide actually says I'm sized out of the XL catsuit. My measurements are about 40" bust, 33" waist, 42" hips. Yet, the XL sample was too big. Since their catsuit size chart is off, you may want to email them with any sizing questions you have for this item. (More on this later.)
After sending the samples back, they started on my order. I initially let them know that I didn't have a deadline for the catsuit, but a photoshoot came up a couple months later. I let them know, and they made sure to get it to me by that date. They even overnighted it from Los Angeles so it would arrive in time!
From the time I confirmed the size and color to the time I received the catsuit was exactly 8 weeks. That's longer than the lead time of 4-6 weeks on their website. However, last summer was not only the height of COVID, but the height of promotion around a certain big Beyonce project the brand was involved with. It was also a big time for Black-owned brands in general, many of which experienced huge jumps in sales when #BuyBlack started trending on social media.
Needless to say, I was OK with the delay. If you have a deadline for your order, let them know when you place it.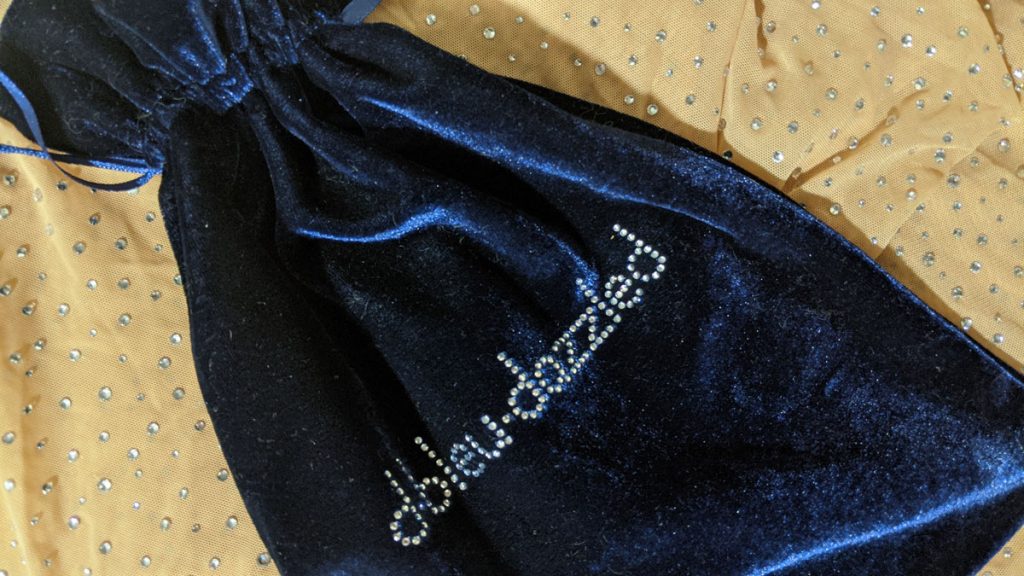 Fit and Quality
The catsuit came carefully bundled in a velvet logo bag. Which is great, because how else are you supposed to store a hand-bedazzled full-length mesh catsuit?
Overall, the quality of this piece is nice. The mesh feels sturdy. The rhinestones aren't Swarovski, but they catch the light nicely. They've used a few different sizes, and they really do seem individually placed, which makes it look like you've been sprayed with glitter. There's an invisible zipper up the back, and the bottom of the legs have stirrup-style feet. It feels like putting on a second skin.
But it's maybe more of a second skin than I expected. The first time I tried it on, I realized it would take a bit longer than other catsuits I've worn - including the samples they sent me. The crystals aren't delicate, but the fabric doesn't have a lot of stretch with all those rhinestones glued across it. Each crystal that's added keeps that little spot of the fabric from stretching, so the overall fit is smaller than the non-bedazzled sample I tried.
I have to shimmy it up carefully, guiding it up from my ankles like sheer stockings, so the legs stretch long enough and the shoulders have enough room for me. Even after doing that, I popped a butt seam right away…and I don't have a big booty, or a long torso.
I don't think this is a quality problem, as the piece feels quite sturdy. The fabric is strong and I haven't lost a single rhinestone. But this might be something to consider when trying on samples. I definitely don't think I could do any dancing in this piece, and I feel like I need to be careful when I sit down.
I think a size XL may have been better for me in the end, but the size L works for my purposes. Still, that size chart is definitely off. If you're concerned about fit, I might recommend something like the Birthday Suit Bodysuit, which looks like it might be easier to fit. Either way, I definitely recommend contacting the brand regarding fit before placing any custom orders.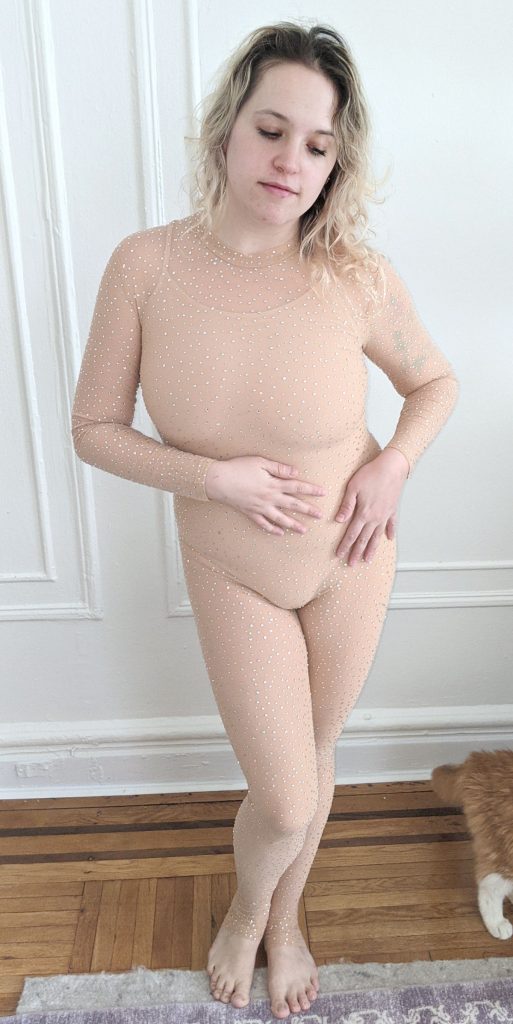 Overall Thoughts
It's easy to see why d.bleu.dazzled's Toxic Skin-tone Catsuit is so popular for performers. It immediately turns you into a human piece of glitter. This piece of lingerie is the wearable equivalent of a disco ball, and I can't wait to wear it to a late night party.
The size L works for my purposes, and looks awesome on camera. However, a larger size probably would be better for big movements like dancing or performing. But the level of service and amount of craftsmanship that went into this piece are both really stunning. I'm honored to own such an iconic piece of lingerie history.