Loungewear Review: Lunya Washable Silk Double V Jumpsuit
Disclosure: The Lingerie Addict purchased this jumpsuit for the purpose of this review. All thoughts are my own.
Loungewear start-up Lunya offers simple loungewear in highly-functional fabrics and chic, modern designs. They're best known for their "washable silk" pieces, which you can ostensibly wash with the rest of your laundry. Lunya offers the same aesthetic and ease as many Millennial-targeted startups: A curated selection with a focus on function, rather than traditional seasonal fashion offerings.
I'm historically distrustful of lingerie start-ups. Not everything has to be disrupted! But Lunya seems more like a fashion company with a modern marketing scheme, rather than a classic start-up. I appreciate their streamlined aesthetic, and was excited to try their washable silk.
For this review, I selected the Double V Jumpsuit in Myrtle, a rich emerald green that's now sold out. (Luckily, it's still available in a lot of other gorgeous colors.)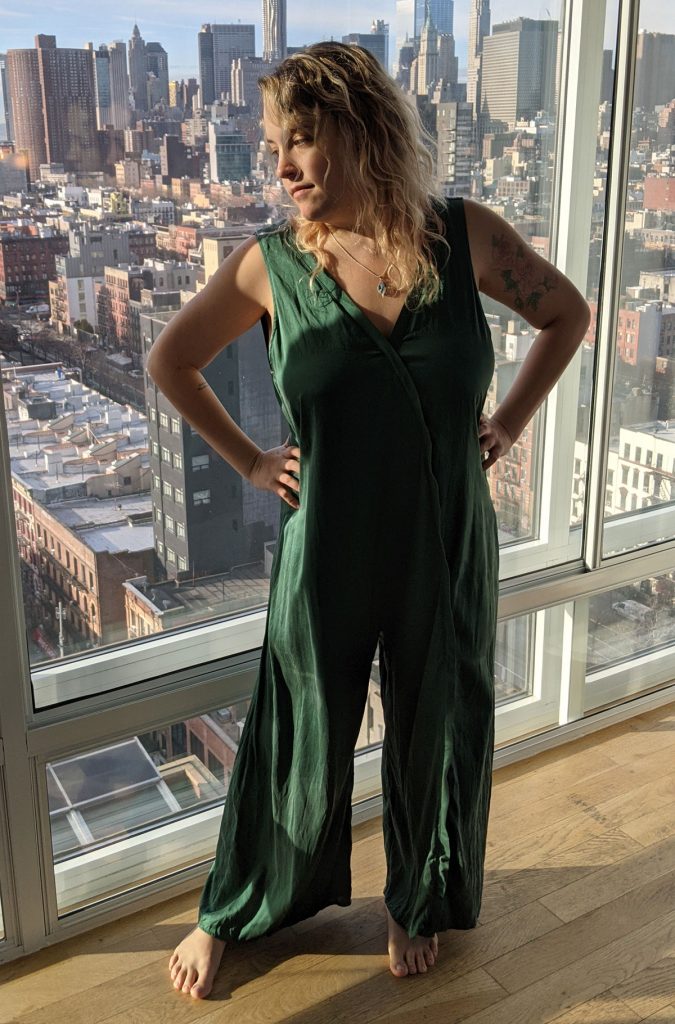 The Lunya Fit
Jumpsuits are notoriously difficult to fit. But with its dropped crotch and low armholes, this one is clearly designed to fit a lot of different heights and body types.
I purchased a size L/XL, as my measurements are solidly in the middle of that size, according to their chart. It has a purposeful "oversized fit," and I do like the extra fabric. It gives you freedom of movement without worrying you'll pull on the seams. When I wear silk loungewear, I'm very conscious to not put extra stress on the delicate fabric. But I was so comfortable in this jumpsuit, I even did a quick yoga practice.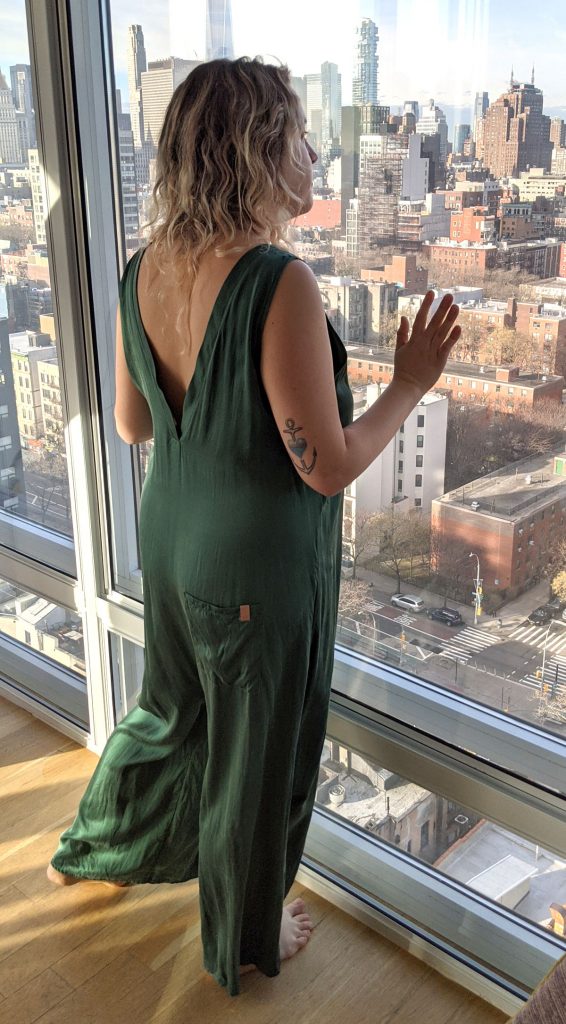 I do think this jumpsuit might not be perfect on a shorter person. I'm 5'5" with proportionally long legs, and the pant legs skim the ground. And as you can see, the butt pocket is a bit lower than my butt. If you're any shorter than me, you'll probably need to have these hemmed.
I should also mention that I feel like the shoulders are constantly about to fall off all day. They never do, but I think they might fall off a shorter person.
Unfortunately, I don't love how this jumpsuit looks on me. Like most of Lunya's garments, it has a modern, angular aesthetic, and this piece in particular just lets its long lines hang off my shoulders. So I don't think I'd wear it to host a party or anything, but I certainly love it for lounging around the house or working at my home studio. Wearing this jumpsuit feels sort of like being naked all day, in the best way.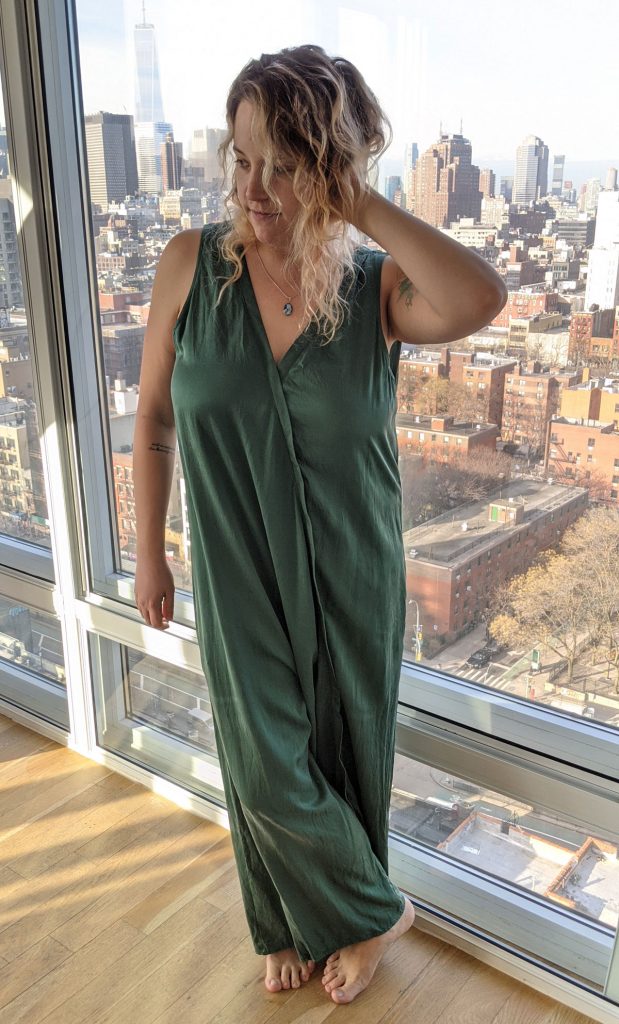 Construction
I love the patterning of this jumpsuit! One piece of fabric makes up the entire back. The front is made of two pieces, with the thick neckline binding continuing down the front seam. I love this detail. It adds interest without adding any frills—figuratively and literally. This garment is super gender neutral.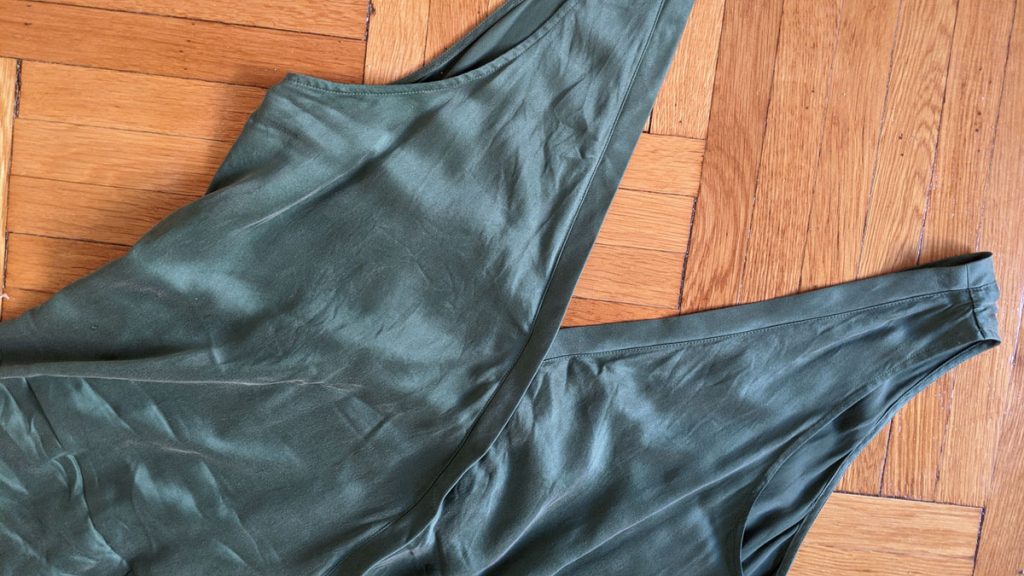 The inner seams are serged, with French seams on the pocket bags for extra stability. I think this construction is perfectly adequate and expected for this midrange price point.
One thing I really hate is little "tag" detail on the back pocket. It matches my skin tone perfectly, so every time I catch a glimpse in the mirror, I think, "Is that a hole?!" Silly, but true. I might remove it.
On the other hand, my favorite part of this garment isn't visible to anyone but the wearer: It's these tiny triangles of interfacing, sewn into the crotch points and back neck point. This adds extra stability to corners that get a lot of stress, especially during sleep.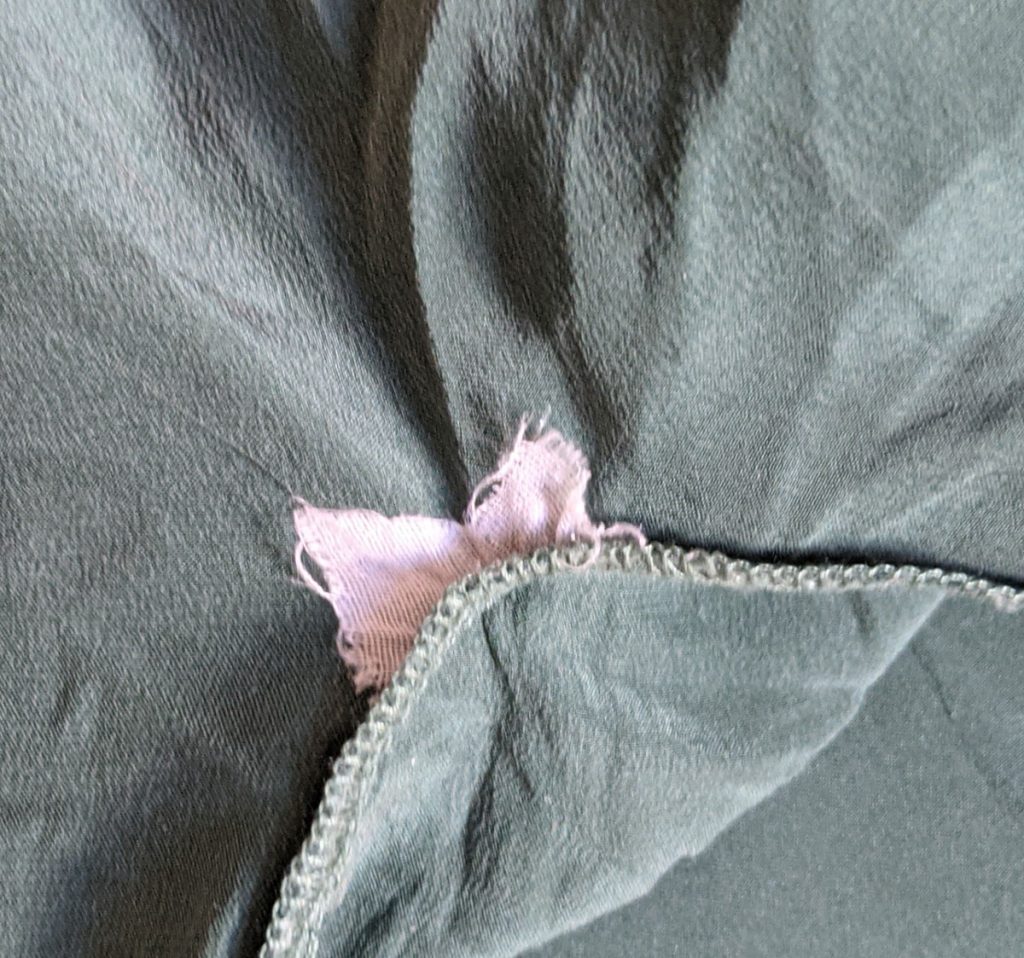 If you've ever woken up to a popped seam in your silk pajama pants, you understand why I love this! Basically, these little triangles keep the seams looking nice and keep those seams intact. They don't look particularly beautiful, but these thoughtful details show that Lunya really cares about the longevity of their washable silk garments.
What is Washable Silk?
Washable silk is (drumroll, please)... regular silk that's already been washed.
Yes, that's it!
Have you ever accidentally put a silk blouse or slip in the wash? You may have pulled it out to find that it shrank a bit, lost its shine, and looked a little like suede. That's basically what Lunya's "washable silk" is. But Lunya's silk is washed before the garment is made, so the fabric won't shrink in the washing machine and distort your garment.
Even though I intuitively knew this, I still expected the label to suggest something groundbreaking. "Throw it in on warm! Tumble dry! Why not? It's washable, baby!" But no.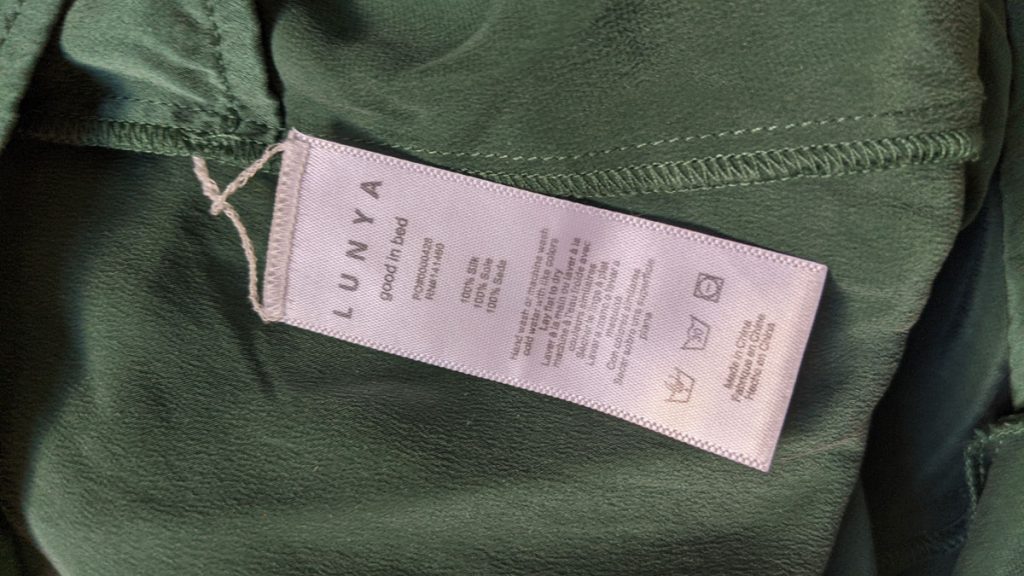 Yes, you can machine wash this garment. But only with cold water, and preferably inside out in a mesh laundry bag, according to their website. You can also hand wash it in cold and lay it flat to dry.
Essentially, you care for Lunya's washable silk in basically the same way you care for "regular" silk. As most TLA readers know, you do not have to dry clean your silk loungewear. I personally wash everything in the sink. Karolina's article "How to care for silk lingerie" even suggests that you can put your silk in the washing machine (in a laundry bag) if you need to.
I'm not sure why I was expecting these garments to defy the laws of silk fabric, but I was. So I feel a little disappointed.
But Lunya's silk is easier to care for. Since it's pre-washed, it won't shrink or feel "ruined" if you accidentally put it in with the rest of your laundry. (It would probably withstand a warm water wash and a low tumble dry, honestly… But that's my personal assumption, and I won't be testing it voluntarily.)
I do wash most of my clothing on cold and hang it to dry, so this works for me. But I know that's not how most people do their laundry. So if you like the buttery, easy-wearing, suede-esque look of washed silk, I do recommend their styles! But if you're looking for silk loungewear you can "throw in your laundry and forget about," as their website states? Well, that still doesn't exist, as far as I know.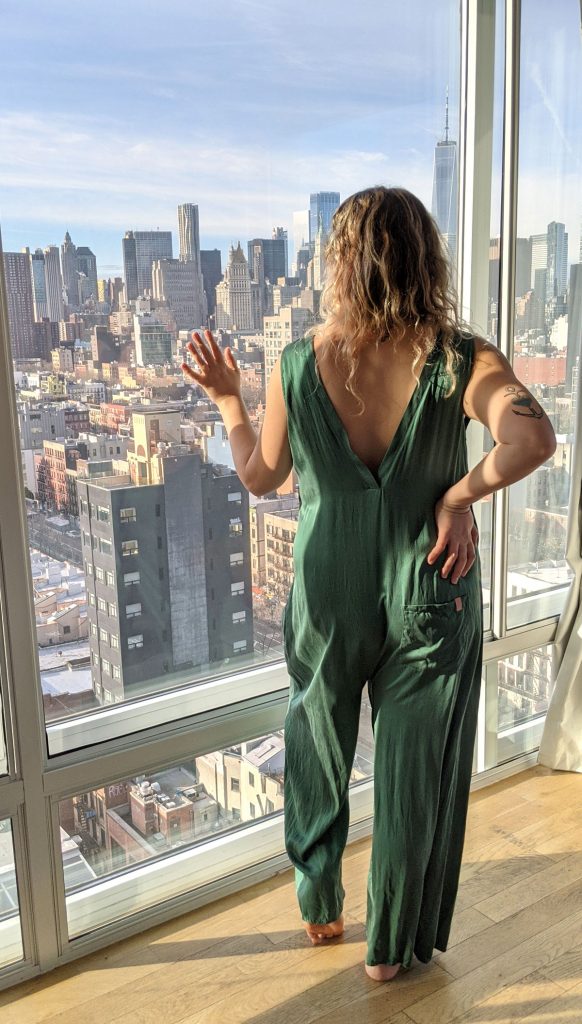 A Few Final Thoughts...
I love wearing this jumpsuit. The silk feels luxurious against your skin, but the casual look of the washed fabric makes it excellent for lazy days around the house.
It's not a shape I'd typically wear, and I don't love how it looks on me, personally. But the loose-fitting design is perfect for many different body shapes. And like I said, it kind of feels like being naked, in the best way. What more could you want from your loungewear?