Lingerie Review: CREEPYYEHA Iphie Belt
Creepyyeha wasn't the first designer to make strappy, bondage-inspired leather harnesses and lingerie accessories, but she certainly helped popularize them.
Yeha Leung has showcased her handmade pastel leather pieces online since 2012, gaining notoriety via Tumblr and selling items like rose-embellished collars on Etsy before opening a Storenvy shop.
Today, the label is undeniably successful. With over half a million Instagram followers and a celebrity following including Nicki Minaj, Rihanna, and Lizzo, Leung closes her shop every few months to catch up on orders.
Everything Creepyyeha produces is still made-to-order in New York, to your measurements, by Leung and her partner Alejandro, in the metals, materials, and colors of your choice - from classic black and pastel pink to lipstick red and ocean blue.
The Creepyyeha catalog is massive, with belts, collars, harnesses, cuffs, and more, some looped with silver chains, embellished with shining plastic pearls, or dangling with hundreds of acrylic crystals. Many pieces are priced over $1000.
Creepyyeha is a true indie fashion success story.
Ordering Process
I've been a fan of Yeha's work since the early days, and seeing her brand grow has been incredible. Unfortunately for us, that growth means her prices have gone up.
In 2015, I ordered a custom harness for $165. Today, similarly sized pieces start at $300. I assume this is to cover the costs of running a fully-fledged custom leather business, and because of simple supply and demand (an interesting topic in the lingerie world, when so many indie brands are struggling to make sales with bare minimum mark-ups!).
When I decided to splurge on her site last year, my big purchase was the Iphie Belt ($385 at the time), one of her most photographed pieces. Since it can be clipped and unclipped to create tons of different looks, I hoped it would be an heirloom piece I could wear as both a belt and a harness for years to come.
The post-order page says you can email at any time for updates, so I messaged her a couple times after the minimum 5 weeks passed, just to check in.
Leung was so courteous and responsive, and even ended up including a free matching pink leather collar with my order because it "took so long." I had no problem waiting, but it was a simple gesture that made a huge impact on how I see her brand. She runs this whole business with just one partner, and still takes the time to make sure her customers are more than happy!
The Belt
My order arrived 7 weeks after purchase, which I think is completely reasonable. The Iphie Belt is actually five pieces. There is one "main" belt with a hooking, adjustable elastic back that can be worn on its own. Next, are two "secondary" belts that hook together in the same way in the back, and are finished with swivel clasps the other, to hook onto the "main" belt.  Finally, there are two "tertiary" belts, covered in D rings with swivel clasps on both ends that you can hook anywhere.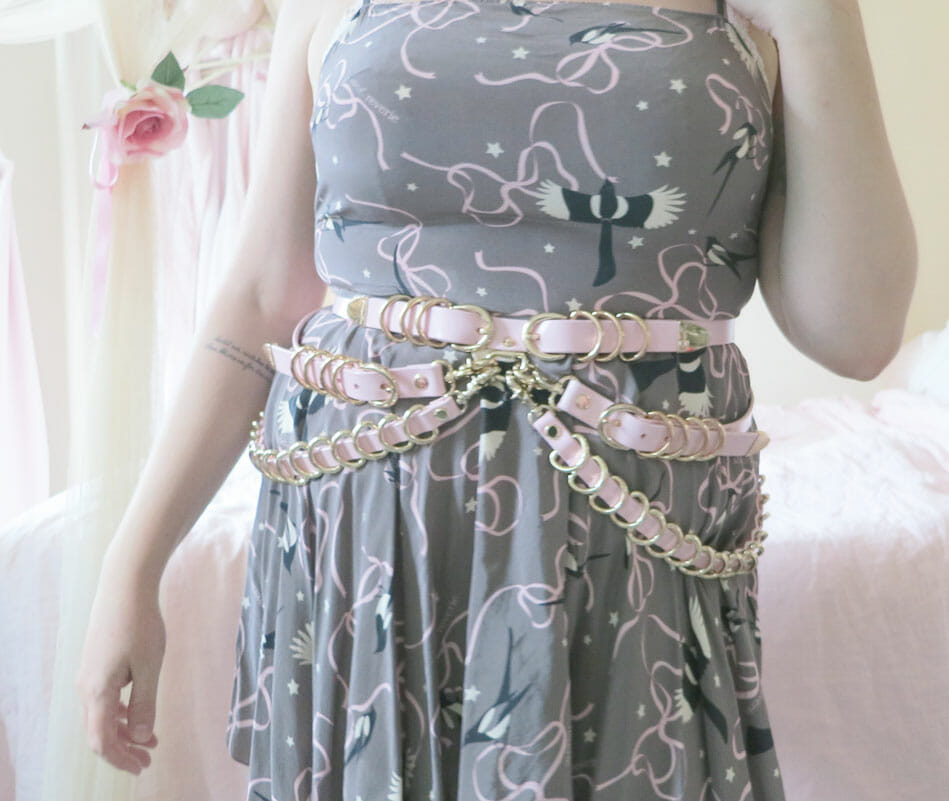 I'm obsessed. Iphie can be worn in so many ways, from one belt over a casual dress to a strappy concoction for a night out. Accessory designers talk a lot about going "day-to-night" with their pieces, but this piece exemplifies that concept.
Iphie is so much more than just a belt; It's basically an entire accessory wardrobe, all in one piece. I especially love flipping it upside down and wearing it as a harness, with both sets of straps or just one.
The only functional thing I dislike about this belt is the closure. I'm afraid the heaviness of the straps will stretch the elastic out over time, so I worry about longevity. The elastic details also take away from the substantiality of this hardware-focused aesthetic.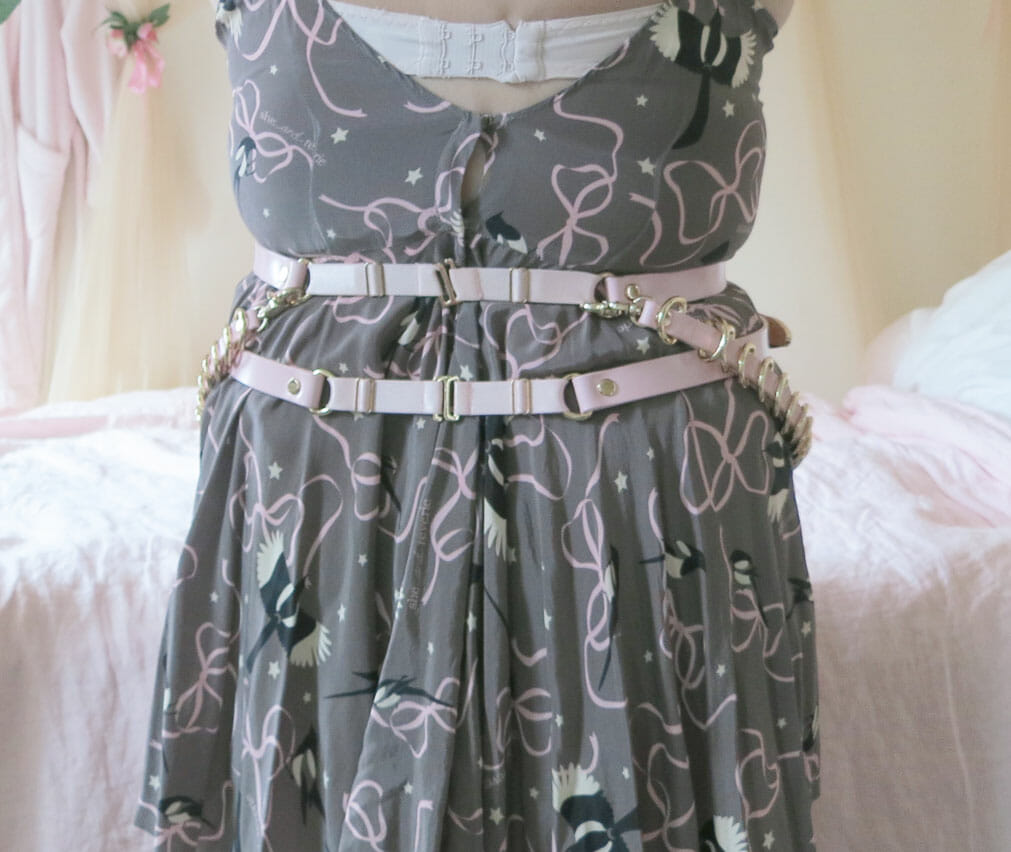 Didn't you expect to see a couple of big buckles back there? I did! But I do like this elastic-and-hook system for its adjustability, comfort, and ease. I hope this belt ends up being an heirloom piece I'll wear for the rest of my life.
Leather, Hardware, and Finishings
As far as the material quality goes, I am not a leather expert, so I can't speak much on the technicalities of this. However, I can say that the paint isn't as bonded to the leather as, say, a pair of shoes.
That doesn't mean they're fragile by any means, but these pieces needs to be treated carefully so they won't scratch, especially when you're reaching behind you to hook clasps or tighten straps with long nails. I also try to store the belt in the "round" shape of a body, to keep the paint from cracking on the inside.
Creepyyeha's creations are made of thick leather and heavy-duty metal parts, but they're not industrial accessories. Some care still needs to be taken with them.
Regardless of this possible issue, the Iphie Belt is one of my most cherished accessories, and one of my favorite purchases regardless of price point. Creepyyeha's work is already iconic, and for leather accessories custom made to your measurements in the colors of your choice, they're absolutely worth the splurge.