French Lingerie Review: Fifi Chachnil Babyloo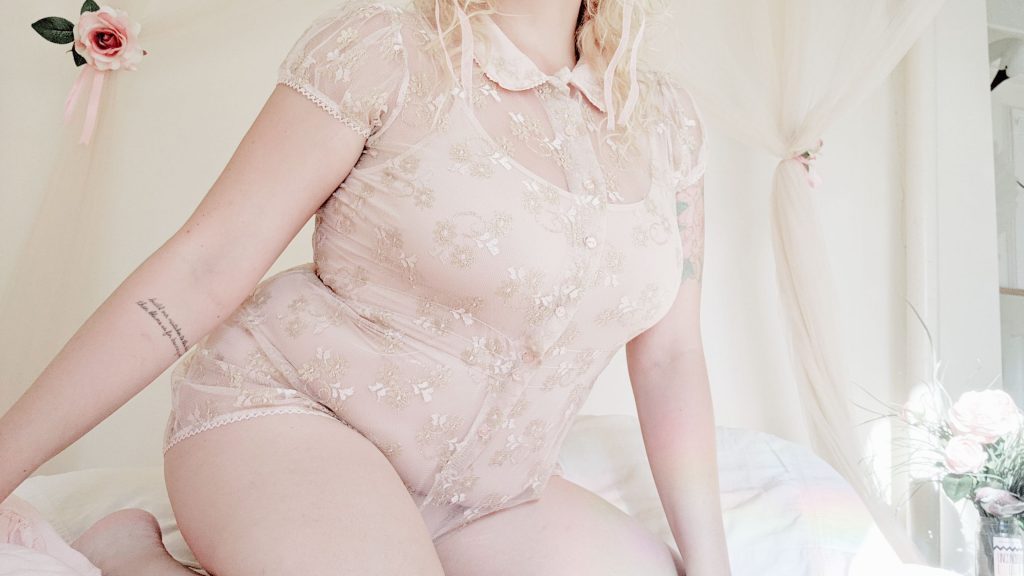 On my trip to Paris in 2015, visiting a Fifi Chachnil boutique was at the very top of my list. And if you've ever been, you know it did not disappoint.
Each inch of the boutique is perfect candy pink and shiny vintage gold. Crystal chandeliers pop out of the diaphanous pink curtains covering every wall. Pink feathers float from the ceiling and everything's hazy, like you're in a film shot through silk stockings.
Ok, maybe that last part is just in my memory. Regardless, walking into Fifi Chachnil is like walking into a giant pink powder puff. A princess boudoir dream come true.
Fifi Chachnil has been a designer for nearly 40 years, but her eponymous brand of lingerie and ready-to-wear clothing was launched in the 90s. The website describes Fifi's collections as "sentimental and often represent[ing] the fantastical caricature of the Parisian women."
Compared to other French lingerie brands, the Fifi Chachnil brand is more whimsical. Her aesthetic is infused with a hyper-femininity that's almost tongue-in-cheek... almost. If brands like Lise Charmel and Simone Perele feel like chic pearl necklaces, then Fifi Chachnil is the pink powder puff on your vintage vanity table.
But oh, it's certainly very French. Her lingerie looks like it's popped out of a vintage Parisian hotel illustration. Her clothes look like they should be carrying a baguette and fresh flowers down the street. Everything is beautifully tailored, infused with an earnest humor, and effortlessly sexy—even when it's not all that revealing.
Of course, it's not cheap. Everything is handmade in their Paris atelier, and is priced as such. Bras range from US$125 to $400. Ready-to-wear day dresses currently average around $650. Their signature Babyloo playsuits can top $800, depending on the fabrics—which are often silk or French lace.
The size chart is as small as you might expect for an old fashioned luxury lingerie brand. They make bands 32, 34, and 36, with E and F cups only available for 32 bands. Everything else is A through D cups. And apparel? It only goes up to a 39" bust in their largest of three sizes.
However, everything is made on site, so custom sizing is available. And they once sold off-the-rack lingerie in fuller bust sizes, proven by the (quite small) 34F bra I bought in Paris.
It doesn't fit me now, but the sweet little Babyloo romper I bought to match still does. And five years later, I'm honored to review this piece.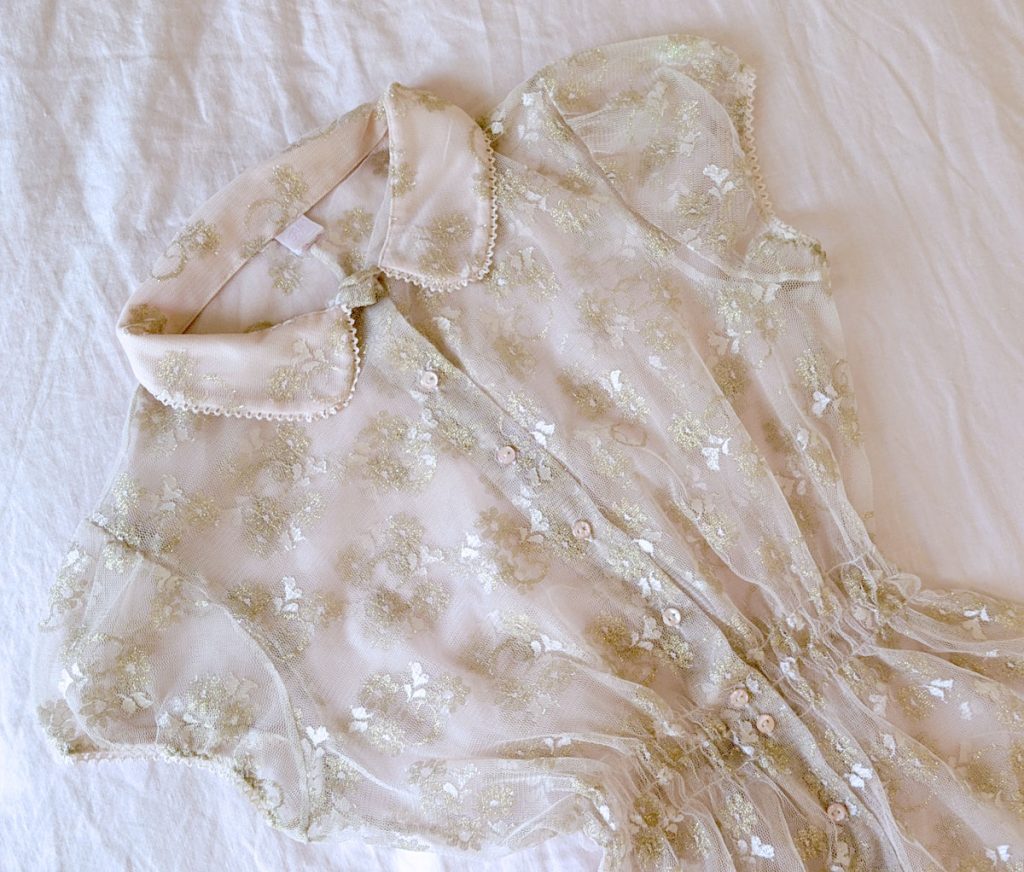 Fifi Chachnil Lace Babyloo
The Babyloo playsuit is iconic Fifi Chachni. With its Peter Pan collar, sweet cap sleeves, ruched waist, and tiny little bloomer legs, it's easy to love. Every season brings new colors and fabrics, from chintzy printed cotton to dotty mesh to French lace.
I honestly don't remember how much I spent on my Babyloo. I'm positive their prices have gone up since 2015. But it probably wasn't the cheapest of their rompers, with all that lace.
Yep, it's made entirely of soft metallic lace, with a collar lined in tonal pink silk. The dainty buttons on the crotch match the ones that go up the front, and keep you from undressing in a public bathroom. A simple elastic ruched waist gives flexibility in fit.
Since it's made entirely from lace, the whole piece feels so delicate. And it is. There are a couple small holes in the crotch that I need to repair, simply from regular wear. (But honestly, that's what happens when you wear a French lace bodysuit to a bunch of parties in your 20s.)
This piece was made in a French atelier, as opposed to a massive factory, and it shows. The stitching and fabrics are lovely, and the quality feels very careful, like it was made especially for me.
But I do wish the seams were covered or Frenched, instead of finished with overlocking... Especially for the price point.
The Fifi Chachnil Fit
My Fifi Chachnil Babyloo is a Size 42 / L / T3, which is the largest size they offer off-the-rack. Remember how I said their largest apparel size goes up to a 39" bust? Well, my bust measures 42" right now, and this is a great fit for me.
While I found their bras small in both cup and band, the clothing was not. The Babyloo, especially. It's very flexibly sized for a romper. The elastic ruching means this looks as good on me now as it did when I was a few inches smaller in the waist. This piece's flexibility is also partly due to the lightweight material.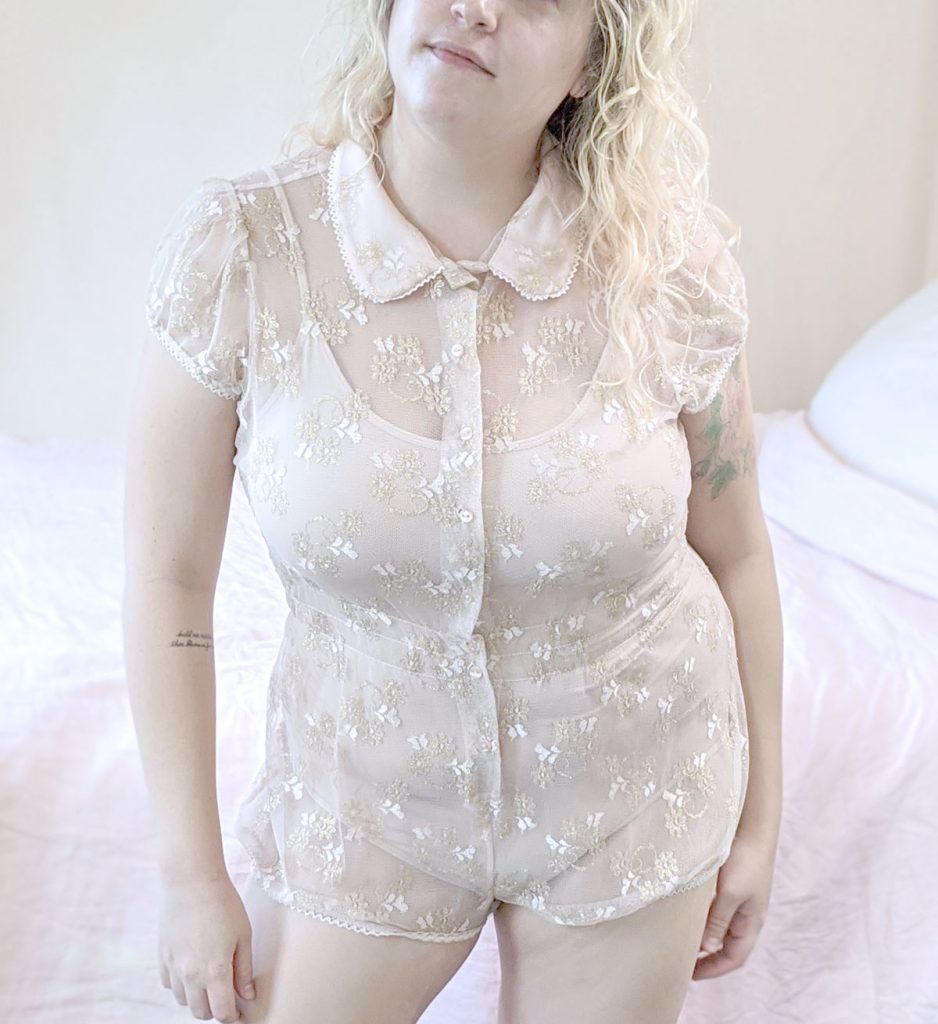 I know a lot of people have trouble with rompers due to the length. With my short torso and average 5'5" height, that's rarely an issue for me. But if my torso was any longer, my Babyloo would be too short. If you're very tall, you'd likely have trouble with the off-the-rack length.
The only thing that bugs me about my Babyloo is how floppy the front placket feels. Usually, interfacing would give the front line of buttons structure, so it sits smoothly against your torso. But this is a soft, sheer romper. Interfacing may have ruined the look. The result is a front neckline that's always a little saggy, and a collar that might look better unbuttoned.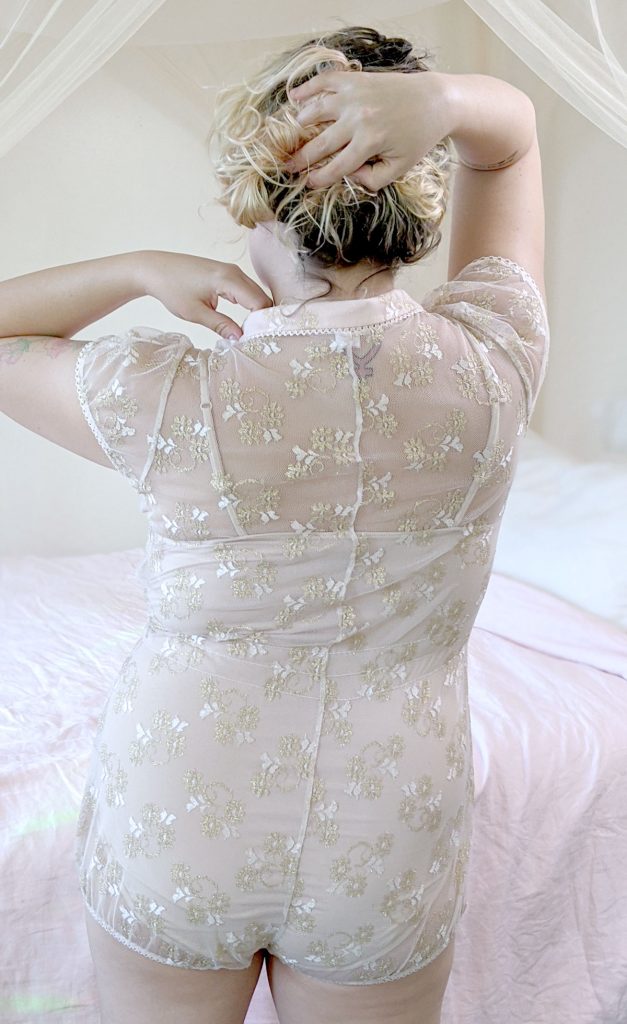 Otherwise, I love this piece. It's perfect over a bodysuit and under a skirt for a dinner party, or as part of a fun boudoir outfit. It's not exactly a piece to lounge around the house in...for me, anyway. The fine fabrics make this an iconic piece of lingerie, perfect for special occasions.
A Few Final Thoughts...
If I'm honest, I'm always surprised that Fifi Chachnil is still in business. The brand is hyper-directional, expensive, and pretty old fashioned in many ways, including their sizing. But I'm so happy they are.
The world would be missing something beautiful if Fifi wasn't around. We need her demure yet sexy bras. We need her knickers that look like they'd be in the dictionary next to "French lingerie." We need gingham dresses for afternoon trysts along the Seine, and fluffy angora sweaters that you could wear in the boudoir or to brunch.
Fifi Chachnil mixes an ultra-feminine aura with a cheeky sexiness that really isn't replicated elsewhere. If you love her style (and you fit into her size chart), you'll love wearing her lingerie, too.