French Lingerie Review: Simone Perele 1948 Contour Demi Bra and Bikini
Note: I purchased this lingerie set with my own money. All opinions are my own.
Last February at Curve, a sales rep presented an elegant bra with an embroidery so whimsical, I thought my eyes were playing tricks on me. "Are those birds on wires?!"
Yes, they were. Simone Perele celebrated their 70th anniversary for A/W18 with a highly limited edition collection called 1948, inspired by the original designer's roots in corsetry. With satin pin tucks, powerline-embroidered mesh, and corset lacing, this collection's tone-on-tone black details are the perfect accompaniment to Simone Perele's ever-present "everyday luxury" vibes.
Purchase Details:
I'm always in love with this brand's custom embroidery, but the subtle whimsy of this particular group took me by surprise in the best way. By taking a very specific, nature-inspired motif and turning it into a geometric pattern, they kept this group elegant, interesting, and just twee enough, without feeling like a saccharine novelty. It was the only lingerie group I knew I had to purchase from Autumn/Winter 2018 market.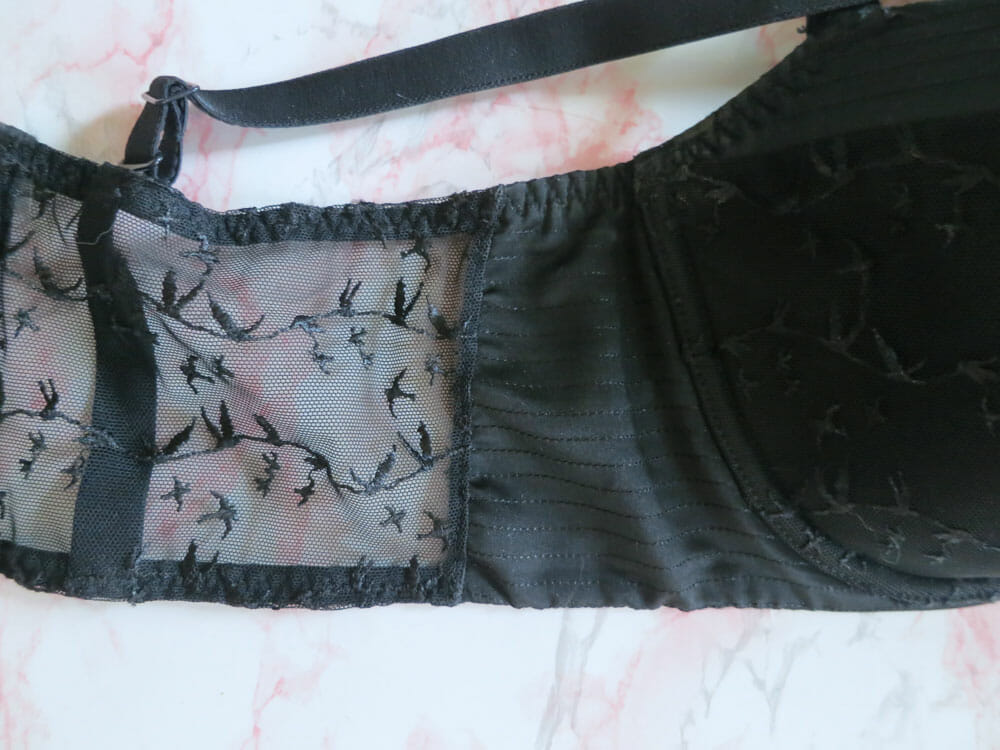 But snagging a piece from this group was harder than I expected. I originally ordered the Sheer Plunge bra from a European company (currently available at Nancy Meyer in a few sizes), only to be told (after a few months) that Simone Perele had an issue with their suppliers and wouldn't be making any more.
I couldn't find my preferred Simone Perele size, 34F, at any other retailer at the time. Even the Simone Perele website doesn't carry the full collection as shown at Curve.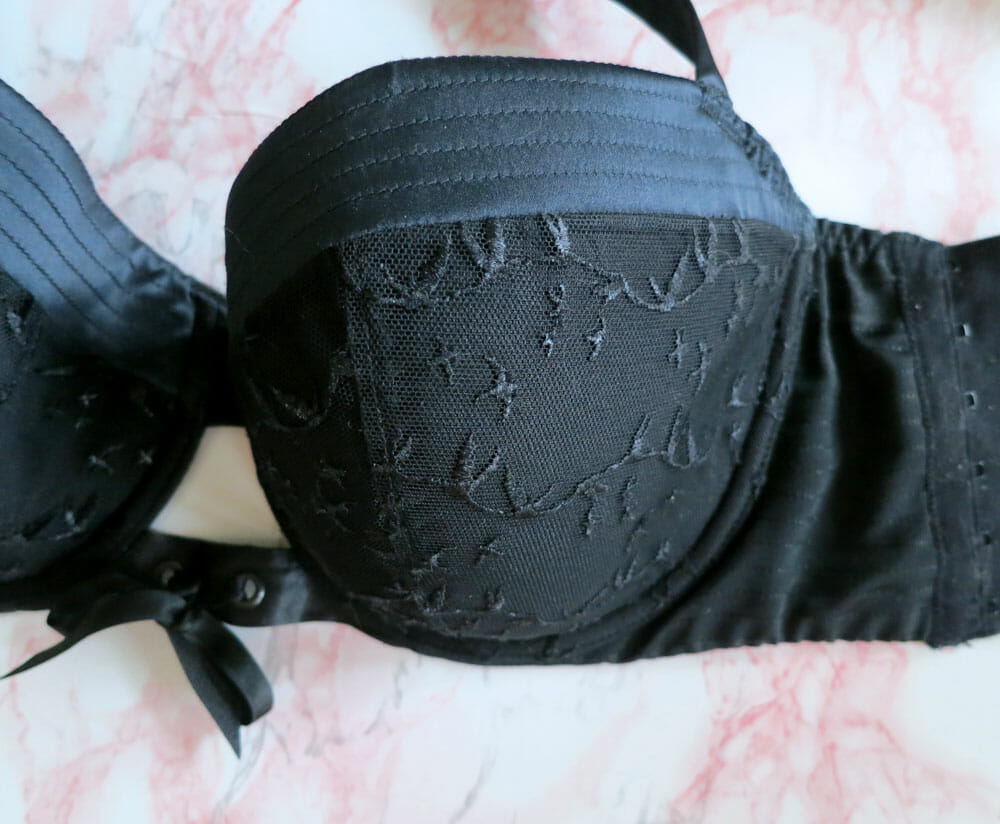 So instead, I decided to take a big risk and order the Contour Demi, which has a dynamic corset-style back I couldn't stop thinking about, and the all-over-mesh bikini, currently available at Sugar Cookies.
I normally sister size up to a 36 band in styles with decorative backs and longlines anyway, but this style only went up to a D cup, and my sister size is a 36E. However, I remembered that the Simone Perele Wish Bustier fit me nicely in a 36D due to its very full cups… so I took a chance.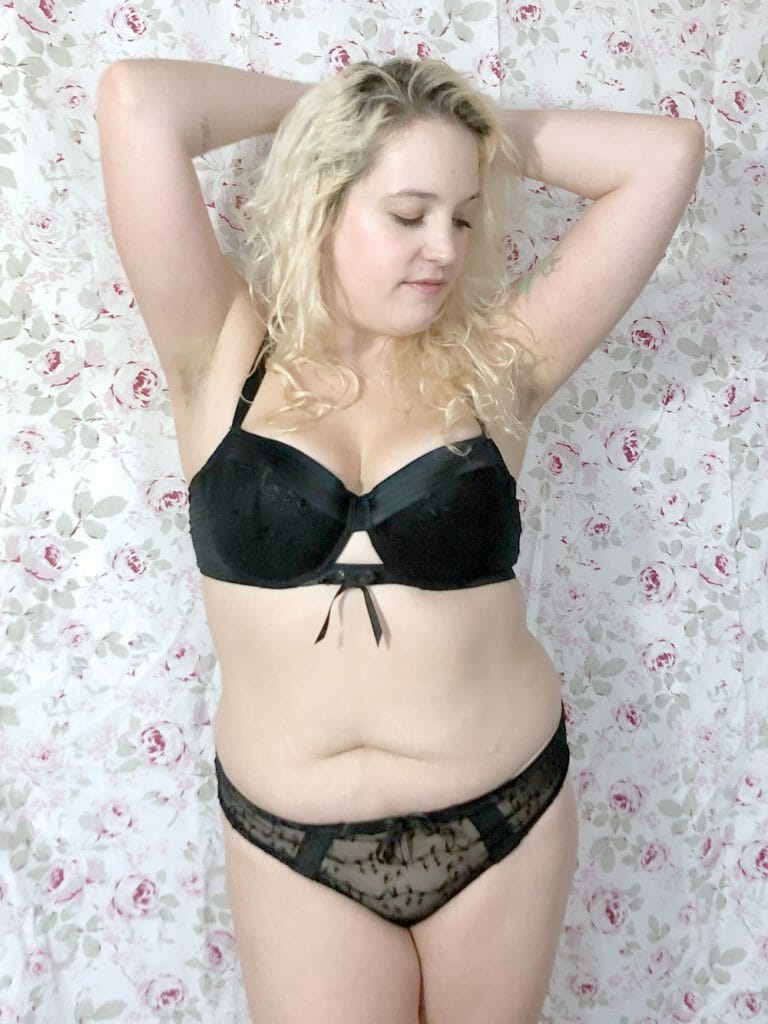 Fit and Quality:
Thankfully, it worked. Technically, I could use a cup size bigger — you can see my breast tissue coming up over the top of the cup in the side photo below — but I'm perfectly happy and, surprisingly, very comfortable in this size. Nothing pops out, moves around, or gets cut off. In fact, I wore this set under a casual dress one day, and when I got home, completely forgot which bra I had been wearing. I call that a success.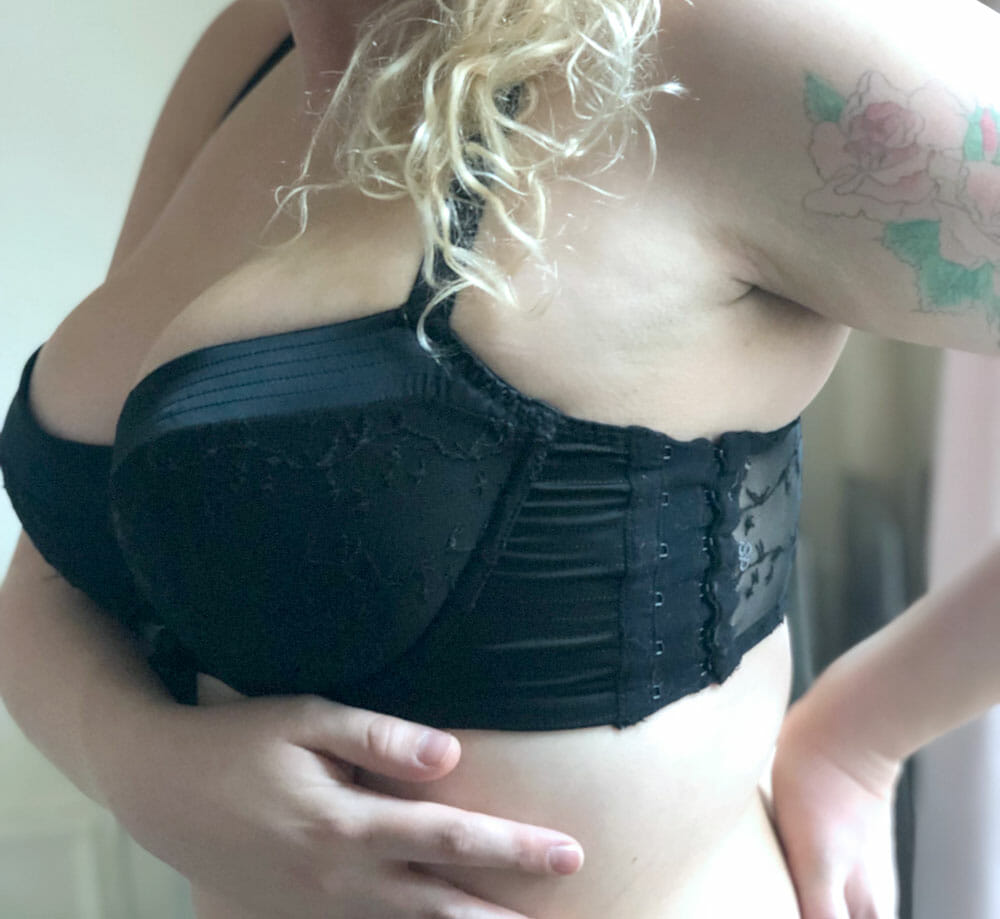 I consider myself pretty flexible, but this bra isn't very easy to put on. You have to secure the wide band of hook-and-eyes right under your armpit. I wouldn't be able to do it by myself if I had ordered a 34 band. I guess you could do the "hook and spin" technique, but I find that irritates my skin and I don't like stretching out my bras prematurely.
If you have mobility issues, this definitely isn't the bra for you. But with the look and details of this piece, a little annoyance for half a minute at the beginning of the day is worth it for me.
As far as the bottoms go…well, I think they're adorable and I love how they show off the embroidery. But I really dislike the fit.
I'm usually between an M and an L in bottoms. Right now, I'm solidly in L territory at the high end of my weight range. However, this size L bikini is both slightly too big and very oddly fitted. There's a lot of extra fabric right in the middle of my seat, and the back rise is far higher than the front. Combine those problems with the larger size, and the knickers slide down throughout the day, giving me the baggiest booty ever.
I have a small butt and a short torso, but these issues are not typical for me, especially to this extent. (The above photo took careful fabric placement and knicker adjustment to look nice!) I think this pair would only work well on someone with a fairly short front rise, and a booty that's very full and low.
This isn't the first pair of Simone Perele bottoms I've disliked. I've heard fit complaints about other Simone Perele knicker styles as well. But if you're willing to take a chance, or just love the fabric enough to wear a pair (totally valid—I do!), I recommend sizing down in this style.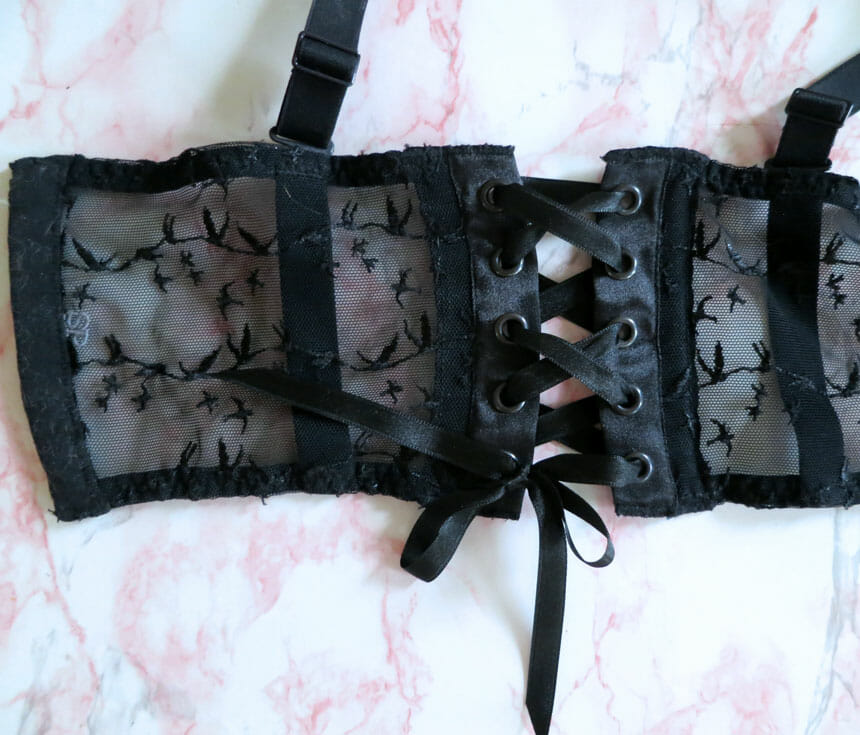 I'd also be remiss to not mention that, while photographing this set, one of the plastic boning strips along the side of the corset lacing came out. I had only worn the set for one full day beforehand, and hadn't washed it yet, so I was both surprised and disappointed. It only subtly affects the aesthetics (you might see the boning channel ripple on my left side in these photos) but it doesn't affect the fit whatsoever. And it's an easy fix for me as a seamstress.
Final Thoughts: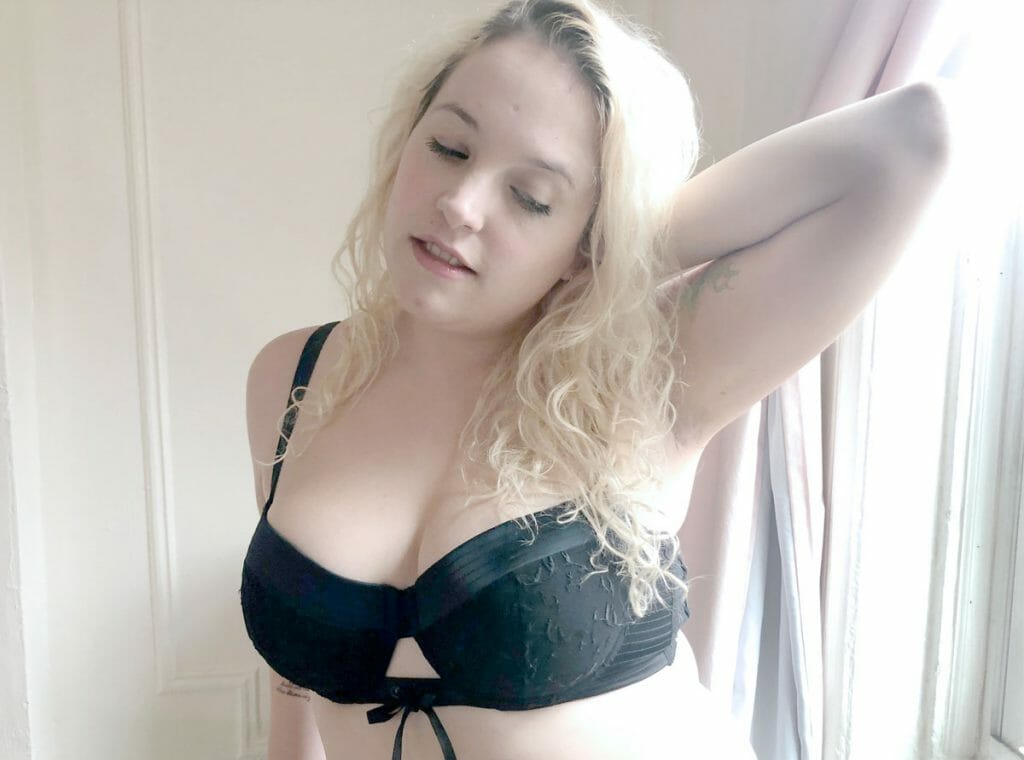 Even with all the issues I have with it, I love this lingerie set. I think the style perfectly exemplifies the everyday luxury that Simone Perele strives to provide, with a little extra fancifulness to make it stand out alongside their other offerings. With its distinctive details, I think the 1948 group will be iconic in its own way going forward, and I'm happy to own a piece of it.