How to Bra Shop After Breastfeeding
Disclosure: This article contains affiliate links.
Laura Wheatman Hill lives in Portland, Oregon with her two children. She blogs about parenting, writes about everything, and teaches English and drama when not living in an apocalyptic dystopia. Her work has appeared on JSTOR Daily, the Submittable Blog, She Knows, and others.You can find her at https://www.laurawheatmanhill.com/ and on Twitter and Instagram.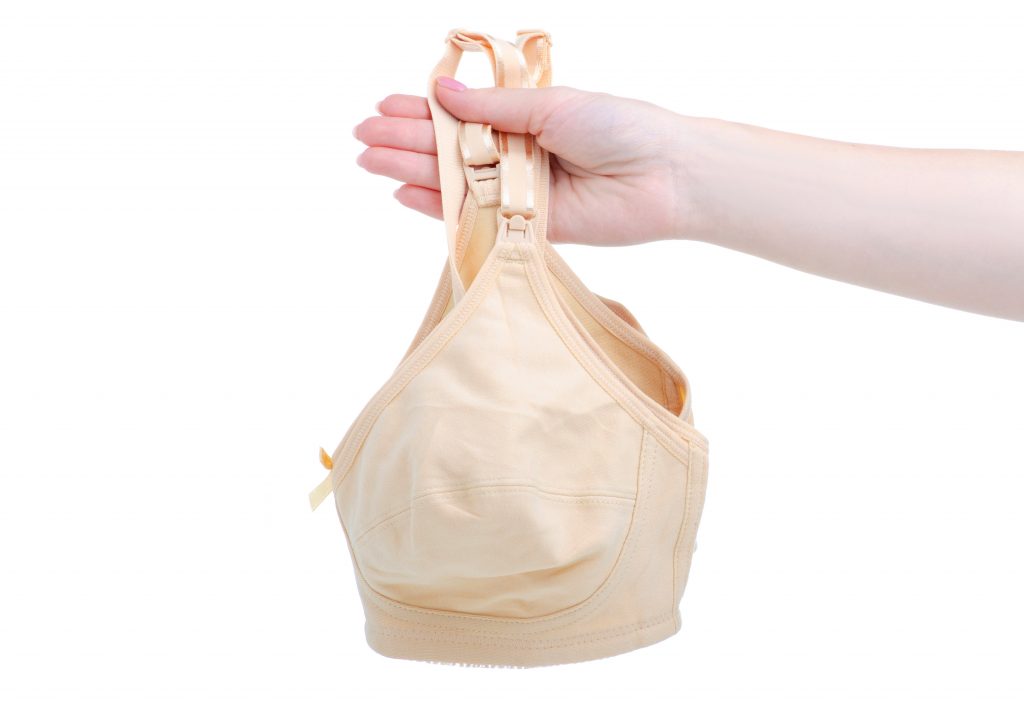 I spent four years either pregnant or breastfeeding. During the time when I was pregnant and home with one or two small children, I wore almost exclusively sports bras and triangle nursing sleep bras. After four years of fluctuations, leaking, stretch marks, bites, mastitis, clogged ducts, oversupply, overactive letdown, breast pads, and stained clothes, I wanted to treat myself to some real bras.
For some reason, this is not a widely blogged about topic in terms of making moms feel good about themselves. So this article is about the steps to feeling great in your amazing mom-bod. Maybe you're going back to work. Maybe you want to go on a date once in a while and feel like an individual, not a mother-baby unit. Maybe you just want to feel yourself in your t-shirt at the playground. No matter your reason, you deserve to feel good about your bra and yourself in it.
STEP 1: Be patient.
To maximize your investment, many people suggest waiting until you've finished breastfeeding for 6 or even 9 months as breast changes can happen for months after you wean. I know, for me, I sometimes leaked months after I thought I stopped producing. Also, your body produces prolactin for up to six months after breastfeeding, so your rib size (and ring size and shoe size and pant size) could fluctuate during that time. Finally, your weight may fluctuate due to hormones or different exercise options now that you're not breastfeeding which may affect bra size.
Inexpensive but cute bras do exist. For the transition from breastfeeding, I recommend:
Both of these are at department stores and big-box stores like Target and are not a huge financial investment. The Bali bra is less attractive by itself but looks great under clothes. You can criss-cross the straps for more lift or with more arm-baring clothes. The Hanes bra is still casual but has a more attractive look. Both are very, very comfortable and wireless, which may be a good transition for moms who have sensitive, possibly still producing breasts and duct pathways.
STEP 2: Size correctly.
I went to a local independent lingerie boutique and asked for a fitting. Then, later, I asked for another at Nordstrom to confirm. I highly recommend trying several sister sizes. Not only will your comfort-level be different now that you're postpartum, but your breast size and shape could be very different from what you had before. Unfortunately, having two different cup sizes is not uncommon after breastfeeding. As the saleswoman at the lingerie boutique told me, the bigger breast "makes the rules." You may need to alter your old style to accommodate what you've got.
STEP 3: Be gentle with yourself.
I don't know if it's my personal sensitivity, the hormones, or that I'd lost a tolerance for being bound, but I could not abide underwire bras even when I was long past breastfeeding. I liked the look of them and the lift, but, within minutes I was crawling out of my skin. You may want to go for wireless or a supportive bralette. I really love the Aerie Boho Lace Plunge Bralette. It has enough support to wear everyday or to work and the pattern is sexier than the t-shirt bras above. Bralettes can be your go-to when you want to be comfortable but still feel good about yourself. Even let them peek out from tank-tops in the summer and it still looks luxurious because of the lacy fabric.
STEP 4: Consider the nipple.
Nipples have a personality post-breastfeeding. They may choose to show up when you don't want them to. The problem I found with the gorgeous, ephemeral bras from the boutique was that, if it was even a little chilly, my nipples were very much visible through my clothes. A thicker, more padded bra may be the right choice for you if you go for lighter layers or work somewhere with varying temperatures.
STEP 5: Try, try again.
Besides investigating your sister size, check out different brands and different sizes in different brands. Try your shirt on over the bras. Move around because, if you're like me, you lead an active life as the mom of a toddler or two. Try more coverage than you had before. Try more or less padding. Try a racerback. They look great and help with lift. I can't tell you exactly where you'll end up because you need to choose what is right for your life, comfort, and style. Do not compromise your breast health and style because you had kids. Search for bra unicorns. You can have a mom-bod and still embrace lingerie in your life.