Fräulein Kink: Python & Pearls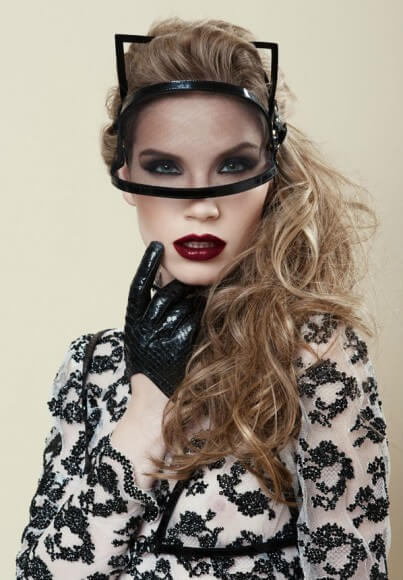 Many of us are happy to finally see the lingerie industry's obsession with strappy, bondage-inspired lingerie come to an end. It was starting to feel as if every harness and cage bra had a whiff of desperation --- trying too hard to be edgy, to be sexy, to be avant garde. In a race to be different, so many brands started to look the same. Only those with a truly unique point of view (usually the forerunners of the trend) have stood the test of time. One such brand is Fräulein Kink.
Fräulein Kink's designs have a sense of playfulness that is delightfully refreshing. More glam dress-up than traditional play wear, it is this flirty, girlish appeal that has made the brand accessible to a wide audience. Couple this friskiness with truly lush fabrics, and it's easy to see why Fräulein Kink was awarded TLA's best accessories brand of 2012.
As with their Spring/Summer 2014 collection, Fräulein Kink's newest collection is meant to adorn the body and encourage the wearer to dip their toe into the most stylish of pseudo-bondage wear. Titled Python & Pearls, these pieces are fashion forward and read almost as jewelry for the body. They are designed to feel deliciously naughty, whether worn against the skin or paired with silk blouses or sleek skirts.
From glossy black to burnished gold to pearlized white, python is transformed into slick little harness bras and garter belts. I'm loving the idea of the garter belt paired with a pencil skirt, with long strips of python swinging at the hips in the front and back. Those high heel python cuffs are outrageously gorgeous (and feature rings to attach cuff restraints later in the evening). There's plenty of shine and sparkle with jewelry quality hardware, including pearl rivets on the "bridal" set and crystal tips on luxe lassos.
Fräulein Kink uses "kitten" ears as a design element in every range. This season's take on the kitty includes the patent leather "Kitten Veil." A minimalist metal frame creates the ears and holds the tulle mask in place. Plush elastic ties in a bow at the back of the head (adding a playful primness). The range also includes a coordinating visor (shown with a veil), rabbit fur-trimmed cuffs, crops, and some pretty amazing lambskin/python gloves that I'm sure feel like absolute butter.
These photos are impeccably styled and include deadstock vintage lingerie that is hand appliqued by Black Blvd for Fräulein Kink. The gold lace shorts sparkle with thousands of gold metallic crystals, while the ivory blouse and panties are heavily embellished with jet beads in an ornate floral pattern. Swoon! Other one-of-a-kind pieces include some pretty fantastic bodysuits that shimmer with Swarovski crystals or sequins. The accessories range is priced from around $75 to $500, and are one size fits most (I'd inquire for measurement details if you are concerned about sizing). The Black Blvd lingerie starts at $450. Pieces are handmade in their Berlin atelier and are available at select retailers (such as Pleasurements, Coco de Mer, and Journelle) or on the brand's ecommerce site.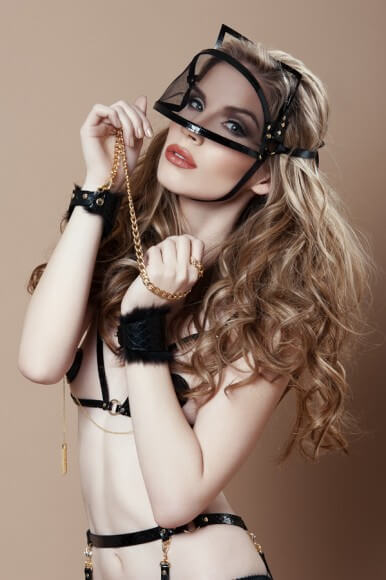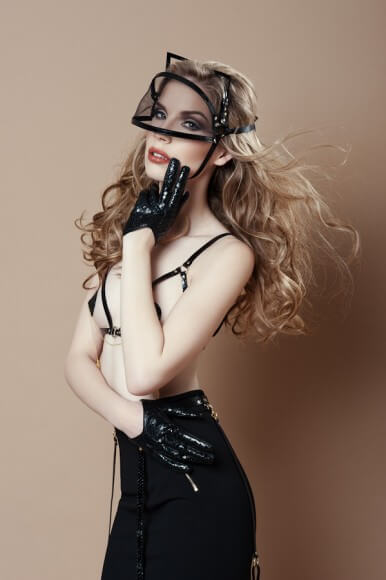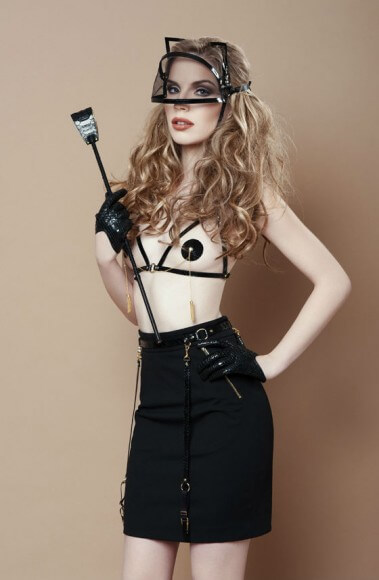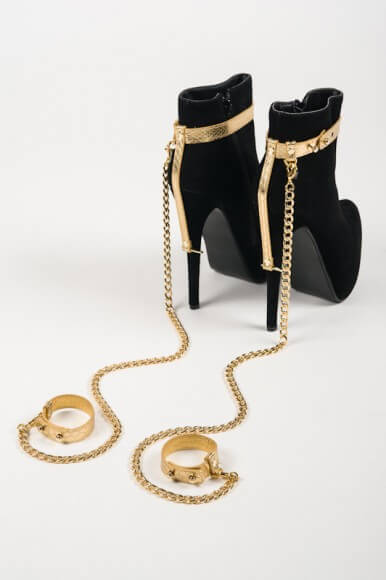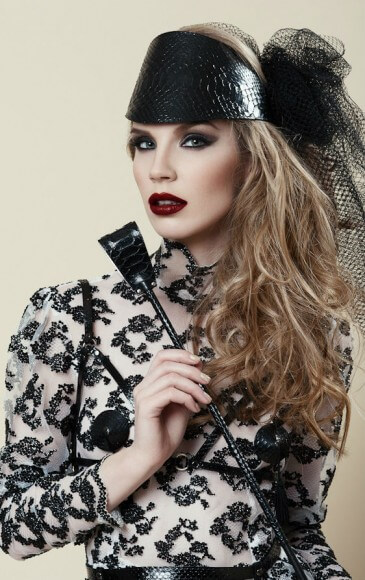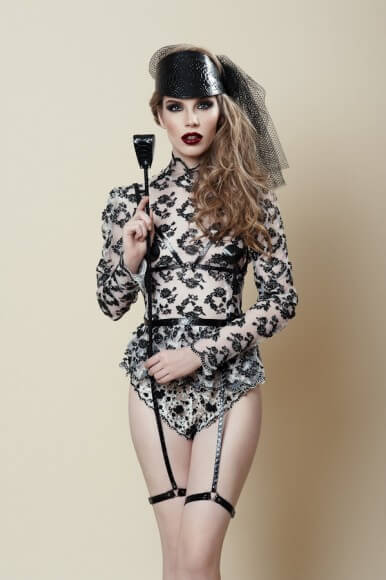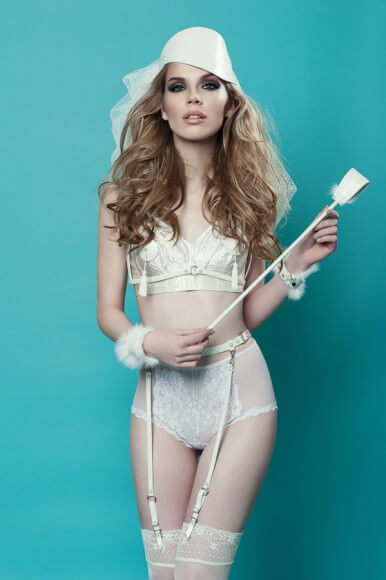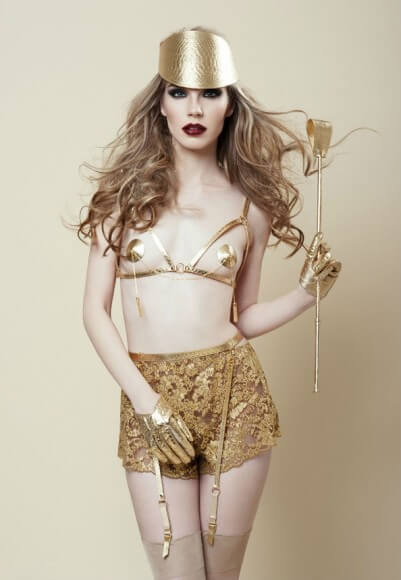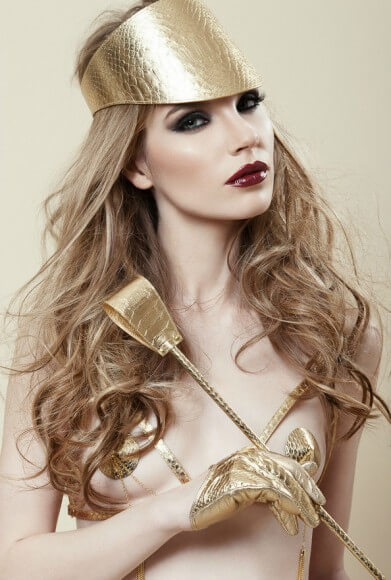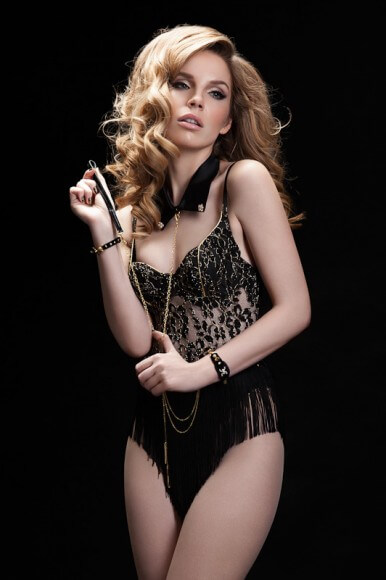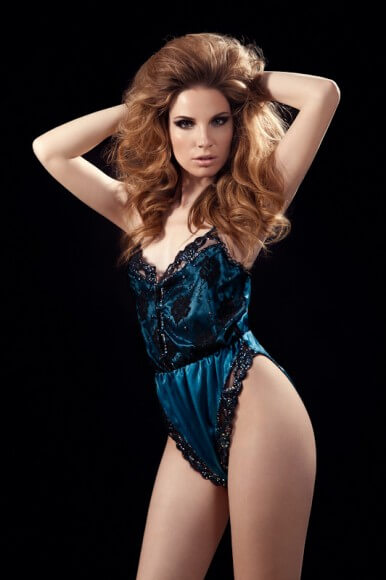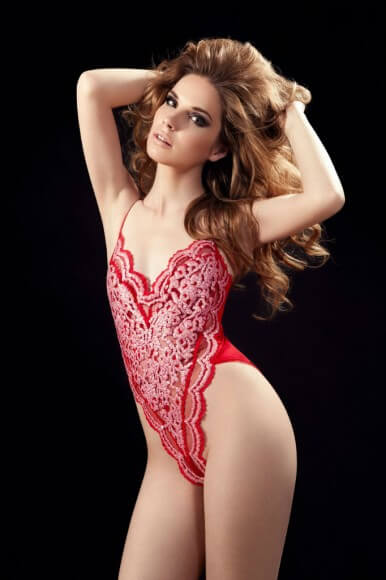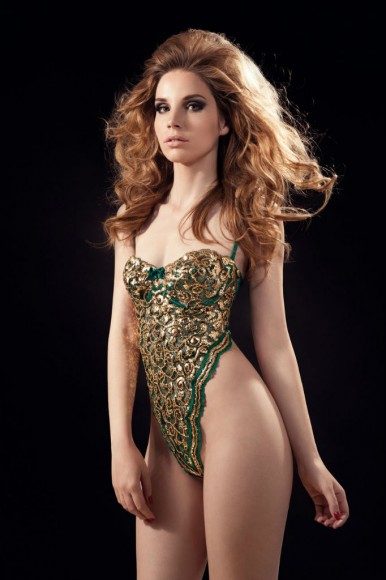 What do you think of Fräulein Kink's newest python collection? Could you see yourself wearing any of these pieces? Would you incorporate them into outerwear, or save them for the boudoir?