Fräulein Kink: Luxury Bondage Accessories for Champagne Tastes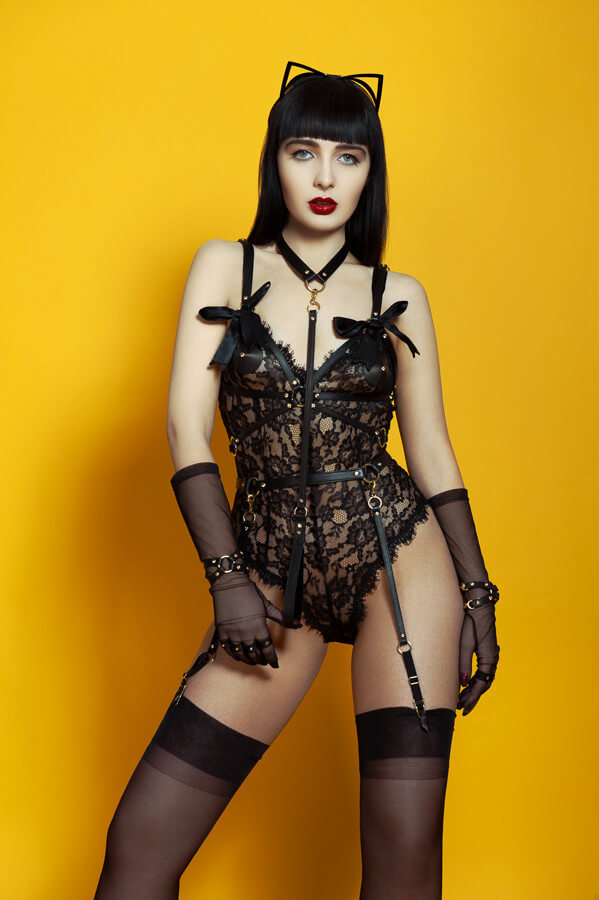 Before the "Fifty Shades of Grey" phenomenon had the lingerie industry referencing psuedo-bondage in the form of strappy harnesses and cage bras, there was Fräulein Kink. Their playful fringed blindfolds were reminiscent of coquettish eyelashes, and helped earn the brand a spot on The Lingerie Addict Awards in 2012. These early collections introduced the idea that erotic boudoir wear didn't have to be intimidating. Delicately fashioned in luxe materials, these accessories are more high fashion than kink. It is this mix of glamour and titillating edge that smartly sets Fräulein Kink apart from its peers, and has contributed to the brand's growth and longevity.
Fräulein Kink's newest collection, Champagne Taste, utilizes many of the same styles of prior collections. It is a testament to the brand's exceptional styling and photography that these pieces look fresh and new. Yes, we've seen lots of strappy harnesses and playsuits, but none like these and none photographed like they stepped off a world-class fashion magazine. Even the more intrepid viewer is drawn into the glossy fantasy of exploring a new persona through fancy bondage wear.
These new pieces really are for those with champagne tastes. We're talking gold metallic leathers, 24K gold plating, and golden Swarovski crystal rivets. If you prefer the dark side, items are also available in "Caviar" matte black leather or in shiny "Jet" patent leather. All of the components are gold as well, from O-rings and lobster claw clasps to garter grips. The leather playsuits and harnesses are leather lined so as not to chafe against the skin. I'm thinking it must be delightful to wear these, both for the aesthetically pleasing way the linear elements bisect the body, and for the way the leather warms and molds to curves.
Pieces are made to be mixed and matched. The harness is a cage bra with additional straps that fasten at the center O-ring and come around the back of the body to sit at the waist. The playsuit includes long garter straps that connect to this harness by rings on the front and back. There's even a collar with a detachable lead that is sweetly adorned with little satin bows. The brand's signature kitten headband and masks are available this season with architectural metal ears (the gold is 24K plated!) and the introduction of lustrous black feathers. Even if this look isn't your thing, you have to admit it's pretty theatrical!
The collection also includes some fabulous tulle or satin gloves that have stretch satin rings with Swarovski crystals along each finger (with a bow on your ring finger). They come with detachable multi-strap handcuffs that look like edgy bracelets. I love the idea of wearing these with a proper evening gown, knowing you have a delightfully naughty secret for the world to see if they were only paying attention.
These pieces are all easily incorporated into outerwear in ways that can be both overt or subtle. For example, the harness can be worn over a silk blouse or beneath a low cut blazer, and the garter belt can be worn as a belt once the garter straps are removed. Because the leather straps are quite thin and the materials so luxurious, these items are almost like jewelry for the body, making them easier to style with outerwear than other psuedo-bondage brands.
It's worth noting that Fräulein Kink's pieces are one sized, fitting UK sizes 2-14. Elastics are seamlessly incorporated into harnesses on the back straps and back fastening band. This helps provide a customized fit without detracting in any way from the design. In fact, it was only on very close inspection that I realized the pieces included elastics, even the metallic gold range. The garter straps also include an adjustable elastic portion at the bottom. This is key for flexibility in fit for height.
Fräulein Kink also has a few lingerie items available as part of their Black BLVD capsule collection. These are expertly incorporated into the styling of the accessories range. This season sees the introduction of a flounced white lace teddy that is dotted with satin bows and Swarovski crystals. There is also a heavily beaded padded bra that is adorned with gold cording accents. If you happen to be a small sample size, you may be in luck!
All pieces are handmade in the brand's Berlin studio and are sold both online and through luxury lingerie boutiques all over the world. Prices range from around $75 for pasties to around $600 for playsuits. The new BLVD pieces from this season are approximately $325.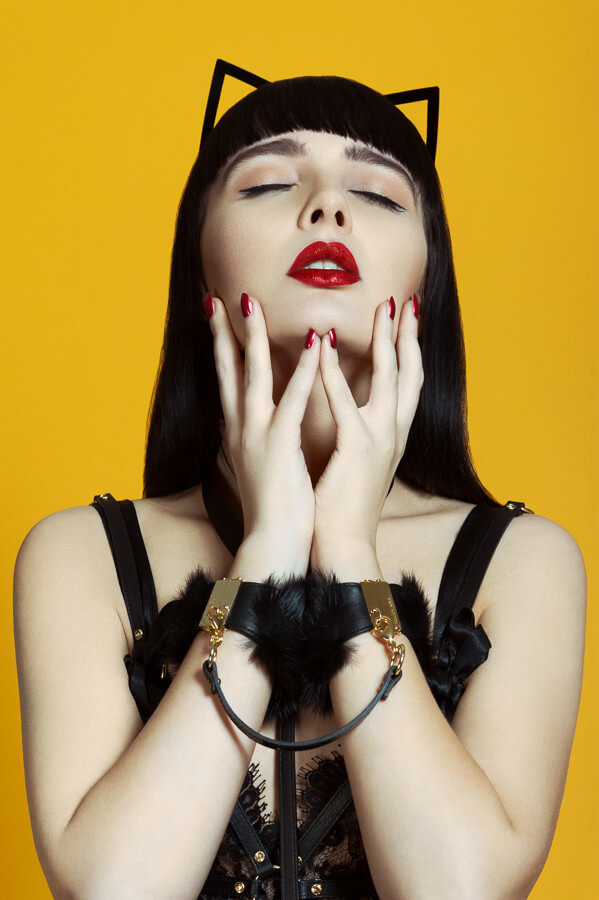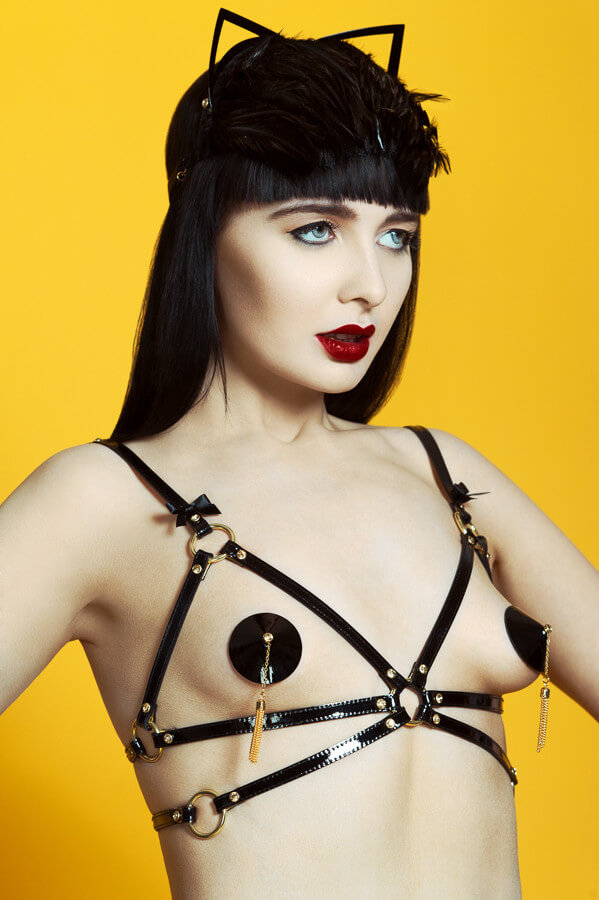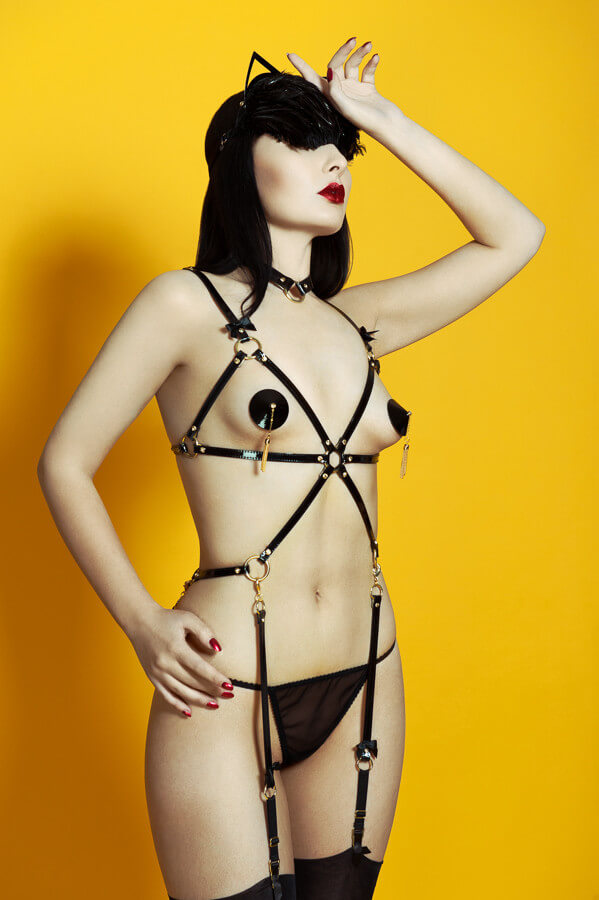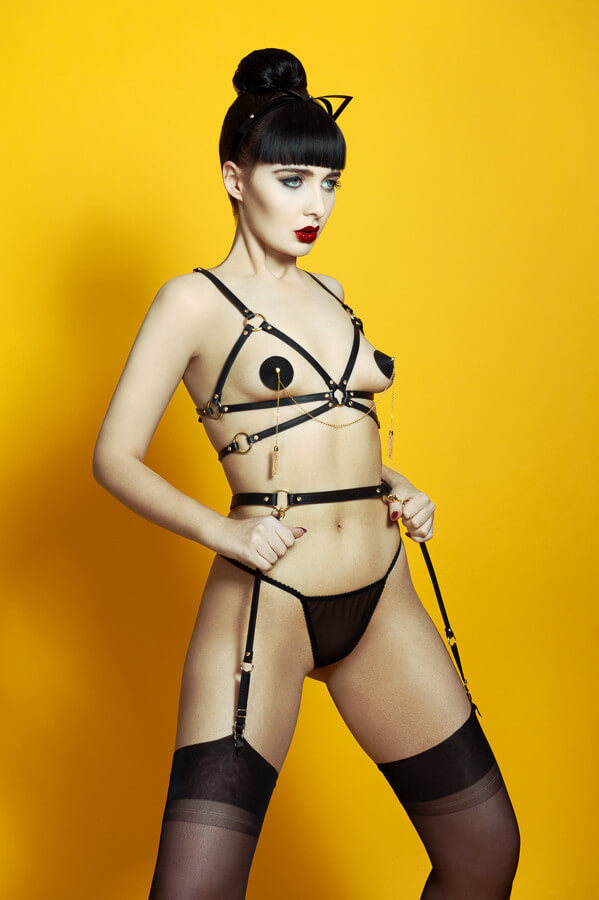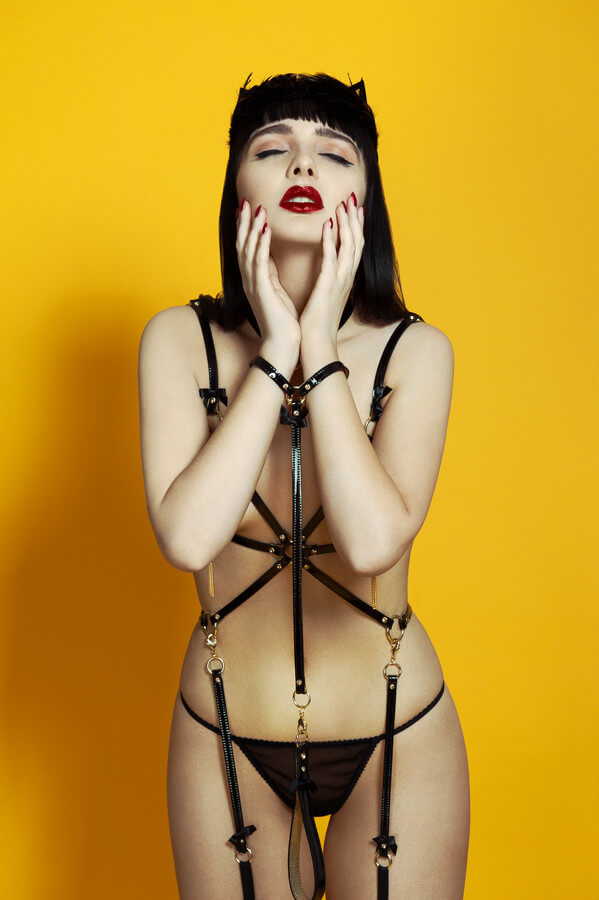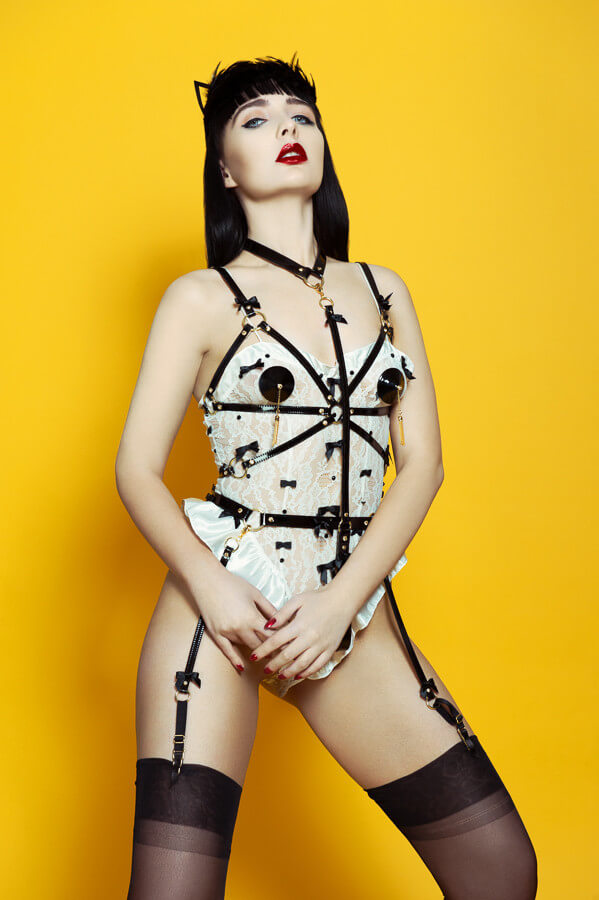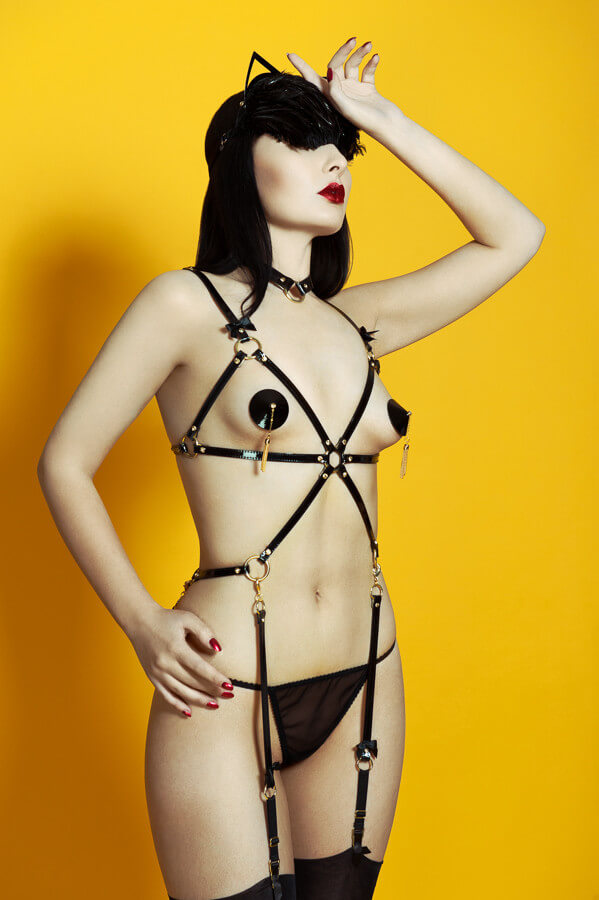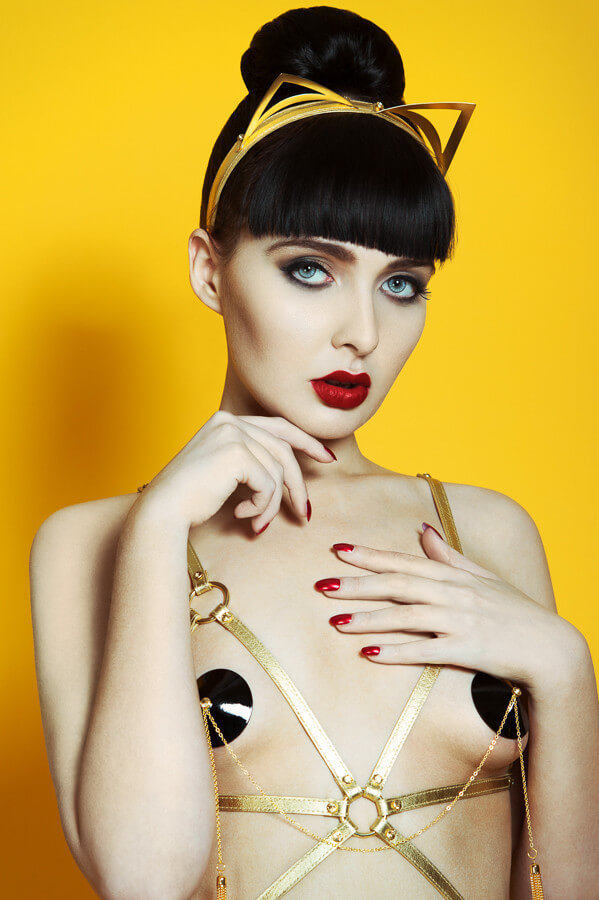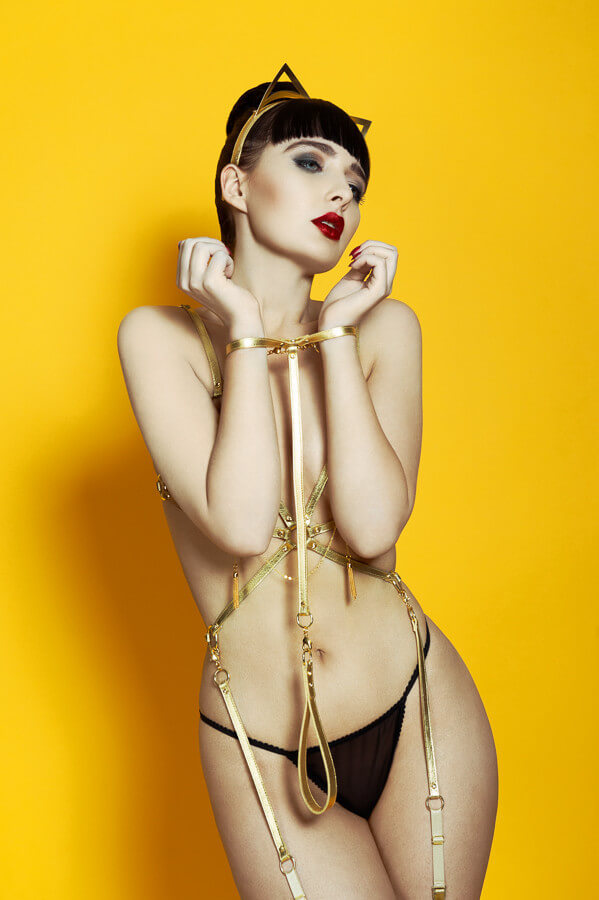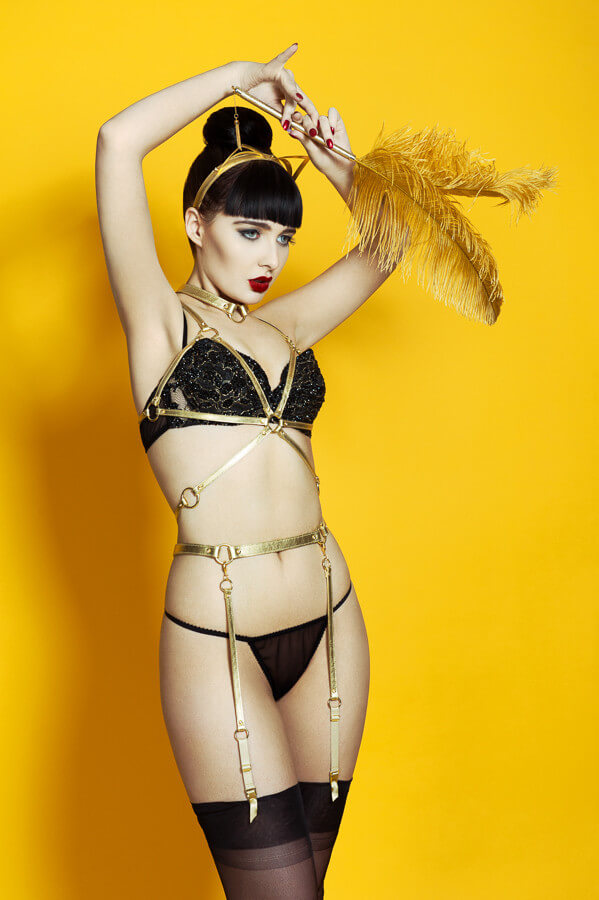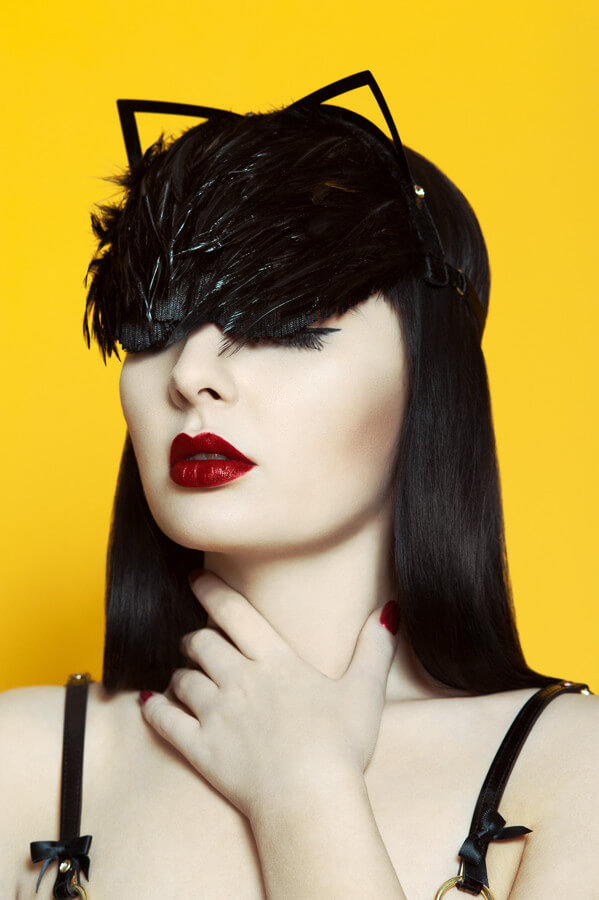 What do you think of the idea of incorporating fashion fetish wear into outerwear? Would you try it? Do you have a favorite look from the line?