Ysé Lingerie: Delightful Spring Bras for Small Busts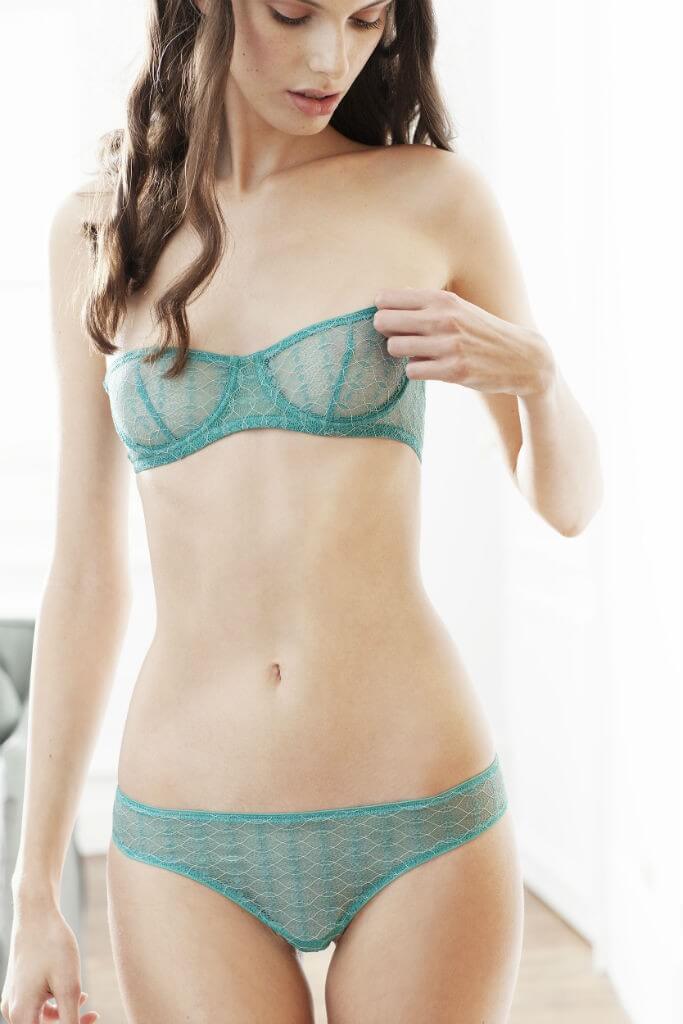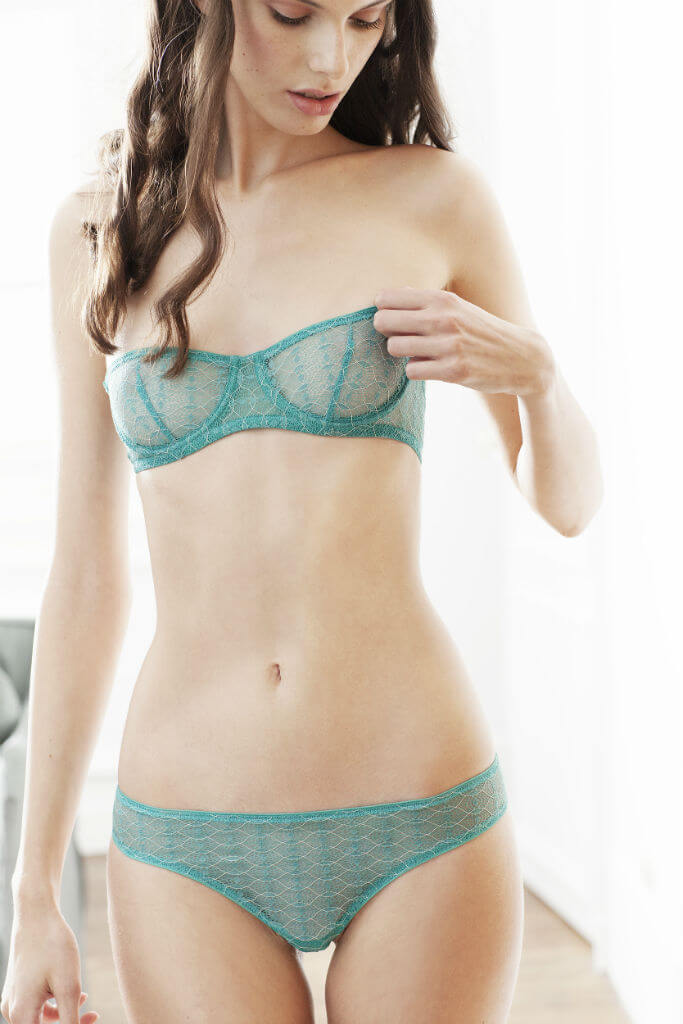 When we introduced Ysé Lingerie nearly a year ago, we talked about how the small bust community is terrifically underserved. While sadly there remain very few brands that design specifically for A cups, I'm happy to report that this beautiful French brand just keeps getting better. Ysé Lingerie's S/S 2015 collection is an absolute breath of fresh air, with breezy prints and cool colorways that are perfect for Spring.
There are a lot of misconceptions about bras and bra fit for women with smaller breasts. Yes, many women with small busts do want to wear a bra. Yes, it can be hard to find one that fits well. And most importantly, no, not all women with small breasts want to be padded into a larger cup size. What makes Ysé so exceptional is their commitment to celebrating a woman's natural shape. And it does so utilizing innovative fit architecture that provides lift and a subtle boost without adding volume.
There are six looks in the Spring/Summer collection, many utilizing the same bra silhouette crafted in different fabrics. The A l'horizon is crafted in a delightfully unexpected mint green lace (I just love green lingerie and it's so hard to find!). The underwire bandeau style features removable straps and gets its shape from a center dart. This unlined style lets the body show through and the dart and elastic edging creates a graphic linear effect which makes it both romantic and modern. A l'horizon also includes an underwire style that utilizes darts to create a gentle push-up without padding. The last style features a two-part molded cup with a lace overlay.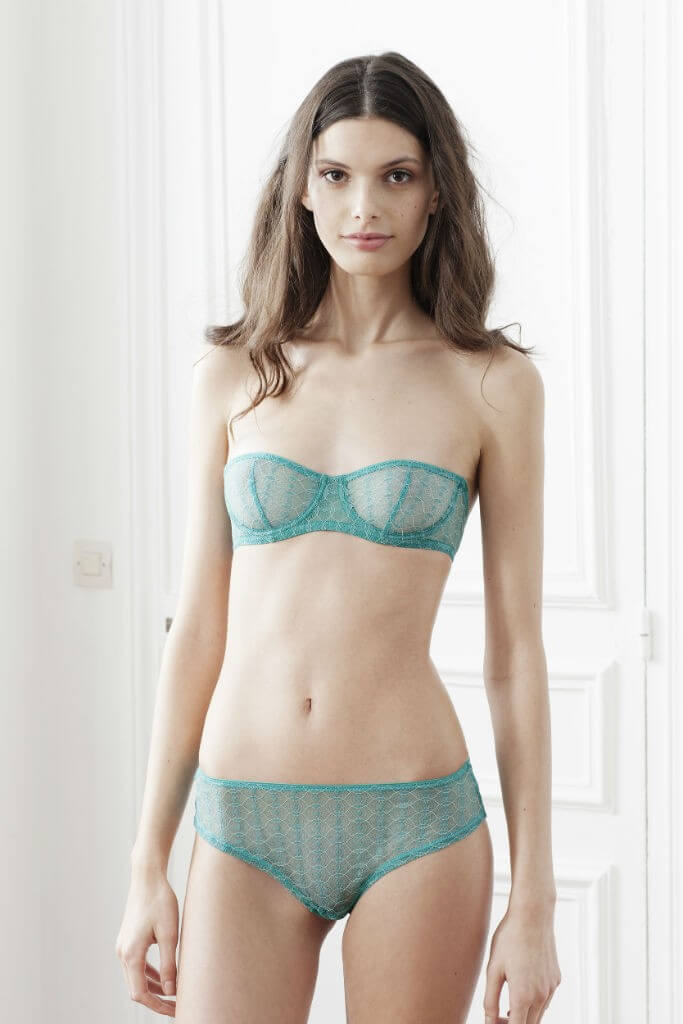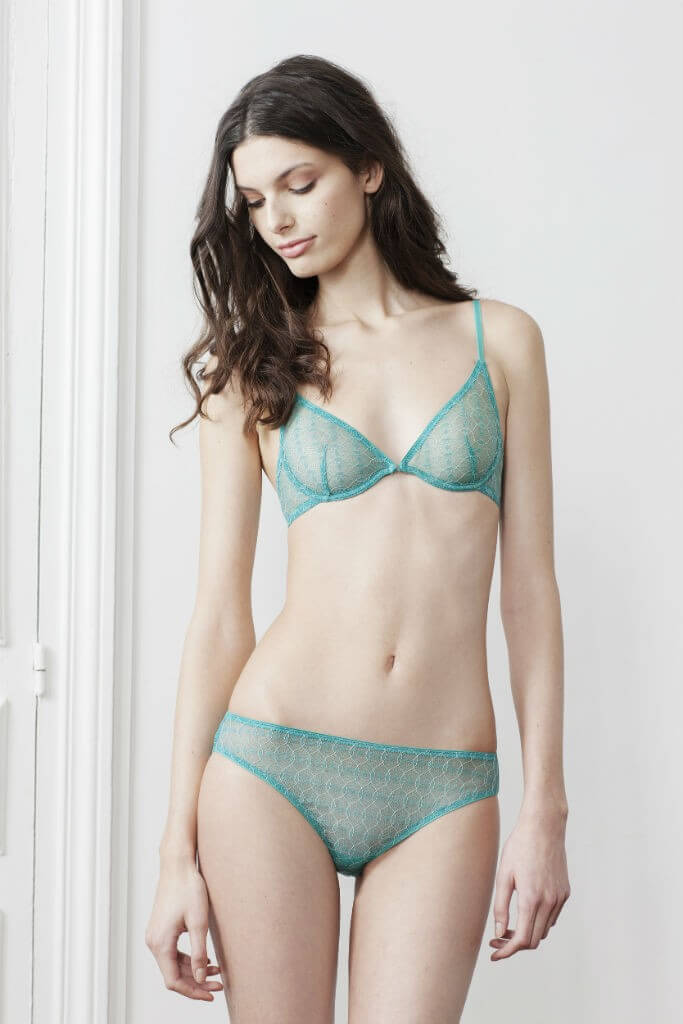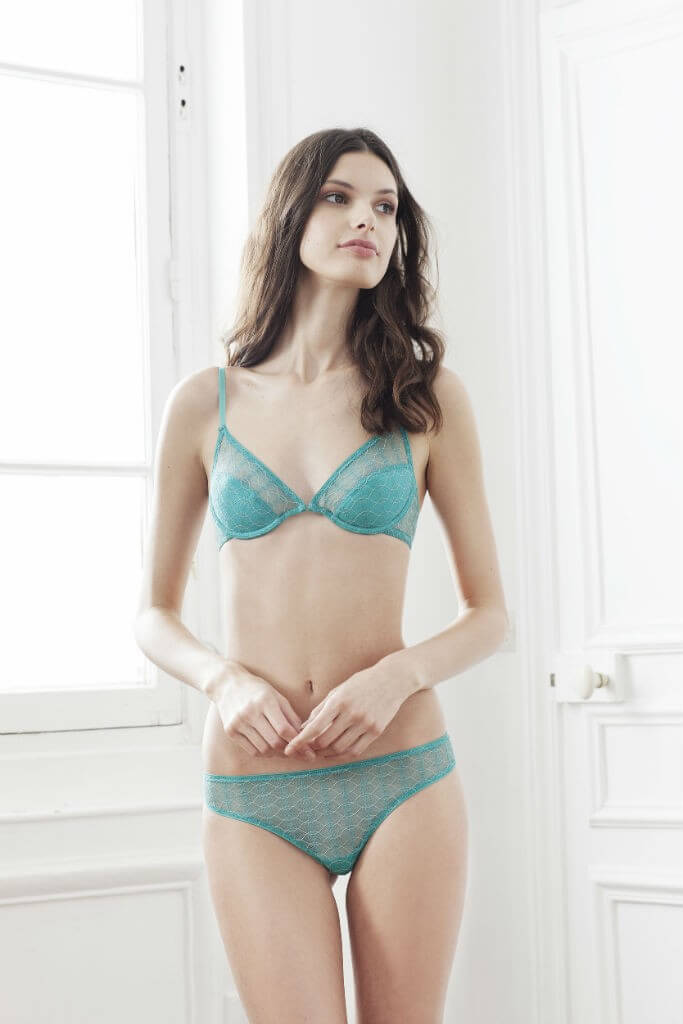 Parfum Exotique is a soft and sophisticated tropical print. Half cups in a thin foam are cut in a gentle curve that direct the eye downward to the keyhole front. The upper cups are crafted in the palest of yellow tulle. The balconette style is similar in shape to the above bandeau with wide set straps creating an open neckline. The coordinating briefs have a sleek inset of tulle along the waistband for visual interest.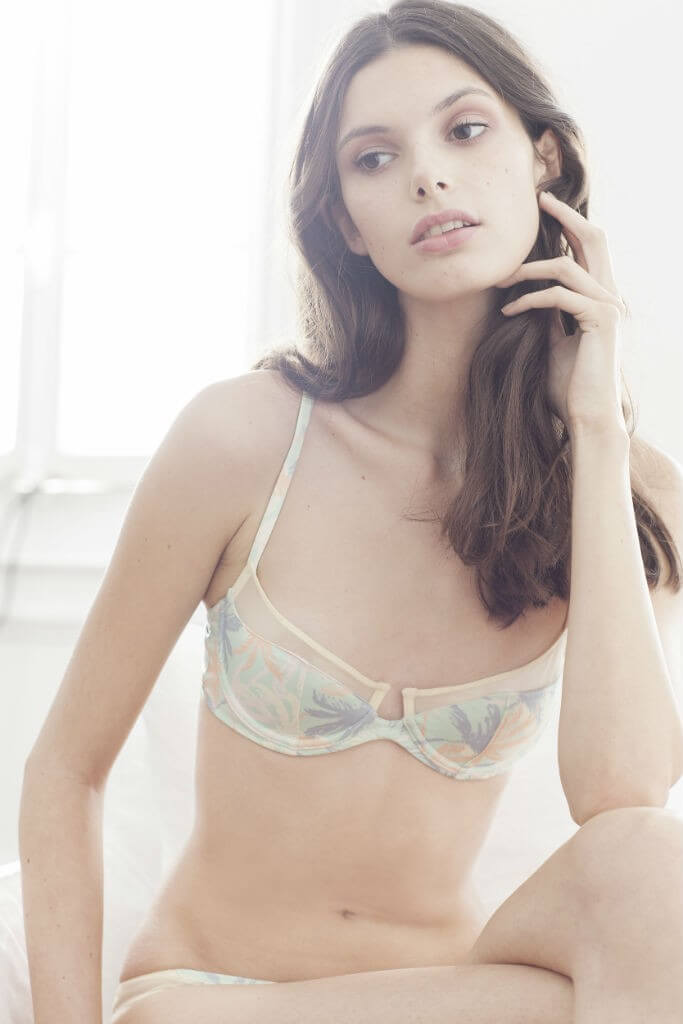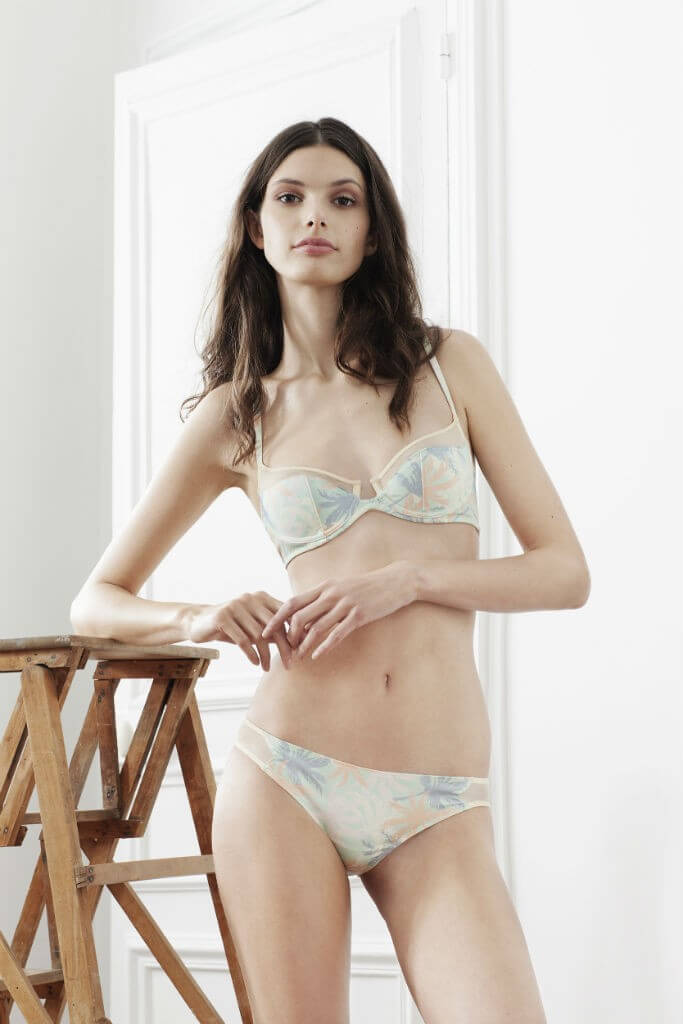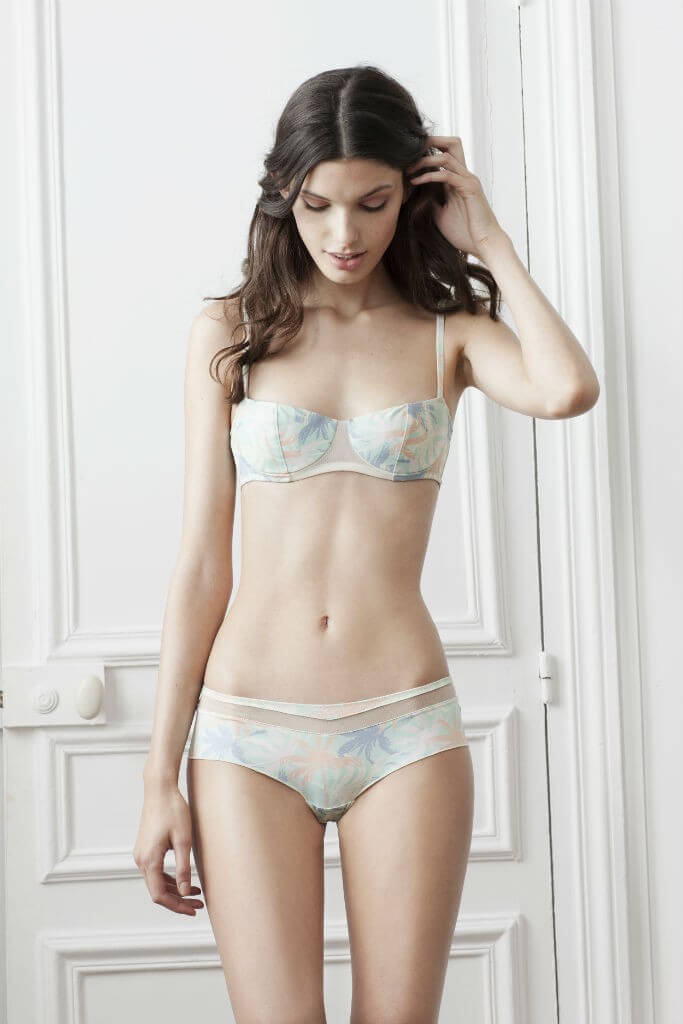 La Vedette is the most romantic of the offerings, with richly detailed embroidery. There's a lovely play of transparency and texture with these pieces. The way the scalloped edge frames both the bras and the panties is so pretty! These, as with all Ysé bras, are expertly designed to hug the body (gapping is a common problem with small bust bra fit). Isn't the starburst pattern of the embroidery at the nipple point a sassy touch?! La Vedette is available in a beautiful blush or a sunny yellow that just screams Summer.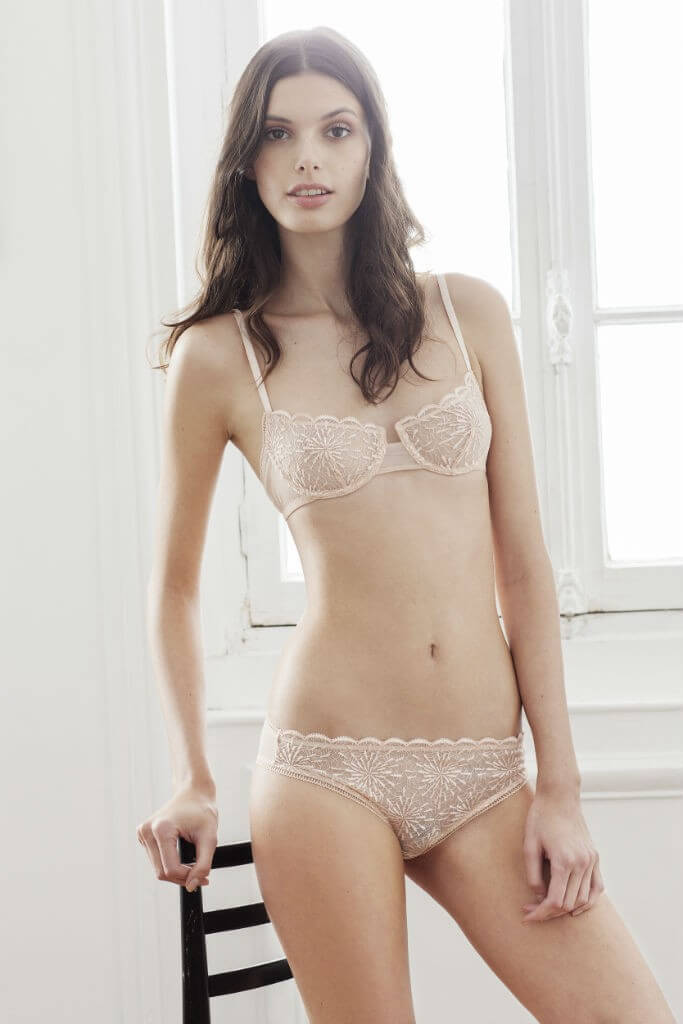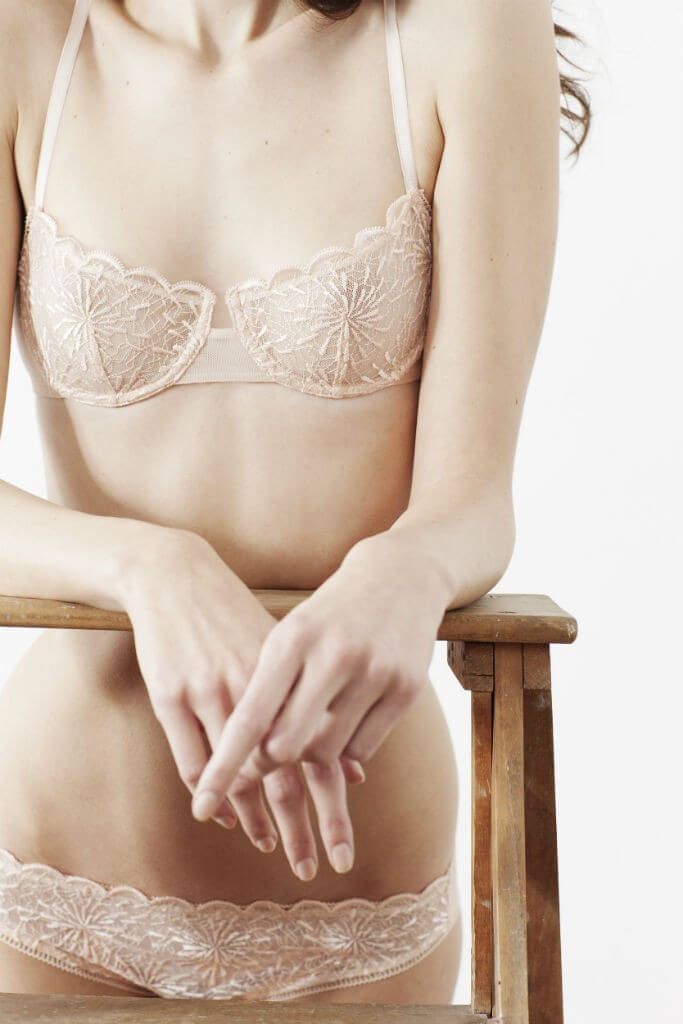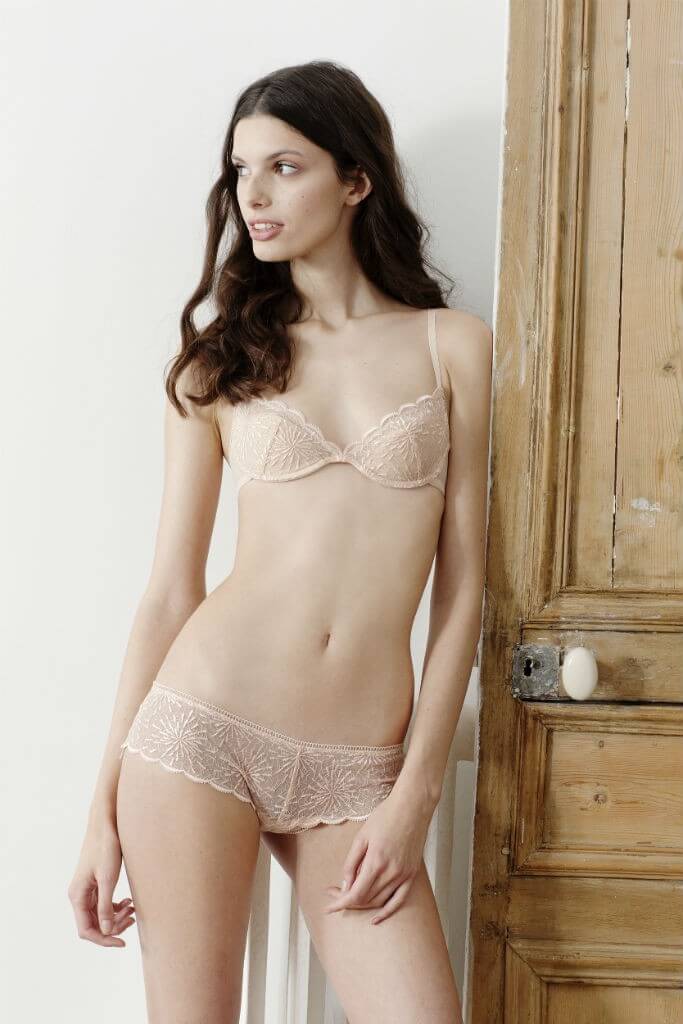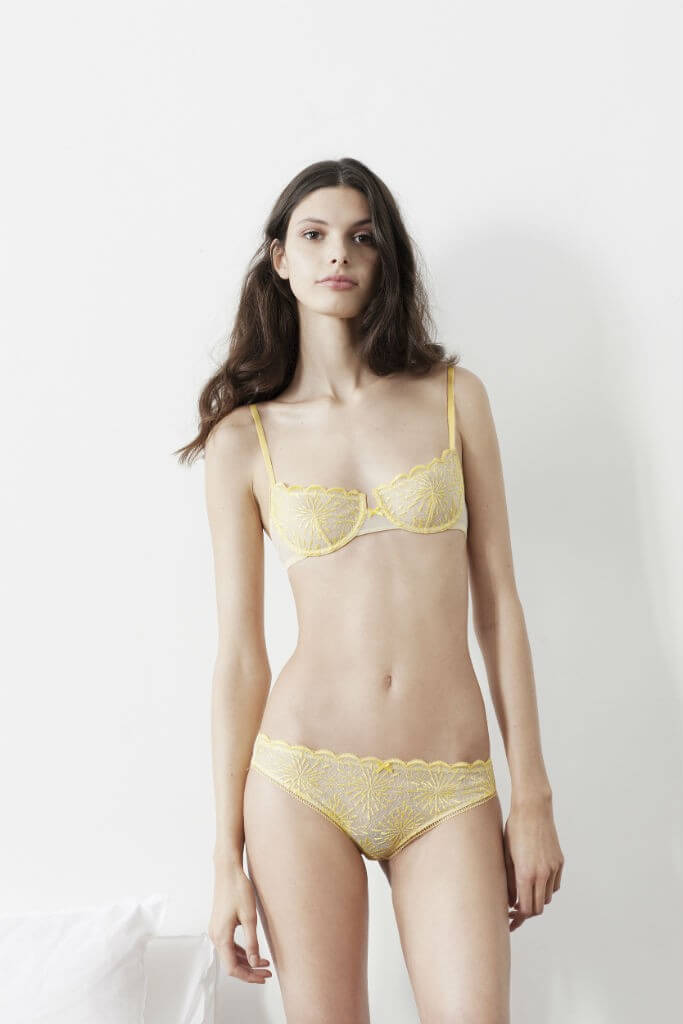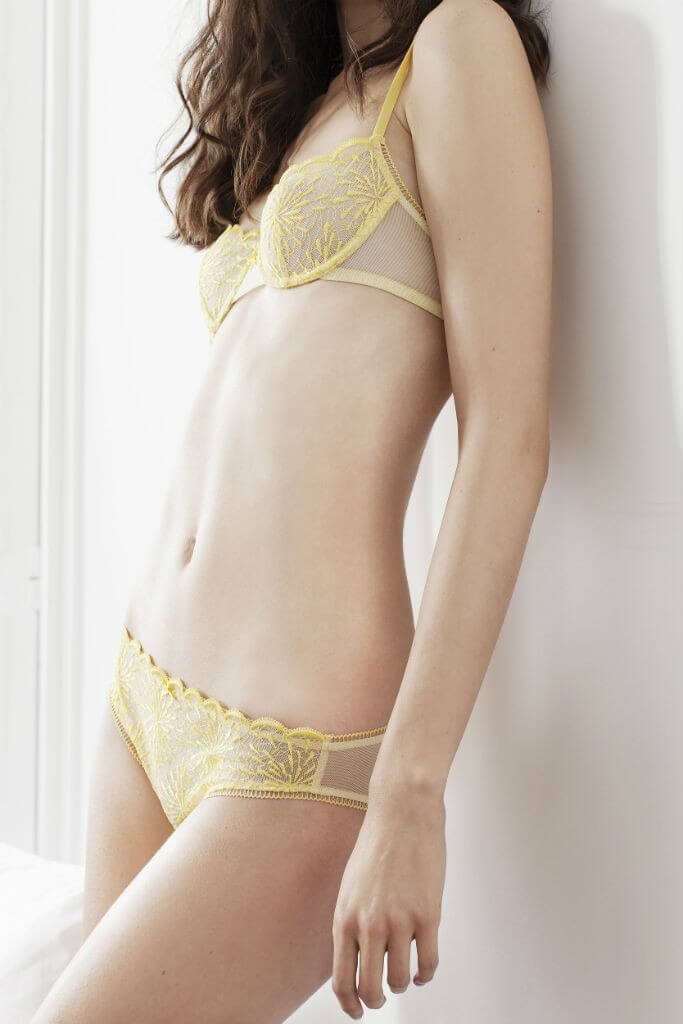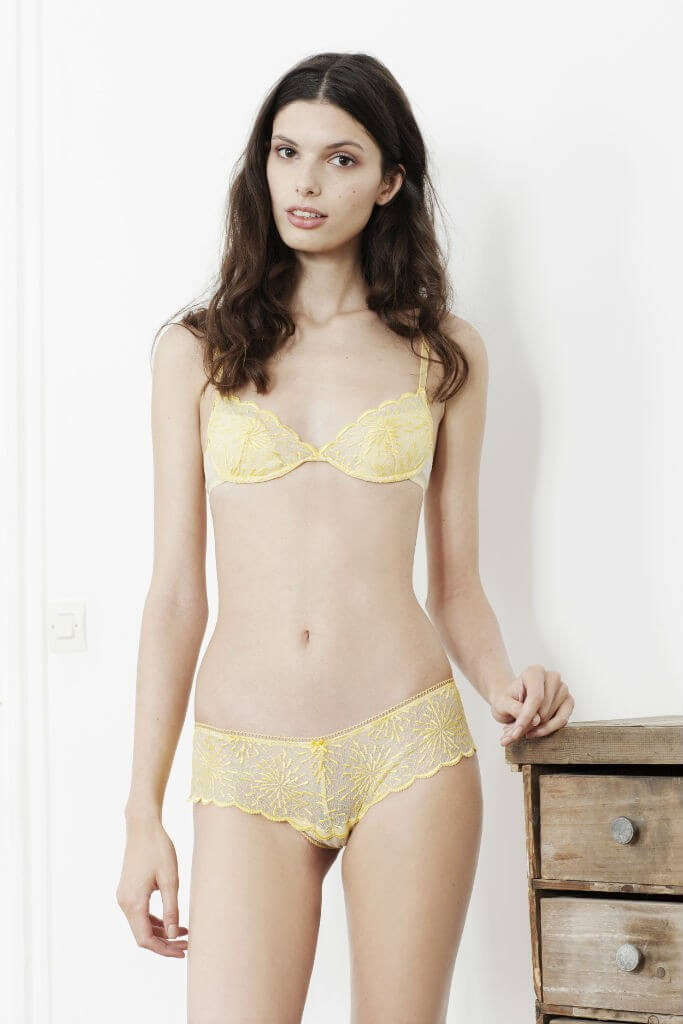 Ivresse Rose is perfect for fans of pink. It's such a juicy pop of color without being overly sweet. There is a slightly padded push up with tailored rows of pleating along the cup edge. The non-padded style utilizes the play of sheer tulle and a no-frills trim for a look that is sleek and sophisticated, even in such a whimsical colorway.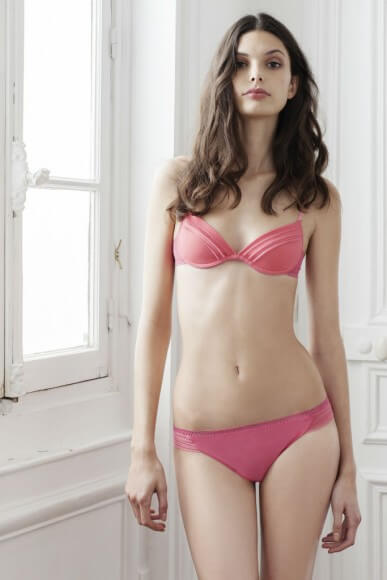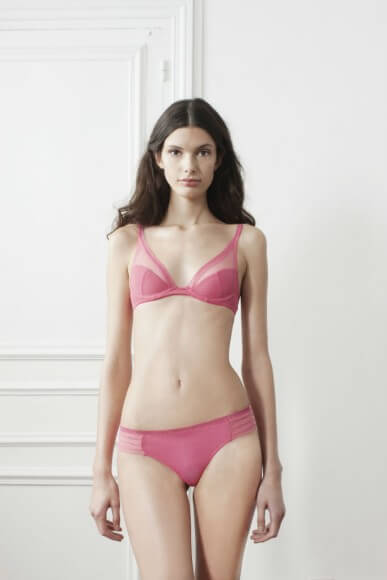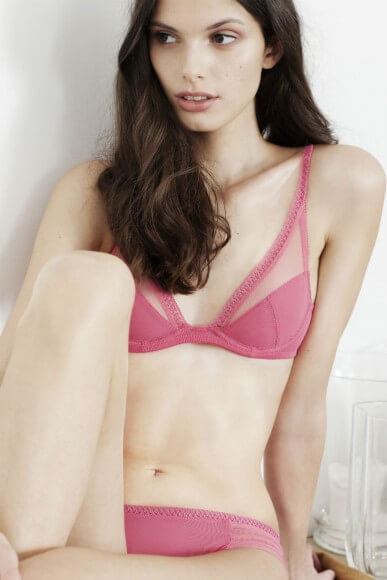 The Affinités Secretes is all about creamy Calais lace and pale microfiber. The two-part triangle cup offers minimal support for women who prefer a wireless style. The center gore features a cutaway detail in orange that mimics a minimalistic bow and matches the slim straps. The back of the coordinating briefs sets off the lace to great effect. I love the little orange insets on the knickers that form chic little arrows. In fact, you'll note that all of Ysé Lingerie's pieces have thoughtful and subtle design details like this. Because small bust lingerie shouldn't be boring!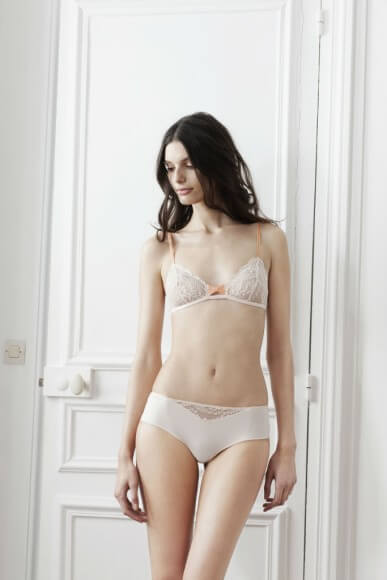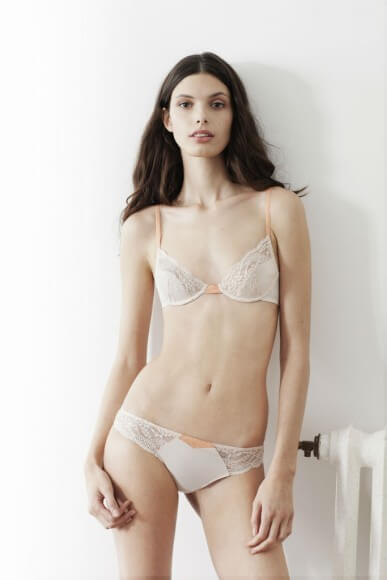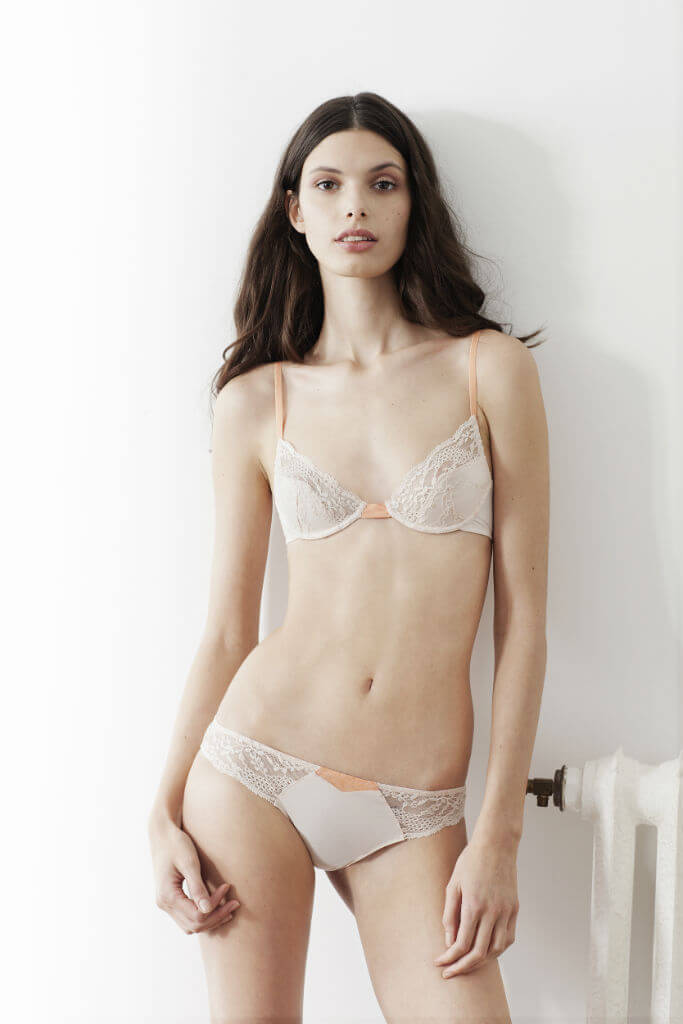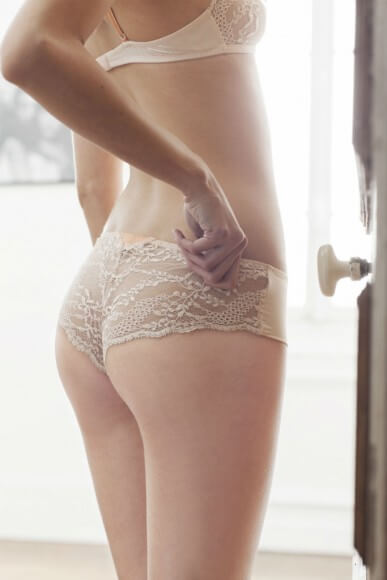 Lastly, the Caresse des Yeux is the most minimalist of the looks. A gorgeous and comfy option for women who either don't want frills or want a smooth look under clothing. The triangle bralette features a two part lower cup in taupe microfiber and a striped upper cup in cream. The cups cross in the front and are stitched down, forming a deep V-neck. This would be a fantastic option for women who like a more androgynous look.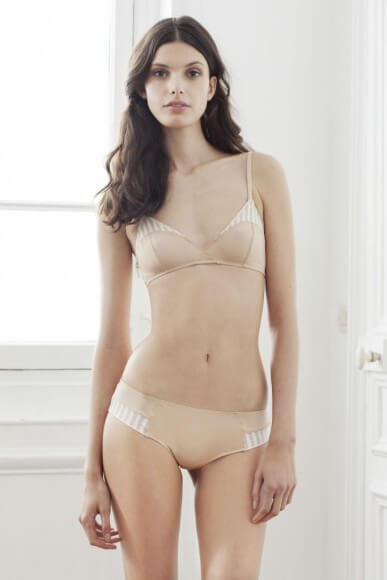 Ysé Lingerie now has an English e-commerce site (yay!), making it a bit easier to navigate without the language barrier (though their sizing guide is directed to the French site which can be problematic). Sadly, this seems to be the only place you can purchase these beautiful small bust bras. Here's hoping that some brick and mortar stores catch on and discover this hidden gem.
Bras are available in band sizes 30-36 with cup sizes A-B. Bra prices start at 52 Euros (roughly $58).
What do you think of Ysé Lingerie? Do you prefer small bust bras that aren't padded? Do you have a favorite look from the collection?