How to Shop for Small Bust Bra Brands - Part 1
Jessica Stoya is a semi-retired adult performer and writer. Bylines include the New York Times, VICE, The Guardian, and Stoya is half of Slate's How To Do It sex advice column.
I'm a difficult fit when it comes to structured lingerie. I've got a wide rib cage, with muscle over top, and wide set breasts with wide bases but shallow projection. I'm a 36A, or even 36AA. Looking around, I'm not the only person with these proportions and a taste for the fancy stuff.
Unfortunately, most mid-tier luxury brands may have a 34A in some styles but are unlikely to have a 36A - much less any AA cups - available in any design. Companies that cater specifically to people with small busts, with the notable exception of LulaLu, tend to have smaller band sizes along with their smaller cups. Either the band size and width of the wire fit while the cups pucker or bag...or the cups would fit but the wire is cutting off the outside quarter of each mound of delicate tissue even with a good scoop, and the band digs.
It's a weird little gap. In the market, and in my cups.
In my daily life, I don't often have cause to wear any bra, much less something more complex. I don't bounce enough during regular activity to cause discomfort. I rarely experience breast tenderness, and I'm usually working from home or in an otherwise casual setting.
If I'm going somewhere where noticeable nipples through a shirt might be an issue or wearing something with a particularly loose neck, I have a couple of ultra comfortable options - unwired, plain fabric or simple lace, with stretch in the cups and body. Not all bralettes and triangle bras are flat enough in the cup, but many are, and the stretchy ones are more likely to be.
A big part of my job is in front of the camera for sexually explicit media. Comfy bralettes are great for a casual look, and more lingerie companies are making more luxurious looking versions, too. Robes or other loose-fitting lingerie are appropriate and aesthetically pleasing. But, there's also a giant world of glamorous structured bras that are creative, gorgeous, and overtly sexy. Stunning articles of delicate architecture that I want to wear. Years and years into the Size Inclusive Era, I still find myself frustrated by the cup size range of that world.
I've got a decently sized list of companies that run small enough, with loose enough bands, that my sister size of 34B is close enough for a photoshoot on the widest hook, and another list of companies that make 36As. I've learned that custom measurements are frequently an unlisted option. And I've learned how to shop - and stitch - around the gap.
Bra Fit and Shopping Tips for Small Busts
I measure myself in centimeters - being smaller than inches they're more precise - check the brand's size chart, and if I'm not sure I reach out to the designer or seller to ask for their insight. This is something bra wearers of any dimensions can do to increase their success rate with online ordering.
Another broadly applicable tip is to look for images of models with a similar body type. If the brand doesn't have product shots of anyone who looks like me, that tells me something. Not that they're necessarily against people with bodies like mine, but certainly that they don't design with my shape in mind.
Flat bandeaus, like La Perla's Graphique Couture Bandeau Bra (pictured above) or Agent Provocateur's Gangster (pictured below), are kind to small busts and, with firm material like the two mentioned above, may have a push-up effect. To put it bluntly, flat is my under-fashion friend.
Fleur du Mal has a Charlotte Lace Bandeau with a similar effect at a somewhat lower price point. Quarter cups are another great style - be prepared for more coverage than what you see on a fuller-chested model while understanding that the cups still may not restrain your nipples. Go for the correct wire size with a larger cup than usual. Cutout bralettes avoid the underwire question entirely, as do wrap bras. Though, like with triangle bras, you'll want to check the dart depth.
A Quick Bra Alteration Hack for Small Busts
At-home alterations have been a running theme throughout my career. I have considered, and rejected, the idea of a small breast enhancement. Instead of changing my body to fit the bras, I look for bras that can be changed to fit me.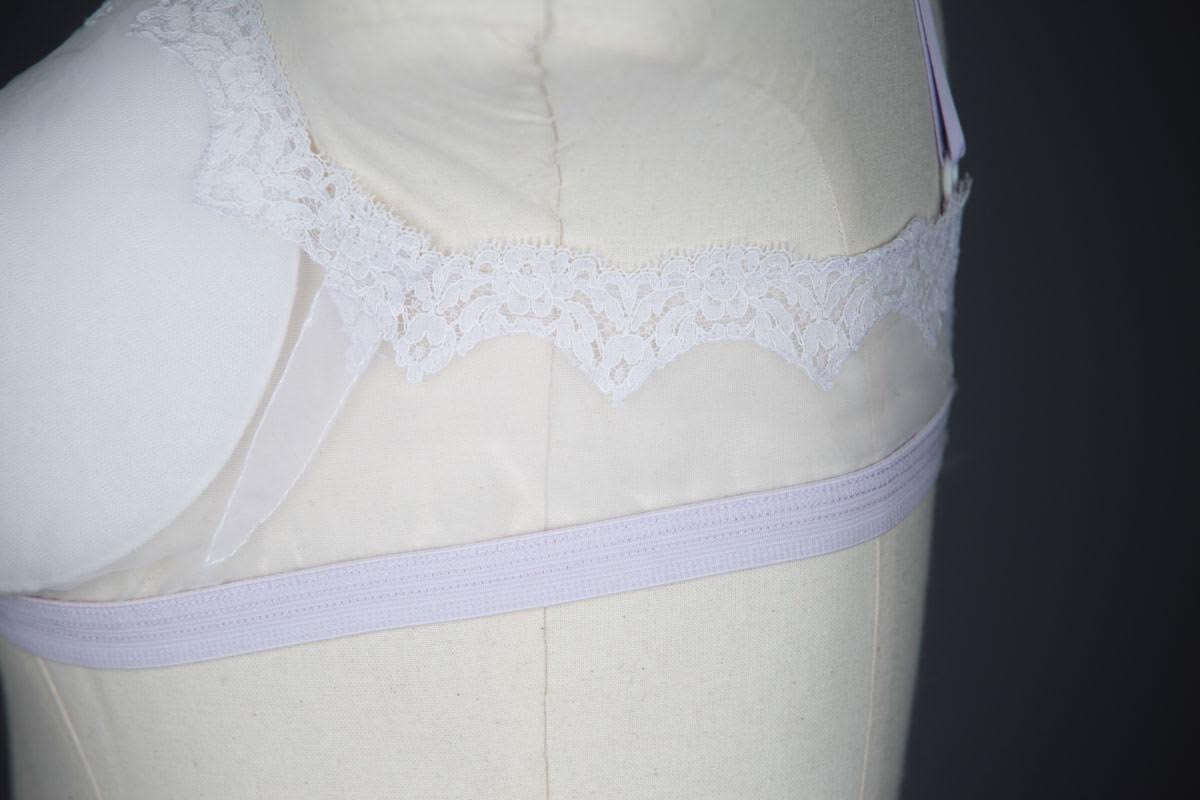 Unpadded bras made of lightweight material like silk or Chantilly lace - something like Alencon or brocade will be too thick - can often be taken in about half a cup size by gently gathering the material in to the existing dart with whip stitches, though the edge of the cup near the wire will look a little, well, gathered.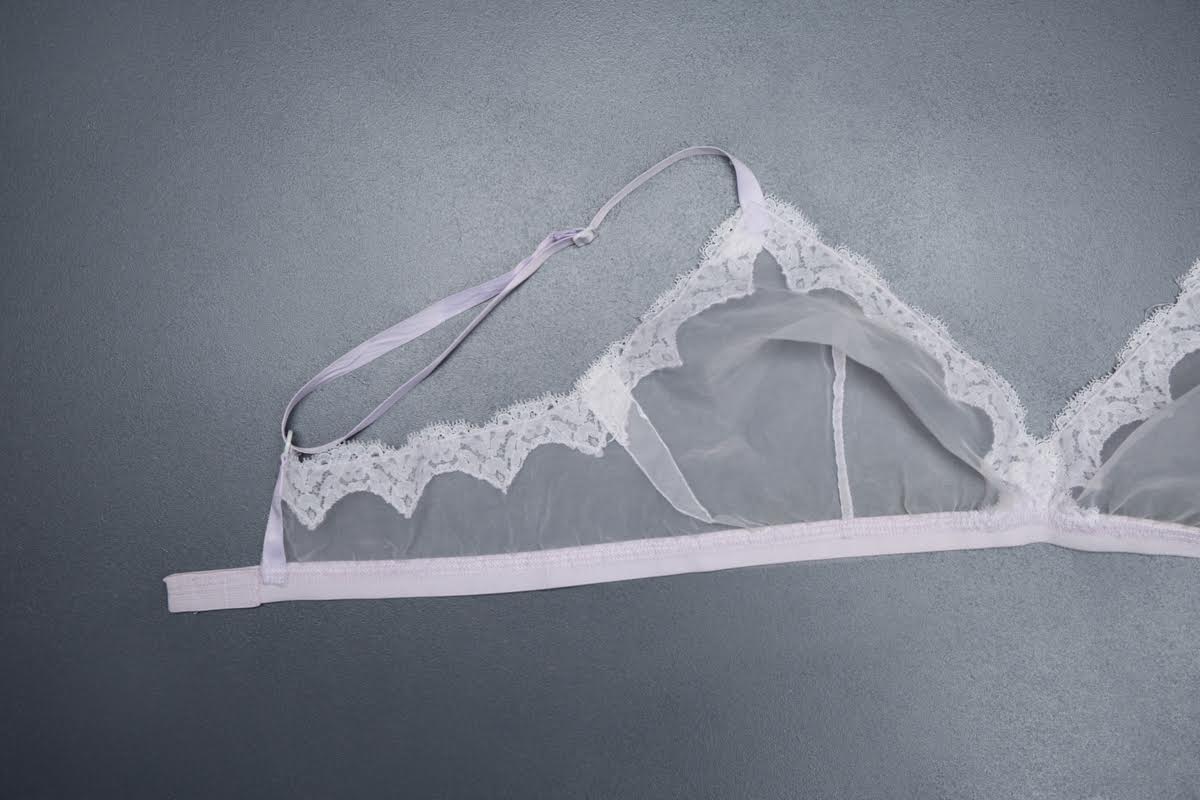 If the bra is opaque, fabric cup pads can be affixed with double sided tape or a couple of stitches. And, if you've got the skills or can hire someone who does, more significant alterations are possible. Another example, courtesy of the Underpinnings Museum and photographed by Tigz Rice, is this 1970s Dior bra with darts under the arm (shown above). So much is possible with a talented tailor.
In a second article I'll share a run-down of brands and specific styles that work well on my body, and a discussion of ordering custom lingerie with a small bust.