Introducing Ludique: Erotic Lingerie From Romania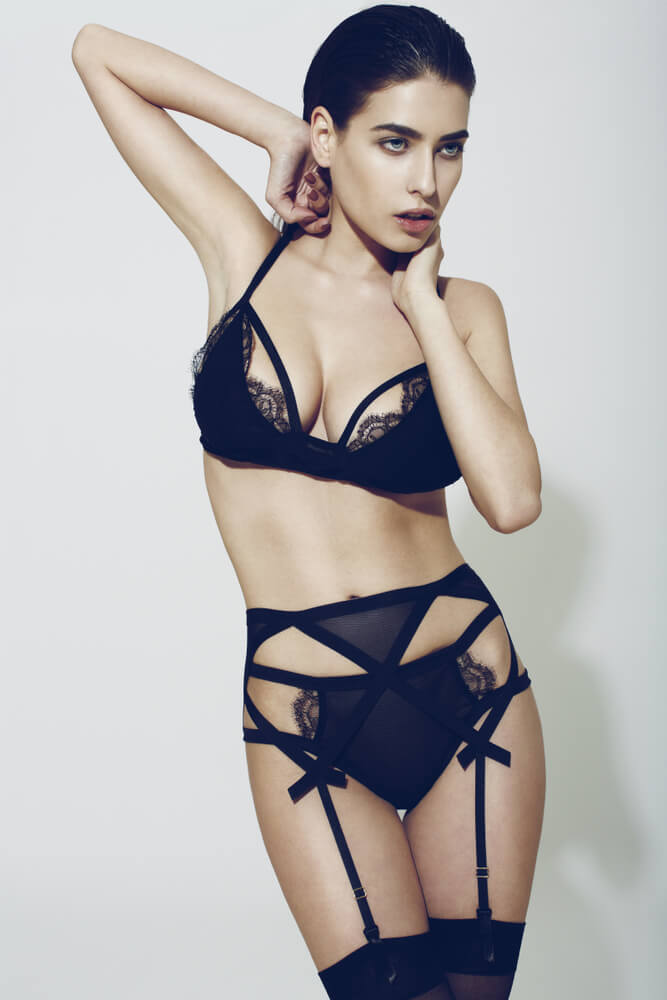 In a sea of strappy, bondage-inspired lingerie, Romanian brand Ludique is doing some really interesting things. We got a peek at Ludique last month when our columnist, Karolina, reviewed their 'Wicked' soft bra and high-waist knicker set. Those dramatic panties, with their elastic lacing that binds across the hips, gave us a taste of just how erotic Ludique can be.
The brand has evolved to include an entire range of bras, panties, and suspenders that utilize stretch satin elastic to frame and bind breasts, hips, and wrists. The compelling criss-crossing of linear elements on skin make the body part of the designs themselves. In the case of the 'Lustful' bra above, the color white has never looked so hot. Wisps of strategically placed Chantilly lace provide delicate contrast with fine elastic cording that laces between the breasts giving a sense of either tightening or unraveling.
This lacing up against the body is used to great effect in the coordinating suspender belt and thong panty. Using both fine and more substantial elastics in these designs creates an intriguing texture that elevates the tired strappy aesthetic. That thong panty is pretty fabulous, especially when paired with the garter belt and those fantastic latex thigh-highs. I'm really liking the contrast of the black fetish-like stockings with the white set.
While Ludique's edgier styles are certainly memorable, I find myself most intrigued by the softer styles shown below that utilize neon laces. The 'Rubra' bra is a compelling mix of layered mesh, lace, and elastics that celebrates graphic, geometric shapes. The diamond of lace mirrors the points created by the elastic, and points south to mirror the shapes shown in the garter belt and panty. The back of the bra is a strappy racerback style that utilizes the lace in a medallion between the shoulder blades. This set is just as sensual as the more daring styles, perhaps more so as it isn't trying as hard.
None of these styles is meant to provide very much support, and are sized S-L with a large fitting C-D cups. While this makes them more boudoir wear for larger cup sizes, they are ideally suited for smaller busts who can get away with boldly flaunting them out of the bedroom (lucky girls!).
What do you think of Ludique Lingerie? Would you try one of these daring styles? Which is your favorite?