Toru and Naoko: SS15 Wild Young Hearts
Some images in this post are NSWF.
Toru and Noako is a new Chilean brand that launched earlier this year. Since then we've been smitten with their strappy bralettes and wrap around bras that are reminiscent of the famous Kestos bralette of the 1930s.
There is definitely a vintage vibe in this small, handmade label, though the silhouettes have been modernized to feel entirely new and fresh. Toru and Noako's Spring/Summer collection is titled 'Wild Young Hearts' and the pieces reflect the carefree attitude and uninhibited spirit of being on a romantic vacation.
Simple silhouettes wrap around the body with ease, with comfortable stretch fabrics made special with unexpected details like little stars, bows, and hearts.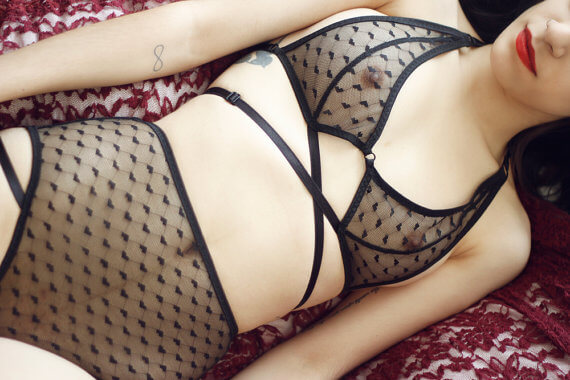 While the line is certainly feminine, it doesn't try too hard. In fact, with strapping details and cutouts these pieces are quite architectural, making them a good choice for the tomboy crowd that wants something beautiful without being too fussy.
Their white Kumiko set is one of the featured items on our Holiday Lingerie Shopping Guide, with its pretty lace mesh, adjustable harness straps, and open back details. This is lingerie that is both dainty and edgy, a rare combination with tons of personality.
Bralettes receive their shaping with darts or seaming, with wrapped styles providing extra lift. The Julia soft bra has clever seaming detail along the halter cups that continues linearly to the plush elastic strapping that crosses in the front of the body. The natural silhouette and center ring of this style has a bit of a 70s feel, don't you think?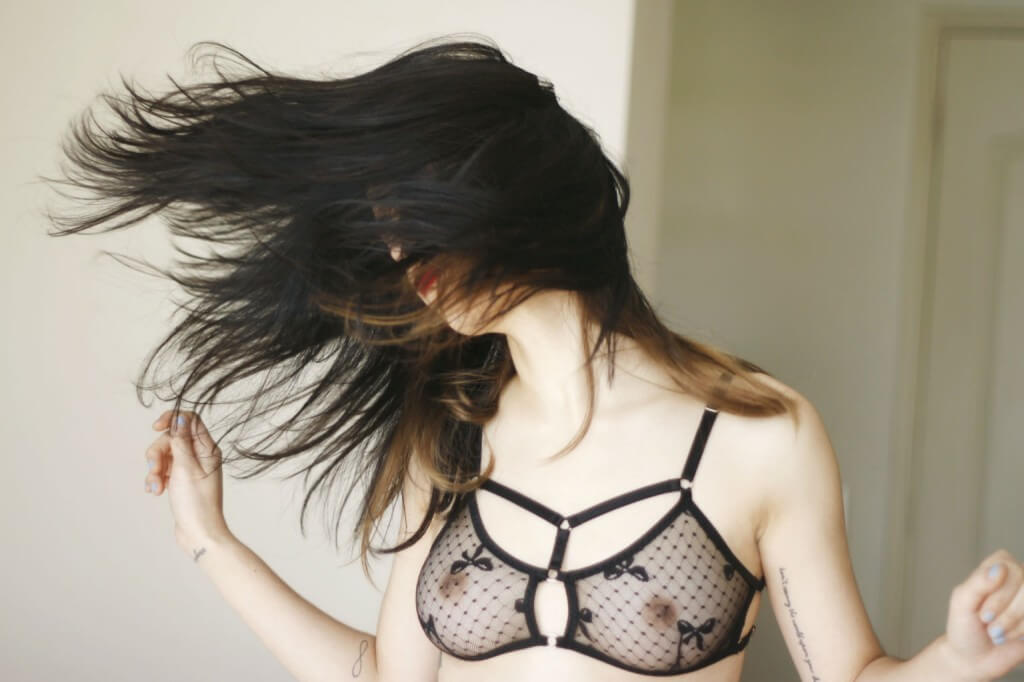 The stretch fabrics of this collection are really lovely, especially the botanical devoré which is a floral burnout fabric that makes it look as if flowers are sitting on top of the skin. The lace mesh pieces with bows and little dots have sweet 1950s charm, especially when crafted in a high-waist brief. Such a cute, flirty look to pair with skirts.
As is often the case with debut collections of small, independent brands, there were a few quality control issues that were noted in our review of the Kelly set. Here is hoping that as the brand continues to grow and refine its operations that these issues will continue to resolve themselves because Toru and Naoko has a unique point of view that is really fresh and exciting.
All pieces are handmade in a small studio in Chile, so allow about two weeks for your item to be created just for you. The collection is sized XS-XXL, though made to measure services are available for a small additional fee. Orders are accepted through Toru and Naoko's website or Etsy store.
What do you think of Toru and Naoko's SS15 collection? Are you a fan of strappy, unstructured styles? Which is your favorite look?
Save
Save