Introducing Agashi: Theatrical Harness and Cage Lingerie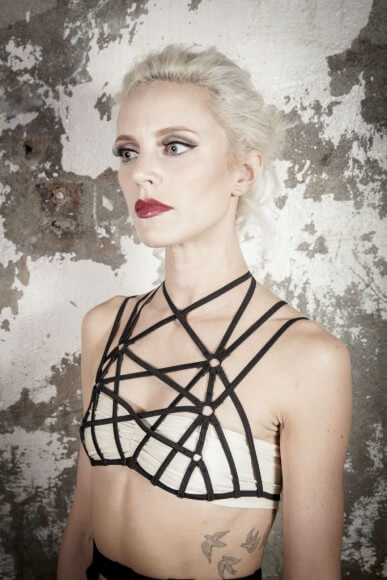 Strappy lingerie seems to show no sign of slowing down. You'll see straps on everything from bralettes to briefs, from small indie labels to department store brands. Even the less daring lingerie addict can easily incorporate a strappy piece of lingerie to add a little drama and excitement to their top drawer. The great thing about an "edgy" trend becoming more mainstream is that it opens the door for more experimental labels to push the boundary of cutting edge design, redefining what "lingerie" means.
New independent brand Agashi is one of those labels pushing the envelope. This Philadelphia-based label was created in 2013 to dress burlesque and professional dance troupes, and its theatricality shows. This is a collection that will coax our inner performer to the surface. An intriguing mix of masculine and feminine elements, Agashi is designed to encourage confidence with pieces both powerful and polished.
Agashi utilizes elastic strapping and boning to create fantastical silhouettes, from body conscious cages to structured crinolines. Several pieces (like the top above) utilize the pentagram design. The use of this mystical, five-pointed symbol has gained in popularity, with several fashion forward labels incorporating it into their designs (Chromat and Lost in Wonderland are excellent examples). What used to be considered dark and dangerous is now seen as daring and original.
With the play of masculine and feminine aesthetics, there's an interesting juxtaposition happening in Agashi's pieces. Several pieces utilize metal bolt straps (like those on a pet leash, further adding fetish appeal) that juxtapose hardware with delicate elastics. Other pieces use heavy, utilitarian elastic strapping that is offset by girlish bows. Even the design silhouettes have an intriguing play of contrasts. The Maleficent belt both binds at the waist while it unfurls into dramatic pointed petals.
While the collection is certainly a bit hard edged, I believe there's great crossover potential here into a broader audience. The harnesses and cage bras function more like jewelry than garments (again, challenging the boundaries of what is considered "lingerie'). These are pieces that even conservative dressers (like myself) could easily pair with a favorite bra or silk camisole and top with a blazer for a peek of textural interest. And, of course, they are perfect for stepping outside of one's comfort zone in the boudoir where the straps are meant to both bind and adorn the body.
Most pieces are sized XS-XL (fitting busts 31"-42" and hips 33-44"). A few pieces, like the harness bodysuit are fully adjustable and are one size fits all. With simple harness tops and cage bras starting around $45 and more ornate items around $125, the price point makes these an approachable splurge for many interested in trying the strappy trend.
Agashi is running a special promotion that ends today! Enter coupon code "LAUNCH 20" for 20% off orders placed by 11/14/14.