She & Reverie: Luminescette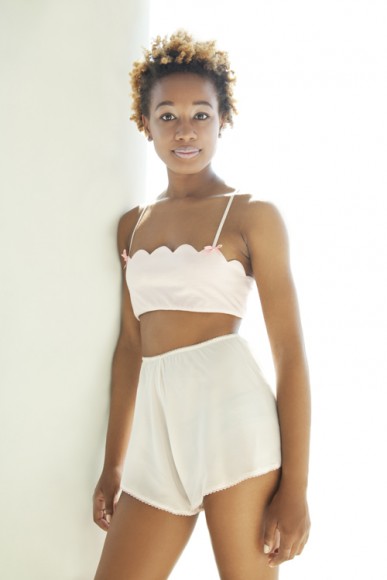 She & Reverie has released a delightful mini-lookbook titled Luminescette, and it is truly luminous. Soft and dreamy, this collection has a sweetness that is endearing because it's not trying so hard. There are no Lolitas or pampered princesses here. Rather, there's an easy innocence and girlish charm that transcends the brand's usual "twee" aesthetic.
We've swooned over She & Reverie's dreamy loungewear collections in the past. The brand has a unique point of view, translating vintage silhouettes into modern pieces that are both whimsical and romantic. This collection is a confection of silks in delicious marshmallow cremes and toffees. Easy pull-on styling makes them perfect for day-dreaming (and night-dreaming, too!).
The little ruched top is inspired by Brigitte Bardot and is very 1960s Cannes. You can just as easily see these worn off the shoulder with little capris pants as you can with the tap panties they're shown with. The tap pants are based off of a 1920s style from designer Quinne Myer's personal collection. The full cut and comfortable elastic waistband take these from lounging in style to wearing under breezy skirts in lieu of a slip (just add thigh-high tights for these Autumn days).
The slip dress is crafted of a silk crepe de chine that is custom printed with Quinne's original watercolor design. Subtle sparkling gemstones in pink are like wearing a tiara in dress form! I love when designers use an original print; it tells such a story and sets these pieces apart as little jewels of artistic inspiration (in this case, literally!). The slip dress features a halter neckline that ties at the neck and ends with sassy little tassels. Such a fun detail.
Other small details from the collection that stand out are a velvet bow and logo charm affixed to the front of the pullover sweater. This is a great opportunity to wear lingerie as outerwear in a relaxed way. The lacy knit is bound in satin at the neckline and can be layered over silk camisoles, chemises, or pretty longline bras.
Each She & Reverie piece is handcrafted in NYC. If you care where your intimates are made, make sure to check out our comprehensive list of brands that are ethically-producing lingerie and loungewear (you'll see She & Reverie on it).
As a side note, I wanted to mention how much I love the model used in this photoshoot by Katrina Eugenia. It's easy for super-sweet brands like this to tend to favor waif-like models. She & Reverie has decided not to go down this path and rather aim for more inclusive models. While their model, Kai, is not a signed model, her freshness makes her the perfect ingenue for the brand (not to mention the gorgeous canvas for that rich bittersweet cocoa-colored silk!).
What do you think of She & Reverie's newest photoshoot? Would you try any of these styles? Which is your favorite?