Review: Salua Lingerie Monarch Butterfly Romper
Disclosure: I received this item free of charge for review purposes. All opinions are my own.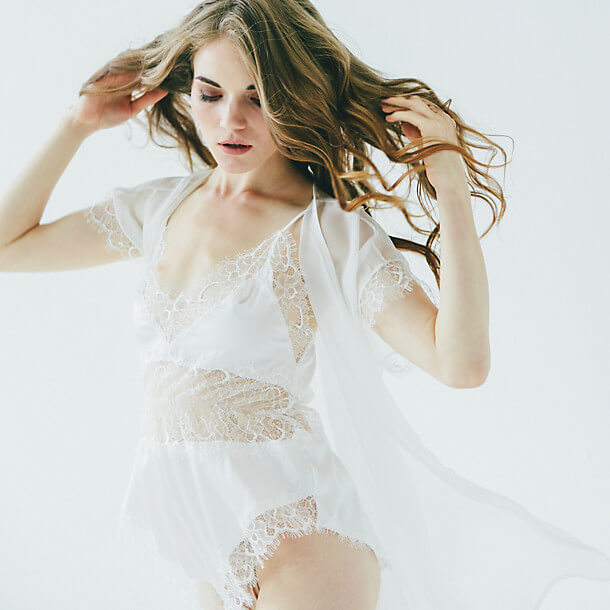 I've never had the best experiences with one-piece lingerie styles --- my body shape is a little unusual by most Fashion standards, so finding one that fits has always been a bit of a challenge. Nevertheless, my love of beautiful lace cannot be denied --- so when Salua Lingerie offered this gorgeous 'Monarch Butterfly' romper from their SS14 collection for review, I was smitten. I love the mix of opaque silk with the delicate appliquéd eyelash lace trim --- the placement is unusual and frames the body beautifully.
Salua Lingerie isn't a brand I'm particularly well acquainted with, as their designs don't seem to have made it over to Europe and I've only ever seen a handful of photos online. Originally founded in 1993 in Colombia, their designer has since moved to Seattle, though production remains in South America. Their style is very classically feminine and romantic, with its all white-colourway carrying a very Bridal feel. I was sent the Monarch Butterfly romper in a size medium (I normally wear a UK10/12). It is available in sizes XS-XL and retails for $174, made of stretch silk satin and soft eyelash lace.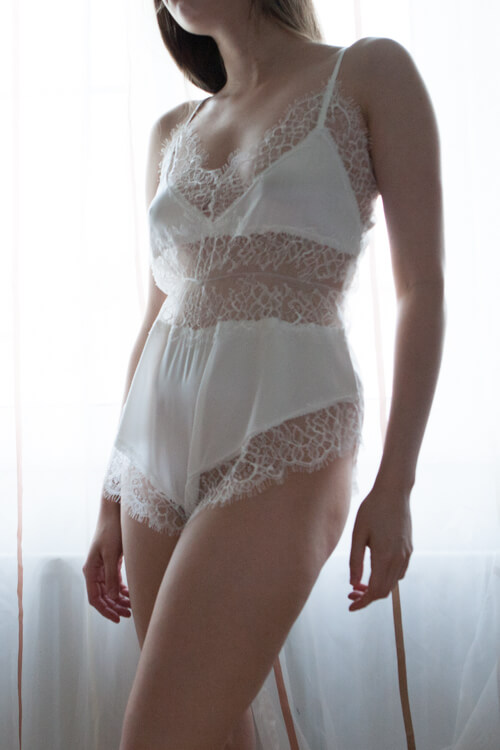 Photo by Karolina Laskowska
 The romper is made of panelled stretch silk satin with appliquéd eyelash lace. It has a very soft fit, with an unstructured bust and loose French knicker-style fit on the bottom half. Legs are cut very high. There's elastication at the waist and the centre back, to help cinch in the garment and give a better fit on a range of body shapes. The straps are made of silk with gold-toned adjusters. The construction is sturdy and neat, with all of the appliquéd lace being applied with a coverlock stitch rather than a zigzag --- probably a more secure method of stitching, although a bit more of a visible finish. The fabric underneath has been cut at a zigzag, which minimizes fraying, though over time I can imagine some threads would start to come loose (not that this would cause any problems with the security of construction).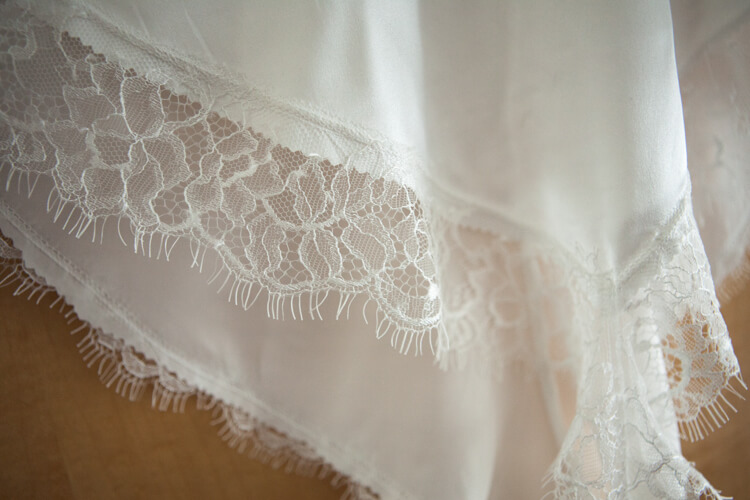 Photo by Karolina Laskowska
I love the design of this piece --- the contrast between the transparent and delicate lace with the opaque silk is unusual and striking. I think the placement of the silk over the bust works particularly well, appearing almost like a floating soft bra. The fit of this piece is remarkably good given my history with bodysuit-style pieces. I have a pear-shaped figure, with up to two sizes difference between my top and bottom halves, as well as an unusually long torso. The length of this piece is perfect for me and the full cut of the knickers means my ample bottom is very comfortably accommodated. The ruching elastic at the waist and centre back mean there's quite a lot of flexibility to the fit --- it would work with a range of body lengths and body shapes. The bust doesn't offer any real support, but there's certainly space there for larger-busted women to wear this romper comfortably.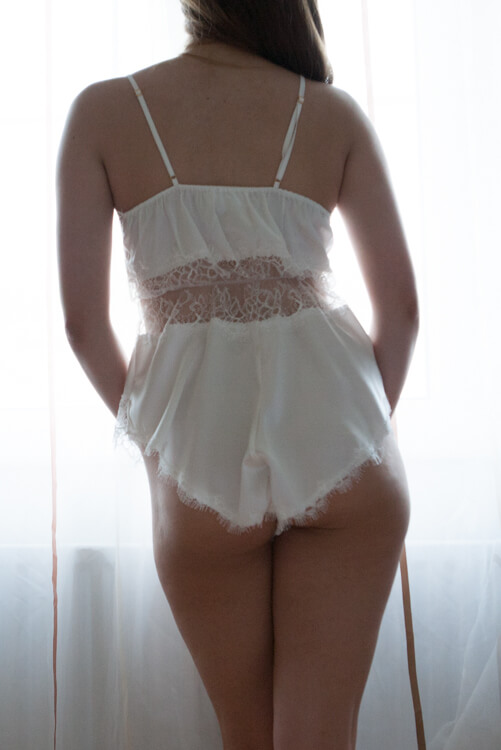 Photo by Karolina Laskowska
My only real complaint is that the gusset of this romper is made entirely of lace with no lining to it. This can get somewhat uncomfortable if you're wearing this romper for extended periods of wear. I'm somewhat surprised that there isn't at least a small panel of cotton included within the gusset --- especially given that the rest of this garment feels so luxurious, it seems like somewhat of an oversight. The high-leg cut of the romper also means that wearing some knickers underneath looks a little strange, so that isn't an option with this piece either.
Overall I think that this is a gorgeous piece, with a subtly unusual design and luxurious fabrics. It has a very welcome place in my lingerie wardrobe and will be the perfect for some lazy lounging this summer!
Readers --- how do you feel about this piece by Salua Lingerie? Are rompers a style you wear particularly often?