Review: Her Sexcellency Dress from Von Follies by Dita Von Teese
Disclosure: This post contains affiliate links.
Previously seen on Cora's list o' lust, Her Sexcellency from Von Follies by Dita Von Teese is a sleek overwire bra smoothing shapewear dress. Like Madam X, I was able to get Her Sexcellency as a special order through Dark Garden, which was one of the first US retailers of the line and threw a special meet and greet launch party with Dita herself. I was surprised, pleased, and perhaps slightly awkward when Dita arrived and I saw that we had both elected to wear Her Sexcellency with a lightweight jacket.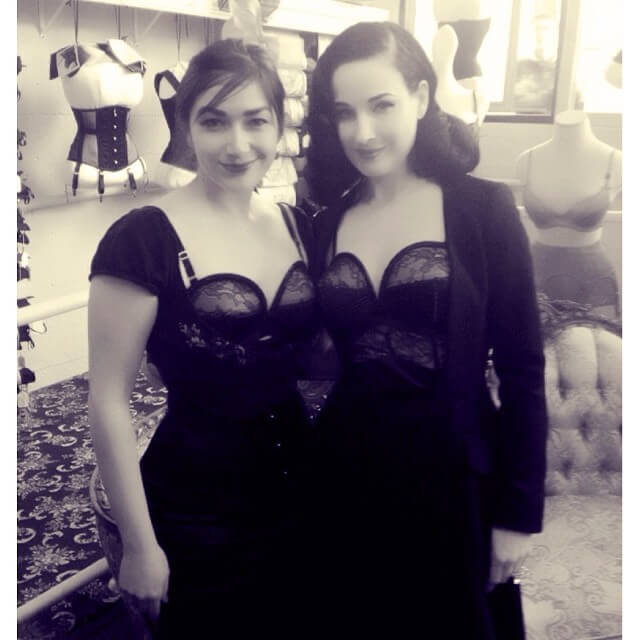 That day, I saw the bra version of Her Sexcellency getting a lot of attention, but I really love this dress version, which could easily be worn as outerwear (as Dita and I did) or as an actual foundation garment. The overwire cup is a three-piece fit made of light foam padding covered with satin and lace. The bottom panels are joined with faggoting and accented by horizontal topstitching, similar to Madam X, although of course much more structured. The straps are detachable, and the body of the dress is made from a medium-weight polyester/nylon stretch satin. The princess seams even have two lines of topstitching holding them flat. There's an invisible zipper down the center back, and the hem is machine blindstitched.
As I mentioned in my review of Madam X, the bra sizing across Dita Von Teese's Von Follies line can be fairly inconsistent. At 34-26-38, currently a 30D bra, I ordered the 32B and the fit is alright, though of course I probably would've been better in the 32C. American shoppers would do well to consider adding a cup size in this and other Von Follies styles, but there definitely seems to be a relationship between the amount of coverage and how small the cups run, so Her Sexcellency is more forgiving than some of the other styles. This is definitely a very cleavage-y bra (of which my girlfriend was a fan), although unfortunately I also felt that I had a fair amount of armpit squidge, which was one of the reasons I wore it with a cropped cardigan. Maybe that situation would've been better with a larger cup size, but from what I saw with the bra version on a couple clients, I think it just goes with the territory.
Let's talk about that overwire. I'm given to understand that one of the reasons Dita's overwire styles are available in such limited sizes is because the Von Follies line doesn't meet the production minimums to have overwires custom made, so the overwire itself may actually be a repurposed underwire. They do tend to stand away from the body a bit, almost perpendicular to the top of the breast rather than laying flush against the overbust and sternum.
As I mentioned earlier, the straps are detachable; however, I would not recommend wearing it as a strapless dress. It was one of many outfits I tried on and rejected for my Valentine's Day dinner, and I found that the back of the dress is too low for the cups to stay up without the straps. If one were to wear this dress as a strapless foundation dress, though, whatever you wear over the dress might be sufficient to hold the cups in place.
My final note regarding the quality of this piece is that my dress seemed to acquire several bad snags, although I have a feeling this is more of a fluke of my own fault rather than something to do with the quality of the fabric.(Also, one of the loops of the faggoting is loose on one side, though I don't know if that was the case at the time I acquired it.) I've really only worn the dress for the one day when Dita was at Dark Garden, and I don't know if I caught it up against something during or after the event, or if it snagged on some embellished garment while it was waiting to be put away, but there are some hefty snags and loose fibers next to the zipper in the back. The rest of the fabric is a fairly tightly woven satin and doesn't feel or look cheap, which is why I think this is a fluke.
At roughly $250, this dress is definitely an investment piece for most consumers. On the one hand, it is versatile in that it has a lot of styling possibilities as both outerwear and foundation, and looks-wise it is sure to make a unique statement and garner a lot of positive attention. On the downside, some may find the limited sizing and the quirks of the overwire fit too much to overcome. It's available in red and black.
What do you think of Her Sexcellency? If you already own this piece (or the matching bra), what did you think of the fabric and fit?