Plus Size Perspectives: Boutique Shopping Versus Online Shopping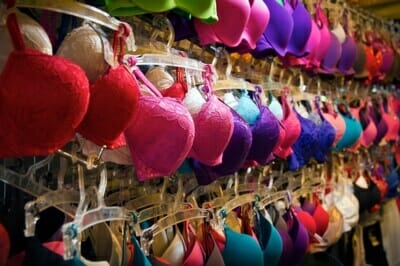 I've been really quiet on social media this month mostly because I've spent it either working or traveling, to the point where I wrote my column a few weeks ago on a train coming back from another city! I was lucky enough to stop off in my favorite city on earth, New Orleans, and to get to check out a few of the lingerie boutiques there. I can't ever resist wandering through tiny lingerie boutiques hoping to find a gem, so I ended up stopping at a bunch even though I was pressed for time.
Cora and I wrote a piece ages ago on why we prefer to buy lingerie online and I was reminded of it after trying out various boutiques this month. I also had a fairly startling realization: being a blogger and working from home really means I've had a fundamentally different experience than many plus size women. I almost never shop real stores, and when I do, it's frequently from brands who know who I am and who are obviously into embracing a range of sizes. Wandering through a random selection of lingerie stores gave me a whole new perspective on how horrible shopping can be in person.
While my shopping experiences ranged from "meh" to "actively horrible," the most unbelievable encounter I had was with a shop owner who assured me that a beautiful vintage garter belt was "a very large size." When I asked her to measure (because, you know, I have eyes) she assured me it measured a whopping 27 inches in the waist! I'm pretty comfortable in my own skin, but even I had trouble at not feeling a little bit insulted by this. Needless to say, I politely left without buying anything.
I'd hate for this to come across as a piece on why I hate independent lingerie boutiques. I honestly love them and I buy from them online all the time. I'd buy from them in person if I could find any I loved as much as my favorite online places. However, the customer service experience online has gotten better and better in recent years, and boutiques haven't always kept up. After mulling over my boutique experiences in my head, here are some suggestions that would be good for lots of boutiques and their potential customers to take into account.
To create a fabulous customer experience:
Be honest! I visited a dress boutique the same weekend that earned my loyalty when the sales assistant cheerfully informed me that the dress I had tried on looked like a maternity gown on me. She promptly assured me that it was the wrong cut for me instead of an issue with my body and then handed me a dress that fit like a glove and made me feel like a princess. I will shop with them again and again not just for the merchandise, but because they valued honesty over making a quick sale.
Let people know if you don't carry their size and be willing to make alternative suggestions. Not every boutique can cater to every customer, but good boutiques are willing to admit that they specialize and also generally have great recommendations for customers who don't suit their merchandise. If you point someone in the direction of the perfect place for them, they'll still tell all of their friends how great you are. Word of mouth advertising is the best advertising.
For potential boutique customers:
Don't give your money to rude or indifferent boutiques. Cora and I talked about this in our previous article --- once you're in a boutique, the pressure to buy is extremely real. If you're a nice person, you'll want to buy a pair of panties or something to help compensate a great salesperson for their time even if you don't find anything perfect. While I completely support this when salespeople work hard and are lovely, I think it also can lead to bad feelings if you walk away without buying. If someone is rude to you or won't give you the time of day, they don't deserve your money. If they make nasty comments about your size, no matter what size you are, don't give them your money.
Give feedback to boutiques you love or buy from frequently. Lots of great boutique owners are looking for feedback on what products they can bring in to create more sales, so don't hesitate to tell them in person or on social media. If you're a repeat customer, your word will carry extra weight. It can be costly for small boutiques to expand their offerings, so help them do it in a profitable way by giving feedback when they ask for it.