Lingerie of the Week: On the Inside 'Sassafras' Bra and Panty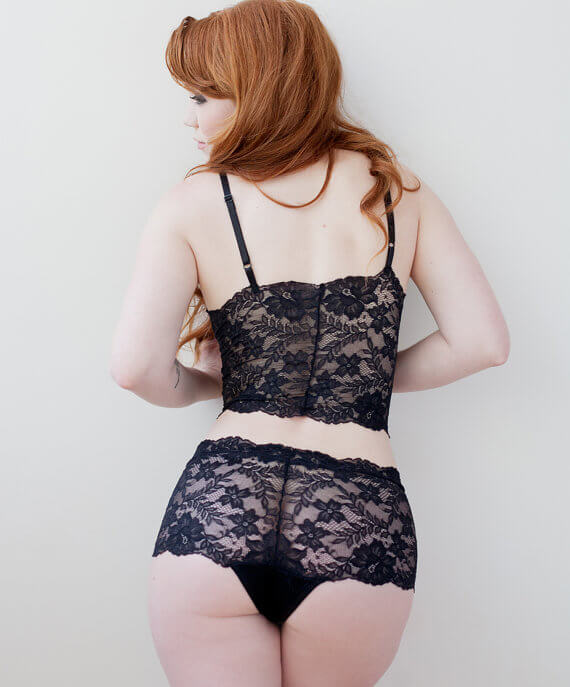 Though I haven't talked about them in ages, the Etsy designer On the Inside holds a very special place in my lingerie-addicted heart. They were one of the very first brands I bought from way back when I became interested in lingerie. I just checked my Etsy purchase history, and it looks like I'd been blogging for all of a month (May 2008) when I decided to buy from them. It's a delight to see that the brand has not only survived since then, but thrived... especially since so many other independent designers have fallen by the wayside.
My On the Inside knickers lasted forever, and I loved them because it was really hard for me to find panties that fit at the time. This is when I was really into martial arts and weightlifting, so my butt was firm. It was not only hard to find styles that fit my waist-hip difference (all of which is concentrated in my backside), but that also wouldn't bind, dig, pinch, twist, or any of those other things I hate that I talked about in that blog post on lingerie for mesomorphs. Point blank: these were probably the first cute panties that fit me I'd ever owned. It was a revelation, and I still feel a connection with this brand because of that years later.
Fast-forwarding a bit, I absolutely adore black lace as a lingerie material (it's a very close second to my favorite, which is black mesh), and I pretty much live in boyshorts and unstructured bralettes nowadays. I love this set because it's not only really, genuinely pretty, but also because it looks incredibly comfortable. I'd be just as at ease wearing it around the house as I would out and about, and with a price of under $75 for the both pieces, it's not an exorbitant expense. In fact, considering that each item is handmade and can be custom fit to your specific measurements, I'd consider it a bargain (remember: you can easily spend that much in a department store with none of the added perks). The longline bralette sells for $47, while the lace panty retails for $26. There are also several variations on the same silhouette (albeit with different materials) in the seller's Etsy store.
So what do you think of this set, fellow addicts? It's not as opulent as many of the pieces we talk about on TLA, but I believe easy comfort absolutely deserves a place in your lingerie wardrobe too.