How to Book a Boudoir Photoshoot
By: Marianne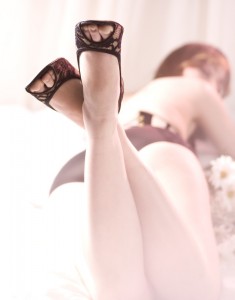 With winter holidays upon us and Valentine's Day coming up fast, you might be thinking of boudoir photos as a gift for a certain special someone, like yourself! Last month, I discussed boudoir photography prep and posing tips based on my experience as a model and stylist, but I also wanted the opinion of a specialist. I called up Mariah Carle of Bay Area Boudoir for her perspective. She also contributed some fabulous images, showing a wealth of possibilities to inspire you as you plan your shoot. Mariah takes on clients of all genders, ages, and backgrounds for her boudoir shoots – there's no statute of limitations on feeling good about yourself!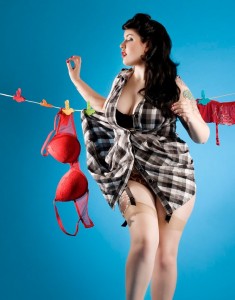 What sub-genres are encompassed by boudoir photography?
Pin-up and retro are very popular these days. Bridal boudoir is also very common: many of my clients want something extra special and sexy to give to their grooms right before they walk down that aisle. Some wedding photographers also do wedding-day boudoir sessions as the blushing bride dresses. Playboy-style glamor photography and artistic nudes are two very different options that allow you bare it all. Most of my boudoir session don't follow a specific genre, but are more fluid and designed with the people who come to me.
(You may also like: Pin-Up Week: Everything You Need to Know About Pin-up Lingerie)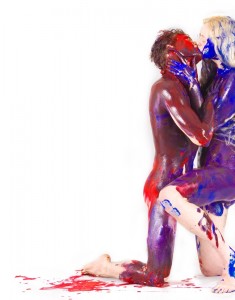 How can I involve my significant other in my boudoir shoot?
A very fun and exiting boudoir session I offer is couples boudoir. If your partner is just too shy for the camera, he or she can just watch and help out with ideas and costuming.
I photographed one woman with over two dozen sunflowers because her boyfriend loved them. A bride-to-be wore her wedding lingerie that was trimmed in blue, so her photos had blue lights and her final product was accented in blue. One male client knew his wife loved red, so we had him in red boxers. I have a motorcycle shoot coming up this winter....
What kinds of questions should a prospective client ask?
A few common questions I get are: Will my images be private? Can you do a rush order? Can I make an appointment to meet you in person and come by the studio? How many outfits can I bring? What about hair and makeup?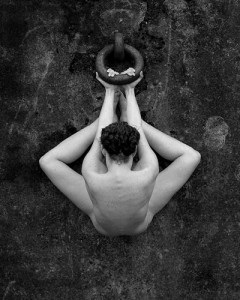 (You may also like: Pin Up Week: 7 Must Haves for Every Pin Up Lovers Library)
So... what about privacy, then?
Privacy is very important to me. I never release images unless the person being photographed explicitly signs off that I am allowed to.
If requested, I will even destroy all files 24 hours after you take home your prints or album. Just give me a ring, tell me you love the images and please destroy all the evidence. I shed one tear, then delete all the files or cut up the film.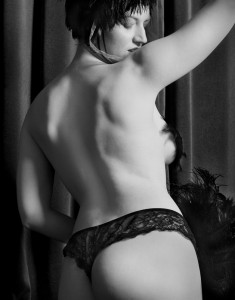 What questions do you ask your clients?
The most common question I am asked is; "How does this all work?" So I start asking the questions to help both of us learn what our goals are.
Who is the photo shoot for? What is the reason for your shoot? A gift? Are you proud of that last 20 pounds you lost? Have you decided you need to just go out and do something daring by being photographed naked? Do you need images for a sexy website?
If this is for a gift, when do we need to have everything ready? What does he/she like?
How would like the final images presented? Do you want a wall print, a book, or a DVD?
What style of images do you like? Bright and cheerful or dark and shadowy? Classic nudes, sexy lingerie, pin-up style, leather and handcuffs?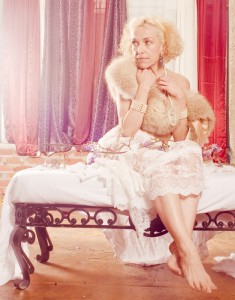 (You may also like: The Glamorous Pin Up Art of Bill Ward)
How much pre-planning takes place regarding wardrobe, location, and props?
Most pre-planning is over the phone for simple shoots. For more complex ones, such as full calendars, it is best to meet up in the studio to go over ideas, props, clothing, sets, and general planning.
Most shoots are about two hours, and around three set lighting/set changes, with five or so outfits. Many times we make small changes as we shoot: change out a top, add a parasol, maybe a lace fan, etc.
If the shoot is in the studio I'll send you a email with directions. For location shoots I make sure we both know where we are meeting or we can carpool from the studio. Plan for traffic – and lunch! It's no fun to work for five hours, then go right into a photo shoot with no food. Many of my clients come from a distance so I try to help out with what airports are nearby, hotels, shopping, and local places to eat.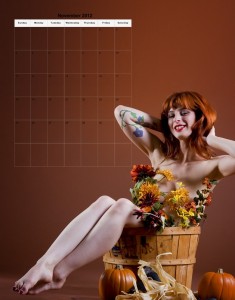 What types of packages are most popular and about how much do they cost?
Since most of my work is custom, I don't have many set packages. I ask several questions and we work to create something special.
All my pricing includes the consultation, photoshoot, retouching, editing, packaging, and images. A few favorites...
Boudoir calendars, each month a custom designed image. Enjoy 12 works of art, year-round. For 11" x 14" calendars, $850.00.
Classic albums: I hand-place each print into a special leather album. Everything is done in my studio – no sending your images out to a printer. Ten pages at 5" x 7", $750. 20 pages at 8" x 10", $2200.00
If you would just like digital images, a ten-image (print resolution) DVD is $350; twenty-image DVDs are $550.00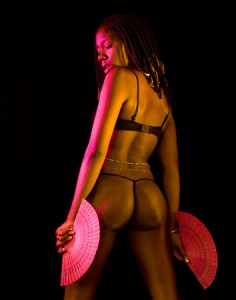 (You may also like: Photo Friday: Carlo Pieroni's Pin Ups)
In your experience, are studio or location shoots more popular?
Due to privacy concerns and nudity laws, most of my work is in studio. I have a revolving supply of props and studio toys, including a fluffy black studio cat Meep, who "helps" with set design. My props can be used and mixed with your own clothing and lingerie.
Custom boudoir photography is also a lot about the lighting, and while soft, natural light is very flattering, studio lights offer much more control and customization. I do have a few super-secret locations for those who just need to frolic outdoors in the nude.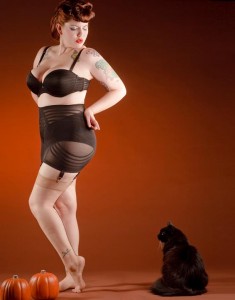 How far in advance should a boudoir sitting be booked? How about during peak seasons?
It's only October 2011 and I already have bookings for Aug 2012. Most of my clients book 3-6 weeks in advance. A few don't realize that a holiday crept up on them: I've even done a Valentine's Day shoot on February 12 once. I know my clients have very busy lives so I also accept bookings in evenings and during the week.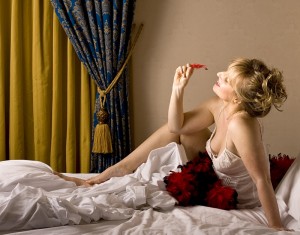 (You may also like: Photo Friday: Steve Diet Goedde)
Do you have any recommendations for pre-photoshoot nerves?
Some clients like to bring a bottle of wine to celebrate the occasion, but we want to keep it to one small glass. Red wines can flush your skin, and any alcohol makes your eyes look glassy, heavy, and tired. Bring the wine and let's share a glass after our shoot.
If you back out, I will cry. If both of us have done our jobs with research ideas, talking on the phone, and even coming by the studio to meet me, you will be excited, not nervous.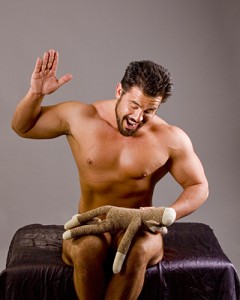 How do clients find a boudoir photographer? How do clients find "the right" boudoir photographer?
My advice is to spend time doing research, starting online with portfolios and websites. A brilliant fashion or event photographer may not be a great boudoir photographer. Call up studios and talk to the photographers.
Ask your friends if they know any good boudoir photographers. So many of the people I work with are people I know. They already trust me, know the quality of my work, and love my quirky personality. Boudoir is a personal experience, this is not your local mall photo booth. You want someone who will mesh with your ideas, personality and goals.
As for me, I'm sassy. I use bad words, I love to help my clients play dress-up, I like to have fun. Find a photographer you want to spend time with, the kind of person you would want to go to lunch with and giggle about your most recent photo session.
Some husbands and boyfriends are uncomfortable with their wives or girlfriends being shot in lingerie by male photographers, so try to keep their feelings in mind as you schedule your shoot!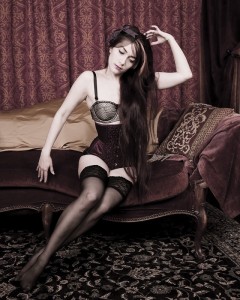 (You may also like: How to Dress Like Dita von Teese)
Mariah Carle and I will both be at Dark Garden's "Lady Lovelace" boudoir photography booth at San Francisco's Dickens Christmas Fair and we would love to see you there. Bay Area residents and visitors can come by for a mini boudoir session with corsets, wardrobe, and expert styling provided by Dark Garden Unique Corsetry and go home with a print that day. If you're not ready to shoot, we'd be happy to answer in person any questions.
Have you done a boudoir shoot? How did you find your photographer? What do you wish you'd known or known to ask about? Let us know in the comments!