Through the Looking Glass: Shooting with Dana Kae Boudoir Photography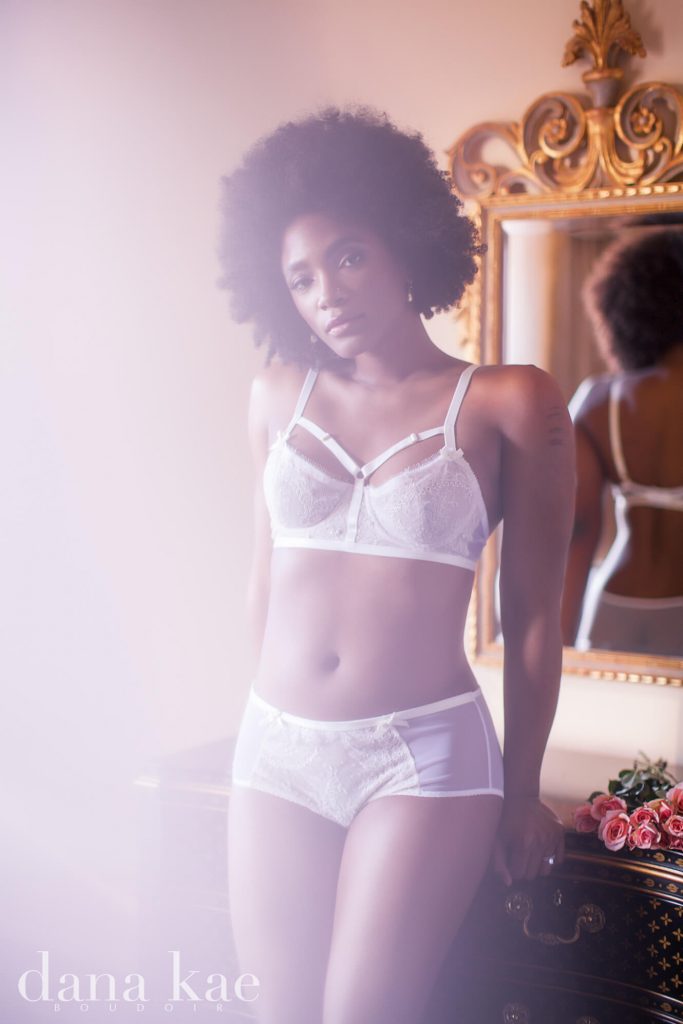 One of the things that's most interesting to me about having shoots with photographers (apart from getting to dress up in fancy outfits) is getting to see how other people see me. I have my own image of myself internally, of course, but no one else has access to that. Instead, the way other people see me is filtered through their own experiences, ideals, feelings and priorities. Sometimes, that's a good thing as it allows for a deeper, almost intuitive, connection. And sometimes, that's a less good thing as the mismatch between the internal and external is so extreme that it results in a gulf that can never be crossed. Fortunately, the latter circumstance does not apply in this case.
Dana of Dana Kae Boudoir reached out to me last year about doing a shoot together. I'm always looking for new people to work with (especially in Seattle!) and new images to share here, so I was delighted to accept. Dana and I were going for kind of a dreamy, "winter wonderland" feel here, with lots of pale colors, a little bit of sparkle, and tons of rich textures. We took advantage of a truly gorgeous Seattle morning, and hopefully took some images that show me in a slightly different light. As I mentioned recently, I don't see myself the same way I used to, but then again... no one else does either.
If you happen to be in the Seattle area, let me also say that I very much enjoyed working with Dana. As someone who's not a model, a photographer who can help put me at ease is of paramount importance, and Dana does exactly that. She and her entire team are just super positive and very laid back... which is exactly the kind of vibe you want when you're posing in your undies.
As far as the lingerie I'm wearing, the first set is by La Fee Verte. The second set is by Karolina Laskowska (it actually has freshwater pearls sewn onto the lace!). The third set is by SJ Lingerie. The fourth set is by Dita Von Teese with stockings from Stockingirl. And the fifth set is a velvet bedjacket and a pair of Miss Crofton knickers. Makeup is by Ashli Danielle.
What do you think of this image series? Do you have a favorite set or piece? And while we're on the subject, have you ever done a boudoir photoshoot?