How to Dress Like Dita von Teese
Disclosure: This blog post contains affiliate links.
Editor's Note: Dita Von Teese now has her own lingerie range! View the most 2013 collection here and our review of the overwire bra here.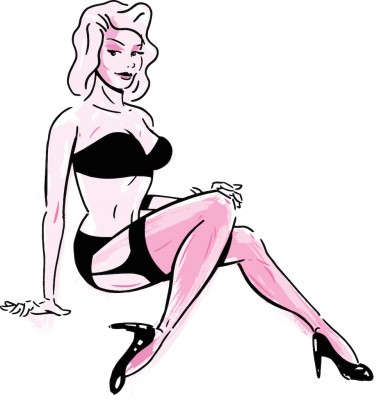 Dita von Teese... what can I say about her that hasn't been said already? From being a muse to couture fashion houses like Jean Paul Gaultier to designing luxury lingerie collections for the likes of Wonderbra and Frederick's of Hollywood to selling out burlesque and striptease shows worldwide, Dita is more than a woman... she's an icon.
On the personal side, I love what Ms. von Teese has to say about lingerie. Like her, I believe that "Lingerie is not about seducing men, it's about embracing womanhood." And I also "...love it when you can go about your daily business with the knowledge that you have a little secret of your own underneath." With those two quotes in mind, why don't we take a look at a few key pieces that can give anyone a Dita-worthy wardrobe.
Stockings
Dita von Teese is almost never seen without her vintage-style stockings, and thanks to an exclusive deal with Secrets in Lace, you can wear the exact same nylons that she does in her burlesque shows and stage performances. My favorite pair is the Dita Glamour French Heel, which you can purchase here.
Corsets
Along with her many talents, Dita is famous for being able to lace her corsets down from a natural waist size of 22" to 16.5" (though she's said repeatedly that she's not a waist trainer). While I don't suggest that everyone make that sort of reduction a goal (Dita already has an extraordinarily curvy figure), I do recommend the off the rack corsets from What Katie Did. You can buy a basic black underbust for less than $200.
Girdles, Garter Belts, & Bullet Bras
A pin-up model's look isn't complete without a retro-style bra, and how will your fully-fashioned stockings stay up without the correctgarter belt? Fortunately,
Kiss Me Deadly
has you covered. Their garter belts last forever, and are of exceptional quality. I recommend the
Van Doren 6-strap
or one of their
roll-on girdles
.
What do you think of the Dita von Teese phenomenon? Do you enjoy her lingerie style? Please share your thoughts with me in the comments!