Fit For a Princess: My Favorite Pink Lingerie Sets
I'm kinda obsessed with the color pink. I feel soothed by it in a way I can't really explain. I feel most like myself when I wear pink, or when my hair is dyed pink. Or both.
If I'm honest, I got into lingerie because of my love of pink. In the early 2000s, frilly and feminine fashion wasn't super trendy or accessible. Bows, ruffles, and florals were only popular in lingerie at the time. I started buying and designing intimates because it felt like the only place I could let my princess-y aesthetic shine. And when Millennial Pink became a thing? Well, that was maybe the best thing that's ever happened for my aesthetic.
After running my own very pink loungewear line and reviewing a lot of pink lingerie for The Lingerie Addict, I have a lot of pink intimates. In 2016, I did a roundup of my favorite pink bras, but my wardrobe has certainly evolved and expanded since then. It's time to see how my rose-colored faves have changed! Here are my favorite pink items in my lingerie wardrobe right now.
Dottie's Delights 'Elsa' Pocket Petticoat + 'New Look' Bralette and Knickers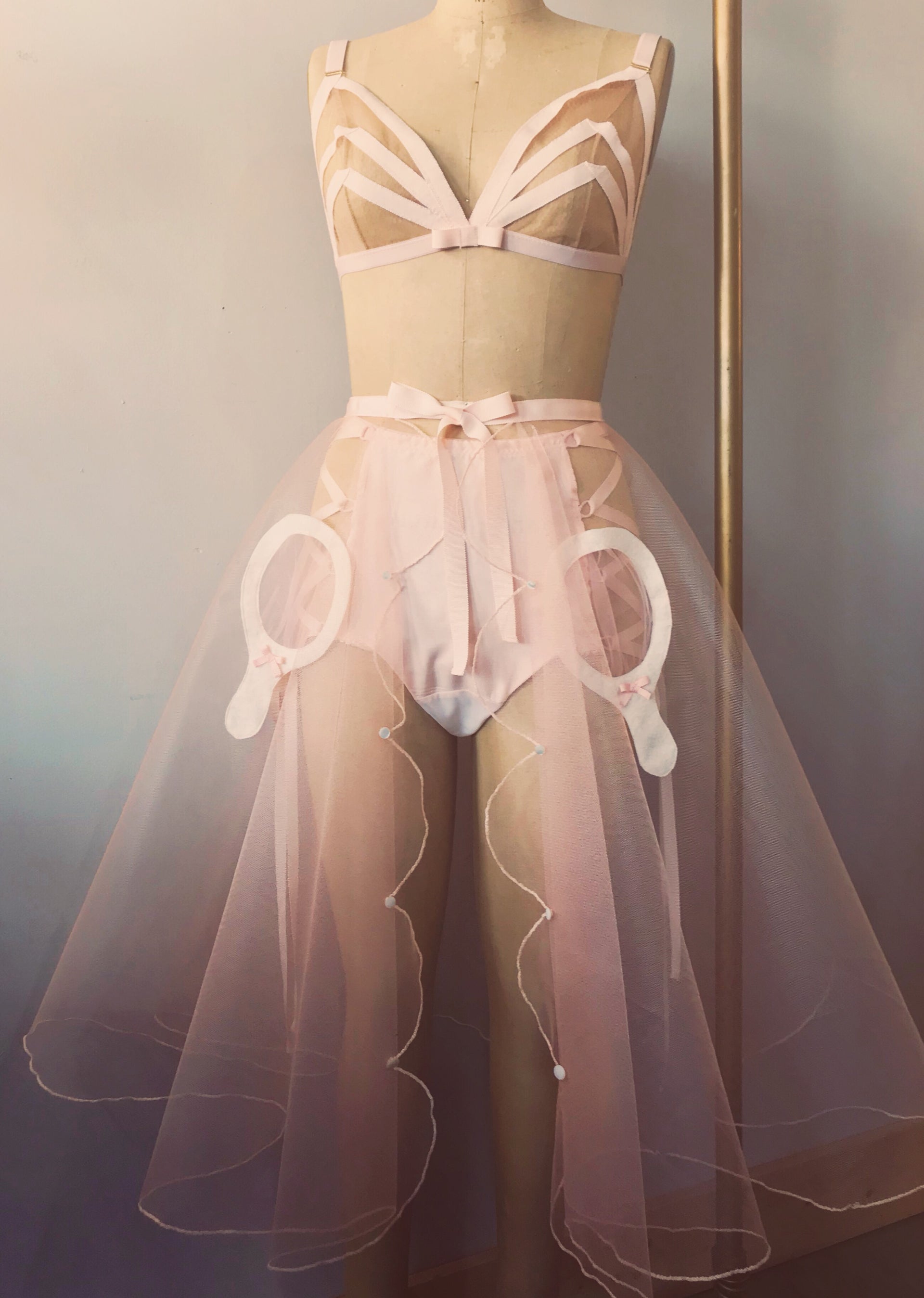 I have a lot of special, custom-made lingerie pieces in my closet. I couldn't pick a #1 top favorite if I tried. But this one? It comes prettttty close.
When Dotties Delights released the Elsa Pocket Petticoat in black, I immediately thought, "Damn, I want this in pink!" How cute would it be, designed to match the criss-crossing petersham ribbon on their New Look set? I love the vintage-inspired mirror-shaped pockets, the scallops, and the stiff tulle. But naturally, I just wanted it in pink.
So I emailed the designer Stephanie, and she was totally on board. We worked together to create this colorway, which is now available as a regular made-to-order item on the Dotties Delights website. But mine has an extra special touch I absolutely adore. Stephanie used vintage shell buttons from her mom's collection on this first piece.
Since then, I've worked with Stephanie on a fun surface design collaboration that I'm quite proud of. So not only is this a beautiful lingerie set containing a piece of the designer's own family history, it initiated a really beautiful partnership.
Flora Nikrooz 'Gabby' Charmeuse Robe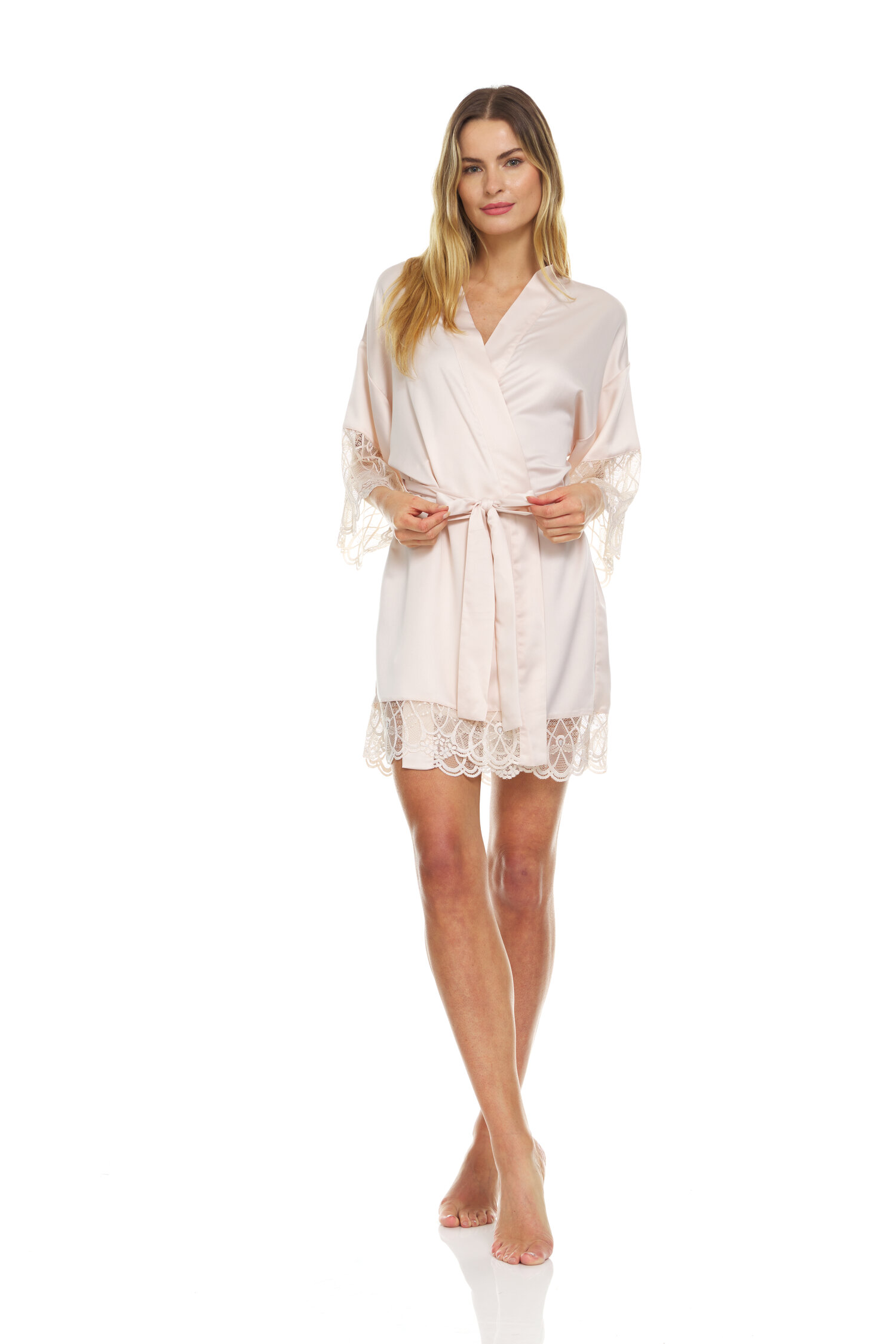 When I started dating my current partner, I decided I needed a robe to wear when I stayed at his place. After all, I didn't want to take one of my nice silk robes to the home of someone I'd only been dating a few months! So he took me to Bloomingdale's and bought me this Flora Nikrooz piece. My partner's not a big shopper and didn't have a ton of disposable income at the time, so it was an extra special treat.
It's not silk, but has a great hand for a synthetic. Plus, that lace! It's some of the prettiest lace I've ever seen on a garment at this price point.
This robe represents something so sweet that was blossoming between my partner and me when we first met. Three years later, we live together, and this robe hangs with my silk ones in my closet. It's still the first one I wear after laundry day.
Miss Lala Presents 'Chocolate Box' Set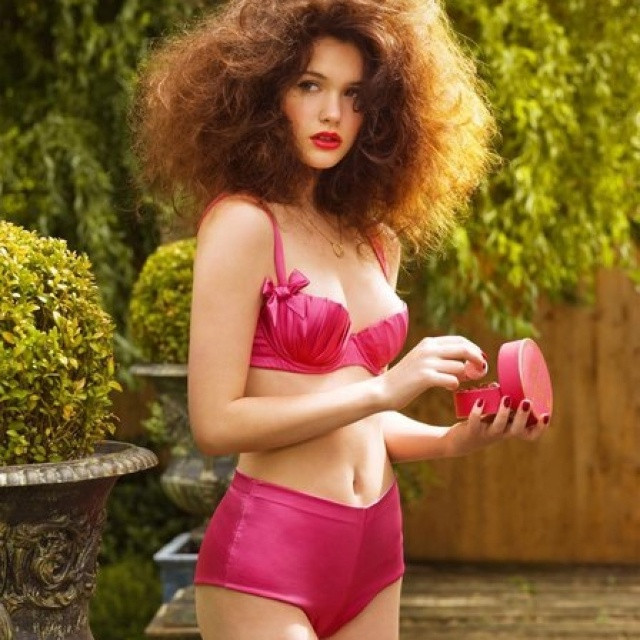 Remember when Tumblr didn't suck? This set was the first one I ever fell in love with, after reblogging the above photo over a decade ago. When Miss Lala Presents rereleased the set in a limited run, I knew I had to have it…even though it stopped at a 36D. Luckily, the cups are quite full and flexibly-sized, so it's not a terrible fit.
There are definitely things I dislike about this set. I wish I had the original silk version, because this one is fully polyester and not at all breathable. The teal lining sticks out in the least appealing ways, and the fit is a bit odd through the hips. But who doesn't want to look like a vintage chocolate box? It's just so cute, and represents a part of my own journey into the lingerie industry.
Agent Provocateur 'Svanna' Bra and Thong
Since the pandemic started, I've embraced the flimsy, not-so-supportive lingerie I idealized when I was younger. That means shopping with brands like Agent Provocateur. Sure, I usually wear their biggest size, and their newest styles aren't anything extraordinary, but their aesthetic is still deeply appealing to me. One or two sets tug at my heartstrings every time they release a new collection.
After this wheat-embroidered set debuted in 2021, I stalked it on the website for months, praying it would go on sale and my size wouldn't sell out. Right before my birthday, I caved and knew I'd regret it if I didn't pick it up. Little did I know, it had been marked down in the store! I snagged it at half off.
I love that reddish shade of pink, the monowire-inspired style, and the embroidery. Voluptuous pink bows, "tied" around gold wheat sprigs that drift across your décolletage, all overprinted with a metallic sheen. (And to be honest, wearing a set that was designed to "symbolize fertility" when I have an IUD feels like a real power move.)
L'Agent 'Camilla' Set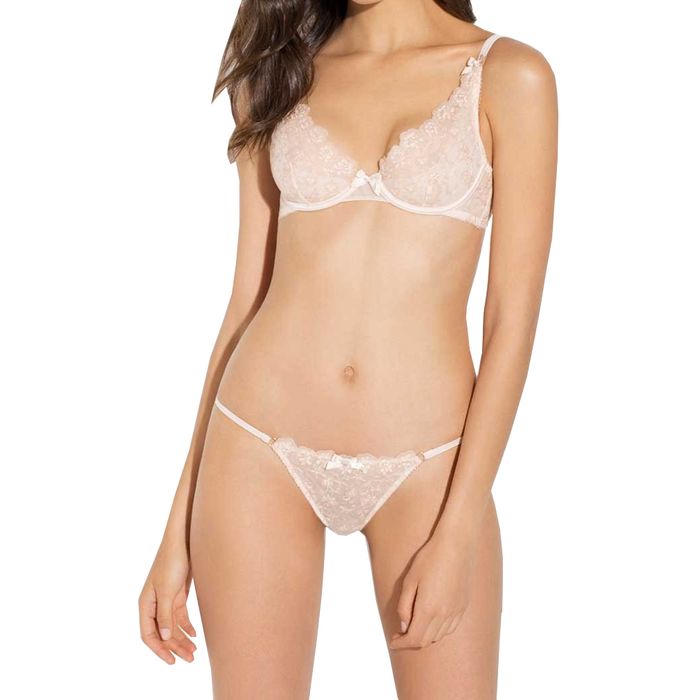 Speaking of Agent Provocateur: I worked at a lingerie boutique when their diffusion line L'Agent was at its peak, and unpacking their new styles always brightened my day. They were so pretty compared to the other items we checked in at the same price point. Plus, the quality and styles were similar to their main line, so these sets were a fantastic value. Perhaps most surprisingly, however, those flimsy bras looked so good on many different breast types (even though they ran really small).
L'Agent stopped production in 2018 after AP declared bankruptcy, and I've lamented their absence from the industry ever since. Luckily, I bought a few sets with my lingerie allowance, way back when I worked at the boutique.
I think the L'Agent Camilla set is meant to be a cheaper version of Agent Provocateur's Sparkle set. The fabric is a pale peachy color, embroidered with pale pink, dusty rose, and tiny metallic gold threads. It's simple, but that combination of metallic embroidery, strongly-scalloped trim, and thin, satin-covered straps just makes me swoon. L'Agent fondly reminds me of those days at the boutique where I bonded with customers over pretty things and met some of my now-closest friends.
Boudoir by D'Lish 'Cassandra' Gown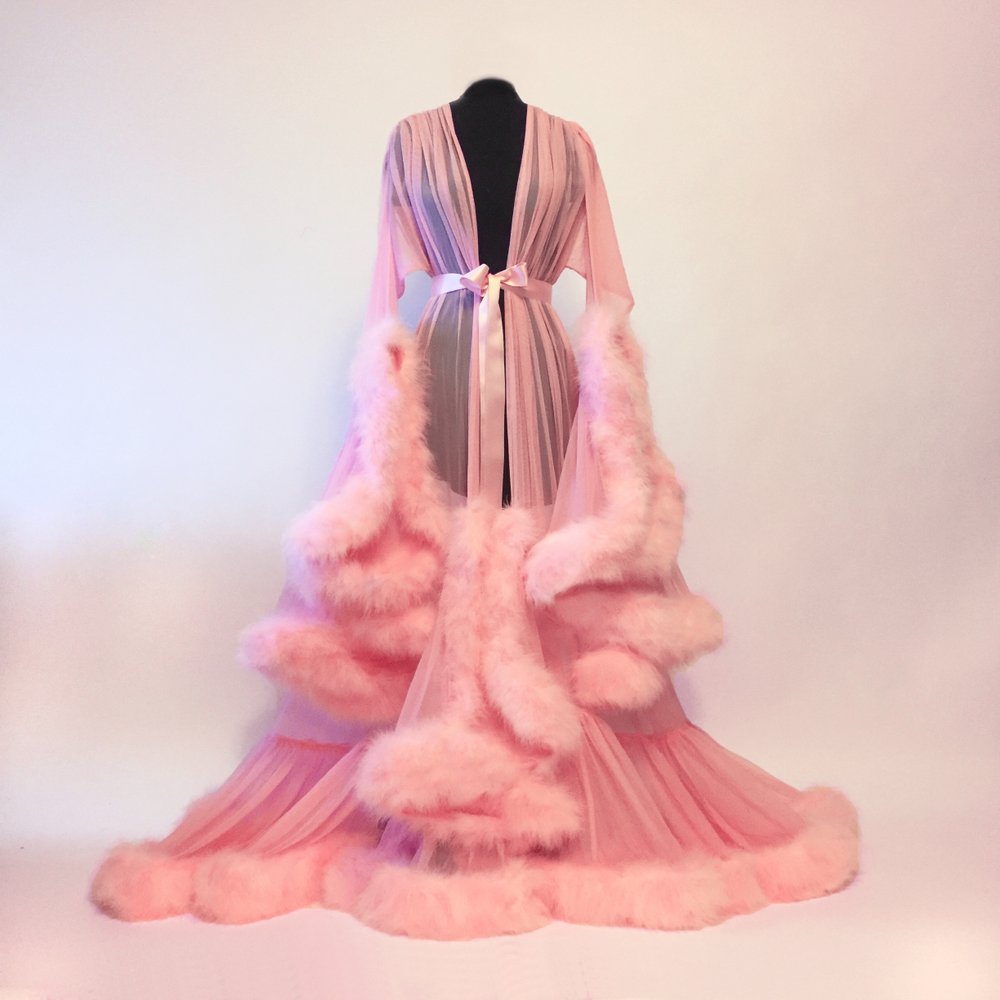 Ok… Do I really need an explanation for this one?
It's basically my holy grail of loungewear, and I can't believe I own one?! (If you still want more info, check out my swoon-worthy review!)
Artifice Clothing Pink PVC Corset Skirt
I've gotten some of my other favorite pieces via TLA reviews, but nothing like this. With its shiny candy-pink PVC, stiff flared skirt, and curvy waist, this custom-made corset skirt is an exceptionally unusual addition to my closet.
I don't wear it often. It's a bit hard to sit in, and it attracts a lot of attention. Such a bizarre item of clothing is not at all functional for daily life. In fact, it's the type of thing I would never buy for myself these days! I only own it because of this gig.
But that's what makes it so special. Like all of our review items, TLA purchased this piece for my Artifice Clothing article. It was a custom ordered color and made specifically for me, with my choice of grommets and lacing. This corset skirt reminds me of what an exciting, empowering novelty it's been to write for TLA over the last several years, so I cherish it.
And it looks like a big piece of strawberry milk candy. Who could resist that?
Pink is one of the most common lingerie colors, and one reason why I got into the industry in the first place. But you don't have to love pink to develop your own curated lingerie wardrobe!
Maybe you adore rich shades of emerald and lapis, or prefer your negligees to match your signature red lipstick. If you're interested in curating your own capsule lingerie wardrobe but don't know where to start, you might be interested in checking out my fun (and free!) personal lingerie style workshop.
I might not wear every item on this list every week, or even every month. But I think the things we own should bring us joy whenever possible. I hope you can find some joy on your own lingerie journey, too.